Full House TV Show Facts
33 Things You Don't Know About Full House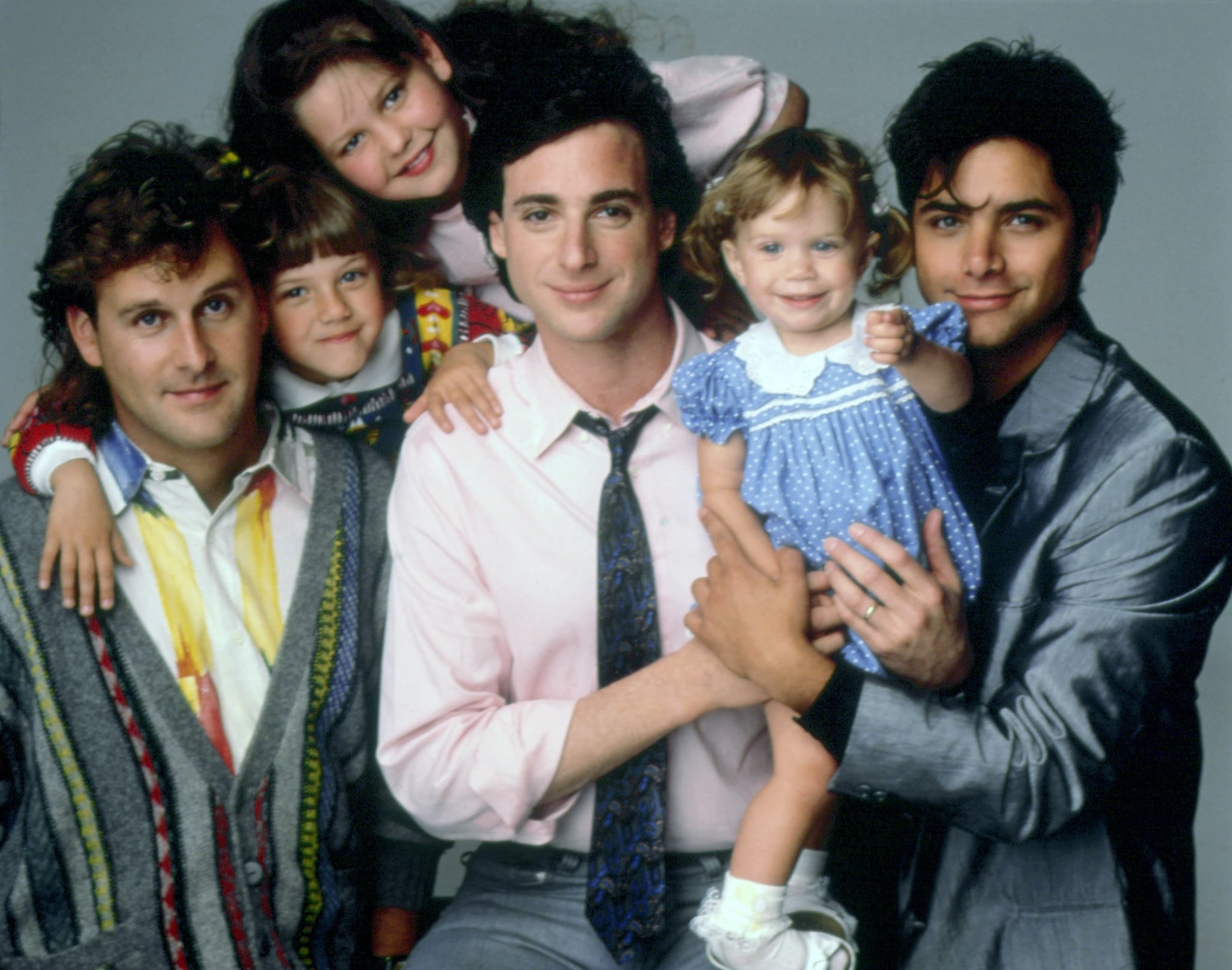 Plenty of people call themselves Full House fans, but how much trivia do you know about the people and the stories behind the hit '90s show? Well, now is the perfect time to test your knowledge, because the series turns 30 years old on Sept. 22, prompting all kinds of nostalgia. To celebrate the anniversary, take a look at 33 things you may not know about your favorite '90s series.
The Show
The show was originally going to be called House of Comics, and it was set to follow three comics who lived together. Family sitcoms were so popular at the time, though, that the show's creator, Jeff Franklin, decided to shift the theme.
The theme song was cowritten and performed by Jesse Frederick, who was also behind the theme songs for Family Matters, Step by Step, and Perfect Strangers.
The Full House family lived in one of the homes called the Painted Ladies in San Francisco's Alamo Square, but the red-doored house filmed in the opening credits was actually a facade located at 1709 Broderick Street in San Francisco.
Only one of the episodes was actually taped in San Francisco: "Comet's Excellent Adventure," in which the Tanners' dog, Comet, runs away.
There was supposed to be a ninth season! ABC wanted to let go of the show, and The WB was ready to pick it up, but several cast members announced that they were ready to leave, so the show ended after season eight.
The Full House set was later used to tape Friends.
When John Stamos made a guest appearance on Friends, a pair of Dave Coulier's underwear was still hanging in the rafters on set.
The Cast
Actor John Posey starred as Danny Tanner in an unaired pilot of the show.
Paul Reiser was also considered for the role of Danny Tanner, but he chose to play Michael Taylor on My Two Dads instead. Reiser starred in Mad About You starting in 1992.
The producers of Full House wrote the part of Stephanie Tanner with Jodie Sweetin in mind after seeing her in the TV show Valerie.
Mary-Kate and Ashley Olsen landed the role of Michelle Tanner because they were the only babies who didn't cry during their audition.
John Stamos didn't like the Olsens at first, because they cried while they were filming the pilot. He told the producers to get rid of them, so they did, but the producers weren't happy with the red-headed twins who replaced them, so they brought back Mary-Kate and Ashley.
For a while, the twins were credited as "Mary-Kate Ashley Olsen," because the producers didn't want the audience to know that Michelle was played by twins.
The Olsens almost quit after season one, because their mom was worried about them having a "normal" childhood. Producers offered a big salary raise to keep them on the show.
Mary-Kate and Ashley appear together on screen four times in the series.
Andrea Barber originally auditioned for the role of D.J. She didn't get the part, but producers asked her to come back and read for the neighbor role, which was supposed to be a onetime appearance.
Lori Loughlin was only set to appear in six episodes, but the audience loved her, and the producers liked the dynamic between Becky and the three girls, so Loughlin was added as a series regular.
The first twins to play Jesse and Becky's sons, Nicky and Alex, were Daniel and Kevin Renteria, who played the brothers as babies. In season six, the roles were taken over by Blake and Dylan Tuomy-Wilhoit. Neither set of twins has appeared on screen again.
The dog who played Comet also played the original Buddy in Air Bud.
Scott Weinger, who played D.J.'s boyfriend Steve, is also the voice of Aladdin in Disney's animated feature.
Offscreen Friendships and Relationships
When Bob Saget was 22, he met a then-18-year-old Dave Coulier at a Detroit comedy club. The pair became friends, and Coulier stayed on Saget's couch in LA for a few weeks — a real-life situation that, strangely, became the premise of Full House.
Before the show ever came about, Coulier was an

usher

in Saget's

wedding

.
Coulier's ex wife, Jayne Modean, played grown-up Michelle in a season-three dream sequence. The pair married four months after meeting on the Full House set and had a son named Luc together. The couple divorced within two years, and Coulier started dating Alanis Morissette, who famously wrote "You Oughta Know" about him.
John Stamos and Lori Loughlin first met through their soap-opera connection. When he won an Emmy for his role on General Hospital, it was Loughlin who presented it to him.
Stamos and Loughlin never dated in real life, but he's since called her "the one that got away," saying they never got together, because the timing was always off.
Source: Getty / John Sciulli
Scott Weinger was Candace Cameron Bure's real-life prom date. (They went as friends.)
Meanwhile, Andrea Barber, who played Kimmy Gibbler, brought her prom date on set, where the pair posed for pictures with the cast. The show's hair-and-makeup team helped her get ready, and producers adjusted her shooting schedule so that she could go to the prom after taping.
The Characters
D.J. is the only main character who's not in every episode. She didn't appear in "Subterranean Graduation Blues."
Jesse Katsopolis was born with the name

Hermes

. In the show, it's revealed that Hermes was Jesse's great-grandfather's name, but after being teased about it as a kid, Jesse begged his mom to change his name to Jesse in honor of Elvis Presley's late twin.
Stamos was first cast to play Adam Cochran, but the character's first name changed to Jesse before the show aired. Later, Jesse's last name was switched to Katsopolis because of Stamos's Greek heritage.
Dave Coulier stole the catchphrase "Cut it out!" from his childhood friend Mark Cendrowski, who now directs The Big Bang Theory. Coulier first used the line on a Nickelodeon show called Out of Control, and he later decided to work it into Full House, too.
Remember when Kimmy rides a unicycle during the phone-athon episode? That came about because Andrea already knew how to unicycle thanks to a unicycling class she took one Summer with a friend.
For Stephanie Tanner's dancing moments, Jodie Sweetin brought in her real-life dance teacher and friends she danced with in real life to join her for the routines.