Guardians of the Galaxy Review
Why You Need to See Guardians of the Galaxy If You Love The Avengers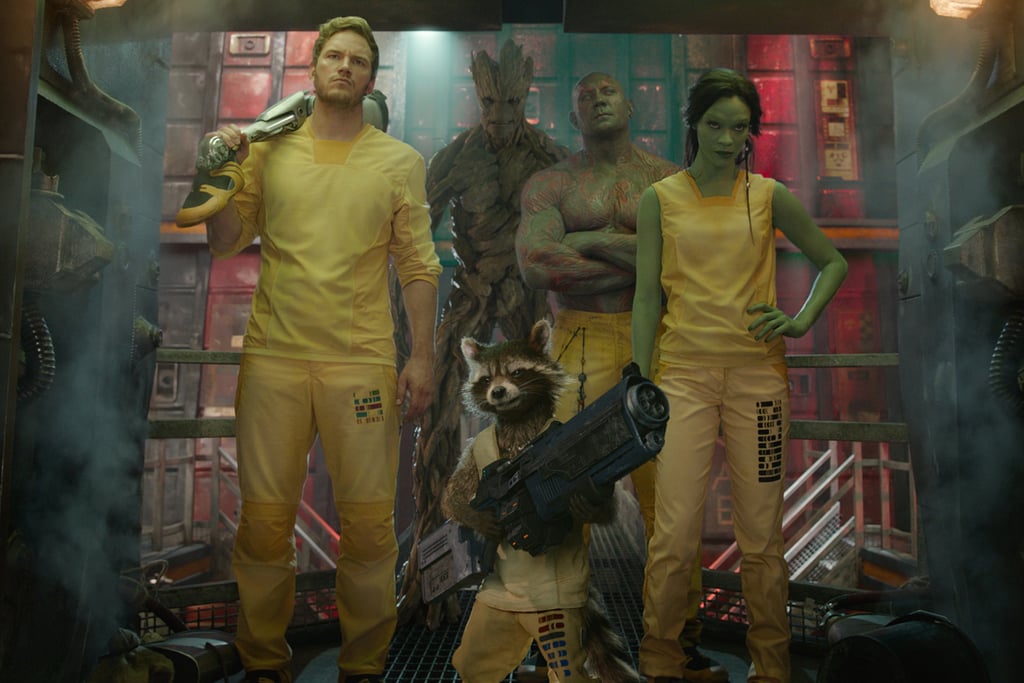 I've been excited about Guardians of the Galaxy ever since Chris Pratt was cast as the strapping lead, a space outlaw by the name of Peter Quill, aka Star-Lord. I'm happy to report that the movie is just as good as I hoped it would be. Pratt's Star-Lord is just as hot as I anticipated, Zoe Saldana kicks just the right amount of ass as alien warrior Gamora, and even Bradley Cooper is hilarious as the foul-mouthed Rocket Raccoon. Since these guys are the new kids on the block of the Marvel film universe, you might be a bit hesitant to check out Guardians of the Galaxy. I want to assure you that they're every bit as great as The Avengers, and this is why.
The Guardians also have a sexy, quick-witted ringleader. While you might argue that there is no real leader of The Avengers, if there was one, it would be Tony Stark, aka Iron Man. Just like Stark, Star-Lord is a cool, sarcastic dude who brings humor to the movie. They're both easy on the eyes, quick with the jokes, and popular with the ladies.
The boys don't get to have all the fun. Gamora (Saldana) is essentially the Black Widow (Scarlett Johansson) of outer space. She's a highly skilled fighter with a chip on her shoulder and a genuine desire to do good. Sure, she's green, but she's also got a skintight suit and can throw a mean left hook.
There's a big bad dude with a signature prop. Listen, Loki — Ronan the Accuser (Lee Pace) sees your Chitauri Scepter and raises you a Kree hammer. That's right: the Universal Weapon. While Loki may have gotten soft over time, he was once a terrifying figure, and Ronan is even scarier. He's a blue giant with scary eyes and a fascinating armor getup. Prepare to have your nightmares invaded by a dude in a glorified kilt.
The movie is just as action-packed . . . but funnier! There's just as much action here as any other Marvel movie, except now it's on a different planet and there are cool space weapons. There are extensive fighting scenes in public city squares, gigantic space prisons, and literal spaceships, and while it's all very impressive, what I appreciated the most is that these heroes are actually funny. The Avengers movies definitely have a sense of humor, but Guardians of the Galaxy is even goofier than some of the funnier ones like Thor. Guardians could actually be categorized as a comedy as well as an action movie.