How the Gone Girl Movie Ends
This Is How the Gone Girl Ending Is Actually Different
If you read Gillian Flynn's smash bestseller Gone Girl, then I'm sure you've also been up on the questions surrounding the ending, and you're eager to see what really happened when David Fincher and Flynn's own script hit the big screen. To recap, here's the timeline of the Gone Girl ending debacle: first, director Fincher told Entertainment Weekly that author Gillian Flynn had "started from scratch," changing her own ending in the book and prompting us to dream up alternate ending theories. Then, The New York Times contradicted that report after they had an early screening, saying, "Contrary to early speculation, the film hews closely to the book," while Flynn herself told Reddit the reports had been exaggerated. So, now that the movie is out, we can talk about what really happens in the movie and how it ends. Obviously, spoilers ensue.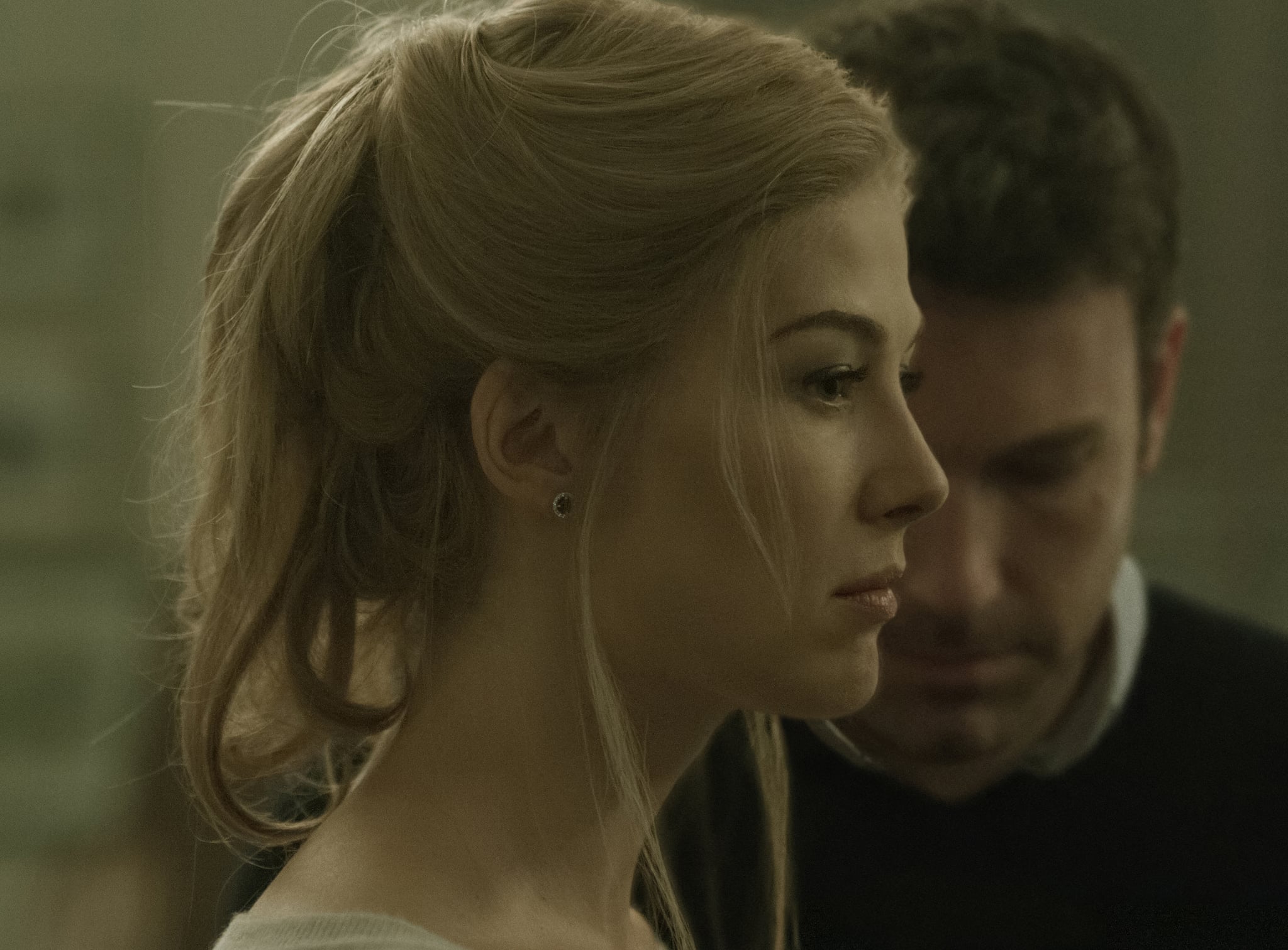 The short answer:
The movie's ending, like the movie itself, is quite loyal to the book. The structure is the same: Amy decides to come home to Nick after believing he may still love her, and though Nick knows the truth, he feels forced to accept her back, especially when she reveals she's pregnant with his child. It's pretty much the same, for all intents and purposes.
But . . .
There are a few subtle changes, but the biggest one is that in the book, Amy gets the last word — and acknowledges it's because she wanted the last word. Flynn wrote:
This morning he was stroking my hair and asking what else he could do for me, and I said: 'My gosh, Nick, why are you so wonderful to me?' He was supposed to say: You deserve it. I love you. But he said, 'Because I feel sorry for you.' 'Why?' 'Because every morning you have to wake up and be you.' I really, truly wish he hadn't said that. I keep thinking about it. I can't stop. I don't have anything else to add. I just wanted to make sure I had the last word. I think I've earned that.
In the movie, Amy doesn't get this last word. Instead, it's Nick stroking Amy's hair and reflecting on her skull, as he does in the beginning of the story. Interestingly, this is how the last chapter told from Nick's perspective ends:
The other morning I woke up next to her, and I studied the back of her skull. I tried to read her thoughts.
And that's not all.
In the movie, we see Amy and Nick promoting a book of their amazing story, but in the book, Nick writes his own novel with his side of the story, titled Psycho B*tch. It's what prompts Amy to reveal that she's pregnant, thus trapping Nick forever and ensuring he won't publish his story. Other slight things that changed from book to movie? In the book, Amy keeps some of her own vomit laced with antifreeze in case she needs to prove Nick had tried to kill her; Nick's dad dies at the very end; and memorably, Nick grabs Amy's throat after she comes back and thinks about killing her.
How did you feel about the ending? Do you think the changes make the story different, or did you barely notice anything had changed?