How I Met Your Mother Cast Interview About the Final Episode
These HIMYM Cast Quotes Point to Heartbreak in the Series Finale
How I Met Your Mother only has a couple of weeks to go before the series comes to a close, and the cast came to PaleyFest to chat about their final few episodes, and obviously, they were asked to address the theory that the mother may be dead. While the cast and creators Craig Thomas and Carter Bays were predictably tight-lipped, there were several quotes from the cast about the final episodes that sounded so bittersweet that it really seemed to indicate that something tragic may indeed happen. Are we jumping to conclusions? You be the judge — and check out all the new finale pictures that also may be telling.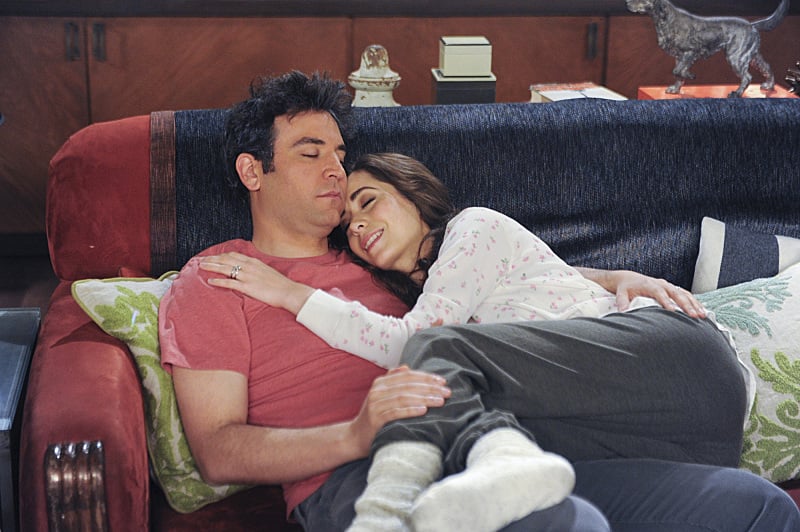 Here's what the creators said when panel moderator (and recurring How I Met Your Mother guest star) Wayne Brady directly asked whether the mother is dying. Bays remarked that "We're wildly excited about the finale," but, "obviously we can't say anything." Then Thomas spoke, and while he was almost as frustratingly diplomatic as Bays, his quotes were more telling. He reminded us that as a show, How I Met Your Mother is "surprising." "It does super weird things at times," he added, then alluded to the show's "curveballs," adding that "it's really strange for a sitcom." Surprising? Curveballs? Super weird? Strange things to say if there's a Hollywood happy ending.
Josh Radnor, who plays (possible widower) Ted, was answering a question about highlights from the end of the show, and his highlight turned pretty sad. "I feel like I'll never forget the final table read we had," he said, saying that was when the end of the show was hitting him. He described that last table read (and we assume, last episode) as "everything you love about How I Met Your Mother. . . . funny and sad and lovely and truthful." Sad and truthful could definitely indicate a death. He also added the cute tidbit that the production staff had made special Kleenex that read, 'Let it all out, no questions asked.' This could just be sentimental stuff, but it could also signify more.
Cristin Milioti, who plays the mother whose fate is in question, told us that the last scene that she filmed was the scene that she screen-tested with. When she filmed it for real, "I could barely get through it." This could also be a sentimental statement because the show was ending, but Milioti has also only been around for a season, so it's not unreasonable to think that her reaction could be about more than just mourning the show's end.
What do you think? Is this more evidence that the mother dies and leaves Ted behind?