Jane the Virgin's Gina Rodriguez Interview (Video)
Jane the Virgin Star Gina Rodriguez on Blazing a "Positive, Heroic" New Trail For Latinas
As Jane the Virgin, Gina Rodriguez is complicated, smart, funny, multidimensional . . . and Latina. The fact that all those qualities coexist in one character is not lost on 29-year-old Rodriguez. For so many years before landing the lead in The CW's endearing, telenovela-inspired sitcom — and before earning the network its first-ever Golden Globes nomination for her work as Jane this week — she struggled to find roles that portrayed women who happened to look like her as something more than just a cardboard-cutout stereotype. "I believe in following your convictions and saying, 'You know what, I'm going to do stuff that makes my culture or community look positive and strong and heroic,'" she told us just a few days ago as we caught up at The Grove in LA. "But it was very sad to realize that I would have to fight for those roles."
In conversation, Gina — just like Jane — is equal parts bubbly enthusiasm and thoughtful introspection. She's not shy about digging into some of the stickier issues the series has tackled, including whether or not Jane would keep her baby, but she also reveals a silly, slapstick side when she talks about the "trippy" experience of wearing a pregnancy suit on set. Read on for more from our conversation with Gina, watch a video clip from our interview below, and catch Jane the Virgin Monday nights on The CW.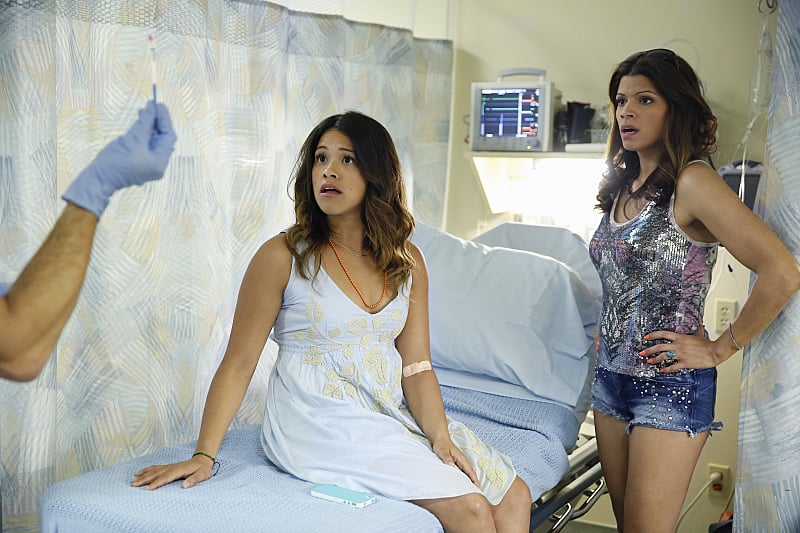 POPSUGAR: I have to say, this character is maybe the most together 23-year-old on earth. Did you have your stuff together as well as she did at that age?
Gina Rodriguez: Girl, you know I did! [laughs] No, there's no way I had my stuff together. I literally stop and I'm like, what would Jane do? Which is completely terrible, but I do, because of her patience and her understanding. I'm Puerto Rican, and we don't own that! But it is really awesome to play such a grounded character. I'm a big fan of her.
PS: You gave this great speech at the show's Television Critics Association panel about really wanting to help create these roles that young women, and Latina women, can look up to. Have there actually been jobs where you had to say, "I can't do that because of the way it portrays this women?"
GR: Yeah, sadly. Or not so sadly, to be honest, because then you actually discover the kind of person you want to be in this world. But there have been a significant amount of times where I wished I had the opportunity to play more characters like Jane. But I think that's truthful for all ethnicities, which is what I'm starting to actually understand, as well. I think that the reason I love Jane so much is the fact that she's not driven by her ethnicity, but more so by American culture. There are so many ethnicities under that label. And so the idea of creating more opportunities for Latinos is phenomenal and keeps opening that door.
PS: We're talking about how progressive it is in a lot of ways. And one thing I thought was great was how non-judgmentally and honest it was about Jane's whole decision whether to have this baby. This year we're seeing movies like Obvious Child; people are really talking about this issue. Was that something that hooked you when you read the script?
GR: That was definitely something that hooked me, because [executive producer] Jennie Urman allowed this girl — who is pure love, who is somebody that wants to do what's right and wants to make her mark in this world as a good human being — to go through this very honest process. To have her go through those trials, to have her go through those ups and downs, those pros and cons, like any girl would, because that is such a difficult decision. To be a parent is such a difficult decision, such a difficult responsibility, that I love that this girl was just coming from the only beautiful intent from her heart. Listen, we all have very difficult decisions in life to make, and this is a real one. And let's talk about it. No judgment. No right or wrong. No this or that. Just, like, here's a platform: discuss. Because we all have different journeys in life, and we all feel differently, and we all come from different backgrounds, and we're allowed to have our different perspective. So, it's nice when you have something where you put it out there and you're like, "Discuss. We don't know the right or the wrong, but what's right or wrong for you?"
PS: At one point, you yourself dated an adult virgin.
GR: I did, and he worked here in The Grove. How crazy would it be if we got a sighting?
PS: Does he still work here?
GR: I don't know.
PS: Should we go find out?
GR: I think we should. No, no! [Laughs] Yeah, he was amazing. It's really a testament to everything that happens in life contributes to who you are. And it's definitely part of the journey, because, little did I know, during that time. I was also so moved by his convictions. [He was a] beautiful man, beautiful human being inside and out, was not ashamed and had no fear, and still was supercool and had swagger. All the opposites of what somebody would consider a person that was still saving themselves to be. I feel like it was nice to be able to emulate that for Jane. And she's not a saint. The girl got needs!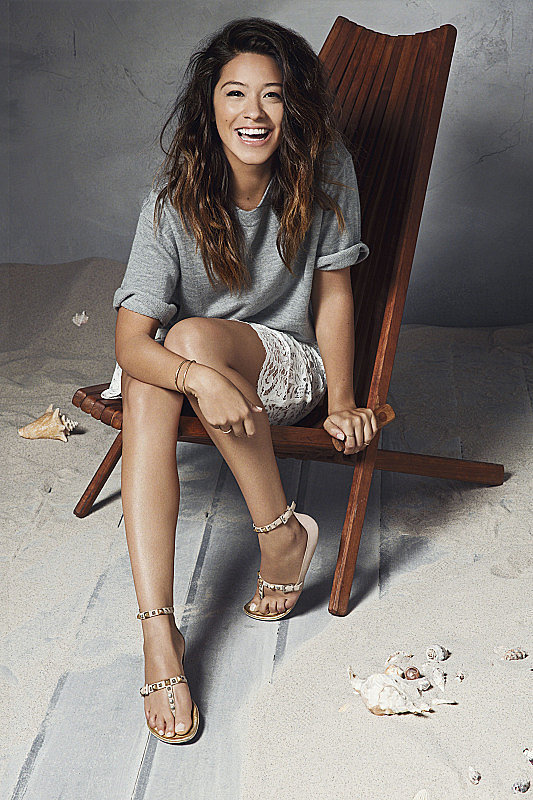 PS: Let's talk about those needs for a second. Do you think it was always the idea all along to get her and Rafael together so soon?
GR: I don't get the scripts until the day we start shooting, like [at] the table read. We are not privy to any information. Which is kind of like life; you don't really know what's going to happen tomorrow. And that's nice, because it makes it a little easier to stay in the present and not think about what's going to happen in Jane's future. At the table read myself, I was like, 'Wait what?! What just happened?! You guys!' But you're going to see her backtrack.
PS: I feel like we have definitely not seen the last of Jane and Michael.
GR: Ooh, girl . . .
PS: I'm just going to take that as a confirmation. I'd love to see more of Michael.
GR: Oh my god, Brett Dier [who plays Michael] is phenomenal. Another part of being an actor and not having the control over the storyline is you can get attached to one person and then have to shift your focus. So, I think it's the same situation that Jane's going through. Justin Baldoni [Rafael] is very charismatic, but at the same time there's the, "OK, hold on. Let me just get some grounding. What's going on here?"
PS: And talk a little bit about Jane's pregnancy. We're not really seeing her show yet, so I would imagine the baby's not going to arrive by the end of the season. Do you know?
GR: I don't know. That's the crazy thing again, because we're only on episode 14. But I am five months pregnant, and I have a pregnancy suit. It's real. So trippy. Women are superheroes. I've learned that it's uncomfortable to wear the pregnancy suit, so I give it up to women. I put on the pregnancy suit one day, and I was so tired, and I just wanted to take a nap during lunch, and I lay down and I'm like, "Oh my goodness. There's nothing comfortable about this situation right now." And I get to take it off, so there's a lot of respect I have. And the transformation of your body for a woman — which is beautiful to talk about, like beauty norms, and how we feel about our bodies, feel about ourselves — to see that transformation happen so quickly, I'm like, "Oh whoa!"
PS: Did it make you start thinking about parenthood yourself?
GR: One hundred percent. Totally. And then I'm also attracted to pregnant women, so I'll be like, "Hi. How are you? How many months pregnant are you?" And they're like, "Creep." [Laughs] And then they tell me, and I start getting real into it. I'm like, "So, any funny, weird things?" And they're like, "No, I'm not going to tell you anything!" So thank god I have my sisters and my best friend who's pregnant right now. She's been telling me all the weird things that go on.
PS: I know you're very close to your sister, and your family has got to be so crazy-proud of you.
GR: They are. Every step, every success, every accomplishment has been that moment of like, "We're proud of you. You're still fighting and still going after it." My father is watching the show. This past Monday, we had an off week, and he calls me and he's like, "No Jane?" And I was like, "No Jane, Dad." And he's like, "Well, what? Why?" And I'm like, "I know, I know. Just gotta wait until Dec. 8, Daddio. I'm sorry." But to have that support where they're watching is really cool. That's a whole other level of awesome. I hope they're proud, but I won't stop until they're all taken care of.
PS: Justin, who plays Rafael, is definitely a heartthrob to many. He actually had this proposal video that went crazy viral. Have you seen it?
GR: I have. I had a roommate a few years back that would obsess over the proposal videos when they started getting superbig. And he'd be like, "Gina, you have to come watch this one." And I'd be like, "Ugh, stop. I can't with the proposal videos!" And then of course I'd cry to some of them. I'd be like, "Oh my god, why am I not married? Why haven't I been married multiple times?" I'm kidding; I'm joking. But I'm like, "This is amazing. I want this." And then I see this one, and I'm like three minutes in, and I'm like, "27 minutes? Give me a break." I'm like, "This is ridiculous. Fine, we get it, you love her." I was just hating — obviously with love. So then I meet him, and he kind of looks familiar, but not really. And we do the test, and we're vibing on religion and love and acceptance — all these beautiful things that make two human beings. And I was like, "Man, how dope would it be if you got this?" And right then, Jennie walks in and she's like, "You booked the role, Justin." And we were like, "This is incredible!" And she goes, "Everybody's tripping about the proposal video." And I was like, "That's you! You're the excessive proposal! You crushed me that day!"
PS: Do you get to relax a little bit during the holidays this year?
GR: I mean, I don't want to relax! I love being around her and the energy of Jane, and I feel very, very blessed. So, during Christmastime when you're remembering how blessed you are and how fantastic the past year has been, Jane has really given me a lot. I don't really need anything else.