Kyle MacLachlan and Kaitlyn Dias Interview About Inside Out
The Stars of Inside Out Might Love Disneyland Even More Than You Do
Couldn't get enough of Inside Out in the theater? Great news! Pixar's hit is out on DVD on Oct. 13 (plus Blu-ray on Nov. 3), and we got the chance to sit down with the people behind the main characters: Kyle MacLachlan (aka Dad) and Kaitlyn Dias (aka Riley). Of course, we had to ask about Riley's First Date, the short movie debuting on the DVD, as well as what they know about a sequel. Turns out, the Portlandia star and his animated daughter are quite the Disney buffs!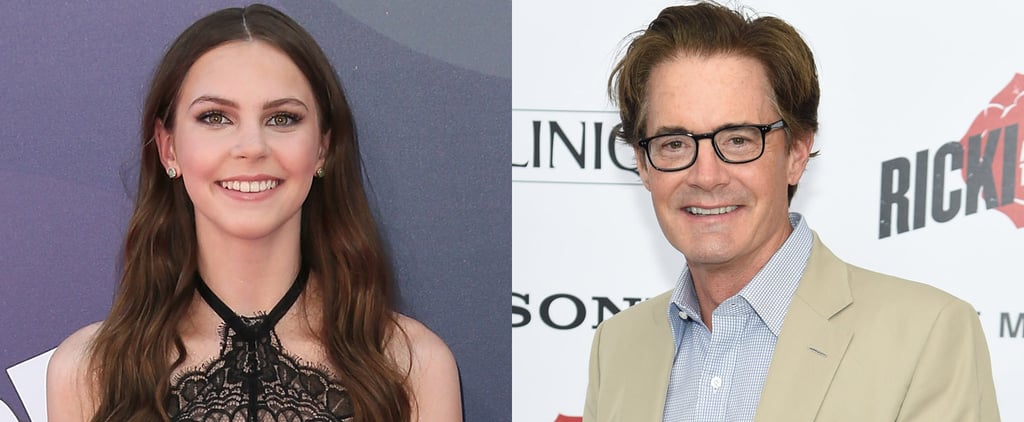 Image Source: Getty / Jamie McCarthy, David Livingston
POPSUGAR: What can you tell fans about what to expect and what you're most excited for them to see in Riley's First Date?
Kaitlyn Dias: Dad gets a little bit protective in it. Riley brings home a male friend to just go out on a playdate with and Dad is like, "I've got my eye on you," until he realizes that there's a common ground for them.
PS: Since you work separately in the sound booth, what's it like to finally see each other for these press days?
KD: It's nice to finally associate the actual face with the voice!
Kyle MacLachlan: That's exactly right. You obviously know what Bill Hader looks like and Amy [Poehler], but I had not met Kaitlyn before so it was really nice to put a face with the voice.
PS: As I was watching the movie — and this kind of sounds weird — but I kept trying to picture Dad's mustache on you. Would you ever grow out the Dad-stache?
KM: I can't grow the Dad-stache even if I wanted to grow the Dad-stache; it's just not quite thick enough. But this season I did a character on Portlandia that has a substantial 'stache. I play the mayor of Austin and he has a mustache, so they slapped that on me. That was kind of fun.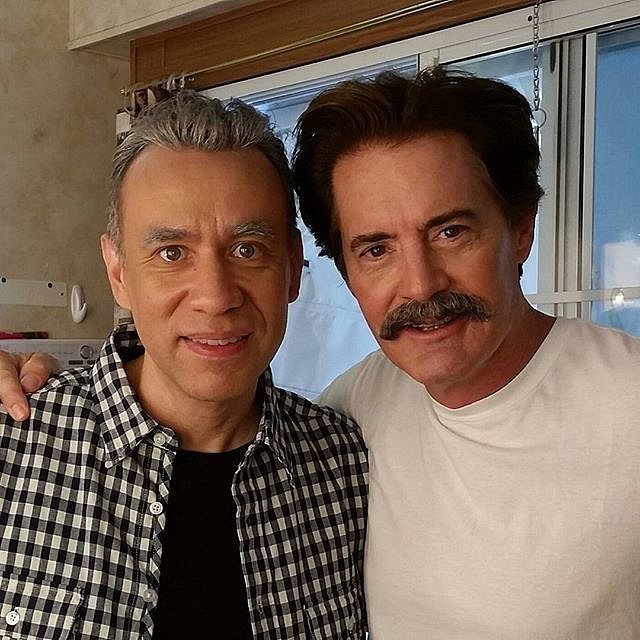 Image Source: Instagram user kyle_maclachlan
PS: What can we look forward to on Portlandia's sixth season?
KM: Well I'm the mayor of Austin, so there you go! As well as being the mayor of Portland, so that's going to be kind of fun. It's a dual role.
PS: Do you know anything about an Inside Out sequel coming up?
KD: I have not heard anything about a sequel, but I am hoping that there is one, for sure! I would love to be able to continue working on something as — "awesome" isn't even a good enough word to describe this — but I would love to continue working on this type of a project.
PS: What about you, Kyle?
KM: I'm looking forward to the Disney ride.
PS: Oh yeah!
KD: Oh, that would be interesting!
KM: Listen, they did it with Cars. They'll figure out a way.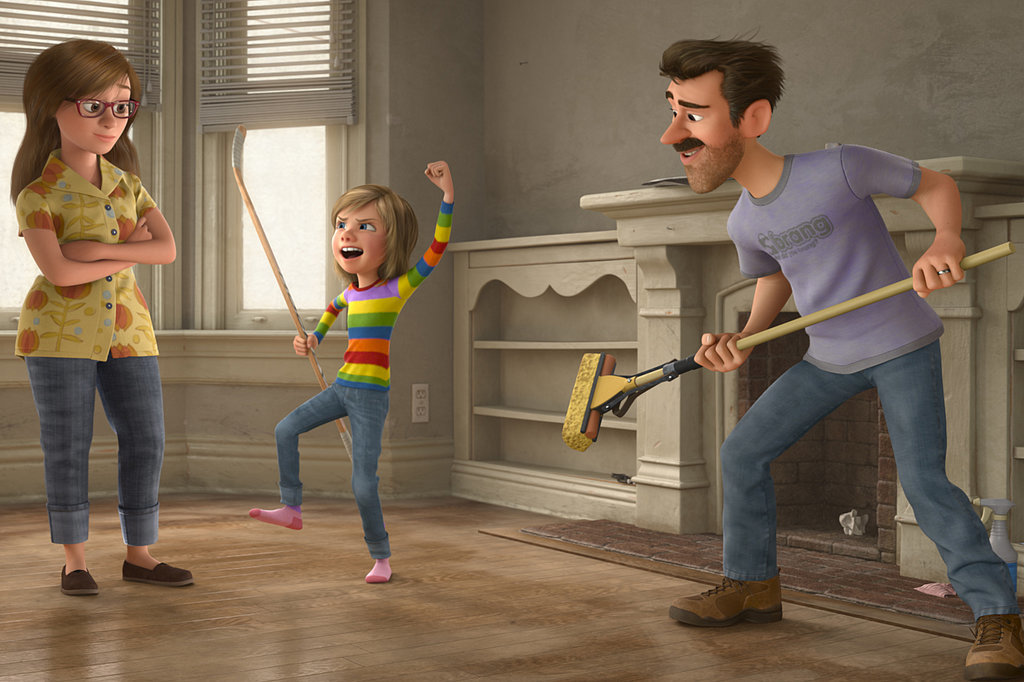 Image Source: Disney
PS: Do you guys have some favorite Disneyland rides?
KD: Oh that's a tough one! I'm going to have to go with the Matterhorn.
KM: My favorite is Toy Story Mania, because it's all about shooting and getting the highest scores. There's a competitive part to it.
PS: Do you have any good Disney trivia for us?
KD: Some of the park's rides have what's called a single rider line. So what happens is: you get a little pass, you go into the shorter line, your party will get split up and they are placed into wherever the cast members can fit them in to make the ride going around more efficient so more people get to go. Not all rides have it, though, so just make sure to check with the cast members.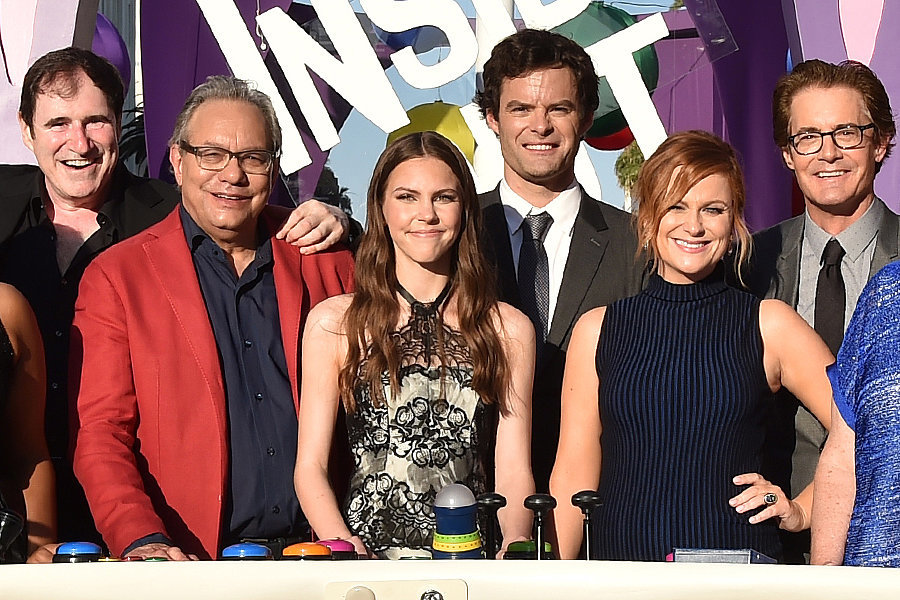 Image Source: Getty / Kevin Winter
PS: If you worked at Disneyland as a cast member, what would you be? And you can't be Riley.
KD: I think I'd like to work as one of the dancers in the parades. They get cool costumes.
PS: What are your personal favorite Pixar movies?
KD: Let's see. Brave is definitely one of them. I love Merida. She's awesome and not afraid to go after what she wants — plus the archery thing is really cool. Inside Out, of course. Even if I wasn't in it, it would still be one of my favorites. And A Bug's Life.
KM: I liked The Incredibles a lot. And I like A Bug's Life too.
PS: It's underrated.
KM: Yeah, it's pretty great. The characters, the beauty of the circus performers. You know they were so different and so inventive, I thought that was pretty special.