The Magicians Interviews About Season 2
The Magicians Cast Answers Your Burning Questions About Season 2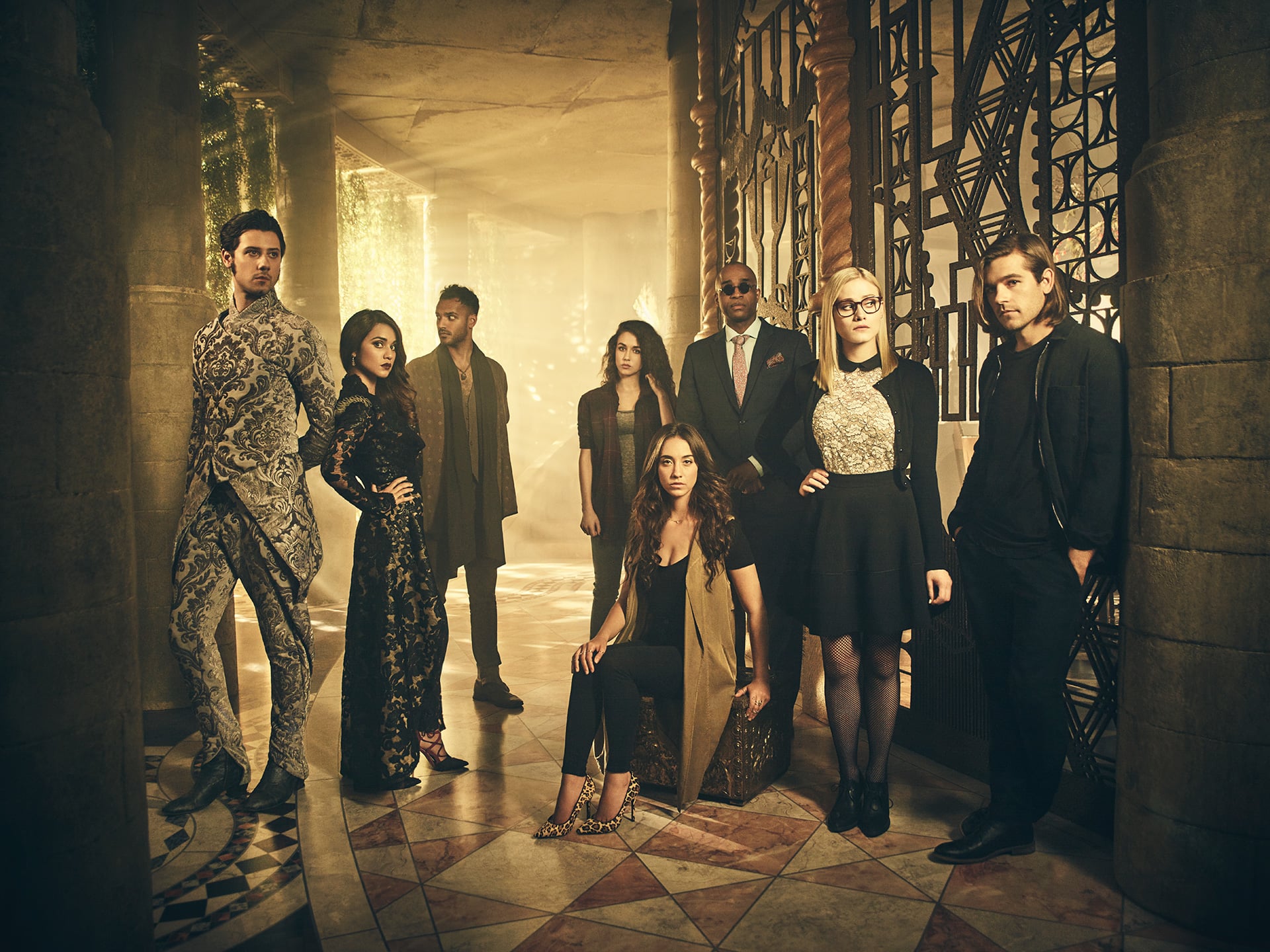 If you're a fan of Syfy's The Magicians, then you better hold onto your seat, because season two sounds like one crazy ride. While last season's cliffhanger is a huge game changer for the series, it only touches the surface of what's to come. As the core group of students tries to fight off dark forces in the magical land of Fillory, they will be tested in ways for which even Brakebills University couldn't have prepared them. POPSUGAR caught up with the cast during their Hall of Magic opening in Brooklyn, and they filled us in on their characters' biggest struggles, how closely this season will follow the books, and their favorite magical character in pop culture.
POPSUGAR: How closely will this season follow the books?
Olivia Taylor Dudley: The writers, John [McNamara] and Sera [Gamble], have done a lovely job of weaving in and out of the books. In this season, you're going to see all three of the books and beyond. The books laid a really nice game plan to build upon, but we have the opportunity to go way beyond that and go back and forth between worlds. It's the greatest hits season.
PS: Will we be jumping back forth between Fillory and Brakebills this season?
Jason Ralph: A lot, yeah. If last season was about getting tiny glimpses of all these worlds, this season is about opening them up and getting to see how they relate to each other, how they influence each other, and how they need each other to survive.
PS: In the first season, Dean Fogg was the mentor figure for the group. How does that change now that everyone is in Fillory?
Rick Worthy: The dean will continue being the dean. Part of what I will do in season two is maintain a semblance of control, that I'm still the boss. But underneath, he's really struggling with all this stuff that's in front of him. He has students who have done and seen things that he hasn't and can do magic that he doesn't know. He still has to be this father figure. He is a human being, but he's not just a dean. Sometimes I play the character very moody, but he does have a sense of humor and he is dealing with a lot. He's regaining his magic and he does have a bit of a romance in season two.
"When it comes to the affairs of love and the heart, these are not people that are blessed with a ton of emotional intelligence or self-awareness."
PS: Speaking of new romances, but will there be any new relationships for Penny this season?
Arjun Gupta: In the space of survival, there's not a ton of time to take care of your heart, and that is what you find this group of people in. It's messy. Everything's messy on our show, but when it comes to the affairs of love and the heart, these are not people that are blessed with a ton of emotional intelligence or self-awareness. The story between Penny and Kady was unresolved in the first season, and there will be more to that story. I'm not saying there is going to be a resolution, but there is more to the story.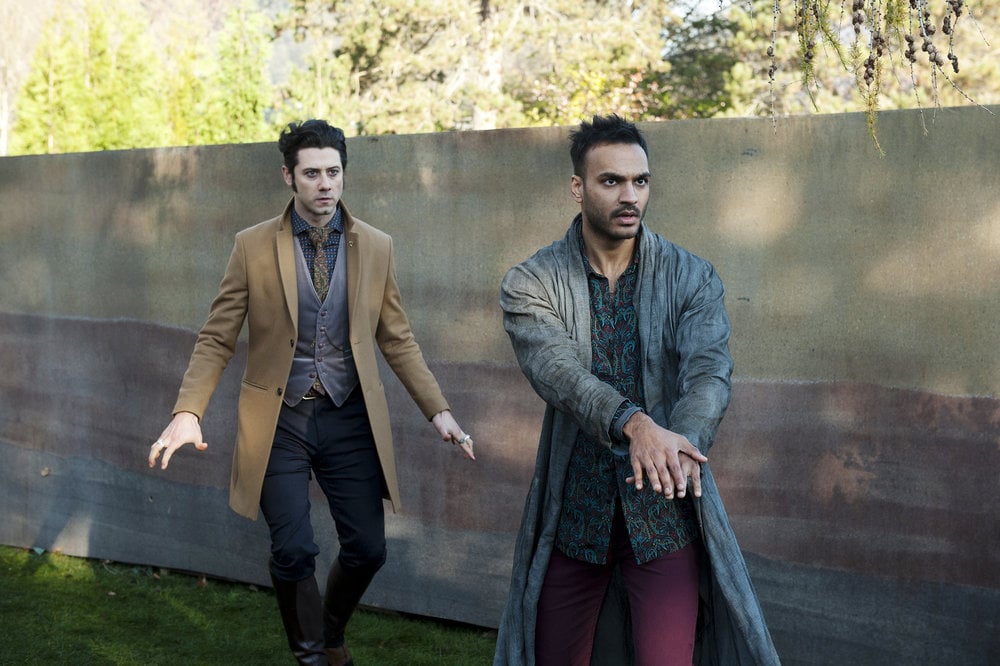 PS: How will magic be different this season?
Jade Tailor: Everything is heightened. We go to Fillory and that in itself introduces new magic. We're also dealing more with survival and because of that we have to find a way to utilize bigger magic in order to fight off what we're facing.
Stella Maeve: The stakes are higher and you do get to see a lot more tutting, which is super cool. They get to use magic a lot more in season two than we did last year. And it's great because we get to see these characters use magic together. It's really nice to see especially for Kady and Julia, these two fierce women, using this battle magic to fight over evil and save the world.
JT: I think we need more of that — women coming together and fighting for the good of humankind.
PS: Kady and Julia certainly have a complicated history. How does their friendship evolve this season?
JT: Oh, it evolves in a huge way.
SM: In a great way, and then they might break your heart again. I think we're always rooting for these two to come together. With season two, what's really interesting is that every single character is dealing with that "do the moral thing" and their own selfishness, which is human nature. Julia and Kady help each other with that. It's sort of a balancing act.
"We all have a choice. We could all be The Beast if we chose that."
PS: Will we see a different side of The Beast through his relationship with Julia?
SM: It's amazing because so much in TV today, you don't get to feel empathetic for the villain. The villains are the villains and the heroes are the heroes. It's very black and white. What's really cool and different about this show and this relationship is that you get to feel for The Beast and hopefully become empathetic and compassionate towards this person. You start to realize that he's not so different from Julia. It sheds some light on how we all have a choice. We could all be The Beast if we chose that. This season poses the question of what makes someone become so evil? And are they really evil, or do we all have a little bit of evil in us?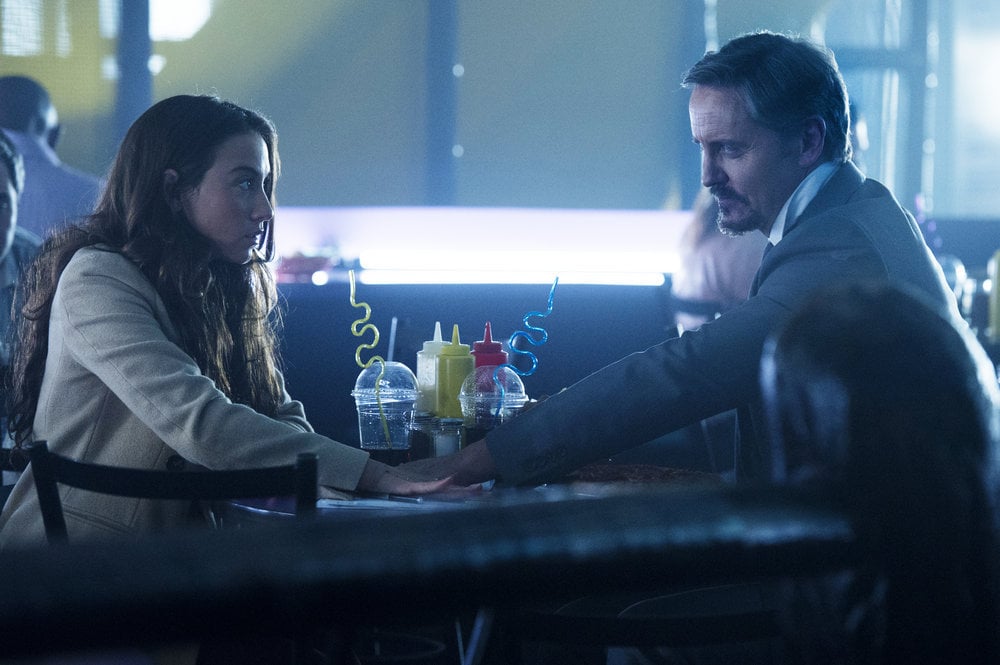 PS: What is the biggest struggle your character will face this season?
SM: The easy thing to say would be to seek revenge and redemption, but I think Julia's biggest struggle is with herself. John and Sera do a beautiful job with utilizing these things metaphorically and masking it, but her biggest hurdle is trying to get back to herself and trying to overcome these awful series of events that have happened to her, and continue to happen throughout season two, and be OK.
JT: For Kady, the biggest struggle is the battle between doing what is right for the people that she cares about and doing what's actually right. She is desperately seeking to resolve the guilt she feels for having left Julia in that circumstance and wanting to support her. I think that overshadows often what is right. Her moral compass is sort of challenged.
PS: Last season, Quentin struggled with finding his place. Does becoming a king of Fillory, a place he's been obsessed with since childhood, help with that or make things more complicated?
JR: It makes it so much worse because what he wanted from Fillory, he's not getting. It's sort of betraying him and forcing him to look inward and reconsider what he actually wants. In some ways, it's more real than the real world and that's disappointing.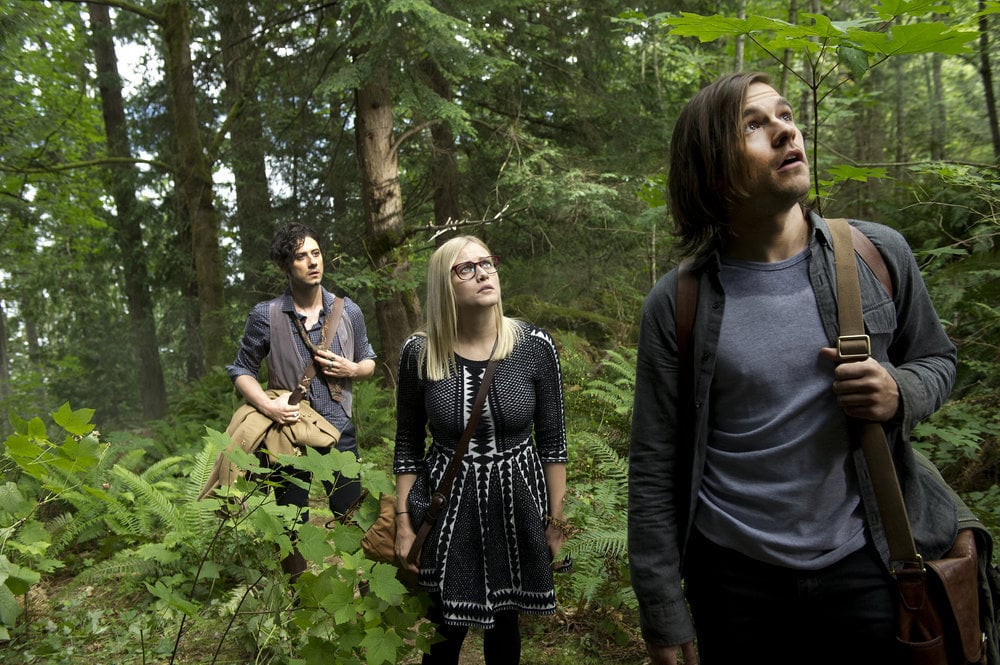 PS: Excluding Lev Grossman's trilogy, who is your favorite magical character in pop culture?
AG: Is Yoda a magical character? I mean, at this moment in time to have that level of wisdom would great. To be able to navigate time with care. We have a lot of fight ahead of us right now, and to have the wisdom on how to fight and how to resist with care that would be lovely.
RW: I'm thinking Harry Potter only because I've seen all of the movies. I haven't read the books, but my nephews have and they love them.
JT: For me, I grew up on Willow. That world was my first introduction, so I immediately go to that.
SM: Gosh, I can't pinpoint one, but if I could pick a magical creature to be, I would be a fairy.
OTD: I'm a big movie watcher, so I'm a big fan of The NeverEnding Story and Labyrinth. I draw from those. I love Hermione. Obviously, I draw a lot from her when it comes to Alice.
JR: I'm thinking a lot about The Walking Dead. I can't really pick a character, because they explore them all so well. They're all allowed to be the hero and then disintegrate into the villain.
The Magicians season two premieres on Syfy on Jan. 25.