Mark Wahlberg Interview on The Gambler
Mark Wahlberg Says His 60-Pound Weight Loss For The Gambler Was "Miserable"
Mark Wahlberg's latest role in The Gambler, a revamp of the 1974 film by the same name, was a roll of the dice for the movie star. Wahlberg shed about 60 pounds to play anti-alpha male Jim Bennett, a college professor and novelist who takes a masochistic pleasure in blowing up his life with an increasingly disastrous series of gambling losses. The Gambler had its world premiere in LA last night and will hit theaters on Dec. 19, just in time to be considered in this year's Oscars race. Beyond Wahlberg, the supporting cast seems built with an award season audience in mind; Jessica Lange, John Goodman, Brie Larson, Michael Kenneth Williams, and a newly discovered talent, Anthony Kelley, round out the credits. We joined a group of reporters for a conversation with Wahlberg in Beverly Hills, CA, this morning, where he arrived looking back in his typical, Transformers-ready shape, and with his "censor" — 11-year-old daughter Ella — in tow. He reflected on the "miserable" physical challenge this role required — Wahlberg was hoping to go for a more "husky" physique, but director Rupert Wyatt (Return of the Planet of the Apes) had a different thought in mind — and schooling Drake at a game of basketball with his costar Kelley.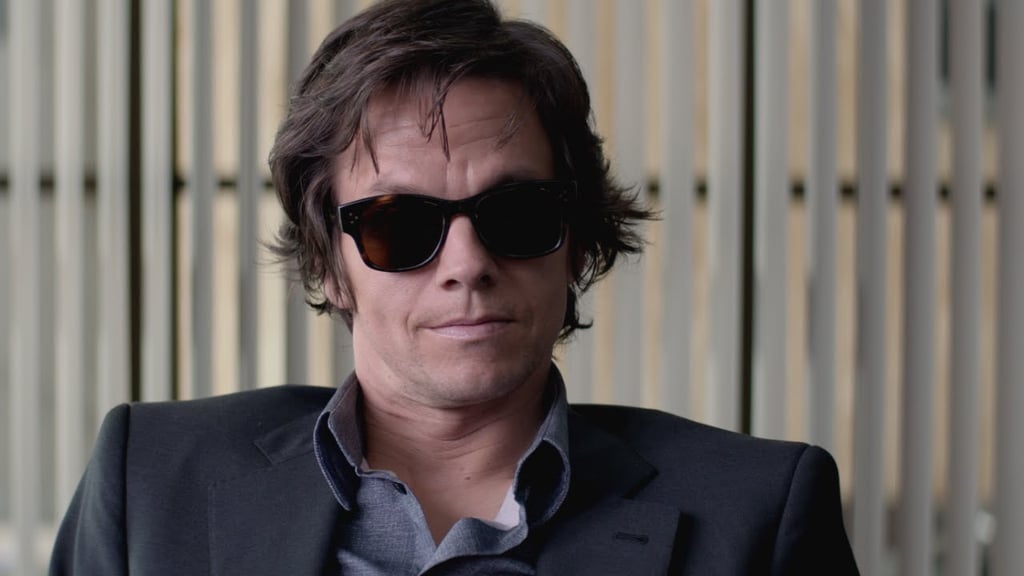 On Losing Weight For the Role
"I felt miserable, like my character. Not a happy camper. I love food. I like exercising, but I like exercising when I'm eating properly, and having to exercise twice as hard as I've ever done without eating was pretty much a nightmare. But, you know, that's what Rupert and those guys wanted to do, and they had a specific look in mind . . . I was like, fine."
On His First Post-Deprivation Indulgence
"I was craving breakfast so I had a meal at the Beverly Glen Deli. I had a big stack of pancakes, I had home fries, eggs over easy, bacon, sausage, english muffins, toast. And the big deal was, I was waiting for the english muffin. I wanted it really golden brown, and then I was going to put the butter on it, and they brought it out and it was hardly toasted. I was like, 'Dude. You gotta take that back.' Normally I don't send stuff back, but I ate every single crumb and I felt horrible after it, of course, because it was such a long time without eating, but I'm a foodie and I was craving food for a long time. I would go to restaurants and just sit there and smell the food, spend endless amounts of time looking at menus, just torturing myself. My wife was like, 'What are you doing to yourself?'"
On Inviting Drake Over to His House to Play Basketball
"Drake's pretty good. He had all his Canadian guys. We did win the game, but, listen: I love Drake. I'm about to show him the Entourage movie, and we need the song. [Laughs] He's a very talented guy. He can play basketball even though [Drake] threw that air ball up in Kentucky. That could happen to anybody. But he's a good ball player and he's a great talent and I'm really proud of him and his career. It's just a game. I don't want it to turn into like, a Clooney/DiCaprio thing. But I play a lot of basketball, anyways, so when we're shooting Transformers and we were in Detroit, we'd go to the Pistons training facility and we'd play with all those guys . . . guys from Michigan State, guys from the Pistons. The great thing with me is with a lot of these guys, they just think, oh, well he's a 42-year-old guy, he can't play. Then I get three or four deep threes on 'em, and they're down 12 nothing, and they're like, what the hell just happened."
On Being Slapped by Jessica Lange, Who Plays His Mother
"Jessica's fantastic. She loved slapping me. When she'd slap me hard, she wouldn't ask me if I was OK. If she kind of missed, she'd be like, 'Are you OK?' I was like, just stop it! Just don't do it in rehearsal, and don't do it when I'm off camera."
On His Own Experience With Gambling
"I'm not really interested in gambling. I like the fact that this character just uses that as a specific tool to strip himself of all his material stuff in his life and try to get back to nothing and see if he can start over. But I'm not big into gambling. My dad was a gambler and not very good at it — although he won $1,500 and put a down payment on a house that we lived in and owned for a short time. But I only gamble when I know I can win: when I'm playing basketball with friends. Or golf."
On Whether Playing a Professor Made Him Regret Missing Out on College
"Oh, absolutely. I remember when we went to UCLA to a lecture, and afterwards, we were kind of walking around on campus and thinking about all those things in life. You think about all the things you missed out on, but look: my path would have been different. The great thing is now, I'm inspired to continue my education, so at some point — I don't think I'll be living in a fraternity or anything — but maybe I'll study some more film and business."