Miley Cyrus & Her Dead Petz Album Details
Read This and Be an Expert on Miley Cyrus's New Album Without Even Having to Listen to It
Miley Cyrus used her gig as host of the MTV VMAs on Sunday night to unleash her latest album on the world — surprise! Miley Cyrus & Her Dead Petz is available for free online once again, after a brief crash took the original streaming site offline last night.
Miley debuted the album's lead track, "Dooo It!" on the VMAs stage, with a cadre of Ru-Paul's Drag Race contestants as her backup dancers, to close the show. While that song is full of aggressive, megaphone-blaring vocals and driving beats, Petz often spotlights a dreamier, introspective side of Cyrus — especially on the '60s-tinged "Karen Don't Be Sad," which dare we say has echoes of Lana Del Ray. Read on for more about the making of the album, the business behind it, and what it might mean for Cyrus's career: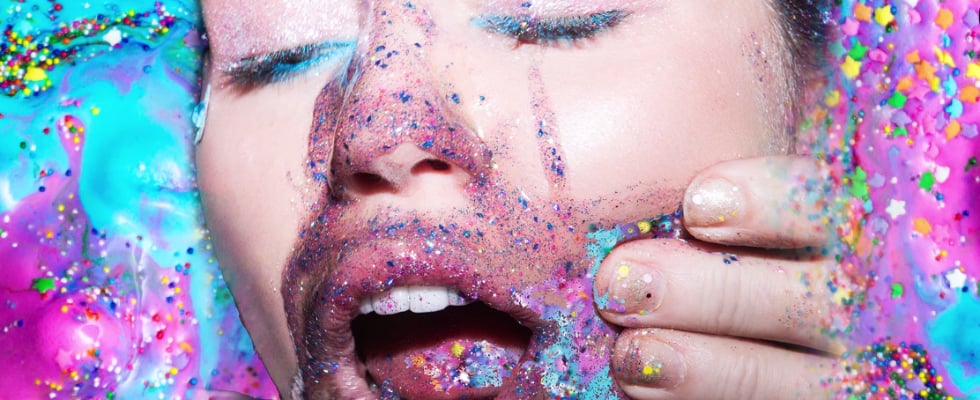 1. The Flaming Lips' Wayne Coyne Produced Most of Petz
Miley worked with Coyne, the Flaming Lips frontman, on much of the album. She still collaborated with Mike WiLL Made-It, who was responsible for several of the strongest tracks on her last album, Bangerz, but the psychedelic, rock 'n' roll flavor Coyne and crew bring to the table is also clearly evident on Petz. Cyrus says she is "100% in love" with the 54-year-old musician in a new interview with The New York Times, quickly adding: "But it's nothing sexual in any way. That would be the grossest."
2 . . . But Cyrus Wrote a Lot of the Songs Herself
Cyrus has sole writing credits on 10 of the 23 songs on Petz — which is pretty remarkable for any pop artist — and has a cowriter credit on each of the remaining 13 songs. To compare, she wasn't the lead writer on a single one of her Bangerz tracks and only shared credit for 10 of the 13 tracks. Even Taylor Swift only claims solo writing credit for one song, "This Love," on her latest album, 1989. Cyrus is also listed as the album's executive producer.
3. It Was Inspired by the Deaths of Three Particular Animals
"The title of the project refers to the album's actual inspiration: the deaths, in rapid succession, of Cyrus' beloved dog Floyd, her blowfish Pablow and dear friend's cat Twinkle," said the press release we received on the album last night, just moments after the website where it could be downloaded for free was flashed across the VMAs screen. "The period of mourning that followed evolved into artistic catharsis for Cyrus."
Cyrus herself told The New York Times more about the losses. She said that after Floyd's death, a Chinese healer "sent me into a state where my dog was lifted out of my lungs and placed on my shoulder. . . I pet my dog for like three hours." She also said she thinks Coyne is a kind of energetic incarnation of her former pet.
4. It Isn't Being Released With the Help of Her Label
Miley's relationship with RCA Records remains intact, but Petz was released outside of that partnership, and the label didn't fund the project. RCA released the following statement on the album: "Miley Cyrus continues to be a groundbreaking artist. She has a strong point of view regarding her art and expressed her desire to share this body of work with her fans directly. RCA Records is pleased to support Miley's unique musical vision."
5. It Was a Seriously Low-Budget Production
Miley told The New York Times that Petz cost about $50,000 to make, which might not sound like a bargain-basement price, but is a pretty small budget compared to the couple million that Bangerz reportedly cost. There is a less polished quality to Petz than one would expect from a major mainstream artist's release, but we also wouldn't doubt that the bedroom-recording quality is just what Cyrus was going for on a lot of tracks — especially introspective songs that lay bare relationship problems like "Fweaky" and "BB Talk."
6. The Featured Artists Run the Gamut
In keeping with the genre-less spirit of the album, and beyond her teamwork with Coyne, Cyrus called on a diverse cast of collaborators on Petz. There's "Tangerine" featuring rapper Big Sean, "Tiger Dreams" with LA quirkmeister and former Animal Collective band member Ariel Pink, and Sarah Barthel of electro duo Phantogram on "Slab of Butter (Scorpion)."