Mindy Kaling Quotes About Late Night at Sundance 2019
Mindy Kaling on Late Night: I "Was Just a Creep Writing Fan Fiction" for Emma Thompson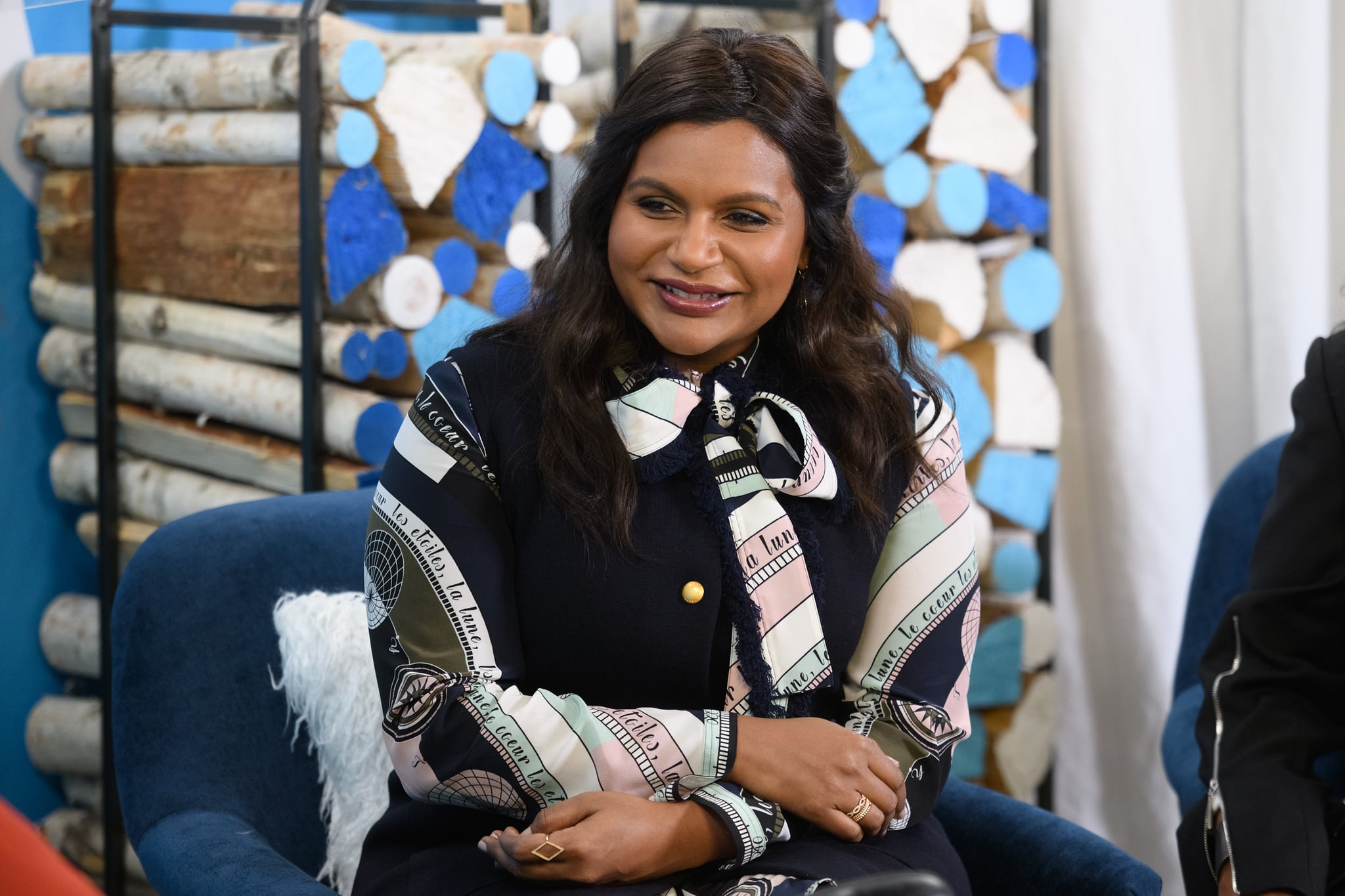 What started as Mindy Kaling's self-described Emma Thompson "fan fiction" just became a Sundance record breaker. Late Night stars two female leads — one, a woman of color, and the other, a woman over 50 — and set a Sundance sales record when Amazon bought it up for $13 million on Saturday, the morning after it premiered at the festival. (Did we mention the film was directed by Nisha Ganatra, also a woman of color?)
At a Q&A at the Stella Film Lounge on Saturday, Kaling described the movie — which follows Molly (Kaling), a young, inexperienced writer who lands a job on a late-night show hosted by Thompson's character — as "so much about women helping other women."
Late Night's success makes for a remarkable moment in Sundance history and a testament to Kaling's philosophy. It's also part of a notable sea change that is sparking much discussion at this year's festival. While only 25 percent of behind-the-camera Oscar nominees this year are women, in contrast, 47 percent of the films at Sundance in 2019 are directed by women.
"I was just this creep in my home writing [a] fan-fiction movie for me and Emma Thompson."
Kaling says much of Late Night's inspiration was simply her love of Thompson's body of work — and her desire to see her in more juicy, starring roles like those she landed earlier in her career.
"I wrote it for Emma Thompson. I think only she could have played this part, which is probably one of the stupider things you can do as a screenwriter, is tether your movie to the only person who can play it and hope that they can. A person I did not know!" Kaling joked on Saturday morning at a screening for the film. "So I was just this creep in my home writing fan fiction movie for me and Emma Thompson, a woman I don't know, hoping she would one day read it."
All joking aside, the film — which Thompson not only read but agreed to star in — is a refreshing antidote to ageism in Hollywood. Another refreshing cultural shift the film both reflects and pushes forward is celebrating the career ambitions of women.
"We say this movie is an ode to hard work," Ganatra said at the screening. "It's not: How can I meet the man of my dreams? When will I get married? It's: How can I break into comedy when I come from nowhere?" (We will add: it's still a Mindy Kaling project, so romance isn't totally absent from the film.)
Kaling was notably the first woman to join the writers' room on The Office, and while she was clear that the overwhelming majority of her experiences there were positive, she also said she amplified lots of her own real-life moments of discrimination and disrespect in Molly's storyline in Late Night. While she never encountered it personally, another cribbed-from-reality detail in the film features Thompson's character assigning her writers numbers because she can't be bothered to learn their names. Kaling said a well-known comedy star who shall go unnamed did the same thing.
"The world is changing so quickly, and I really am an optimist at heart."
When a fan at Saturday morning's screening asked Kaling for her advice on staying motivated as a woman of color in Hollywood, she sympathized. "The world is changing so quickly, and I really am an optimist at heart," Kaling said. "Even if you don't look like me or Nisha, you can relate to my character in this wanting so badly. And that kind of transfers into motivation. It's an affirmation, really."
Speaking of affirmations, Ganatra did make it clear that she hoped creating a fictional female host of a long-running late-night show could be self-fulfilling prophecy. "I'm hoping that this movie makes it so. The way I think the way we started casting black actors as the president we made it so, like, OK, we're doing this, and now it's going to be out in the culture, and people will see it, and it will become reality."
So, who is the real-life woman Kaling would like to see take the helm of a major network late-night show? Melissa McCarthy. "Yes, would I like to see her every single night on my TV? Yes. Would she ever do it? Hell no, because she makes tons of money making movies."
Stella Artois and Women in Film provided POPSUGAR with travel and accommodations at the 2019 Sundance Film Festival
Image Source: Getty / Daniel Boczarski for Vulture