Misha Collins Interview About Timeless
Why Supernatural Fans Need to Watch Timeless, From Misha Collins Himself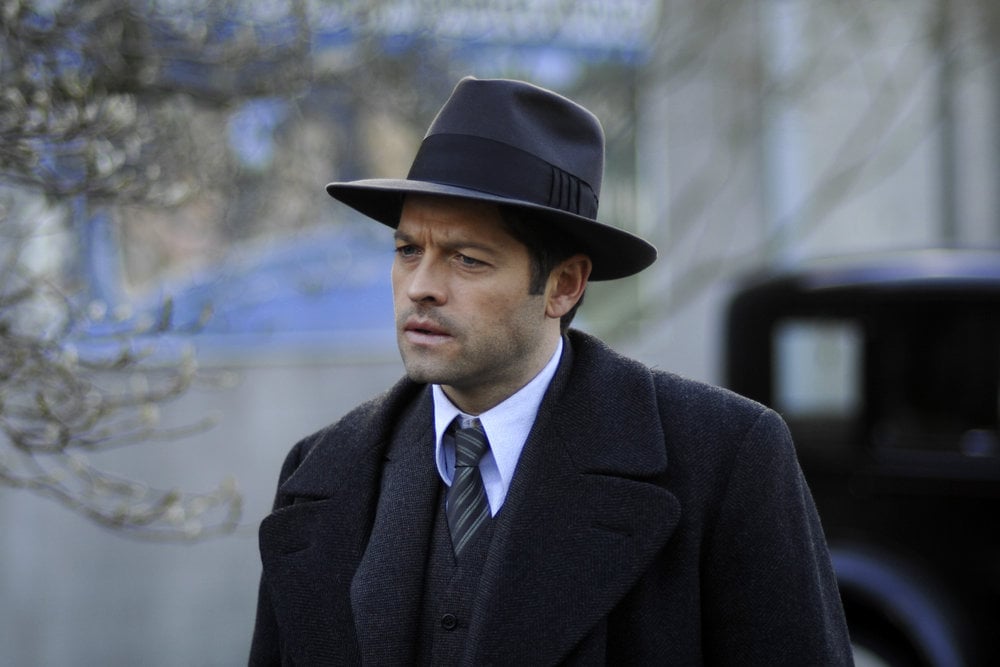 Season one of Timeless has almost come to a close, and it seems like they've saved the best for last. As the gang travels to 1931 Chicago, they enlist the help of famed lawman Eliot Ness, played by none other than Misha Collins. Not only does the actor have a rabid fan base from playing Castiel on Supernatural, but his cameo also marks a mini reunion with the show's creator, Eric Kripke. POPSUGAR recently had the chance to sit down with Collins and he told us everything about branching out into new roles, how his two characters have a hilarious connection, and why Timeless deserves to be renewed for a second season.
POPSUGAR: First, what was it like teaming up with Eric Kripke again?
Misha Collins: The way Timeless shoots, Eric is down in LA and the rest of the team is in Vancouver, [British Columbia, Canada,] so while it is his show, I didn't actually get to hang out with him as much as I would have liked to. But it was just really great to be able to do something with him again. He is somebody whom I like a great deal and respect — he's very smart — and I kind of also owe him my career.
PS: What was your favorite part about playing Eliot Ness?
MC: For me, the most thrilling aspect was getting to do something that wasn't Castiel. I've been playing the same character on Supernatural for the past nine years and while that character has gone through a lot of different iterations, it's nice to step out and just do something altogether different. I'm not trying to say that I'm sick of Supernatural in any way, nor am I sick of my character, because he changes all the time; it's just nice to do something different. When you become an actor, you never, ever imagine you're going to be working on one role for a decade, and while it is such a blessing to get the opportunity to do that, it's also nice to do something different.
"It actually felt like the Supernatural set to me, like everyone was just sort of screwing around and joking and having a good time."
PS: Did you have any memorable moments on set? Everyone I talk to always raves about how great the cast is.
MC: Yeah, I have to say the cast was very warm and welcoming and fun. It actually felt like the Supernatural set to me, like everyone was just sort of screwing around and joking and having a good time. I don't know why this is, but that's just such a rare thing to find on set. Also, because Supernatural shoots in Vancouver, there were a lot of familiar faces on the set of Timeless. Their studio is actually about a mile away from our studio, so it was right in the neighborhood. The art director from Supernatural actually moved onto Timeless to be the production designer and our former team makeup artist is now the makeup artist on Timeless, so it also felt like a mini reunion.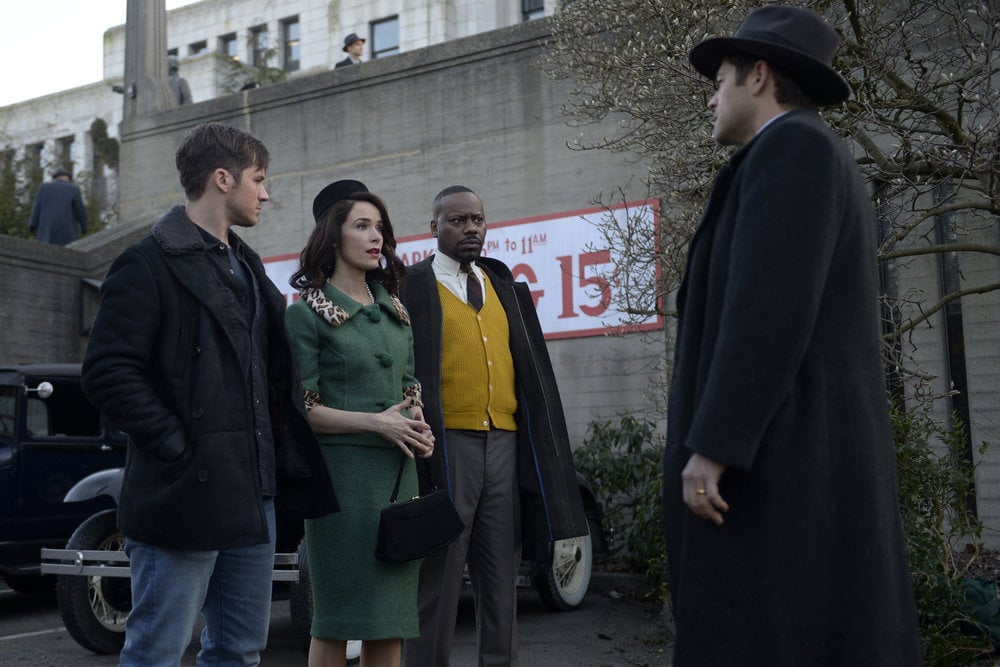 PS: Out of all the characters on Timeless, do you have a favorite?
MC: No, I don't think so. I really like Goran [Visnjic]'s character. He's creating a great bad guy there. And he's a lovely human being, so it's a good contrast between his real personality and his sinister character. But the trio of heroes, I like them all. I think there might have been a little bit of a kindred spirit thing going on with Wyatt, because Eliot Ness and Wyatt have similar life paths, in some respect.
PS: Who do you think Castiel would most likely get along with?
MC: I think Castiel would most strongly identify with Eliot Ness because of the shared wardrobe. It was funny for me, because I was like finally stepping out — I haven't played a role other than Supernatural for years — and I was like, "All right, I'm going to do something that's totally different," and then I got into my trailer and they gave me a suit and a tie and a trench coat and I was like, "You got to f*cking be kidding me."
PS: The show has done a great job including little pop culture references throughout the season. Will there be any hidden references to Supernatural during your episode?
MC: Not to Supernatural, I don't think. There might be an Easter egg in there that I'm missing, I'll have to look again, but there are pop culture references, for sure. There are a lot of references that you would only understand if you've seen the movie The Untouchables.
"I honestly think that the only problem is that people haven't found it yet. It's a great show, and I'm very happy to be a part of it."
PS: Recently, Eric posted a long letter to fans about how Timeless has been deemed a "bubble show," meaning that a season two renewal isn't guaranteed. While the cast has been working hard to get more people to watch, in your own words, why do you think people should tune in? What do you think sets Timeless apart from other shows on TV?
MC: It just amazing to me that Timeless is a bubble show, that it's just not solidly in the renew column. I think that would only happen today when we're in this golden era of television, where there's so much to watch, it's just hard to capture an audience in the first place. But this show is absolutely epic. I simply can't believe the production value for the episodes. Each episode is creating a new world. I just can't think of another television show that trumps the Hindenburg to the 1970s week to week. And then there's just a real synergy between the cast and the writing is smart. I hope that it continues to grow its audience and that people find the show. I honestly think that the only problem is that people haven't found it yet. It's a great show, and I'm very happy to be a part of it.
Watch out for Collins on the Feb. 13 episode, "Public Enemy No. 1."