One Tree Hill Stars Respond to Mark Schwahn Allegations
One Tree Hill Cast and Crew Unite to Accuse Showrunner Mark Schwahn of Sexual Harassment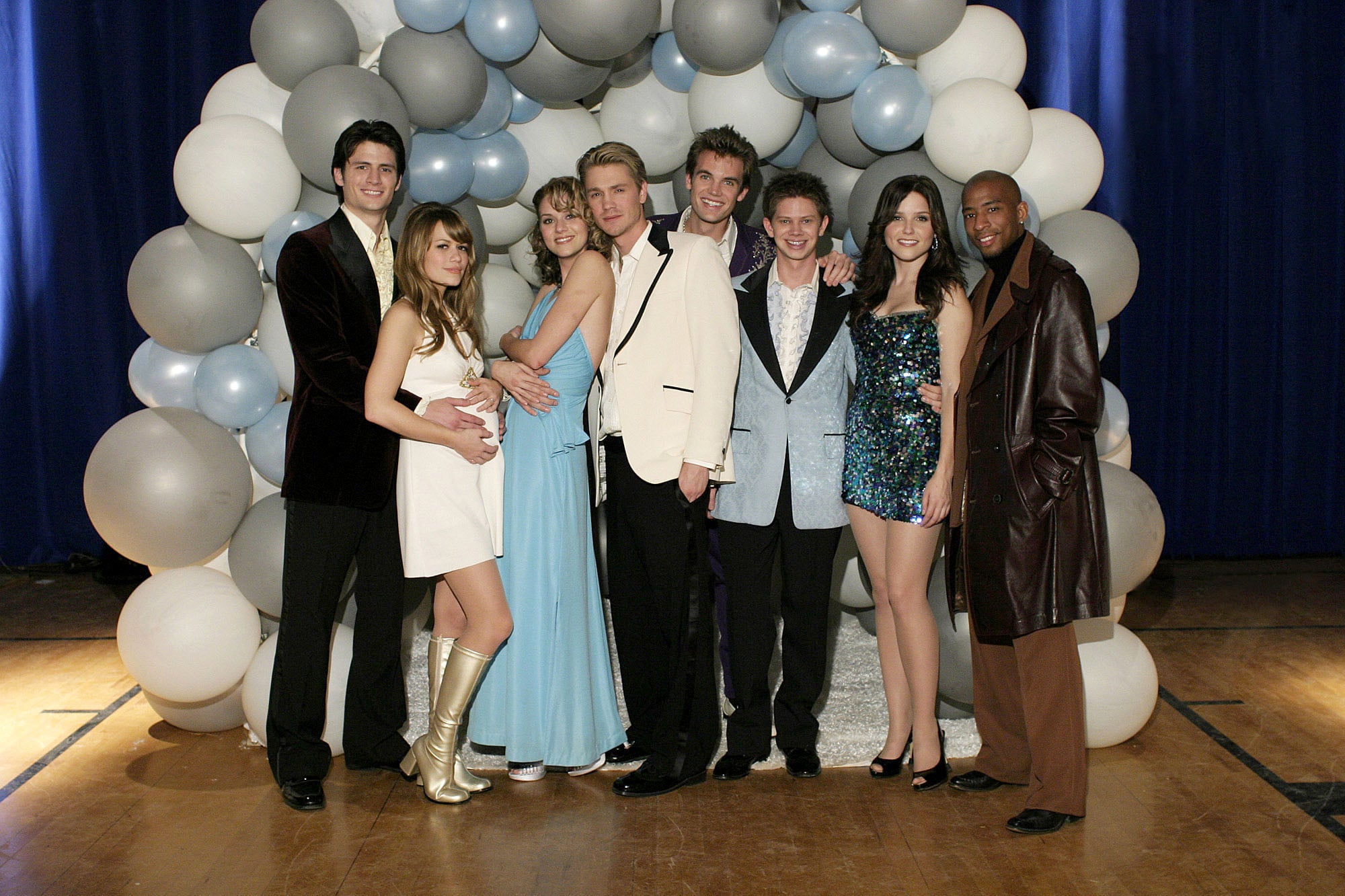 Image Source: Everett Collection
Eighteen former cast and crew members from One Tree Hill have come forward to accuse former showrunner Mark Schwahn of sexual harassment. Like cast members from Supergirl and Arrow, former stars of the long-running drama are rallying together for support amid the disturbing sexual misconduct allegations.
Writer Audrey Wauchope kicked things off on Nov. 11 by tweeting a thread about her experiences while working as a staff writer on the long-running TV drama, which ended in 2012. Although she didn't explicitly mention Schwahn's name, she referred to the first showrunner she encountered while working on her first official job as a staff writer and noted that she was coming forward in light of the allegations against Supergirl showrunner Andrew Kreisberg.
In addition to calling her time on One Tree Hill demoralizing, she cited instances where Schwahn showed staffers naked photos of an actress he was in a relationship with without her knowledge and tried to convince Wauchope's writing partner, Rachel Specter, to call off her wedding and date him instead.
In light of the Andrew Kreisberg reporting, a couple thoughts about my first writing job that I've wanted to say for years but have never had the guts to. When I was 29 my writing partner @RachelSpecter and I were hired as staff writers.

— Audrey Wauchope Lieberstein (@audreyalison) November 12, 2017
To say we were excited was an understatement. To say we left that job demoralized and confused is also an understatement. One of the 1st things we were told was that the showrunner hired female writers on the basis of their looks. That's why you're here - he wants to fuck you.

— Audrey Wauchope Lieberstein (@audreyalison) November 12, 2017
Rachel had been actress previous to writing and was told that he used to talk about her in the room before we were hired. So that's a safe room to enter as staff writers. Imagine what that does to ones psyche.

— Audrey Wauchope Lieberstein (@audreyalison) November 12, 2017
On Nov. 13, Variety published a letter containing a passionate statement from 18 women — including stars Sophia Bush, Hilarie Burton, and Bethany Joy Lenz — who "have chosen this forum to stand together in support of Audrey Wauchope and one another." The letter went on to describe the harrowing experience of working with Schwahn.
"Many of us were, to varying degrees, manipulated psychologically and emotionally. More than one of us is still in treatment for post-traumatic stress. Many of us were put in uncomfortable positions and had to swiftly learn to fight back, sometimes physically, because it was made clear to us that the supervisors in the room were not the protectors they were supposed to be. Many of us were spoken to in ways that ran the spectrum from deeply upsetting, to traumatizing, to downright illegal. And a few of us were put in positions where we felt physically unsafe."
The letter was signed by both cast and crew: Audrey Wauchope, Rachel Specter, Sophia Bush, Hilarie Burton, Bethany Joy Lenz, Danneel Harris, Michaela McManus, Kate Voegele, Daphne Zuniga, India De Beaufort, Bevin Prince, Jana Kramer, Shantel VanSanten, Allison Munn, Jane Beck, Tarin Squillante, Cristy Koebley, and JoJo Stephens.
Many female cast members followed in Wauchope's footsteps by sharing their feelings via social media and were soon joined by costars like Chad Michael Murray, Bryan Greenberg, Austin Nichols, James Lafferty, Lee Norris, and Stephen Colletti.
Sophia Bush
For the record. I stand with Audrey. @audreyalison #BurnItDownSis. And to the bad guys? Yeah. #FuckYourSorry cc @HilarieBurton

— Sophia Bush Hughes (@SophiaBush) November 13, 2017
#BurnItDownSis #FuckYourSorry #BelieveWomen https://t.co/I8kW14HhAl

— Sophia Bush Hughes (@SophiaBush) November 14, 2017
It's time, sisters. I am so proud to call these women my family. You cannot imagine. #linkinbio https://t.co/OvWGsCyuXb

— Sophia Bush Hughes (@SophiaBush) November 14, 2017
This is the reality for women, in all industries, anywhere that powerful men abuse their power. 1 in 4 women (reported numbers, estimates place the actual numbers at 1 in 2) are assaulted by the time they leave college. We have a systemic problem. It needs fixing. https://t.co/RMbhd3dOiz

— Sophia Bush Hughes (@SophiaBush) November 14, 2017
✊️✊️✊️ #BurnItDownSis ✊️✊️✊️ https://t.co/Xn1bF4gRQq

— Sophia Bush Hughes (@SophiaBush) November 14, 2017
Hilarie Burton
I have been angry for a decade. Today, my sisters take back what was rightfully ours. #burnitdownsis #fuckyoursorry https://t.co/QMZBzwqm7g

— Hilarie Burton Morgan (@HilarieBurton) November 14, 2017
James Lafferty
— James Lafferty (@ThisIsLafferty) November 14, 2017
Chad Michael Murray
— Chad Michael Murray (@ChadMMurray) November 14, 2017
Austin Nichols
I stand with all my OTH sisters. We have to change. We have to be better. All of us. This is unacceptable.

— AUSTIN NICHOLS (@AustinNichols) November 14, 2017
Bethany Joy Lenz
What a long time coming. Your deeds will truly find you out in the end. I'm grateful for the opportunity to speak up in a time when change is possible. There is still more to say but for this moment, we thank you for your support 🙌🏼💥

— Bethany Joy Lenz (@BethanyJoyLenz) November 14, 2017
— Bethany Joy Lenz (@BethanyJoyLenz) November 14, 2017
Bryan Greenberg
Shocked and saddened to hear what the women of OTH had to endure. I'm proud of them for speaking up. I support them fully. And I hope that their courage to tell the truth, will help put an end to the pervasive culture of harassment in the work place. There's no place for it.

— Bryan Greenberg (@bryangreenberg) November 14, 2017
Stephen Colletti
I want to acknowledge the women of OTH who have penned their letter with deep wounds from a culture unacceptable for anyone, at any age, and in any business.

I have the utmost respect of your position in righting the wrongs you have endured. I stand for you, for better...

— Stephen Colletti (@StephenColletti) November 14, 2017
Lee Norris
Kate Voegele