Queer Eye Netflix Reboot Review
Get Ready to Binge-Watch, Honey: Netflix's Queer Eye Reboot Is a Delightful Tearjerker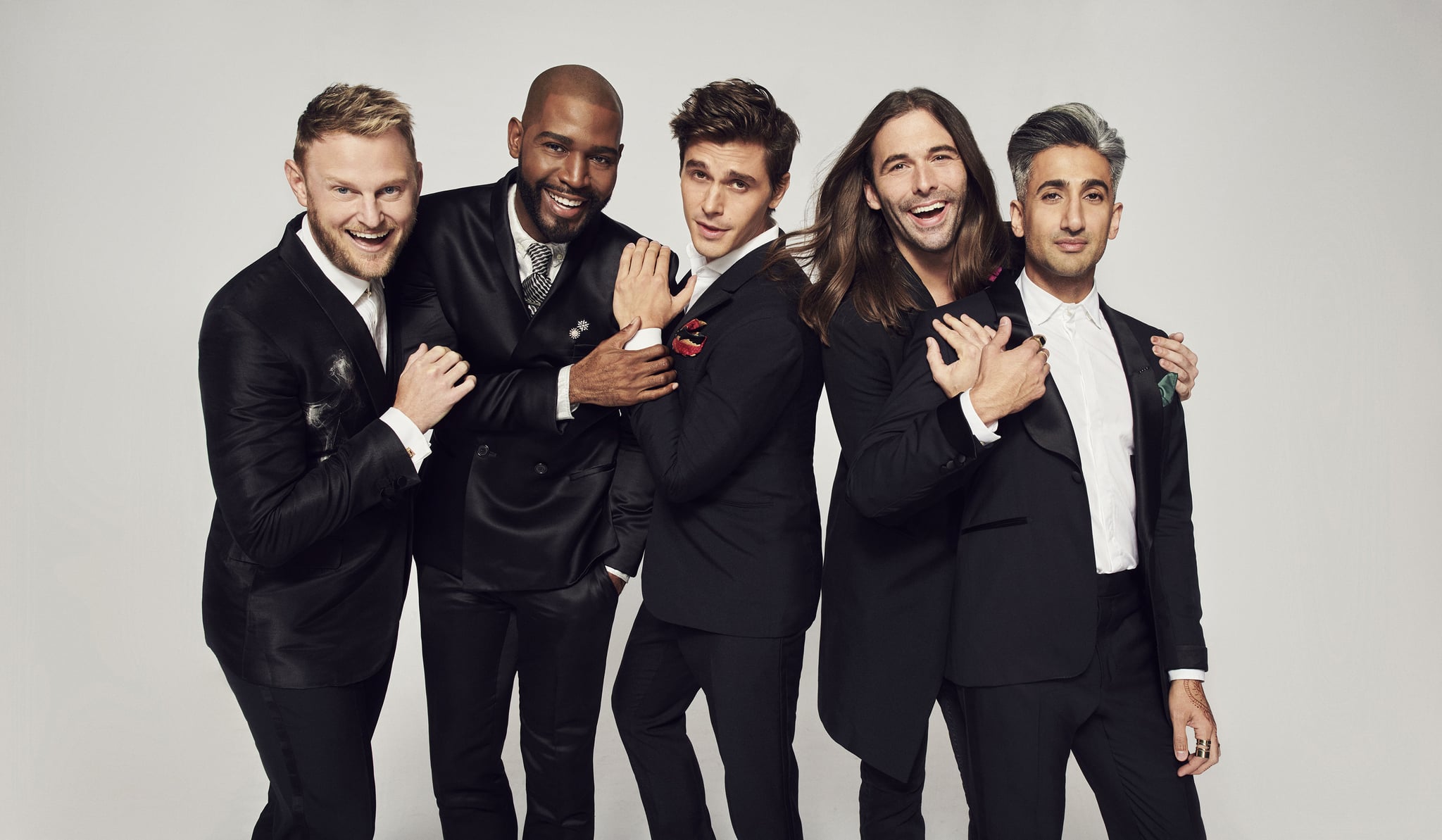 I'll be honest and say that I didn't quite know what to expect from Netflix's Queer Eye reboot. The trailer released a few weeks ahead of its Feb. 7 premiere includes moments with the new Fab Five's "heroes" — what they dub the men being made over each episode — which gave me pause. For instance, when Tom, a schlubby-but-lovable grandpa from Georgia, is discussing design expert Bobby Berk's marriage, he asks, "Which one of you is the wife?" It's the kind of stereotypical, offhanded comment you might expect from a conservative Southern man in his 50s, but it also made me wonder if this was going to be a show that moves the conversation forward or sets it back. Do we really need another season of Queer Eye in our lives?
The answer is yes. Undoubtedly.
You don't need to watch all eight, hour-long episodes in the first season to fall in love with the reboot. In fact, it only takes the first episode, which will have you in tears by the time the credits roll. To be fair, though, every episode will probably make you cry — by the time I finished binging season one (this show is like Pringles — you can't watch just one), I had mascara tears running down my cheeks that would put Lauren Conrad's to shame. Happy tears, though!
Anyway, in episode one, "You Can't Fix Ugly," we meet the aforementioned Tom, a sweet, lonely dump-truck driver and divorcé whose favorite drink is a Texas Margarita, a concoction made of tequila and Mountain Dew. The new Fab Five — Bobby Berk (design), Karamo Brown (culture), Tan France (fashion), Antoni Porowski (food), and Jonathan Van Ness (grooming) — sweep into his life in Dallas, GA, in an energetic whirlwind of "Oh, honey!"s and shrieks when they lay eyes on his cluttered, stained one-bedroom apartment. Their goal isn't to tear him apart, though. This is a kinder Queer Eye, one that focuses on building on the strengths of its heroes, rather than nitpicking their weaknesses.
"I think it's a testament of this new Fab Five. We are so open," Karamo Brown told POPSUGAR during a recent round-table interview with the cast in New York City. "I don't know if you can tell just from talking to us in here, but we could all be your friend tomorrow. We go into these situations so open, and I think it allows people who are not used to people saying, 'I love you, and I see you for you,' to let them have their guard down. That's why there were these emotional moments, because we're just so open with who we are that it allows people to be open about who they are."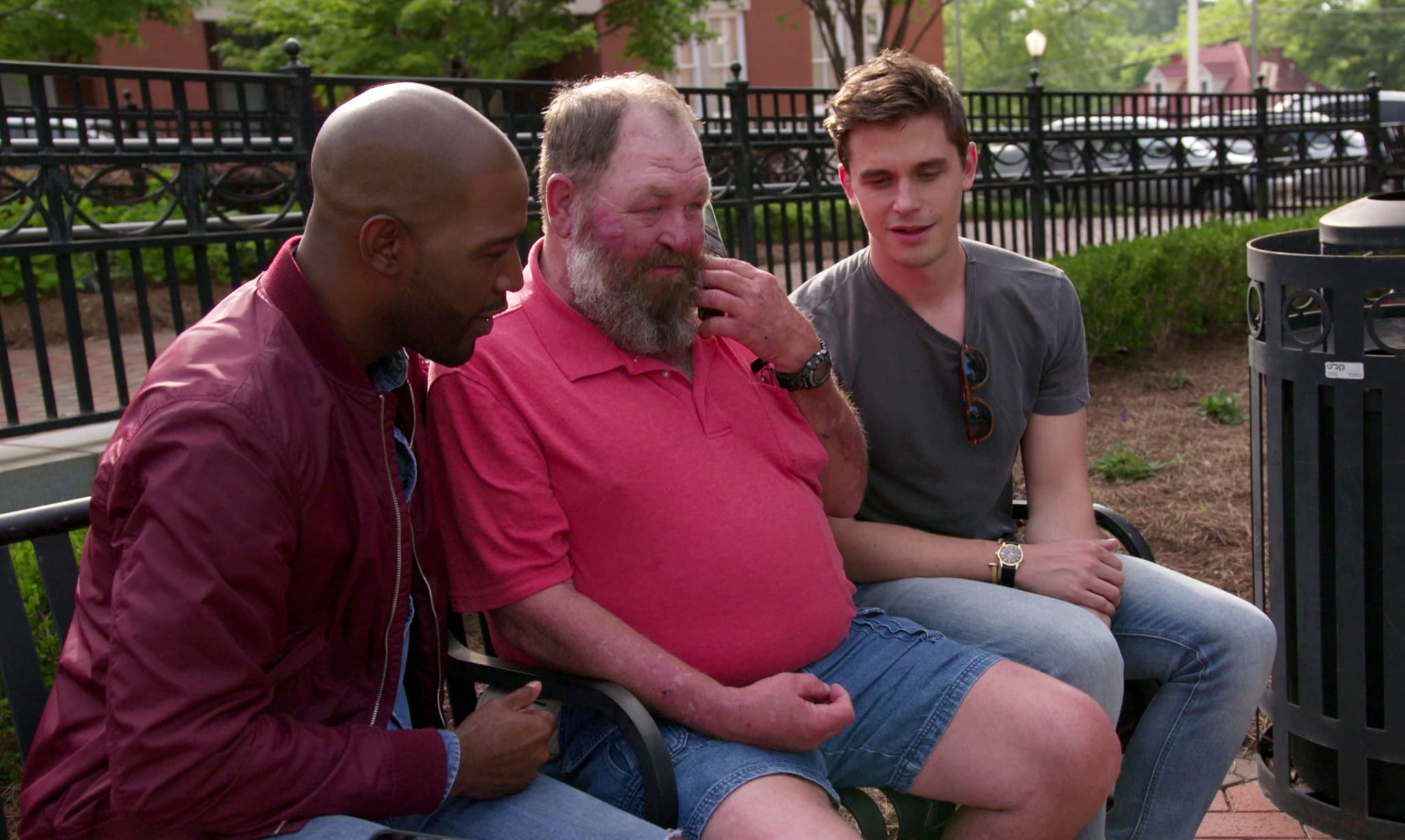 Karamo Brown and Antoni Porowski bonding with Tom.
The show is definitely emotional, for a variety of reasons. Along with the show's move from Bravo to Netflix, it also relocated from the original series's NYC base to Atlanta. That obviously makes for some pretty interesting interactions with men in the South, specifically in the third episode, "Dega Don't," which sees them entering the life of a white, Trump-supporting cop. Queer Eye keeps things light with a steady stream of genuinely hilarious moments from the Fab Five — especially hairstylist and Gay of Thrones star Jonathan Van Ness, whose animated quips and catchphrases will no doubt start worming their way into your own vocabulary — but it's also not afraid to broach serious subjects. It's basically your favorite makeover and home renovation shows rolled in to one, with an unexpectedly moving dash of cultural relevance thrown in. Even better? The combination works. Swimmmingly.
"The thing is, we all have the ability to address these poignant, culturally relevant issues in a way that doesn't turn people off."
"This time around, we're engaging in relevant cultural conversations that weren't had before," Brown added. "I mean, there's an episode where we're with a white Southern cop who, when we went to his house, had Trump and Pence signs all over. For me as a black man, I couldn't just say, 'Let's make you better!' Cops are killing black people, so I have to address that."
Brown is indeed able to have a meaningful discussion with the hero, Cory, about that very subject during a long car ride. If it sounds like a shallow reality TV show ploy to drum up buzz on social media, don't be fooled. Although Brown doesn't push Cory on why he supports Trump and Pence, he also doesn't hold back while talking about the tense relationship between black Americans and the police. You can tell it's a difficult moment for Cory but that he takes his words to heart. "Some of the opinions people have about us Southerners, they can be true. There are the typical Southern rednecks out there, but look," Cory later confesses, gesturing to himself. "We can be transformed."
No, their conversation might not have completely altered every facet of Cory's life, but you have to admit that it's a step in the right direction.
"The thing is, we all have the ability to address these poignant, culturally relevant issues in a way that doesn't turn people off," Brown continued during our interview. "We're open, we listen, and they listen in return to us. I think that mutual respect is so great. I think that people who would normally be turned off by watching a show about five gay men are gonna feel proud, first of all, to see some of themselves represented in the heroes we deal with, but also see we're not attacking them for their views. We're open to them."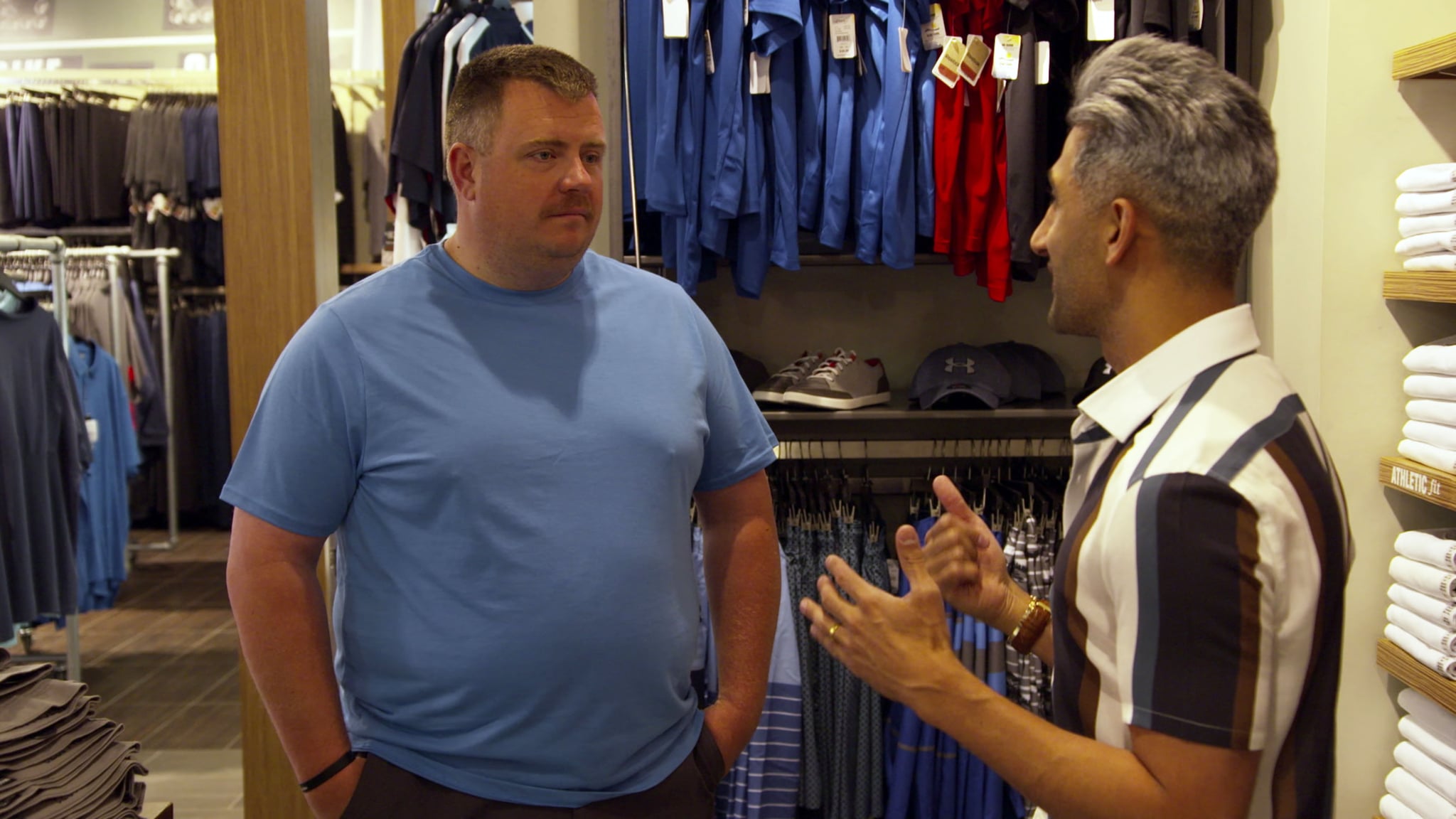 Cory with fashion expert Tan France.
It might feel like outfitting a man in a new suit, showing him how to make a fancy hot dog, or teaching him about the negative effects of sulfate shampoo for a week wouldn't be enough to change his way of thinking, but it's truly heartwarming to see the way each of the heroes is affected by their appearance on the show by the end of the episode. Many finish in tears, thanking the Fab Five for their time and opening up about just how much their new friendship means. Bobby Camp, for instance, is the deeply religious star of episode five and ends his time with the gang on a beautiful note.
"Growing up the way we did, homosexuals were not accepted," he says of his early experiences with Christianity. "And they still aren't in a lot of church environments. But in the Camp family, they are. In our hearts, they are. And we want you guys to know you have been loved here."
There's definitely been progress for the LGBTQ+ community since the original show's 2003 premiere, but obviously our country has experienced some setbacks as of late. As Tan France, the show's fashion extraordinaire, explains in Tom's debut episode, "The original show was fighting for tolerance. Our show is fighting for acceptance."
Chef Antoni Porowski doubled down on that thought during our interview, explaining, "[Queer Eye is] an opportunity to find our similarities. It's so easy these days to figure out how different we are — North, South, Republican, Democrat . . . this is something that really brings us together. It's these universal truths that we all actually share. We all want to show up for our partner, our loved ones, for our family members, for our dogs, for our cats."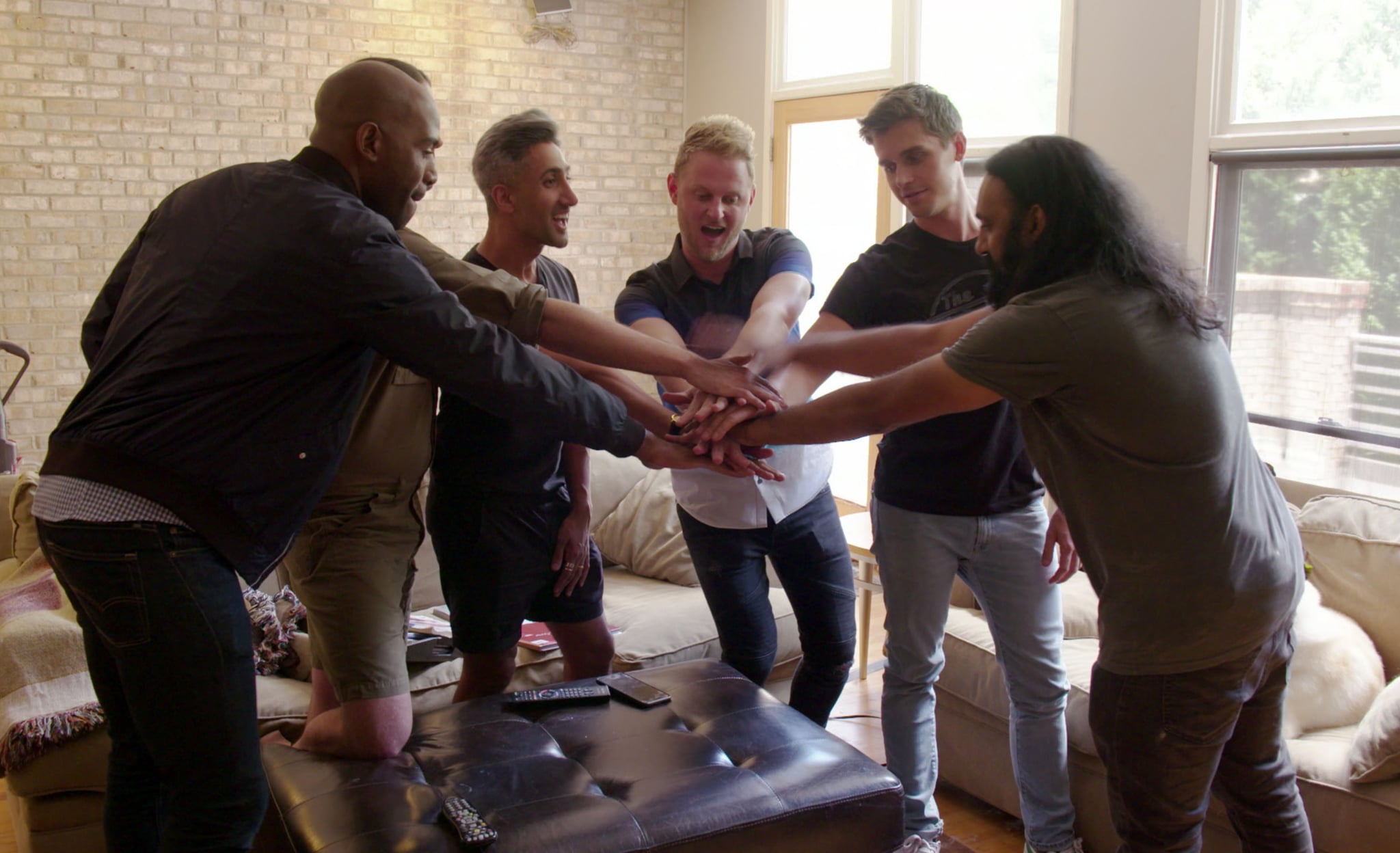 At the end of the day, Queer Eye is a quietly revolutionary show that will make you laugh and cry, and it might even open your mind, depending on your views. With everything else going on in the world, it's a simple joy to see a fireman or a cop or even a gay civil engineer — note that Netflix has chopped "For the Straight Guy" off the end of Queer Eye — change the way they see the world and also see the gay community in general.
"Whenever there's a new Republican administration, we need to bring Queer Eye back," Jonathan Van Ness told us with a laugh. "We're all people doing the best we can for the people we love. We are more similar than we are different."