Samara Weaving Interview About Ready or Not
Ready or Not's Samara Weaving Isn't Afraid of a Little Blood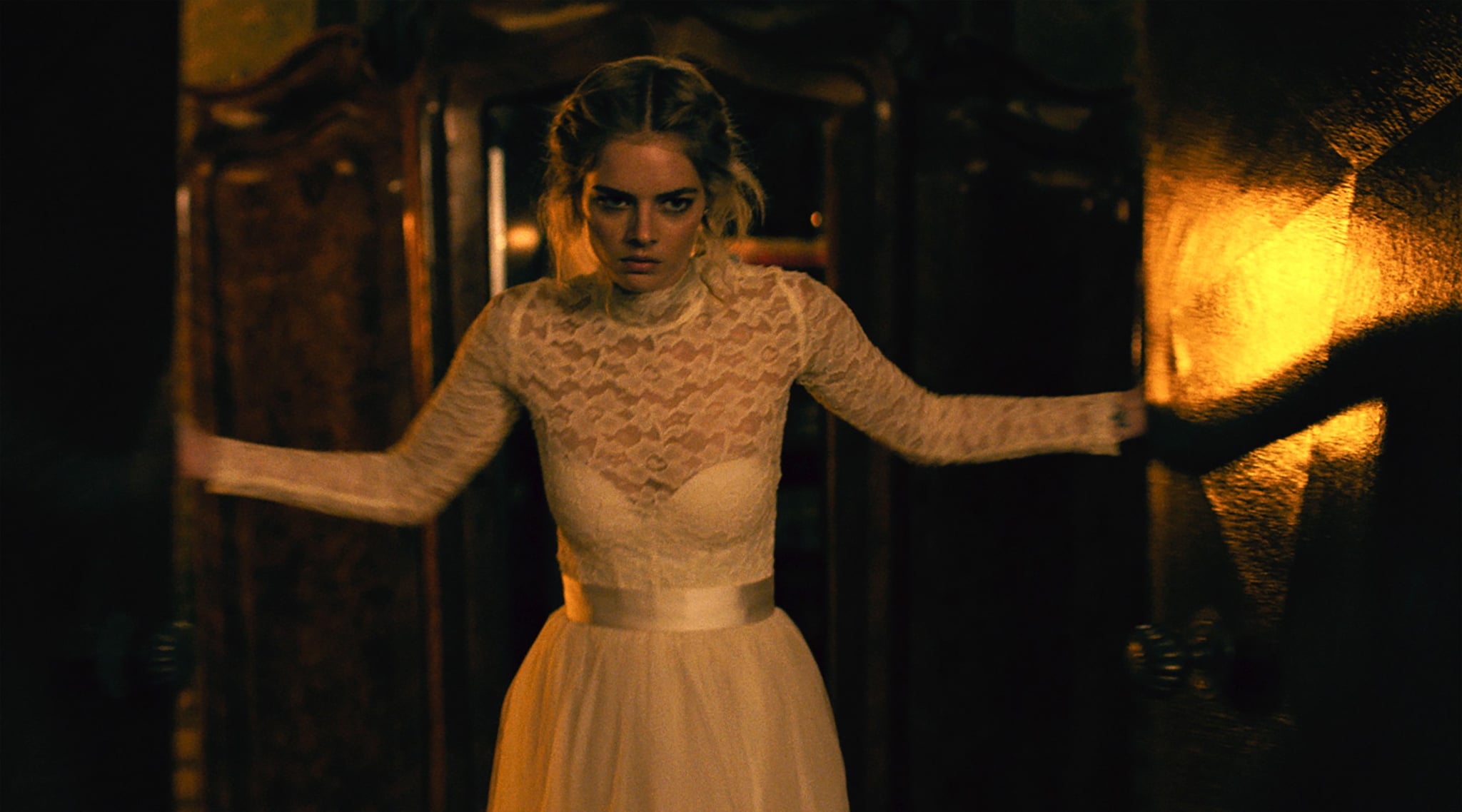 Warning: spoilers for Ready or Not ahead.
Samara Weaving spends the entirety of Ready or Not, her new horror film, in a lacy, elegant wedding dress. While it starts off bright white, as optimistic as her character Grace is about her impending marriage to the wealthy Alex Le Domas (Mark O'Brien), it doesn't take long for the dress to be drenched in soot, gore, and other bodily fluids as she quite literally does battle with his eccentric family. Unfortunately for foster kid Grace, marriage isn't the warm, familial fantasy she'd hoped it would be — it's all-out war.
The film, which hails from cowriters Guy Busick and Ryan Murphy and codirectors Matt Bettinelli-Olpin and Tyler Gillett, is a blood-splattered thrill ride as sharp as the point of the crossbow Grace frequently finds aimed at her chest the night of her lavish nuptials at the Le Domas estate. Because, after saying "I do," Grace doesn't realize that her new in-laws will be "welcoming" her to the family with the unnerving ritual of making her play a game. When she draws a card denoted with "hide and seek," however, the history of how the family made their fortune begins to fall into place — they made a pact with the devil that requires them to sacrifice Grace before sunrise, or else. A deadly game of hide and seek commences, and Grace is forced to outwit them all to survive.
As off-the-walls as the premise might sound, lurking beneath all the brain matter and pulpy-red goop is a humorous edge that helps take to task not only the antiquated ideals of marriage but also the shallow moral code of the one percent. Grace is the beating heart of the film itself, but also perhaps the only character who even has one. For Weaving, that was the major appeal of playing her.
"I saw a lot of strength in her in the script right away."
"She'd come from foster care and been orphaned, and she hadn't had a family," the 27-year-old told me on the phone ahead of the film's release. "I realized, 'OK, well, she would have had to fight for survival in her childhood and growing up.' So, I saw a lot of strength in her in the script right away."
The strength in Grace is mirrored in her steely mother-in-law, Becky, played by the fabulous Andie MacDowell. Like Grace, Becky comes from humble beginnings and is genuinely drawn to the blushing bride, unlike her husband, Tony (Henry Czerny), or the sour-faced Aunt Helene (Nicky Guadagni). But not even that bond can stop Becky from doing her family's bidding, try as some family members — like Adam Brody's bitterly (and yet somehow still delightfully?) sarcastic alcoholic, Daniel Le Domas — might.
"Becky says to Grace that she sees herself in her, and every character in the film has this emotional roller coaster and moral turmoil about Grace's situation. But Andie's and Mark's and Adam's characters, you can see their internal struggle with what's the right thing to do," Weaving explained. "I think Becky's genuinely disappointed at the outcome of the game, but at the end of the day, she wants to protect her family and has to. That's how she's been hardwired."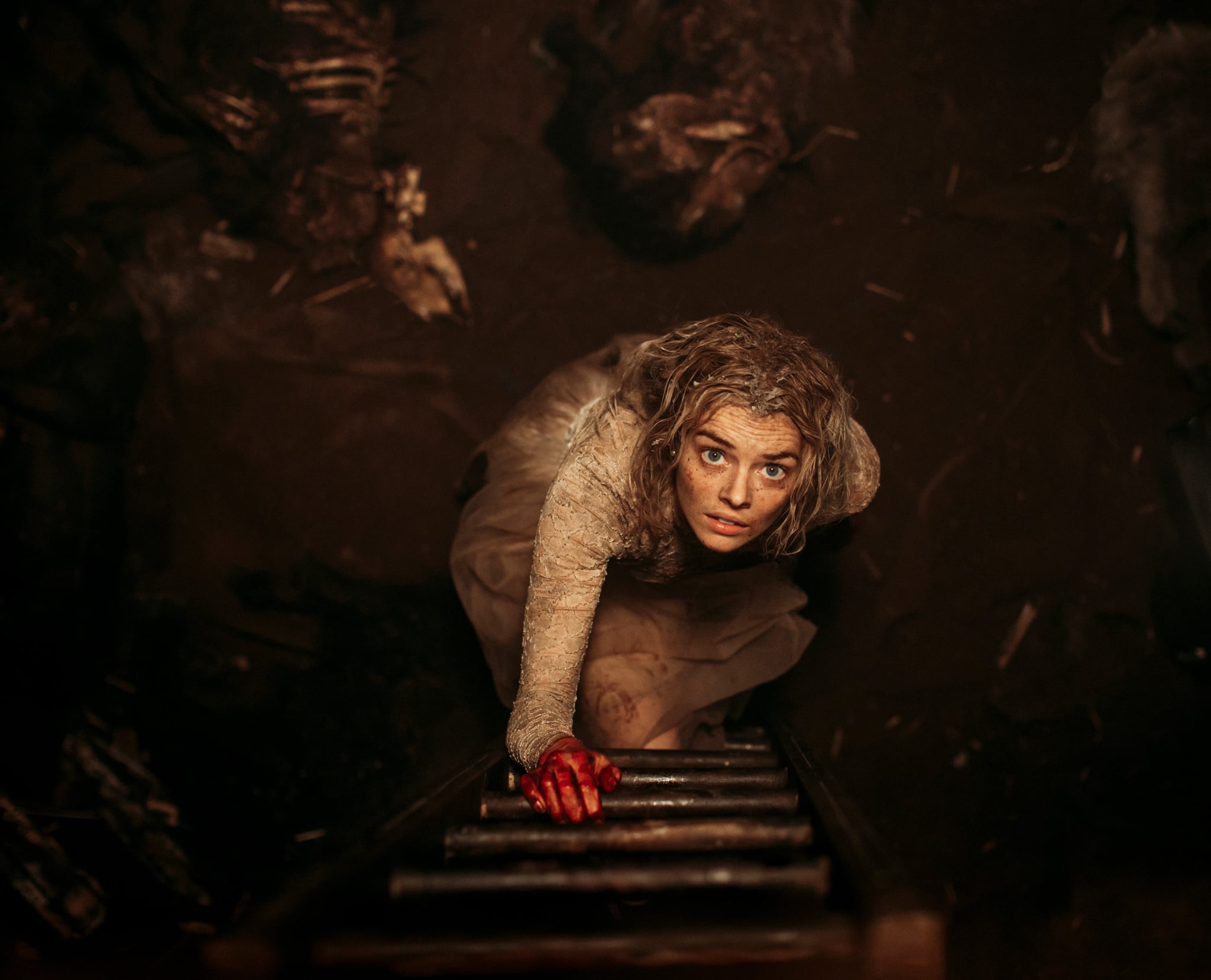 In addition to the emotional betrayals Grace endures at the hands of her new husband and his family, she's also put through the ringer physically in a way that would make even your most unbearable in-law experience seem like heaven by comparison. For instance, Grace is shot, falls into a pit of corpses, gets hit by a car, survives a crash in said car, and finds herself at the wrong end of a nail, among other things. Now, imagine doing all those stunts while wearing only a thin wedding dress in Toronto temperatures dipping below zero. Yeah.
This isn't the first time Weaving has literally thrown herself into her work in the name of a horror comedy. In Netflix's The Babysitter (2017), the Australian star gives an equally dynamic and physically challenging performance as the charming (and ruthless) Bee, a Satanist trying to sacrifice her young charge. The same can be said of her role in Mayhem (2017), when she gets to gleefully take a nail gun to infected, murderous office drones. Unsurprisingly, she'll do it all again in the action film Guns Akimbo, which is due out later this year.
"That was actually much more physically demanding," Weaving said of the upcoming project, which costars Daniel Radcliffe. "We did four weeks of stunt training on that film, and so I kind of had that stunt background going into [Ready or Not]. The stunt team, and the director and I, we wanted the fight to look really messy and human, which is sometimes harder to do."
And, without giving too much away, that's much of what makes the film's viciously funny final act so memorable — the mess. Bettinelli-Olpin and Gillett dive headfirst into the explosive conclusion, with Weaving's scrappy, beguiling performance keeping everything grounded (well, as grounded as a movie about a killer game of hide and seek can be). So, what might Grace get up to following her traumatic wedding night from hell? Maybe a spa day?
"I was just talking about this!" Weaving laughed. "I was wondering, would she get accused of what happened there? Would she end up in jail? Or if she tried to explain it, would people think she's insane? I mean, she's a tough cookie, so she'll probably just move to Barbados and hang out. She'll go on her honeymoon alone."
Ready or Not is now playing in theaters.