Scandal "The Lawn Chair" Episode
4 Reasons Everyone Is Talking About Scandal This Week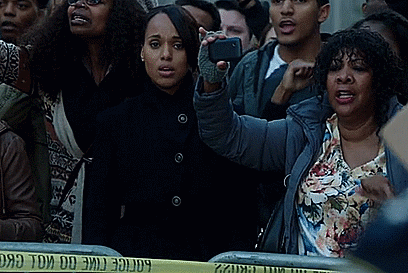 Scandal returned on Thursday night with a powerful episode, titled "The Lawn Chair," that took on the topic of police brutality and race relations in America — and judging by the reactions on Twitter, it had people hooked from beginning to end. Shonda Rhimes was inspired by real events related to the August 2014 murder of Michael Brown Jr. in Ferguson, MO; the episode centers around the shooting of a black teenager by a white police officer, as well as the effect the boy's death has on his father, his community, and Olivia Pope herself. Here are the four biggest reasons everyone is discussing Scandal's Ferguson-inspired episode.
It Takes On an Important and Sensitive Topic
Scandal is no stranger to playing with touchy subjects, but "The Lawn Chair" may be the show's most powerful effort at covering current events. It centers around a black man named Clarence Parker (played expertly by Courtney B. Vance) whose teenage son, Brandon, was gunned down by a police officer. Olivia is hired by the Washington Police Department to help "handle the optics" of the case and arrives to the crime scene just as Clarence shows up with a shotgun in hand, demanding to know the name of the officer who shot his son. The titular lawn chair is brought by neighborhood activist Marcus Walker, and Clarence sets it gently over his son, both as a shield for incoming rain as well as a comfortable place to continue protecting Brandon's body until he gets answers from the police. The episode covers many elements of the aftermath of cases like Michael Brown's and Eric Garner's, from the community protests and media censorship to the intrinsic fear most people of color feel when it comes to the police.
The Monologues Are Incredibly Moving
The show's monologues are always pretty on-point, and this week's episode is no different. Not only do we get a moving soliloquy about Clarence's fight to protect his son from the police, but also, the white police officer (who is eventually found guilty of shooting and planting evidence on Brandon) goes on a rage in Olivia's face, first referring to her as "you people" before launching into an attack on black people for "lacking values," finishing with "They didn't teach [Brandon] respect. . . . Questioning my authority was not his right. His blood is not on my hands." The monologues are heartbreaking, infuriating, and eye-opening all at the same time.
It Sheds Light on Olivia Pope's Inner Struggles as a Black Woman
Olivia Pope is visibly fraught with conflict while being embroiled in such an intense situation. As an upwardly mobile, well-connected, and upper-class black woman in Washington DC, she is thrust into a neighborhood very unlike her own, and at one point, Marcus accuses her of siding with the police and tells her point-blank, "Your black card won't be validated today." Olivia realizes the delicate position she's in and ultimately crosses the yellow tape, joining the protesters and chanting along with them, "Stand up. Fight back. No more black men under attack." In "The Lawn Chair," Olivia Pope is forced to face her identity as a black woman in a time — and, in this case, specific situation — in which people who look like her are being attacked by the people who are meant to protect them.
The Cast Didn't See It Beforehand
While live tweeting the episode, Scandal stars Kerry Washington, Tony Goldwyn, and Scott Foley all revealed that they were watching it for the first time, right along with their viewers. Even though they were part of the episode, reading lines and acting out the scenes firsthand, the cast and creators were just as blown away by the episode as fans were. See some of the most touching tweets below:
What I love about @kerrywashington 's acting? 110% commitment! #Scandal #TGIT

— Tony Goldwyn (@tonygoldwyn) March 6, 2015
What a blessing to work with and witness the genius that is @CourtneyBVance #Scandal

— kerry washington (@kerrywashington) March 6, 2015
The balls that is this episode of #scandal...from pitch to production...#huge

— scott foley (@scottkfoley) March 6, 2015
I am so proud to be a part of #ScandaI #ICantBreathe #BlackLivesMatter

— guillermo diaz (@guillermodiazyo) March 6, 2015
Weeping. As if I hadn't read it and didn't act in it. Just weeping. #scandal

— kerry washington (@kerrywashington) March 6, 2015
The last image does me in. Because he's just somebody's baby. That's all. He's someone's child. #BlackLivesMatter #Scandal

— shonda rhimes (@shondarhimes) March 6, 2015
What did you think of "The Lawn Chair"? Do you think Scandal "handled" the Ferguson debate well with the episode?