Scott Hoying Interview About Pentatonix July 2018
Pentatonix Has a Brand New Mashup in Store, and It Includes 2 of Your Favorite Songs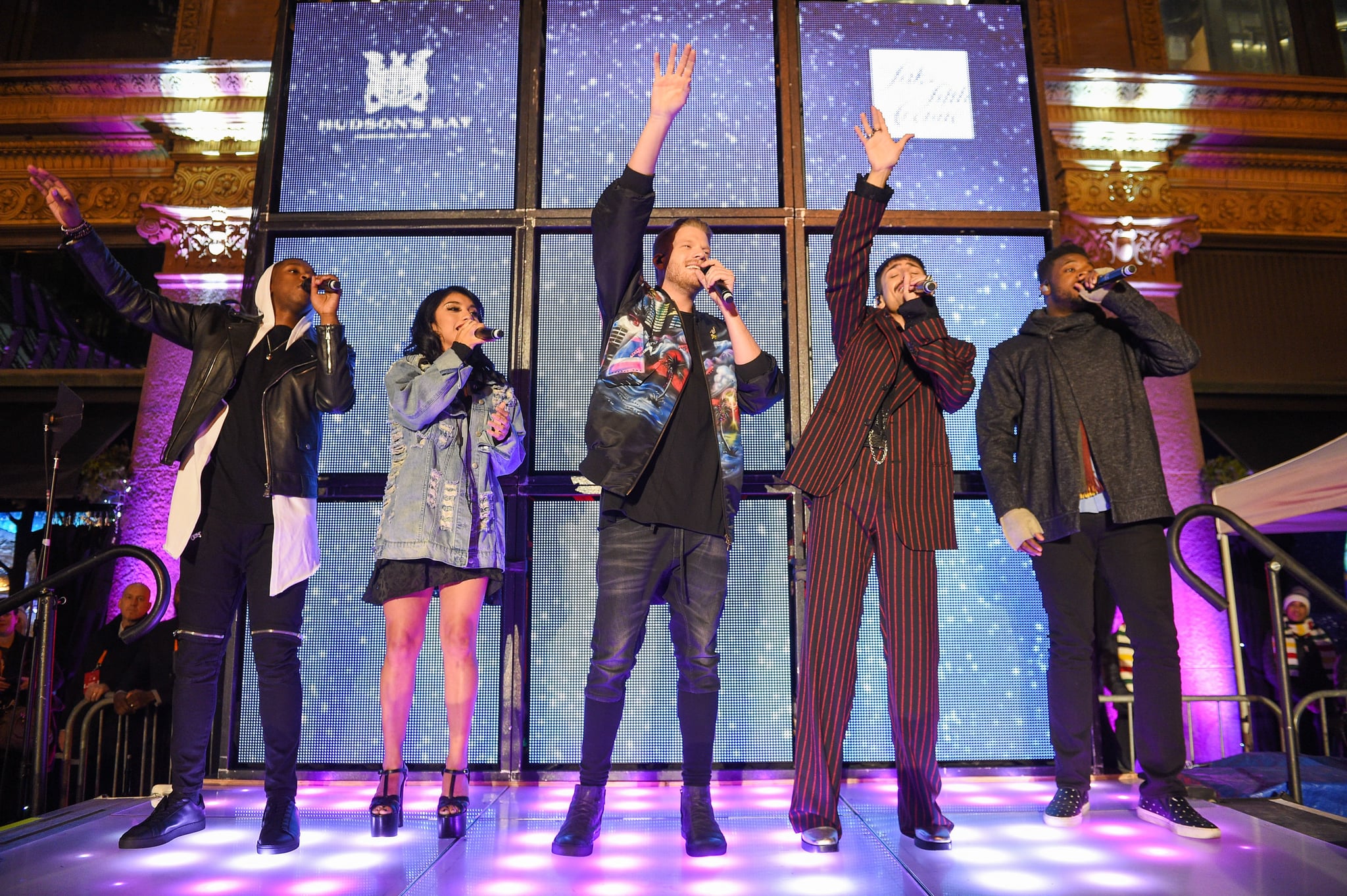 Image Source: Getty / GP Images
It's always a party when Pentatonix hits the stage! The a cappella group is set to perform during A Capitol Fourth on PBS, and it already sounds incredible. Not only does the event serve as an unofficial kick off for their upcoming Summer tour, which starts on July 12, but they'll also be performing a brand new mashup of "Stay" by Zedd and Alessia Cara, and "The Middle" by Zedd, Maren Morris, and Grey. Ahead of their performance, POPSUGAR talked exclusively with Scott Hoying about everything from creating the new mashup to their upcoming tour and how the group has evolved over the past seven years. See what he had to say ahead, and be sure to set your DVRs on July 4 for Pentatonix's special performance on PBS.
POPSUGAR: There is an incredible group of performers on the lineup for A Capitol Fourth. Who are you most excited to see?
Scott Hoying: I'm superexcited to hear The Temptations and The Beach Boys. That's iconic. I grew up listening to The Beach Boys, and I've actually never seen them live, so that will be really cool.
PS: Pentatonix is also performing a brand new mashup for the event. What is the process like when you create a mashup?
SH: We try to take the most special parts of both songs, and then combine them. With this, we already had an arrangement of "Stay" by itself, but we added "The Middle" just because they are similar songs in how they're produced. I think that mashups are always just a little more engaging than just a song by itself, because there are more melodies and more to enjoy.
PS: You've done a lot of holiday events over the years, including your Christmas special on NBC last year. How would you say performing at special events is different from performing on tour?
SH: It's a little different because sometimes with these events, it's not all our fans. It's a lot of new people who don't always know our music. So, it's a little less energetic that our tour, because our tour is all of our hardcore fans, so they're screaming at the top of their lungs. But both are special in different ways. Sometimes tour is a little less nerve-wracking, because you do the same thing every single night, so it's muscle memory. At Capitol Fourth, it will be our first time ever performing this mashup, but we've rehearsed it a lot, so we're feeling good about it.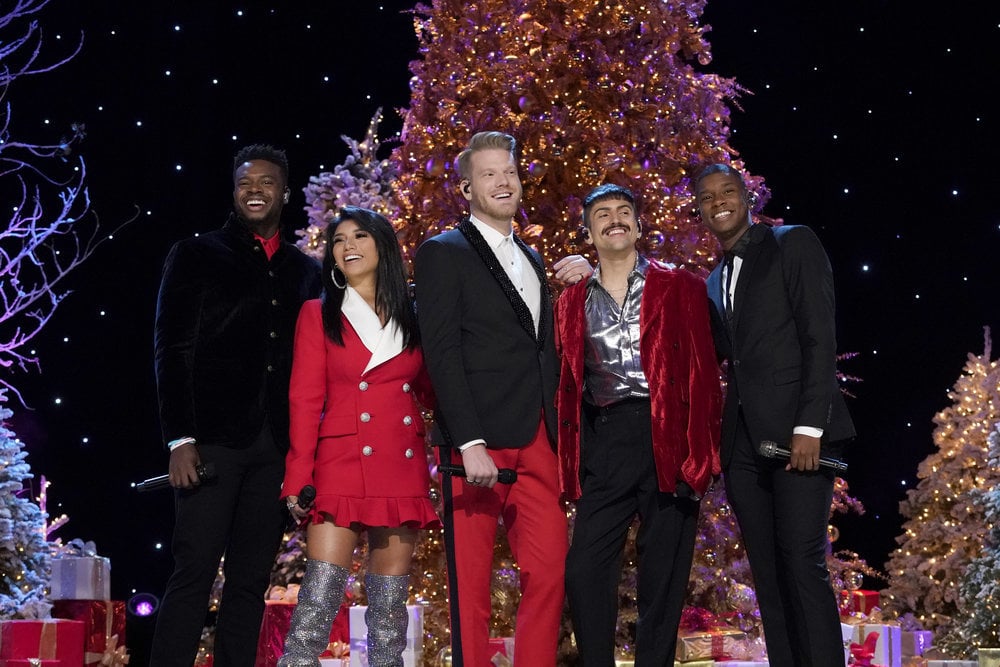 Image Source: NBC
PS: In addition to preparing for this event, you've also been busy rehearsing for your Summer tour. What has it been like juggling that?
SH: It's been crazy. We've literally rehearsed for 45 hours this week learning an hour-and-40-minute show. But what's awesome is that since we're a cappella, we can just practice during our breaks. While we're learning all of our choreography, we're singing the songs over and over and over, so that really helped. We had so many free moments during rehearsal that we could rehearse other stuff, so it hasn't been as stressful as you would think. When we're all together, we can work really quickly.
PS: How will this tour be different from past ones?
SH: It's so epic. I feel like from all of our tours, we've figured out what works and what doesn't work, so with this tour, it's like the best version of Pentatonix. There are a lot of really cool moments and a lot of really cool transitions. We do a couple of new things that we've never done before that I don't want to give away, but it's so much fun. There are a ton of covers, but we still do originals, too.
PS: Which song are you most excited to sing?
SH: There is a mashup of two of our originals that I'm really, really excited about, and I love doing "Imagine." Even in rehearsal, I get a little emotional when we sing it.
PS: You have all been doing a few side projects recently, like you and Mitch with Superfruit. What are you most looking forward to about being together again?
SH: The way it feels to sing with Pentatonix is so much fun. Every single time we get back together, when we sing through our first song to rehearse, we're all just like, "Oh my gosh, we missed this!" Everyone in the band is just so happy right now, so our dynamic as a band is so free and fun. We've been laughing and having the best time. Rehearsals feel like Summer camp. We're all really pumped for tour, because we're just very ready for it. I'm glad that everyone got to do their own solo thing. We all got to live our other dreams, which was good because it creatively refreshed us, and now we're back together, and we're recharged.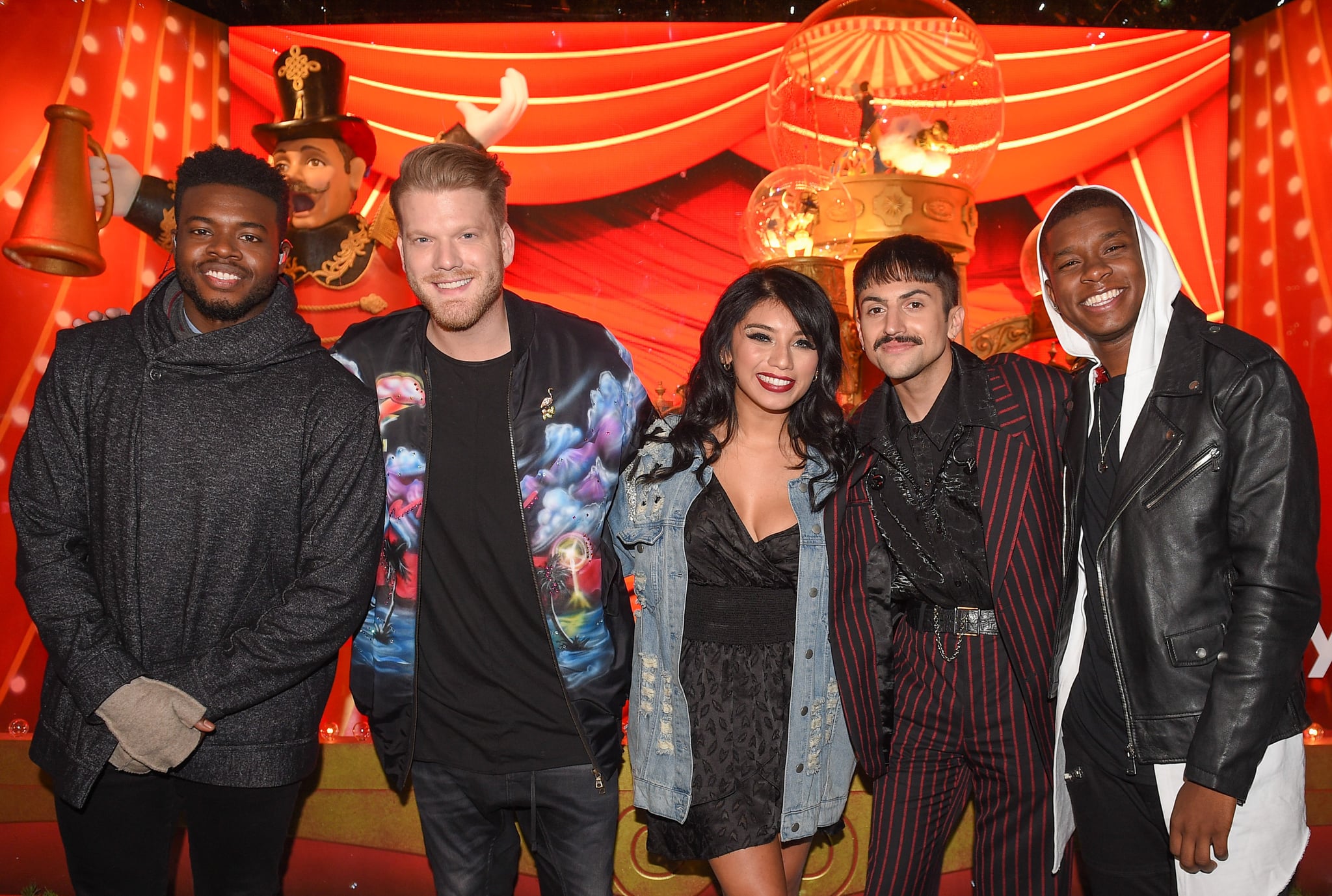 Image Source: Getty / GP Images
PS: This is also one of your first big tours with Matt Sallee. Have you given him any advice about what to expect or what to prepare for?
SH: We haven't even needed to give him that much advice because he was just born to do this. When we did the Christmas tour, we were kind of testing him out for three months to see if he could handle tour life, but he was just loving it. He has such a good attitude all the time. I feel like we really hit the jackpot with him.
PS: It's been almost seven years since you first performed on The Sing-Off. How would you say the group has evolved over the years?
SH: Oh man, it's evolved so much. Our sound has evolved and we as people have evolved. We've also mastered what we do, like in terms of communication and collaboration. We just have a language now. Musically, we've become better singers, and we tune better and arrange quicker now. Now, we can finish an album months faster than we used to be able to.