Stan Lee's Cameo in Spider-Man: Into the Spider-Verse
Stan Lee Has a Few Cameos in Spider-Man: Into the Spider-Verse, but One Will Make You Cry
Warning! Spoilers for Spider-Man: Into the Spider-Verse ahead!
The latest entry to the Spider-Man movie catalog could best be described as a love letter to all things things Spider-Man . . . and his comic book origins. Spider-Man: Into the Spider-Verse — the first of several animated Sony movies — follows the origin story of Miles Morales (voiced by Shameik Moore), the "new" Spider-Man who has quickly become a fan favorite all on his own. The film is full of both heartwarming and tragic moments that draw a tear to the eye, but probably the most poignant moment is the cameo appearance from Stan Lee — a custom that has taken on extra meaning since his death in November from cardiac arrest.
As every fan knows, the Lee cameo is a staple of nearly all Marvel movies — from the really comical to the super serious (looking at you, Captain America: the Winter Soldier). In an interview with Collider, directors Bob Persichetti, Rodney Rothman, and Peter Ramsey revealed that Lee actually makes more than one cameo in Spider-Verse — as Persichetti says, "That guy is all over New York. He's a busy man." But it's his main appearance in the film that's truly hitting fans right in the feels.
Spider-Verse follows Morales as he becomes Spider-Man when the Peter Parker of his universe passes away. When a rip in the space-time continuum brings other Spider-People into his dimension, they form a lovably hot mess Spider-Family made up of Gwen Stacy (Hailee Steinfeld), Peter B. Parker (Jake Johnson), Peter Porker (John Mulaney), Peni Parker (Kimiko Glenn), and Spider-Man Noir (Nicolas Cage). But before Morales meets them, he meets Lee as the owner of a costume shop who sells Morales a cheap Spider-Man suit.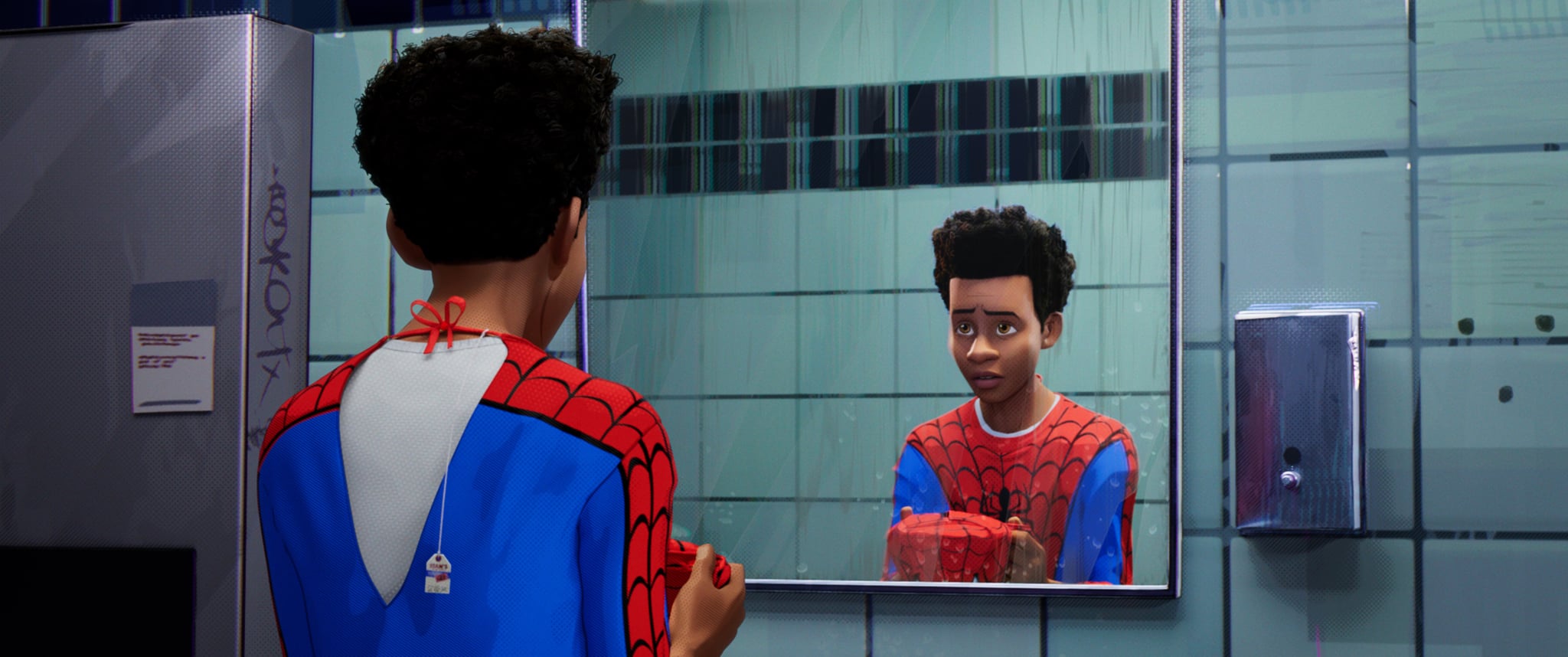 Image Source: Sony Pictures
When Morales steps up to the counter with the ill-fitting Spider-Man suit, Lee tells him, "I'm going to miss that guy. We were friends, you know." (I know, the feels). He also tells the 14-year-old that while the suit doesn't seem like it'll fit properly, "It always fits eventually," and pointedly gestures to a "No refunds" sign. The statement not only serves as a sweet joke, but also a nod to the universality of the Spider-Man persona — which is a big theme in Spider-Verse.
The cameo itself is just as lighthearted as Lee's many other Marvel appearances and the filmmakers wanted to ensure it honored everything he brought to the Marvel universe, as well as his sense of humor and charm. "In the beginning, we wanted to give him a real place in the movie and not just a moment — something that was exciting and could honor his legacy and also be funny at the same time," producer Chris Miller told Entertainment Weekly. "Obviously it took on a whole added poignancy after his passing, but the spirit of it remains exactly the same."
Though the cameo isn't Lee's last in the Marvel universe (he filmed his cameos for the upcoming Captain Marvel and Avengers: Endgame before he passed away), seeing it so soon after his death makes it incredibly significant. When I attended a screening of the film, the moment Lee came onscreen the theater exploded into applause — and some tears — that spoke to how missed he is. The tribute to Lee at the end of the film definitely didn't help the tears from falling either! Keep reading to see some of the most touching reactions from Lee's cameo in Spider-Verse