Star-Crossed TV Show Info
Move Over, Elena and Damon — Here Are Your New Favorite Star-Crossed Lovers
Like a lot of CW dramas before it, the new series Star-Crossed has a forbidden romance at the forefront. It's right there in the title, which also hints at the fact that the show features an alien race called Atrians who are being integrated into human society. One Atrian, Roman, is played by 90210's Matt Lanter, and playing opposite his love interest is open-minded human Emery (Aimee Teegarden). At the show's Winter TCA panel, the stars and show-runners talked about the romance and the discrimination theme, and Teegarden got to address her FNL past.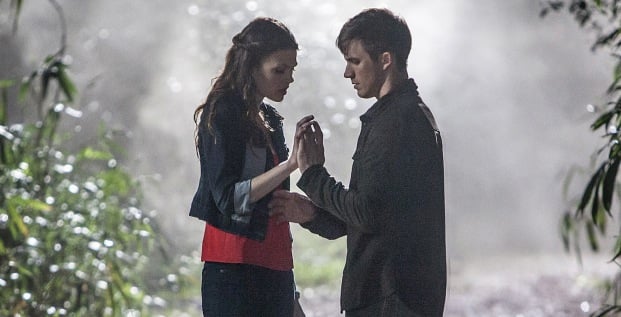 Since alien Roman (Lanter) and Emery (Teegarden) are in high school, the actors were asked both about their high school experience and how they can still play high schoolers. Teegarden admitted that if people are still buying her as a high school student, that's a "Champagne problem." As for what she was really like, Teegarden claimed to be "superawkward," so awkward that she graduated when she was 15, "because I didn't want to deal with it anymore." Lanter admitted that he was picked on for being short, and costar Grey Damon never felt alienated, because he "was always on my own planet anyway."
Lanter's alien character doesn't look too different from a human, save for the tattoo-like markings. So what do those markings mean? They're not tattoos, and as he teased that "there are some cool features about them," executive producer Meredith Averill just spilled: the Atrians can breathe through their markings, and when water hits their markings, they glow phosphorescent. She also shared that Atrian families have common features, "but no two Atrians have the same [markings]."
The producers acknowledged the series' allegory to racism, saying there is an obvious parallel to the integration movement but that they won't hitting you over the head with a hammer with the racism themes.
Of course, Teegarden talked about her days on Friday Night Lights, and she called it "the coolest experience . . . I'm so lucky to have been a part of it." She added that she was so young and how "it was unbelievable" to be around such amazing actors. She also talked about how much freedom they were given as actors: "From one take to the next, the dialogue could be completely different. It was like doing improv all the time."