Tessa Thompson Thor: Ragnarok DVD Interview March 2018
Tessa Thompson Is All the Way Here For Valkyrie Joining Black Panther's Dora Milaje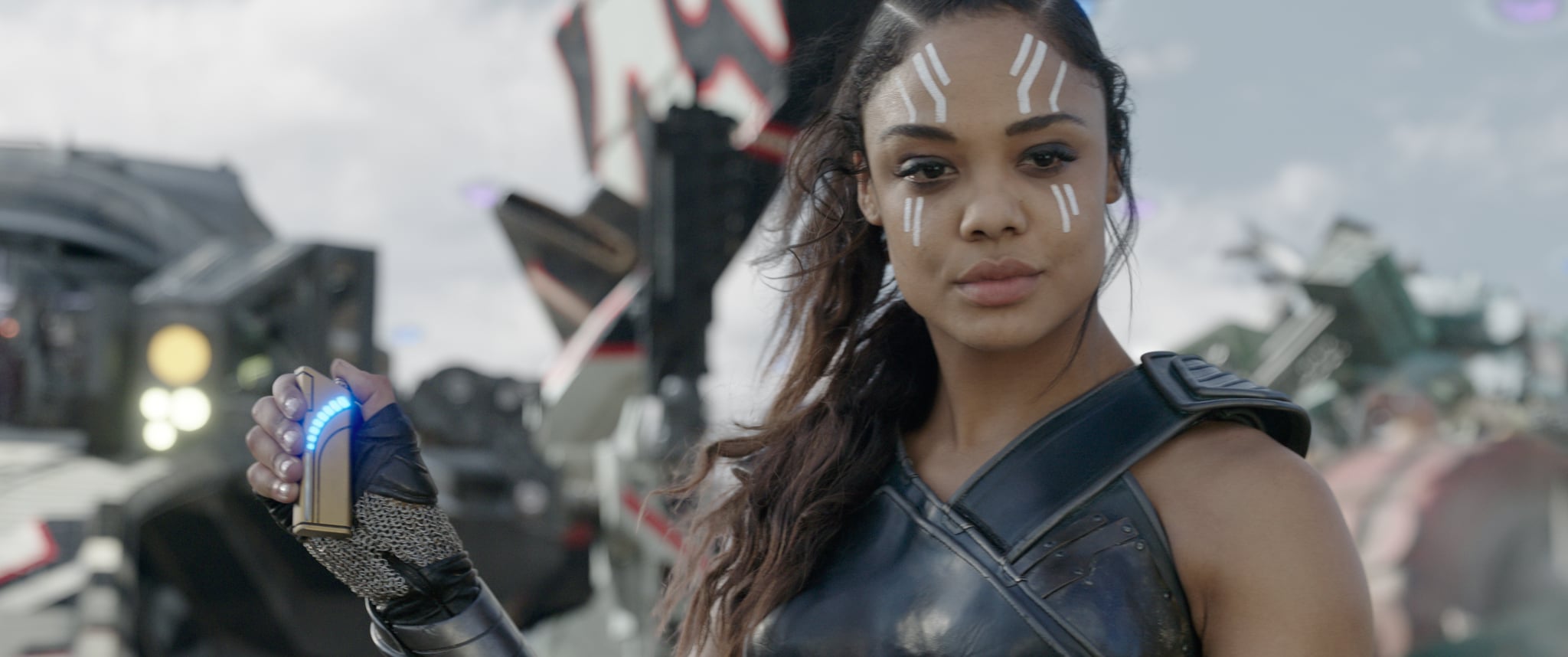 Tessa Thompson now has the distinctive honor of calling herself a member of Marvel's cinematic universe. Last November, the Creed actress joined the ranks of Scarlett Johansson (The Avengers), Zoe Saldana (Guardians of the Galaxy), and Elizabeth Olsen (Captain America: Civil War) as one of the notable badass female superheroes when she suited up as Valkyrie in Thor: Ragnarok. Her performance was praised by critics, who called her a "scene stealer," and the Los Angeles native quickly became a fan favorite. While unconfirmed, Thompson is rumored to be reprising her role in the upcoming Avengers: Infinity War film. We chatted with the Time's Up advocate ahead of the DVD release of her Marvel debut to get her take on why everyone loves Valkyrie and get her thoughts on the success of Black Panther.
POPSUGAR: Valkyrie has been hailed as one of the few female characters in the Marvel cinematic universe that had a solid, well-written character arc. How did you feel about the positive reception to her?
Tessa Thompson: Well, I mean, obviously I'm superflattered by it, and I'm so happy the fans responded to it in [that] way. One of the things that compelled me to work on the character and certainly to work with Marvel is I feel like they've really done such a fantastic job at creating superheroes that also just feel like humans. That you can really get invested in their dynamics, their characters, their friendships, their love, their loss. And I think the female characters in Marvel are no exception to that. I'm really proud that we're living inside of a space not just in Marvel but in Hollywood and globally where we're really wanting to put women at the forefront, to hear their stories and for them to be reflected certainly in media and become nuanced, incredible beings that we are as women. I'm excited about this new phase.
PS: Fans are also pulling for Valkyrie to get her own stand-alone movie. Is that something you would be open to?
TT: I'm really flattered by it. I love working with Marvel, they're deeply collaborative. I love playing Valkyrie. I will even go outside of the Marvel cinematic universe. I'll show up at a Bond movie if they need me there as Valkyrie. [Laughs] I really trust [Marvel's] vision for the character. It hasn't let me down thus far, so I'm curious to see where they and she takes me.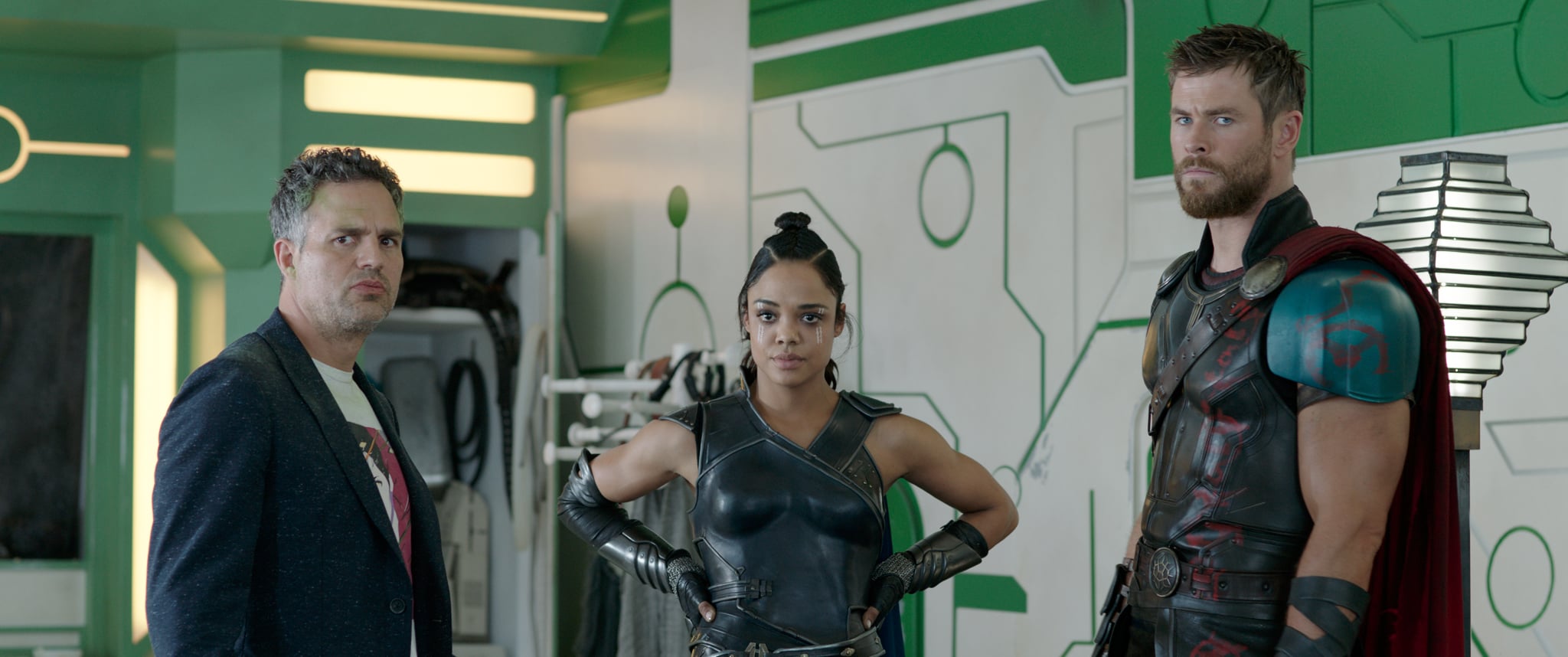 PS: I know initially there were murmurs about Valkyrie being the love interest of Thor [Chris Hemsworth], but when I watched the movie, I actually didn't get that vibe at first. There were hints, but mostly what I saw was this fully realized woman who was flawed, yet very self-aware and very relatable in that sense. She wasn't just the picture perfect love interest we normally see in superhero films. How important was it for you to play such a fleshed out character?
TT: That was wildly important to me, but I wasn't worried that wasn't going to be the case because of Taika Waititi and the work that he has done before and the conversations that we had. He really wanted to create a female superhero that sort of bucked convention. But that being said, I think you can play a love interest and have her be complicated and an incredible female character. I felt like I was able to do that when I made Creed because Ryan Coogler is that sort of filmmaker, and then, in the same way, Lupita in Black Panther is technically the love interest but has a world of her own and a life of her own.
"You can play a love interest and have her be complicated and an incredible female character."
I think regardless of what the woman is in the context of the script, as long as you are working with collaborators that really want to make sure that any page space that you have feels essential, then you're golden. That was something that we certainly flirted with. We shot some takes where Chris and I flirted more and we shot some takes where I completely dismissed him, and what we've all thought was cooler at the end of the day was just to see this woman who really was on her own trajectory. We also thought it was such a cool reversal that Chris's character, who is the hero of the movie, was fangirling over my character. [Laughs] We just thought that we haven't seen that been done before, so we loved that idea.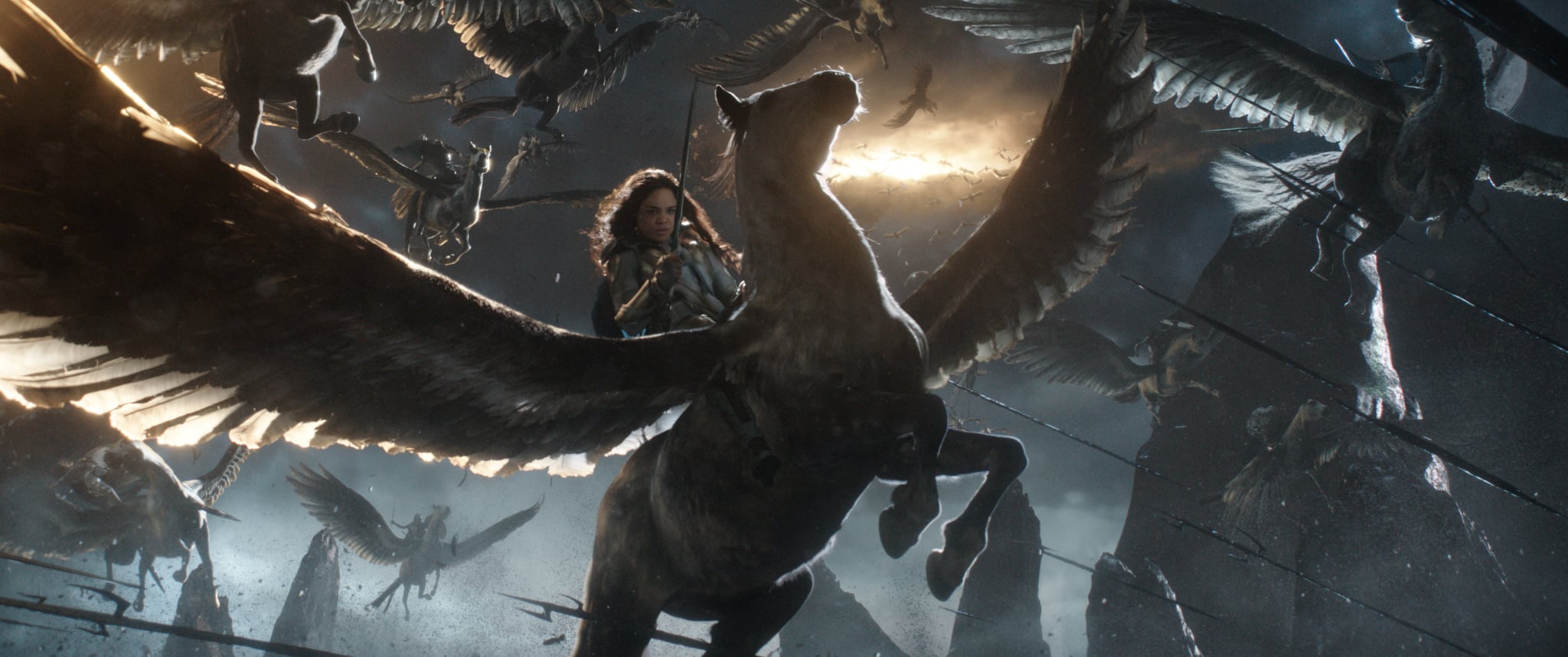 PS: You mentioned Black Panther. What did you think of the movie?
TT: Well, I'm still in Wakanda. [Laughs] I have not come back, and I do not want to come back. I'm putting an offer on a condo in Wakanda. I really enjoy it. The people have embraced me. I love that film. I'm so proud because I get to see friends of mine on screen just killing me softly, but I also just think about what it's doing culturally, not just for black people — which has been tremendous. I just think that the cultural conversation — there's been this myth in Hollywood, certainly that black and brown faces don't sell, and those are harder movies to get made. And what you're seeing is that [Black Panther] is shattering all of those perceptions and ideas because people are really showing up for this film. And never mind that it's incredible and empowering to see black faces on screen in this way, [and with] natural black hair; it also is just such a good movie. Never mind its political importance, it's just a damn good film, and that's what people are really responding to most of all, and what a time.
PS: On the topic of fully realized female characters, what's your take on the Dora Milaje?
TT: Listen. I mean, the characters are so incredible, so I don't want to diminish any of that by focusing on their beauty and fashion, but their beauty and their fashion! [Laughs] They're so gorgeous, but they're so incredible. I just feel like I want to shave my head now. If I didn't have an oddly shaped head, I would have shaved it immediately. I could do a whole stand-alone film of just them and their origin story, just seeing them training. I just think that it's just such incredible characters, and that scene with Danai [Gurira] and Daniel [Kaluuya] is so well-played, and her just being like, "Listen. If you're getting in the way of me and my ideals and how I want to serve my country, then goodbye, friend." I felt so powerful. In a time where we're really talking about the importance of allowing women to take up their space, not to take any crap, that was really exciting.
PS: Do you think Valkyrie would be in her element fighting alongside those women — in future films maybe?
TT: She definitely would. I mean, sort of Valkyrie's biggest sorrow and something that really creates a void for her is being separated from her sister and the fact that all of her Valkyrior warrior women were slain, and she's sort of a lone soldier. If she were to travel to Wakanda and find those women, the sense of purpose that she would have would be tremendous. And obviously because I'm playing Valkyrie, I think it would be a moment where you know when black and brown people, we see each other, and we're like, 'Oh my God! You're here too!' [Laughs] 'Yasss!' So that could be it. For Valkyrie, it would be, 'Oh my God! I've been in Asgard. You know there's only one other black person.' And Idris [Elba] is really a fly black person to get to spend time with, but we like company. So I think she would be [a] perfect [addition]. She would be very excited.
Thor: Ragnarok is now available on digital. Out on Blu-ray and DVD March 6.