Is Tiffany Cheating on Derek on Insecure?
You Probably Don't Remember This Relationship Bombshell From Insecure's Season 2 Finale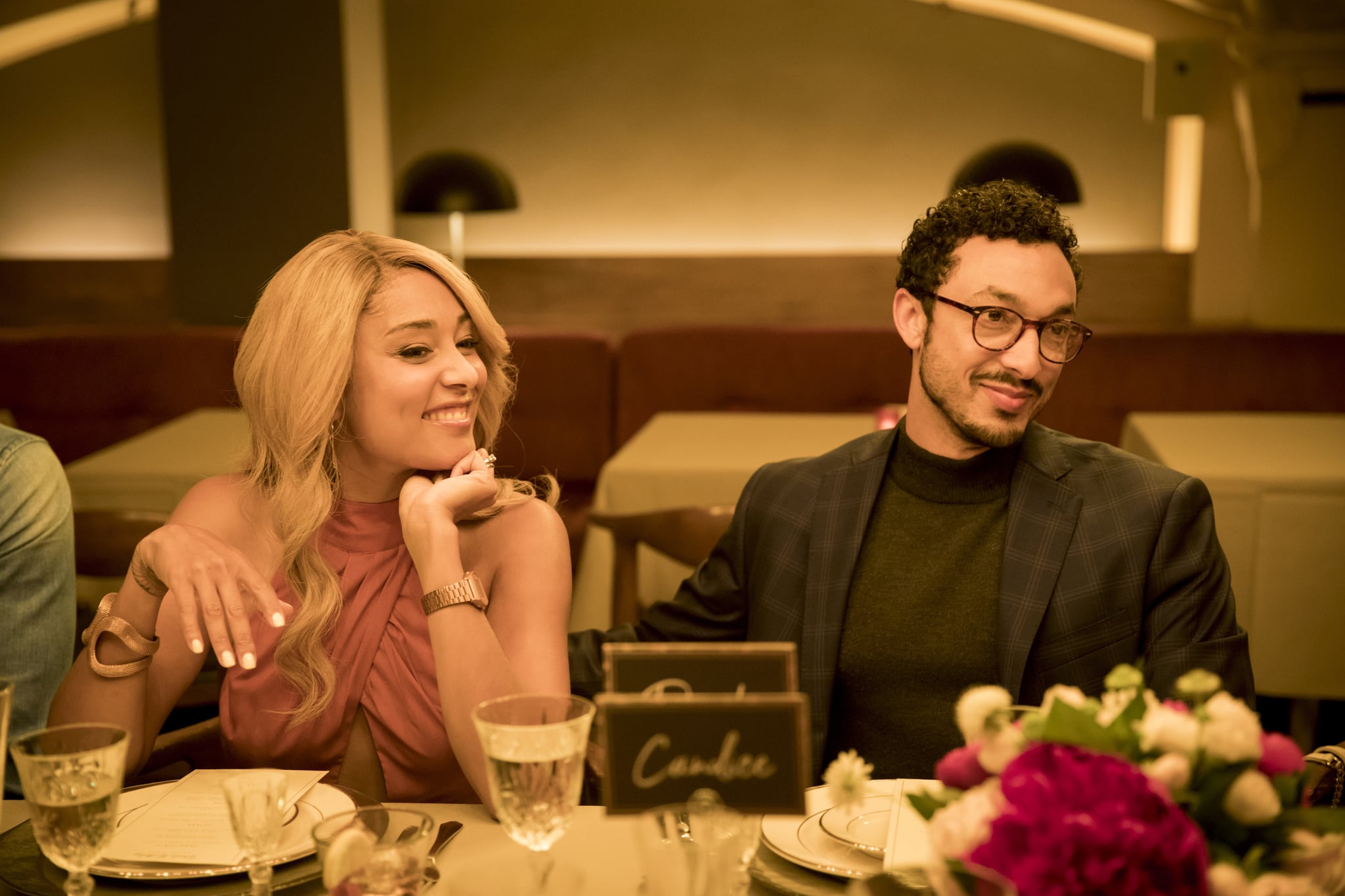 Insecure has exposed its fair share of failed relationships and single struggles, but behind all the ho-tation hookups, ex regrets, and even Kelli's epic diner scene, there's always been that one "stable" couple throughout the series: Tiffany (Amanda Seales) and Derek (Wade Allain-Marcus). It seems like Tiffany will take any opportunity to let her friends know she's in a happy relationship. She boasts her blow-job capabilities, throws an over-the-top dinner party for Derek's birthday, and doesn't stop talking about how much she loves her man — we get it, honey! But it's time to look beyond the facade and discuss what we think is really going on between the "strongest" couple on the show.
While we know that there was some sort of indiscretion between them (they reference it throughout the series), Tiffany never shares the exact details with her friends. She accidentally tells the girls that she let Derek come back home after he lived at a hotel temporarily the year before, but it isn't until the emotional season two finale that we finally get a clue about what went on between the couple, and it's so subtle that it *almost* went right over our heads.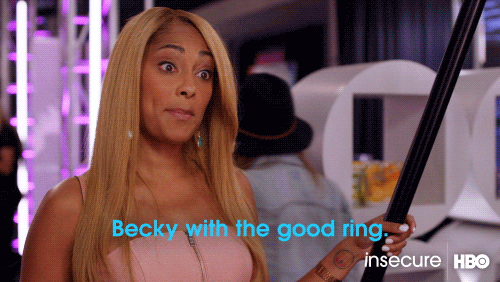 When Lawrence (Jay Ellis) is discussing his relationship with Aparna (Jasmine Kaur) and his insecurities about her relationship with their coworker Colin, Derek tells Lawrence he has to take matters into his own hands. During their conversation sans couch, Derek tells Lawrence that Tiffany had a situation with a coworker named Fred. "Fred and I had a talk," Derek says. "Fred is gone now. Why? Because I dealt with it."
Could Fred be the reason Derek had to move out last year? Well, the clues about their relationship struggles didn't stop there. During this same conversation, Derek says that Tiffany is watching Due North at Issa's. Flash forward through the episode, and we see Issa (Issa Rae), Molly (Yvonne Orji), and Kelli (Natasha Rothwell) watching the epic show at Issa's apartment. Kelli's phone soon vibrates, and she tells the girls that Tiffany isn't able to make it (cue Issa calling out Tiffany for being dramatic about her pregnancy already). If she's not with her girls and she's not watching with Derek, where could she be?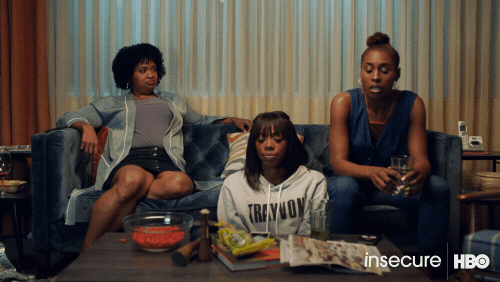 Another major question is about Tiffany's pregnancy. She calmly tells Issa and Molly that she and Derek are expecting baby DuBois during Kelli's race, but it strikes us as pretty sus that she waited until then to tell her girls. Yes, Issa and Molly acknowledge the fact that they're sh*tty friends because they didn't know Kelli was training for a marathon, but pregnancy — that's something you tell your girls immediately, especially when you're so ostentatious about everything else in your relationship. Could Derek not be the father of Tiffany's baby?
We'll have to wait until season three to premiere on Aug. 12 to see what's going on between this seemingly perfect couple, but one thing is for sure: Tiffany and Derek's relationship isn't as perfect as she'd like us to believe.