Are Wells and Danielle M. From Bachelor in Paradise Dating?
Bachelor in Paradise: Wells and Danielle Discuss Their Relationship
If you watched the latest season of Bachelor in Paradise, you absolutely found yourself rooting for Wells and Danielle M. to get together, but are they actually dating? First, some backstory: they both live in Nashville and knew each other before they appeared on the Bachelor shows. Years ago they went on a date, but nothing ever came of it. Cut to this Summer, when they shared one hell of a kiss on Bachelor in Paradise. Technically, Wells wasn't there to date — he took over Jorge's bartending duties — which made the kiss even better. Fans everywhere immediately started rooting for their relationship because . . . just LOOK: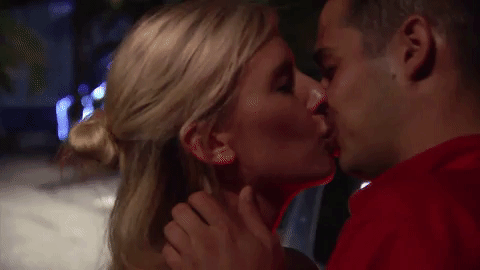 Image Source: ABC
Like something straight out of a rom-com, the kiss came right as Danielle was leaving the show, and unfortunately BIP didn't air anything about their relationship during the show's finale. This week, though, Wells and Danielle addressed the situation when she appeared on Your Favorite Thing Podcast, which he cohosts with Brandi Cyrus.
"I don't know if we realized how crazy the shipping of Danwells was going to be," Wells joked. He did acknowledge that it was a "hot kiss," though, and even better? He said he'd "thought about it for quite a while," and Danielle admitted that she had too, saying she was "legit flustered." (Same.)
As for their relationship, they're just trying to get back to their normal lives. "If it's gonna happen, it's not gonna be because everyone is rooting for it or putting pressure on it. It's gonna happen organically," Danielle said, adding that they haven't kissed since they were on the show. "Wells is one of my best friends. We've been friends for at least four years now. I don't want to lose that," she said. Wells joked, "Everyone's going to be so upset that we're not married."
Honestly, the whole conversation couldn't have been more refreshing. As Wells acknowledged, things aren't always black and white, and it's pretty encouraging that they aren't getting swept up in the pressure from fans.
That said, let's all just appreciate the insanely adorable look on Wells's face as he watched their kiss, because it's too damn good. (Yeah, he's the best.)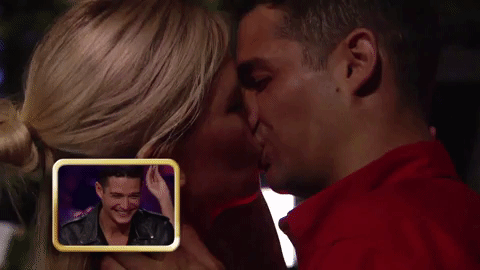 Image Source: ABC