What It's Like to See Ed Sheeran in Concert
I Had a Religious Experience in a Small Room With Ed Sheeran — and 400 Others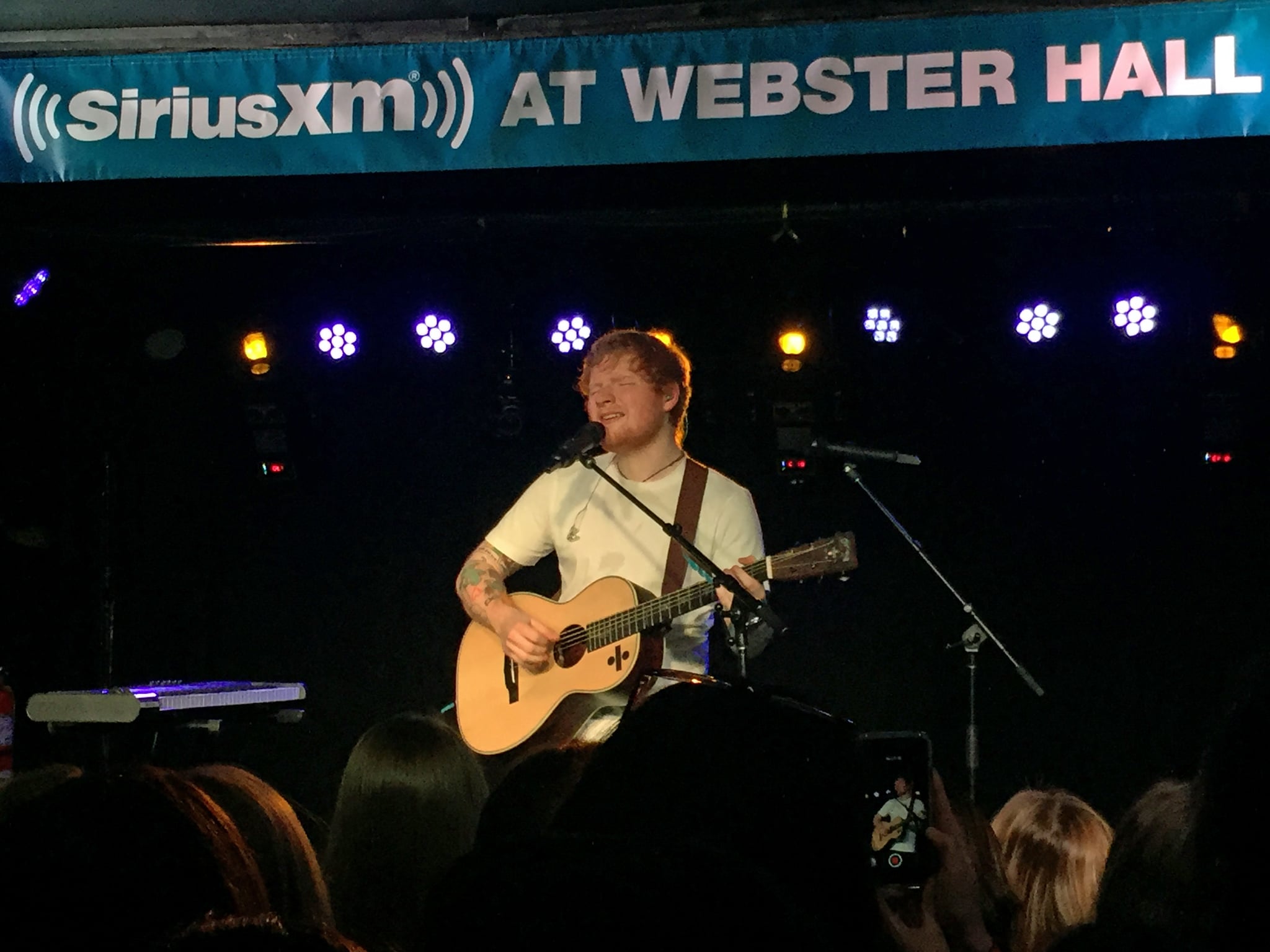 Ed Sheeran's new album, Divide, is currently one of the top albums in the US following its March 3 release — and I just watched him perform its hits in a room built for 400.
To say I'm a fan of Ed's is an understatement. I was studying abroad in the UK when his debut single, "The A Team," was released, then returned home that Summer to hear it blaring on US radio. I had swiftly become obsessed with him and his music, as did the rest of the world. I've followed him extremely closely throughout his entire career, and I maintain that he's the single most talented performer I've ever seen live. He's just one man, playing with one guitar and a loop pedal to hundreds of thousands of people.
Except for last night. No, last night it was just me, Ed, and 399 other people.
Although the humble 26-year-old got his start playing to small crowds in dive bars and clubs, he admitted on Monday night that it's been a very long time since he played a show quite so informal.
Following Divide's first single releases, it was announced that Ed would play a secret show in NYC on March 6 sponsored by Sirius XM, but thanks to a pretty packed schedule, that announcement slipped by me. However, my incredible boyfriend (who has now officially been given Saint status) knew all about it because it was going to be at his job, and he knew that I'd need to be there.
Now, I've seen Ed ask over 20,000 people in his sold out Madison Square Garden audience to be silent so he could play "Tenerife Sea" acoustically, so I've obviously witnessed the man's ability to command a room. But nothing could prepare me for the intimacy of this secret show in The Studio at Webster Hall. Not only was I 10 feet away from him, I could hear his voice separate from the microphone's projection. Like we were having a conversation, just him and me.
He opened with his new single, "Castle on a Hill," configuring all the moving pieces of the song with his loop pedal. I couldn't even sing along; I was frozen in place, absolutely beaming while tears pooled in my eyes and slowly dripped down my cheeks. The overwhelming applause broke the spell, but as soon as he started playing "The A Team," I again reverted to the emotional being I am.
After watching him flawlessly perform a few more songs with a big smile split across his face, he began the opening to "I'm a Mess" — one of my favorites from his second album, Multiply — before promptly stopping. "I'm really not feeling the sound up here on the stage," he said.
He continued, informing the audience and the guys from Sirius XM who were recording the show that he wanted to play acoustically. Standing on a chair. In the middle of the small crowd. Two. Feet. Away from me.
I watched as my boyfriend's co-worker pushed his way through the buzzing and anxious crowd with a chair over his head and set it down right next to me — suddenly Ed was there, right in front of me, even closer than before. I could see the sweat beading on his neck, the intricacies of each colorful tattoo on his forearms, his bright-red stubble, and the clear blue of his irises. Never have I been so calm. Despite the crowd pushing around me and my inner voice encouraging me to freak the f*ck out, I couldn't.
Despite the crowd pushing around me and my inner voice encouraging me to freak the f*ck out, I couldn't.
Later my friends and family would shame me for not taking enough Snapchats and Instagram videos, but I did my best to explain that I just couldn't. I was there, with Ed Sheeran, and I would never, ever be so lucky as to get this close to him and his raw talent again, so I had to completely soak it in.
He asked for absolute silence, then restarted "I'm a Mess" as he circled on the chair (with impeccable coordination, might I add; I thought surely he'd get dizzy and stumble), and followed it with his favorite song off the new album, "Perfect." "I'm just going to play one more song down here, and then, since this is for radio, I've got to go back up there on stage," he said.
He then started softly singing "Supermarket Flowers" as the crowd let out sad sighs, and I cried for him over the loss of his grandmother, just as I would for a close friend. And as he wiped the sweat off his face once he finished, I was just close enough to tell in the dark that there may have been a few salty tears of his own in the mix. Knowing that he struggled with whether or not to put the devastating song on the album in the first place, hearing him play it for me felt like a vulnerable agreement between friends that we'd grieve for just a moment, then move on together to celebrate life.
"OK, I'm just going to play one more, and then, because this is for radio, I'll go back up there," he repeated as he pointed to the stage while everyone wiped at tears and giggled at his nonchalant "I do what I want" attitude. He chose to play the first song off Divide, "Eraser," complete with a new, freestyled third verse full of what felt like the most honest truths he's ever told so many people about his life, love, and the effects of fame.
Through the crowd's objections, he made his way back onto the small stage to play a brilliant mash up of Nina Simone's "Feeling Good" and his own "I See Fire," then capped off the short set with a new song, "What Do I Know?", asking the crowd to sing along and "never stop."
We could change this whole world with a piano
Add a bass, some guitar, grab a beat, and away we go
I'm just a boy with a one-man show
No university, no degree, but lord knows
Everybody's talking 'bout exponential growth
And the stock market crashing and their portfolios
While I'll be sitting here with a song that I wrote
Sing, love could change the world in a moment
But what do I know?
As he made his way off the stage, leaving us all to sing until our voices grew hoarse, I watched him put his hands together as if in prayer. It seems that for him, too, this tiny and humble New York basement show was a bit of a grounding, religious experience.
It's one I won't soon forget, despite the lack of Snapchats.
Image Source: POPSUGAR Photography / Alessia Santoro