What Is Period. End of Sentence About?
Yes, a Movie About Menstruation Just Won an Oscar — Here's Why That's So Important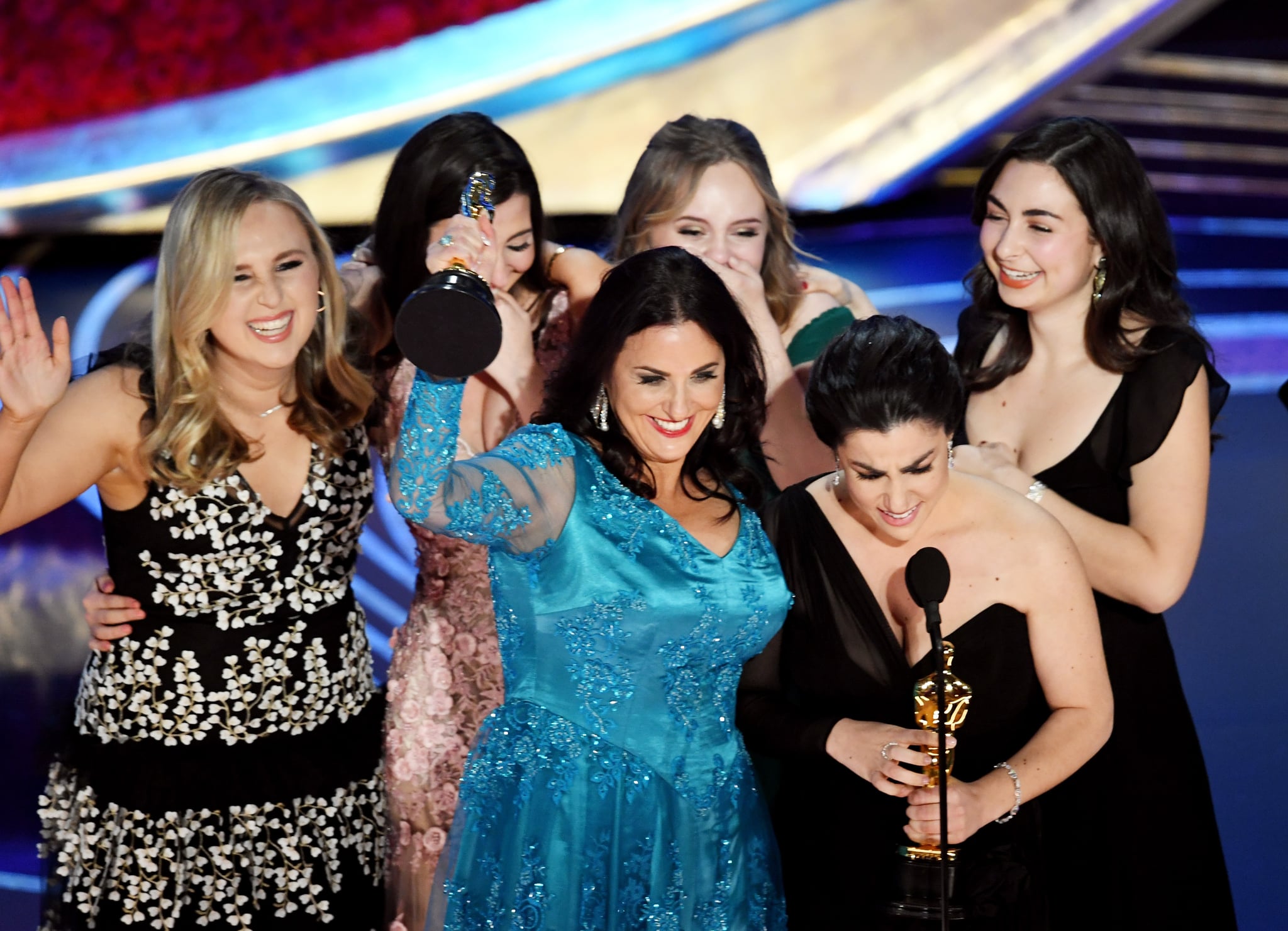 Image Source: Getty / Kevin Winter
Period. End of Sentence just won the Oscar for best documentary short subject at the 2019 Academy Awards. The 26-minute film, which you can watch on Netflix, centers on The Pad Project, an organization that brought a pad-making machine to a small town in India.
Yes, this incredible short film is about menstruation, and upon winning the Oscar, director Rayka Zehtabchi even said, "I can't believe a film about menstruation just won an Oscar."
The story behind this film started several years ago, when Los Angeles-based teacher Melissa Berton helped a group of her students start The Pad Project. After Berton's daughter and student Helen Yenser learned about the stigma surrounding periods in other countries, she and her fellow students raised enough money to send a pad-making machine to Kathikhera, India. In this small town, women and girls had little to no access to sanitary supplies, and according to The New Yorker, many girls dropped out of school upon hitting puberty due to the lack of acceptance of menstruation.
The students wanted to take it further, though, so they raised enough money to hire a director so they could make a film out of this experience and really showcase the issues these other countries experience for something as simple as menstruation. "After seeing the film I hope people understand this period stigma doesn't just effect those in India, we experience it in the United States and in other cultures as well," Zehtabchi told Glamour. "I also want viewers to realize that empowering women worldwide really starts with beginning with opening up the conversation around menstruation. We can implement feminine hygiene, but first we have to break the taboo."
She said it starts with acknowledging that while this film is about women's menstrual cycles, it's not just a movie for women. It's a movie for men, too, because society can't break through the taboo unless the entire population becomes aware of it.
Since making the film, funding has allowed The Pad Project to send more pad-making machines to other small towns in India to help women break through the period stigma. But the students behind the cause have noticed a change at home in the US as well. One student at the US high school told The New Yorker that recently, other students have talked more openly about menstruation, including the boys. "The way boys in our grade talk about periods has changed a lot. Before, it was, like, 'Oh, she's on her shark week or whatever, watch out.' But now the conversation is more respectful," sophomore Mason Maxam said.
This is just the beginning of what will hopefully continue to break the stigma around periods. Yenser, now a student at the University of Southern California, told Today, "Now that the documentary is on Netflix, I actually get an email about every five minutes from someone in a different country either asking for a pad machine in their village or a village they know of."
See the film's creators accepting their Academy Award below, and catch the film on Netflix now.
"A period should end a sentence—not a girl's education!" declares one of the makers behind "Period. End of Sentence," which won for Best Documentary (Short Subject). #Oscars https://t.co/zSrvQG8ZE6 pic.twitter.com/9iMSt7cvoh

— ABC News (@ABC) February 25, 2019