When Was Taylor Swift's You Need to Calm Down Video Filmed?
Katy Perry's Hamburger Costume Has Us Wondering When the Heck the "You Need to Calm Down" Video Was Filmed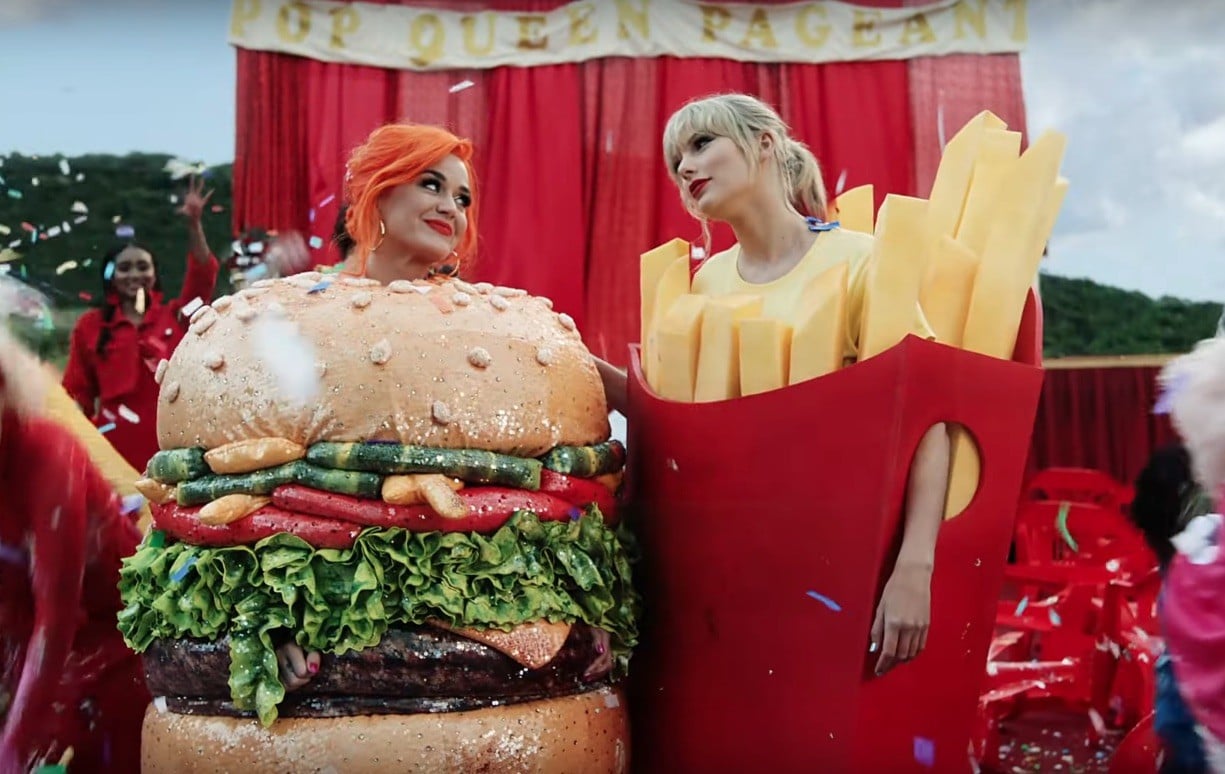 Confession: we haven't been able to calm down ever since we watched Taylor Swift's new music video for "You Need to Calm Down." Besides having even more celebrity cameos than her "Bad Blood" video and enough sneaky Easter eggs to make your head spin, it's a deliciously colorful romp perfectly suited to the pop star's latest bop. However, even after checking out all of the behind-the-scenes pics we could get our hands on, there's still one thing we can't figure out: when the heck was this video filmed?
At the end of the video, Katy Perry can be seen wearing a hamburger costume as she and Swift (who's dressed as french fries, of course) hug it out and effectively end their beef. (Get it?) Just a little over a month before at the 2019 Met Gala, Perry worked the red carpet in a similar costume. So which came first, the hamburger or the . . . hamburger? Did the Met Gala costume inspire the video costume, or did the video inspire the Gala look?
According to Entertainment Tonight, a source revealed that it was Perry's idea for her to don a hamburger costume for the video and that the inspiration came from her Gala look, which means that filming must have taken place after the Met Gala. "When they began brainstorming, Taylor said she loved Katy's outfit of a hamburger that she wore to the Met Gala," the source reported. The source also revealed that the video was filmed over just a few days, so it very well could have taken place more recently than we think.
You might also remember that back in mid-May, soon after the release of "ME!," Swift visited The Ellen DeGeneres Show, where DeGeneres jokingly gifted Swift with a lapel pin depicting the talk-show host dressed as a cat, saying that the pin was missing from the pin-covered denim jacket Swift wore on May's Entertainment Weekly cover. Later, DeGeneres asked Swift about her next video, quipping, "I think you said you wanted me in it." Swift joked that it "would be a dream," but of course it actually happened, as DeGeneres can be seen getting a "Cruel Summer" tattoo from Adam Lambert in the video. Were they both pranking us, or was DeGeneres's cameo planned after Swift's appearance?
This is where it gets confusing. Swift mentioned that she'd planted an Easter egg in the interview, which fans have interpreted as her teasing DeGeneres's cameo, so it's likely the plan was at least already in place. However, one eagle-eyed fan noted on Twitter that, when handing over the pin, you can see a hint of the talk-show host's "Cruel Summer" tattoo under her sleeve, which suggests the video was already filmed (though we feel pretty confident that the tat is temporary).
What does all of this mean? We imagine the video was filmed sometime between the Met Gala (which took place on May 6) and Swift's The Ellen DeGeneres Show appearance (which took place on May 15). But if we've learned anything about Swift, it's that nothing can ever be known for sure.