Who Plays Aaron on Grown-ish?
Grown-ish: Where You've Seen the Actor Who Plays Aaron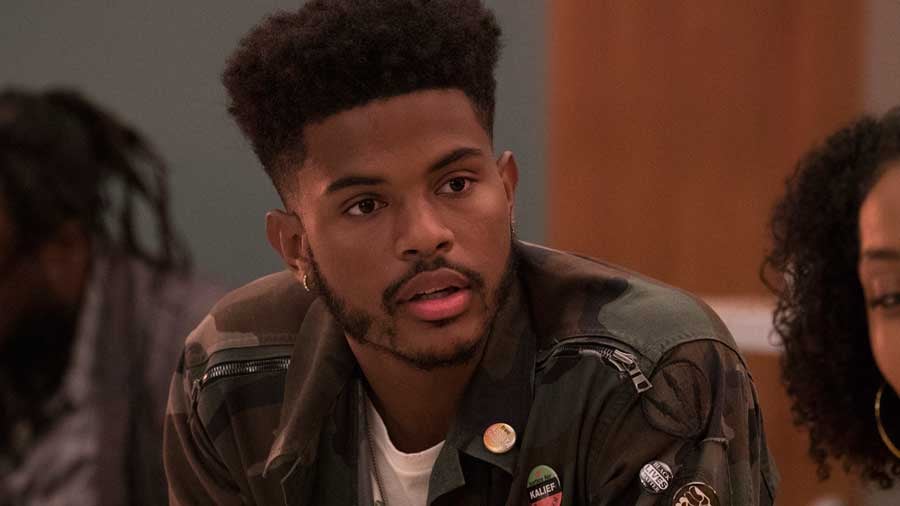 Fans of ABC's Black-ish are in for a treat with Grown-ish, a spinoff that follows the Johnsons' eldest daughter, Zoey, as she embarks on her collegiate career. The first two episodes premiered on Wednesday (Jan. 3), establishing an eclectic group of friends for Zoey — a ragtag group of students from her midnight digital marketing class, taught by Black-ish holdover Charlie Telphy, who happens to be Zoey's dad Dre's best friend and coworker.
But one particular friend in this modern-day Breakfast Club catches Zoey's eye . . . and he should definitely be catching your eye as well. Politically "woke" student Aaron is being set up as Zoey's potential love interest, and Trevor Jackson is a name you're going to want to remember.
The Indianapolis native is only 21 years old, but he already has an impressively long résumé. Jackson broke into show business at age 8 when he won the role of Young Simba in the national touring company of The Lion King. When his time on the tour ended, Jackson worked on Broadway and also logged a couple of guest-starring roles on Cold Case, Harry's Law, and Austin & Ally before landing a recurring role on Syfy's original series Eureka.
By the time he was 16, Jackson was starring in a Disney Channel original movie, Let It Shine, and signed with Atlantic Records, releasing an EP in 2013, an iTunes album in 2015, and later a YouTube channel to showcase his musical talents. He is also active with several charities, including the Ronald McDonald House, NBA Cares, and Snoop Dogg's "No Guns Allowed" campaign.
In 2016, Jackson was cast as the son of Regina King and Andre Benjamin in the second season of ABC Emmy-winning drama American Crime, earning praise as the captain of the basketball team who is implicated in an assault case.
Now on Grown-ish, he looks to be the object of Zoey's affections, though he seems far too involved with his political activism to regard her as anything more than a buddy. Guess we'll see if she can get him to sit up and take notice of her.