Who Plays Andy on Station 19?
Here's Why You Recognize Shondaland's Latest Female Lead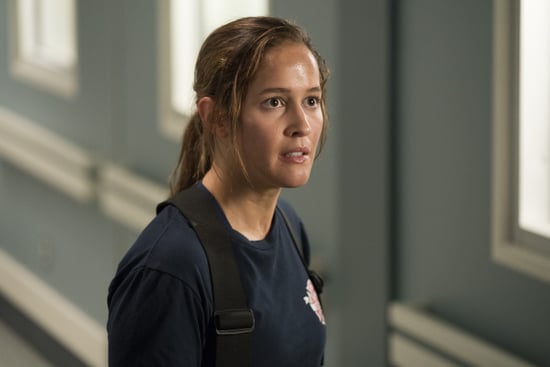 Image Source: ABC
Shondaland fans, brace yourselves, because Station 19 is coming. The production company that brought us beautifully rich female characters like Meredith Grey and Olivia Pope is about to introduce a new badass lead female character: Andy Herrera.
Kicking off with a special two-hour debut, the Grey's Anatomy spinoff will join the TGIT block for a 10-episode run. If you loved Andy on the Grey's Anatomy and Station 19 crossover, you're about to get the chance to meet her in depth over the next few months.
Jaina Lee Ortiz, who plays Andy, is a relatively fresh face on television, but you may recognize her from her earlier work. The Station 19 actress hails from the Bronx, growing up the child of first-generation Puerto Rican parents. After studying salsa for many years, Ortiz taught dance and toured professionally as a teenager. In her early career, she also studied acting at Maggie Flanigan Studio and took on roles in small films like the 2004 film Sad Spanish Song.
She made her television debut in 2009 on the VH1 reality TV show Scream Queens, in which she competed for a role in Saw 3D. While placing second, Ortiz continued acting and eventually landed a main role in Chris Carter's sci-fi drama The After, though the show never aired beyond the pilot. As her career progressed, the actress landed gigs for major and recurring roles on television.
Image Source: Everett Collection
She's best known for working on Rosewood for two seasons as the sexy, tough Detective Annalise Villa, who is one of the few Latina leads in primetime television. Ortiz has spoken fondly of her character. In an interview with HuffPost, Ortiz said, "My character is very Latina, let's be real. She's feisty, she has attitude, she is sexy but I feel that because of her range and what she's been through as a person she can connect to any race." After Rosewood, the actress held a recurring role as the Marine Angela Tio on the TV drama Shooter. Very recently, she's also portrayed herself in the film Girls Trip.
Like Rosewood, Station 19 features elements of a typical procedural drama. However, it's also an emotional, character-driven show. That's why we'll be keeping our hankies close at hand. Because we know how badly Meredith Grey, Annalise Keating, and Olivia Pope have kicked us in the feels, and we're expecting nothing less from Andy Herrera.