Women in Star Wars: The Force Awakens
Why The Force Awakens Is Finally the Movie Female Star Wars Fans Have Been Waiting For
When Harrison Ford let it drop during a recent fan Q&A on Twitter that his favorite scene in Star Wars: The Force Awakens is Rey's lightsaber battle with Kylo Ren, fans went into geek mode for two distinct reasons. One, because it was a detail that, if true, had remained a tightly guarded secret up until that moment — spoiler alert! — and two, because it not-so-subtly suggested that a woman might be the true heart and hero of a Star Wars film. A lightsaber fight with Darth Vader's disciple seemed to suggest something. Could it be? Could Rey be a future Jedi? In the Star Wars galaxy, that would be a meaningful turn of events.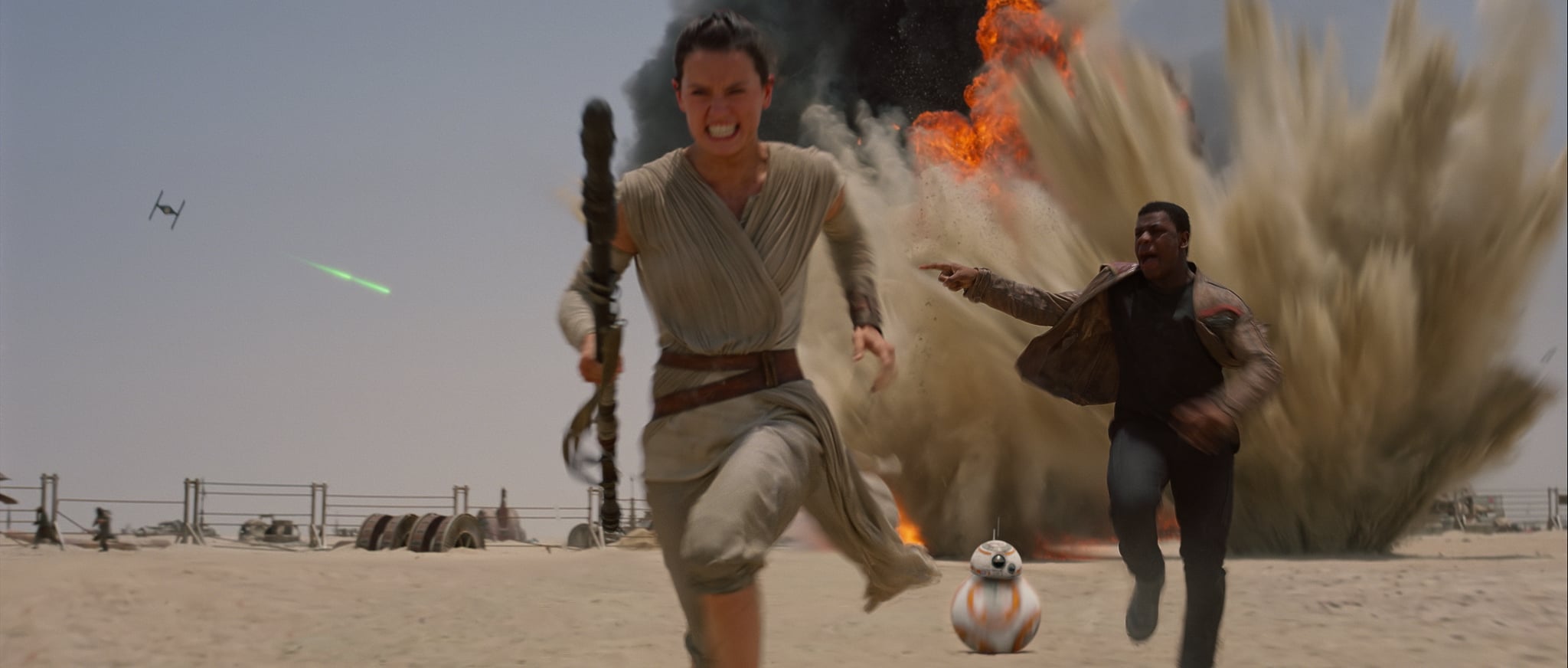 Daisy Ridley as Rey, Walt Disney Films
After all, Princess Leia Organa and Padmé Amidala are the only two central female characters in the Star Wars movie canon. Ever. (Though it's important to note Clone Wars and the comic books do have a better track record here.) Sure, Leia especially was often a force to be reckoned with, with her withering wit and willingness to challenge men in power, but even Carrie Fisher has lamented her frequent positioning as a damsel in distress — and that gold bikini. As my friend Millie put it in a recent Facebook chat we had about Leia's complicated icon status among female fans: "Even Velma from Scooby-Doo had more important decisions to make on her own behalf."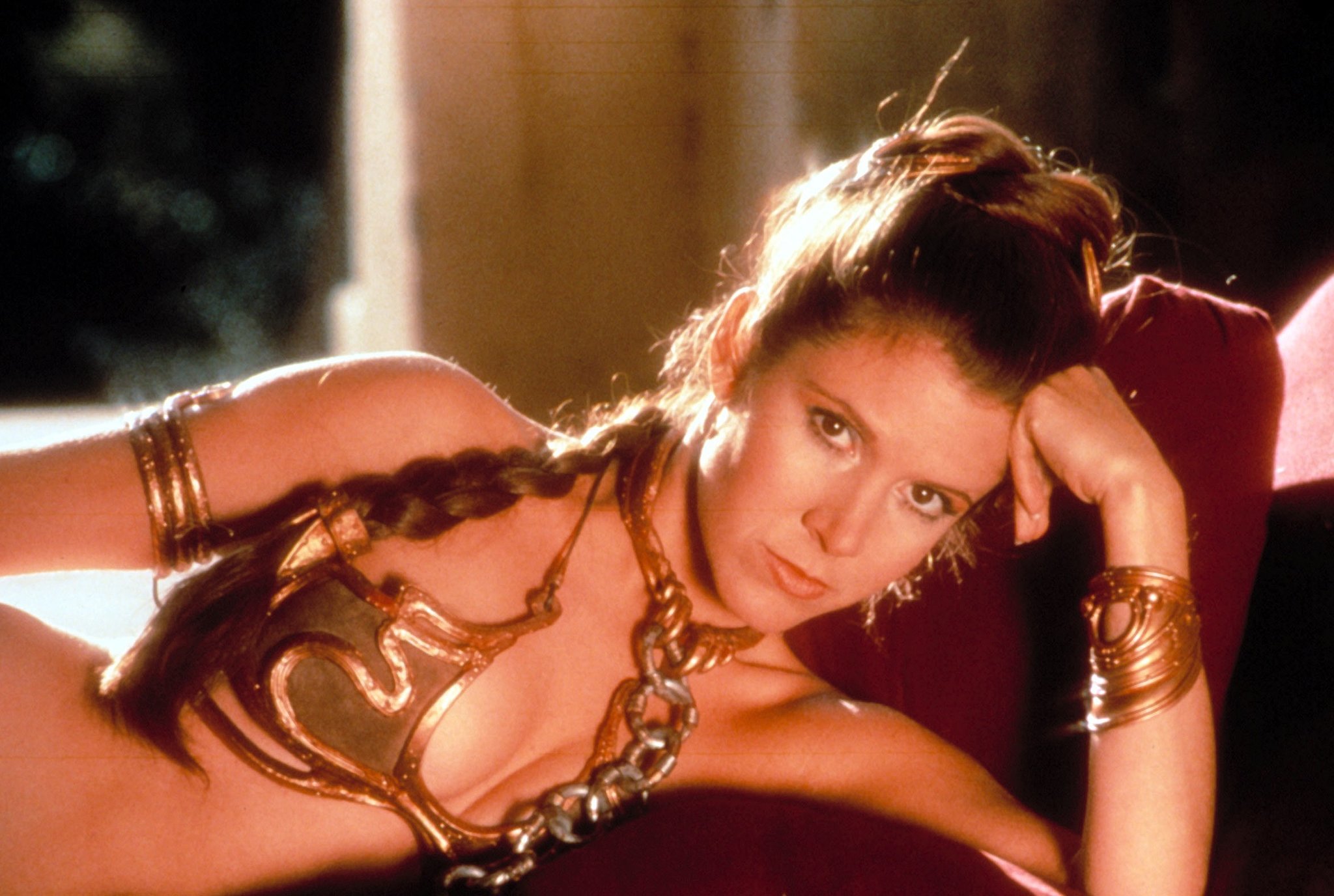 Carrie Fisher as Princess Leia, Everett Collection
It's a sentiment I hear from so many women I know who love these movies despite their obvious failings in the female department. On one hand, they love Leia's strength and flaws and dimensionality and feel just as invested as guys in the Star Wars universe. On the other, they wish that universe did a better job at reflecting and celebrating badass women and giving them more to do in that galaxy far far away. So far, most of the women I know are heartened by the fact that everything we've learned about The Force Awakens seems to promise more meaningful change in that arena. Not only are there simply more female characters at the heart of the story, including Princess Leia — who we may point out has been promoted to General Leia — Maz Kanata (Lupita Nyong'o), Captain Phasma (Gwendoline Christie), and Rey (Daisy Ridley) herself, but by and large, those women are not relegated to traditionally "female" roles like Natalie Portman's Padmé, who, let's not forget, went to battle in a top that conveniently ripped at her midriff before she actually physically died in childbirth over a broken heart*. This time around, Rey is not royalty. She's a space scavenger, which sounds decidedly grimy versus glamorous, and her wardrobe of boots and linen-y wrapped tops is more space war reporter than intergalactic sexpot princess.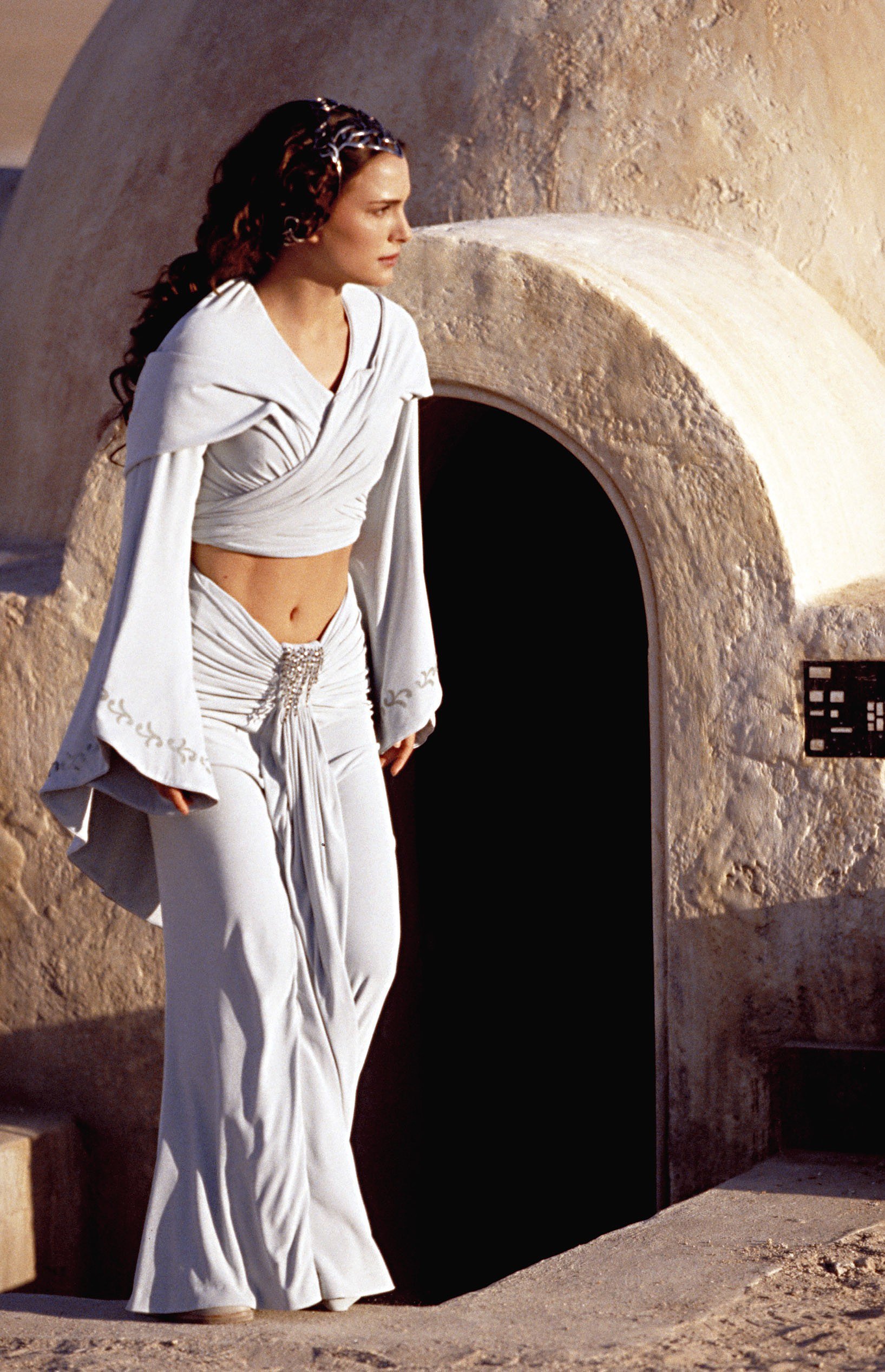 Natalie Portman as Padmé Amidala, Everett Collection
Perhaps one of the earliest hints that women are piloting this new Star Wars mission happened a few months ago when the official Star Wars Facebook account replied to a commenter who lamented that it was too hard to tell that Captain Phasma's battle regalia was "female armor." The reply: "It's armor. On a woman. It doesn't have to look feminine." It was a true f*ck-yeah moment for female fans everywhere (even if the comment was later deleted). I asked Gwendoline Christie during my interview with her at the Star Wars press day in LA last week what that kind of message being sent about Captain Phasma meant to her. "I am so overjoyed that there is this character in this film," she said. "They've made the film again, but not only that, not only that they've made it with a truly brilliant creative team, but they have a character in it that I feel is truly progressive. We relate to Captain Phasma not through that random group of elements that causes us to look a certain way in flesh, we relate to her through her actions and her character and that, I think, is truly modern. And that's what really excites me about this film, is that there has been diversity in the casting . . . and it's honestly honoring its roots."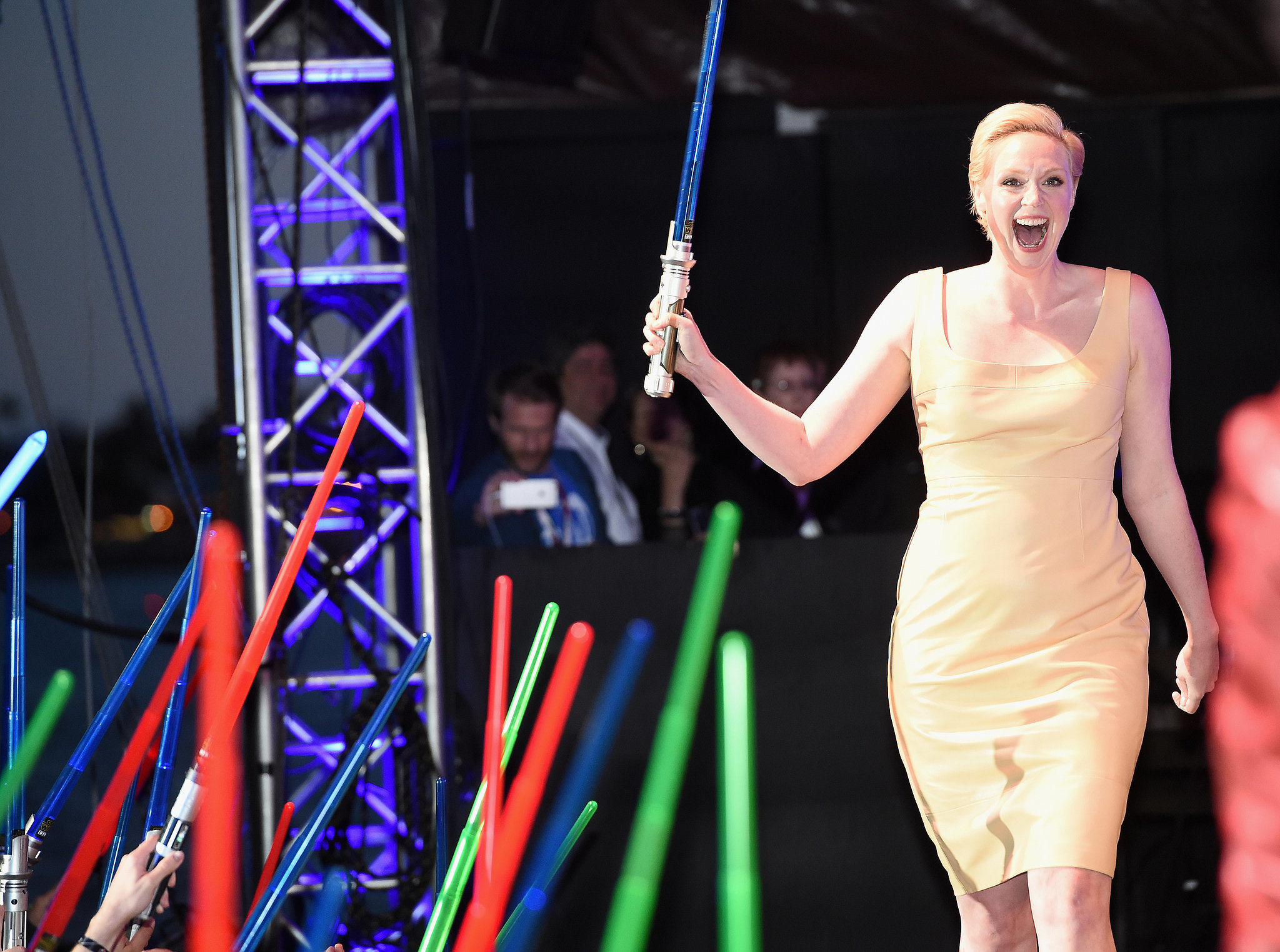 Gwendoline Christie wields a lightsaber at Comic-Con, Getty
Lucasfilm President Kathleen Kennedy is not reserved about her mission to make these films more relevant to and respectful of a female audience. Beyond that, she puts other women in power positions behind the scenes; four of the six members of Lucasfilm's story department are women, and she says she is seriously looking toward female directors for future installments in the franchise. As the head of a massive business, this stance makes practical and financial sense. Films with women's and girls' stories were heavily represented in the list of top box-office movies in 2015, among them Pitch Perfect 2, Cinderella, Inside Out, and The Hunger Games: Mockingjay — Part 2. Over the past decade, films about women have outgrossed films about men $126.1 million to $80.6 million, according to an independent study conducted by Mic. The idea that somehow movies made by and for females — and about women's stories — don't make money is just resoundingly and factually untrue.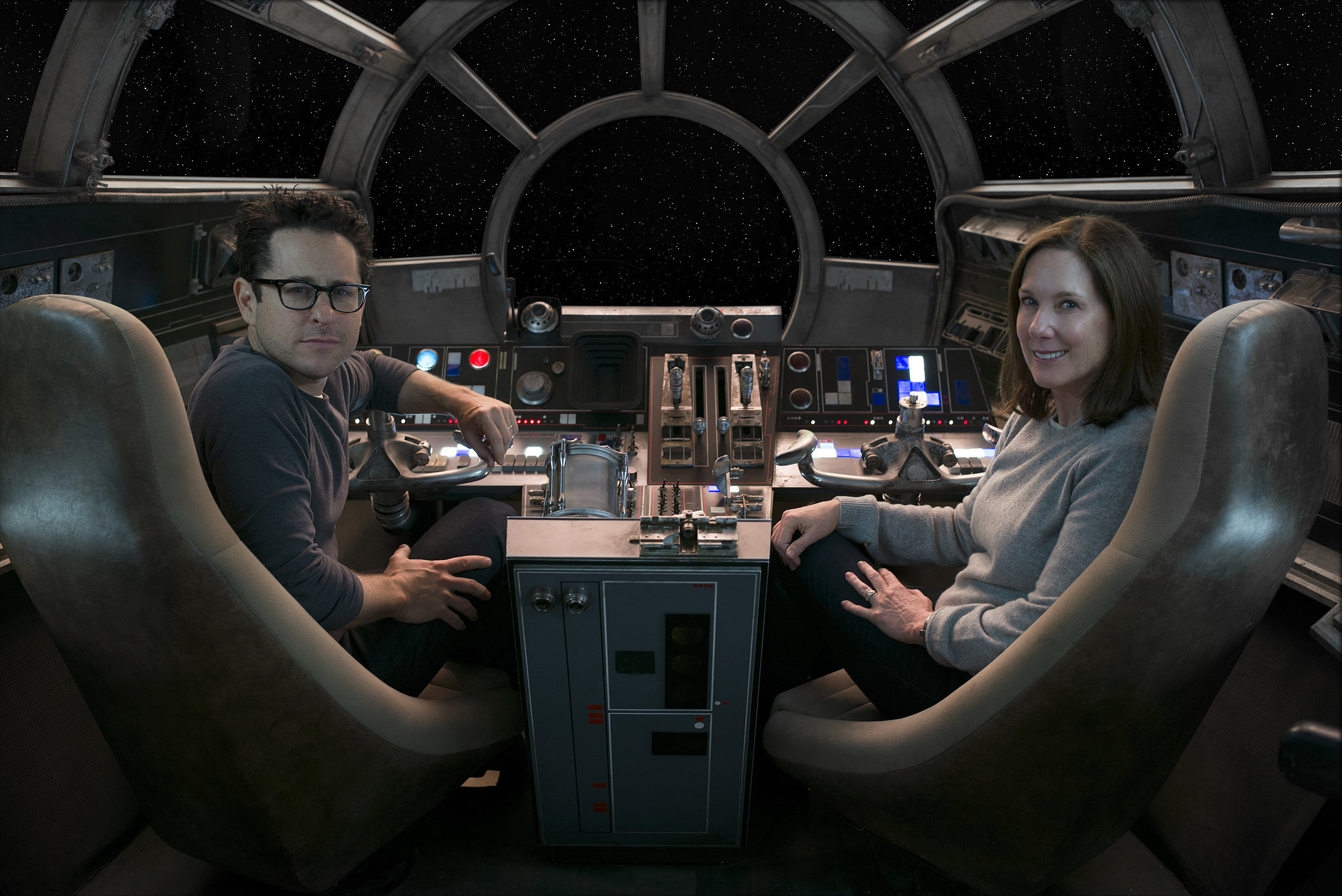 Kathleen Kennedy (right) on set with director J.J. Abrams (left), Walt Disney Films
Of course, with the film being protected with a Homeland-level secrecy, most of the promise about a feminist revolution in the Star Wars saga remains hopeful conjecture. We all know that just because women appear in loose-fitting harem pants and Stormtrooper gear versus gold bikinis and midriff-baring tops — or that just because a woman is at the seat of power in the filmmaking process — it doesn't mean the movie will pass the Bechdel test or subvert the sterotypical gender binary of Alderaan. Still, even if the new iteration of Star Wars' female-forward storylines falls a little bit short of the dream or comes from a somewhat cynical motivation — to rake in more ticket money and toy purchases from women and girls — I'll take it. Because it means that young women will see themselves in these movies, and representation is important.
Lupita Nyong'o probably said it best when I asked her what The Force Awakens might mean for young girls. "I think it means they will be experiencing a Star Wars that is more a reflection of a world they live in — which is exciting — where women do play important roles," she said, " . . . and can get down with the boys!"
*Yes, I'm aware some fans disagree with this theory, but it's the common perception.