You're the Worst Halloween Episode Pictures
4 Reasons You're the Worst Is About to Own Halloween
You're the Worst is pulling out all the spooky stops for Halloween, and we got a special inside look at the episode as it shot in LA's hipster Highland Park neighborhood this Summer. (Editor's note: in a move that would make Edgar proud, breakfast nachos and Bloody Marys were served on the set.) In a genius twist, the themed episode not only uses All Hallow's Eve as a source of inspiration, but it also harkens back to one of YTW's most memorable episodes: last season's show-defining "Sunday Funday". Read on for an early look at Wednesday night's episode, Jimmy, Gretchen, Lindsay, and Edgar's costumes, and to find out why this episode breaks new — and surprisingly kind of scary — territory for the FX series.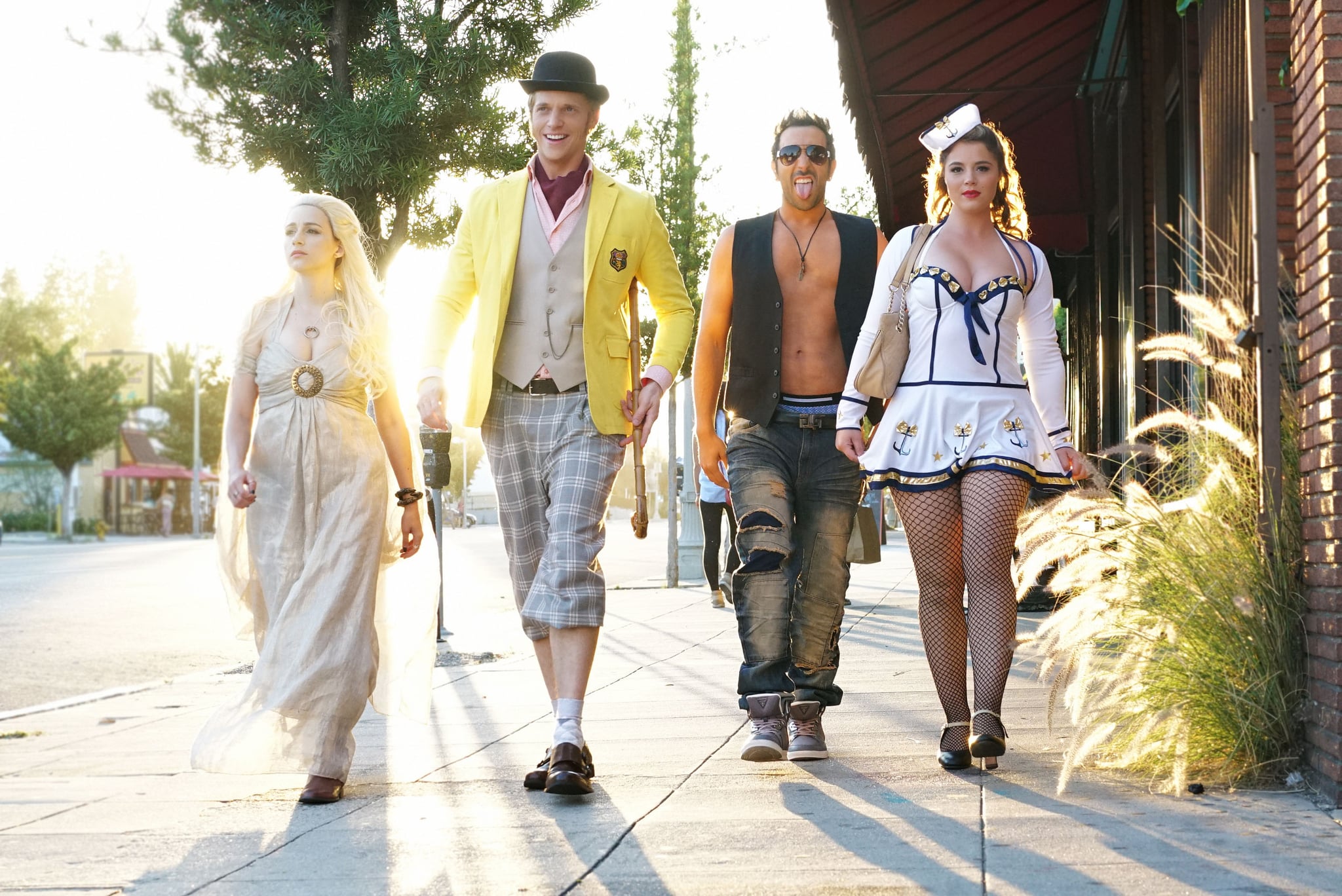 1. Khaleesi Makes an Appearance (Sort Of)
While the idea of Halloween costumes might induce an eyeroll from Gretchen and Jimmy, the cast and their characters embraced them in the end. In the episode, Gretchen makes a pretty fierce Daenerys Targaryen from Game of Thrones, Edgar channels his inner "The Situation", and Lindsay is — what else? — a sexy sailor. (Jimmy's costume is a little more complicated. You'll just have to watch the episode for the complete, and very British, backstory.)
"Stephen (Falk, showrunner) always wants us to feel comfortable with what we're wearing, especially because Lindsay sometimes wears slutty outfits or whatever," Kether Donohue, who plays Lindsay, told us on set. "He called me one day and was like, 'I just want to make sure you're comfortable with what you're wearing,' and the outfit I ended up wearing is the best."
Desmin Borges (Edgar) was similarly enthusiastic: "When I found out what my costume was going to be, I nearly pissed myself and jumped for joy."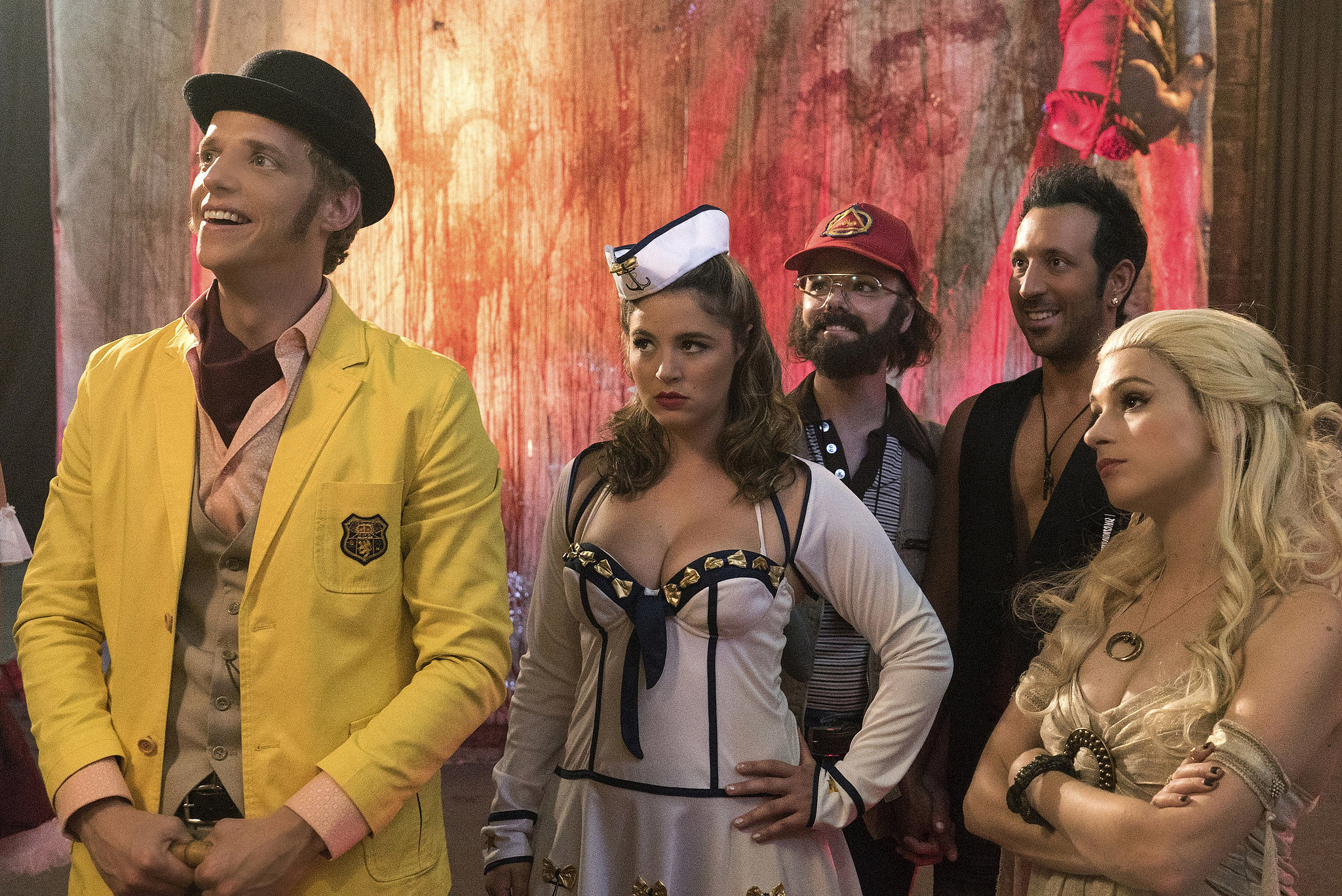 2. There Will Be a Haunted House...
A key part of the Halloween episode takes place in a horror house. You know, those extreme haunted houses that have increased in popularity in recent years. Aya Cash (Gretchen) told us she was fascinated by the whole concept. "Apparently these things last like three to seven hours and people actually pay money to do this," she said. "I would immediately — I just know myself — decide it was all a ploy to actually kill me."
"They are really insane," Falk explained. "You have to sign — not life rights, but kind of like [releases] from any harm. We went insane with it." The crew took over an abandoned warehouse in downtown LA, which apparently housed a brothel back in the '50s. 'It's the saddest thing you've ever seen. There are even some mattresses still there. Peeling walls. It's really grim." It sure sounds like it.
"There's a sequence where we all have these night vision cameras and we are literally running through a corridor," Chris Geere (Jimmy) remembered. "They didn't tell me, but they put a man with a chainsaw behind me. I'm a man who will never even go on a rollercoaster, so the screams that you hear are part genuine."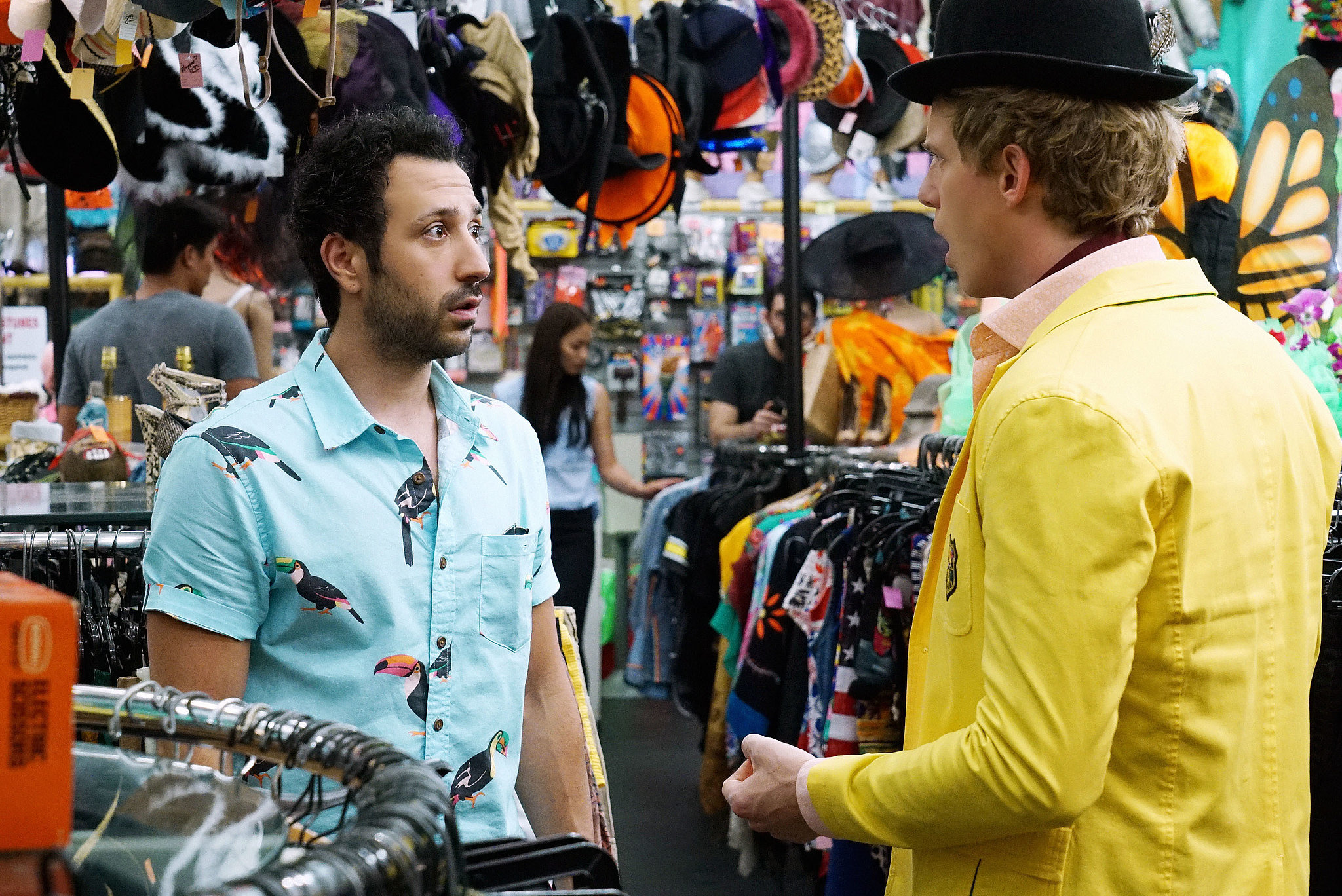 3. And the Gore Is Horror-Movie Worthy
"This episode, there are stunts and a lot of really visceral stuff," Falk says. "Also, there is lots of gore and screams and weird sh*t."
The cast was a little surprised by how horror-intense the shoot really was. "We got the call sheet for the next day and there were 10 stunt crew on there," Geere said. Not exactly typical for the off-kilter rom-com.
Donohue was equally impressed-slash-horrified: "I think Lindsay will have PTSD after this episode."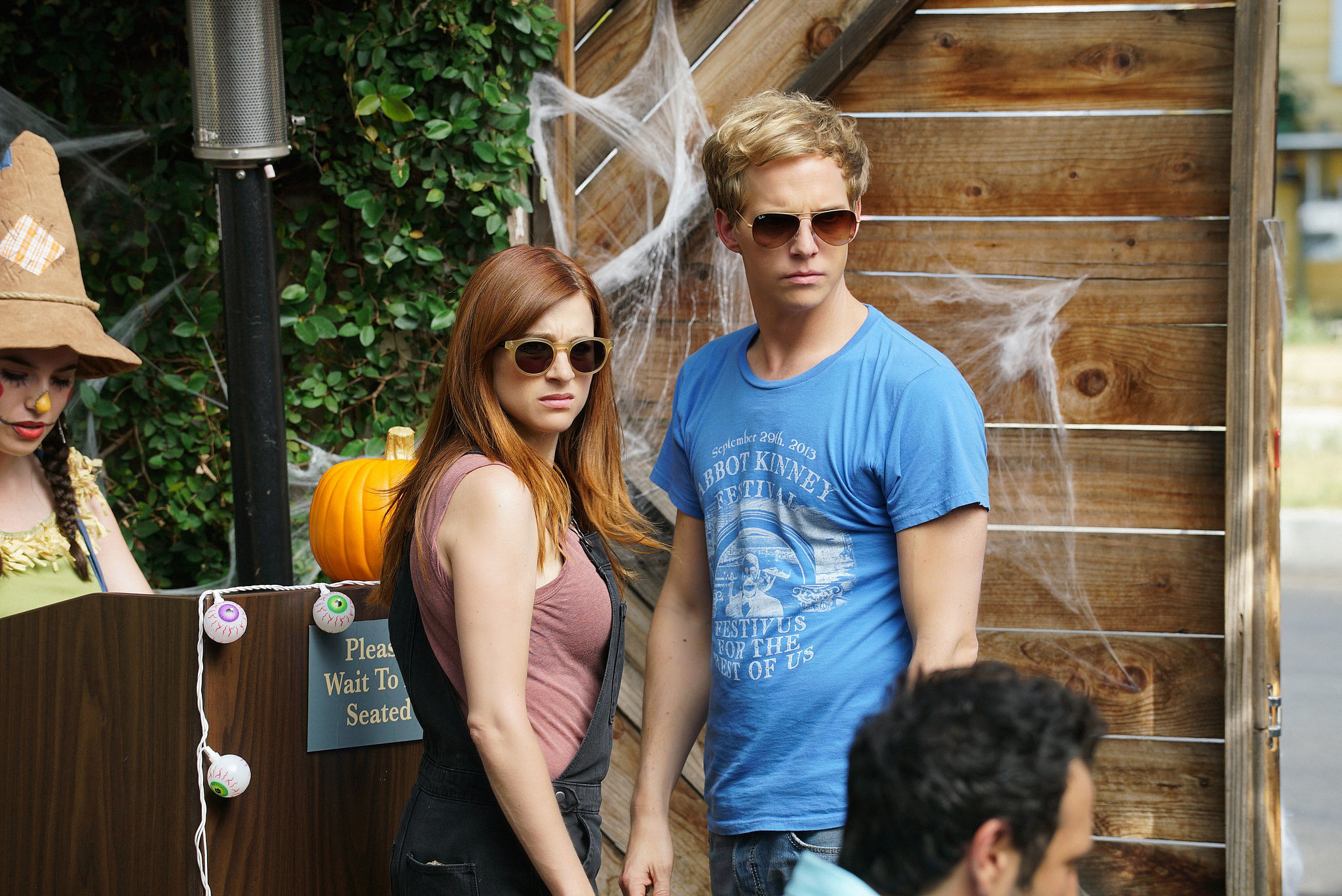 4. It's "Sunday Funday" Round Two
Falk admits that the original "Sunday Funday" episode was born from a "really cynical" place. But while the original intent may have been to poke fun at a certain quintessentially hipster habit, the episode turned out to be a lot of fun — and ended up helping define the show. "We liked it. We had a good time with it," he told us. "My fiancée, who's also our head makeup person, was asking us to do a Haloween episode, and the two things just clicked."
After Gretchen's emotional blow-up last week, it also sounds like the Halloween festivities are masterminded by Jimmy as a way to improve her outlook.
"This is his attempt to really just show her a good time and put her in a better mood," Falk told us. "But I think people, when they find out that their moods are trying to be managed by others, don't necessarily always have a great response." Now that sounds like the You're the Worst fans have come to know and love.
Catch You're the Worst Wednesday at 10:30 p.m. on FX.