Abbott Elementary: Janine and Gregory Relationship
What Does Janine and Gregory's Future Hold After the "Abbott Elementary" Season Finale?
Watch out! This post contains spoilers.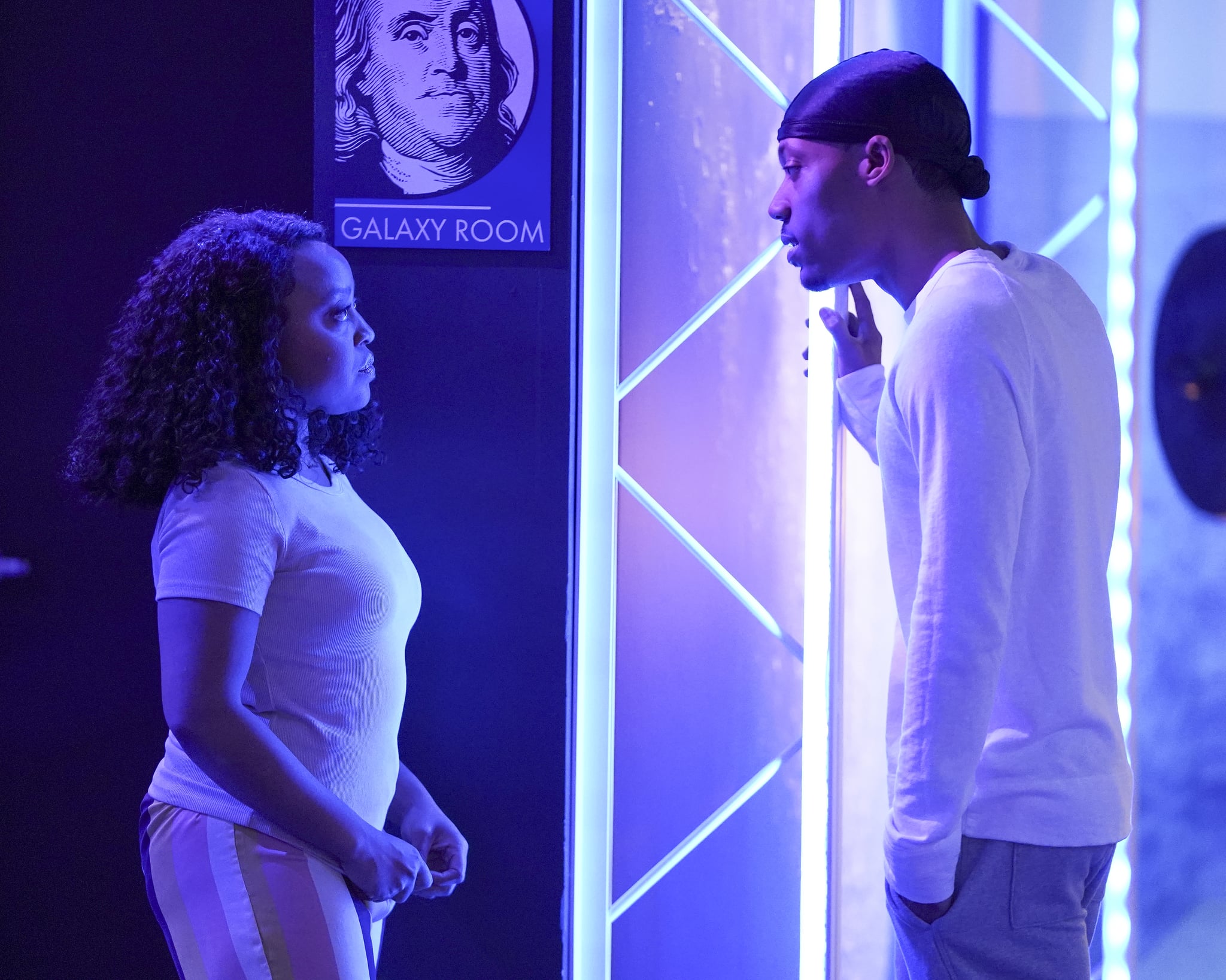 ABC's "Abbott Elementary" follows a group of passionate (and eccentric) teachers at the titular fictional Philadelphia school as they forge friendships and help one another meet the challenges of working in an underfunded district. While the award-winning, breakout workplace comedy deftly highlights real issues that exist within the US public education system, there's also tons of humor and heart. For instance, there's that slow-burn romance between optimistic second-grade teacher Janine (Quinta Brunson) and newly elected full-time teacher, Gregory (Tyler James Williams). It's one plotline fans have been following with bated breath since the very beginning, and the season two finale, which premiered April 19, gave the duo another milestone — still without them officially getting together.
Every time a spark of their undeniable chemistry flies on screen, we can't help but wonder if these two will finally give in to their feelings (or continue to awkwardly avoid their obvious connection). So, will Janine and Gregory ever get together officially? Here's what we think.
What Happened Between Janine and Maurice?
Earlier in the season, the most pressing obstacle standing in the way of Janine and Gregory was Janine's boyfriend, Maurice (Vince Staples), who's also Gregory's good friend. The two began dating after Janine and Gregory's hot-and-heavy night out at the bar in season two's winter finale — where Gregory also, literally, left Janine standing in the cold to go be with his girlfriend, Amber (Nate' Jones).
In season two's 16th episode, "Teacher Conference," Amber dumps Gregory once it's clear they're too different from one another. This comes after Gregory fumbles on Valentine's Day and gets Amber LEGO flowers instead of a flashy Telfar bag, like the one Maurice gifted Janine. So, as his romantic plans with Amber turn sour, Gregory opts to join his fellow Abbott teachers at the Pennsylvania Educational Conference for the Southeast Area (PECSA), where he and Janine get tipsy drinking free booze and stumble into a classroom constructed from flowers. When they think they hear someone approaching, the two crouch down to hide and, in the heat of the moment, lean in for a steamy kiss (and another after Janine tugs Gregory's lanyard back for more action).
In episode 17, "Mural Arts," Janine called it quits with Maurice, with Gregory's help. But Maurice reappears in the season two finale, titled "Franklin Institute," while Janine, Gregory, and the kids are waiting for the buses for their field trip. He tells her that her behavior was selfish, and Janine spends the episode mulling over what he said.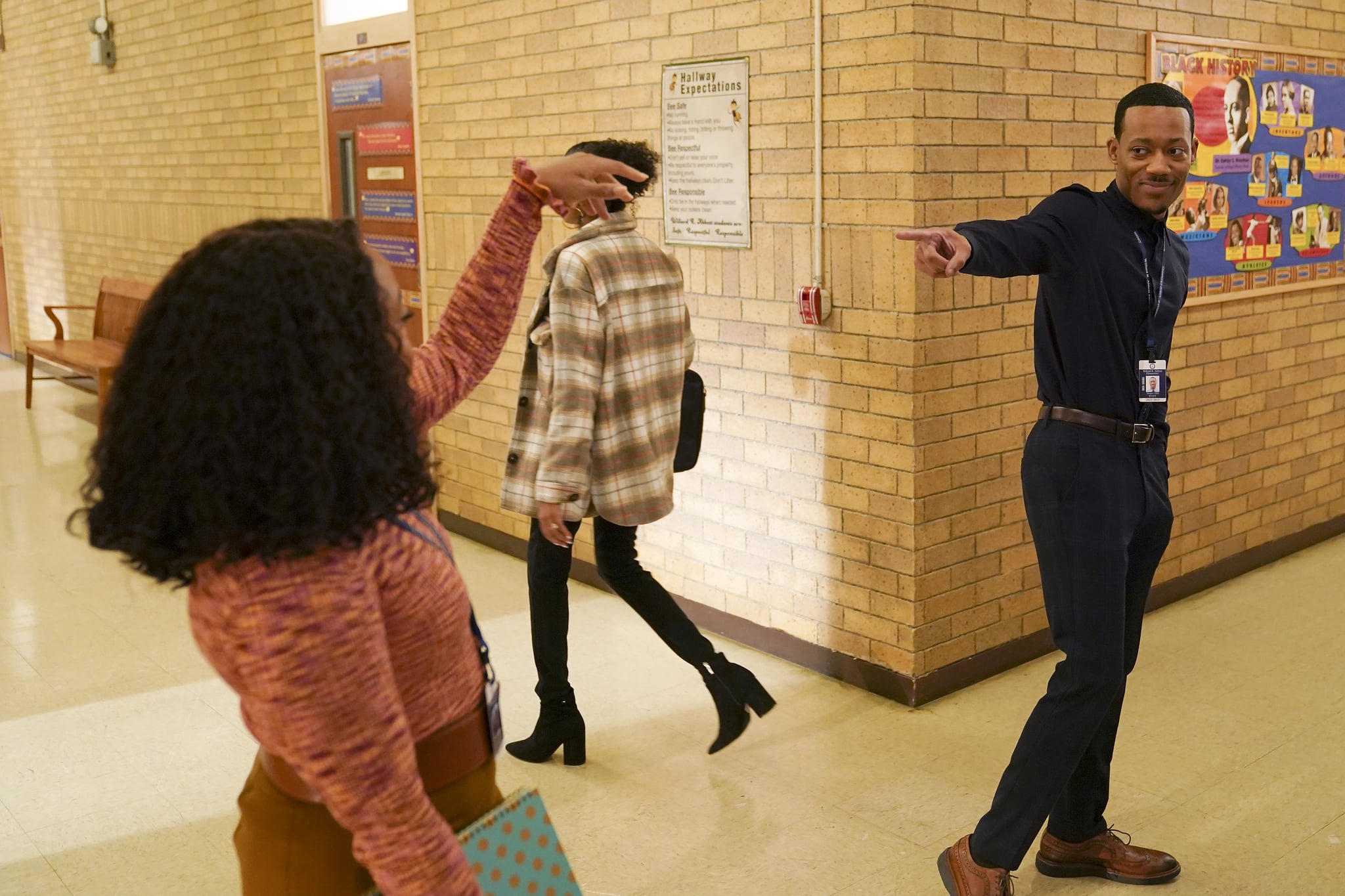 How Do Gregory and Janine Feel About Each Other?
For most of season one and two, Gregory tries to keep his cards close to his chest, but his professional facade seems to crumble whenever Janine's around him. Whether it's her optimistic outlook on life, unfiltered persona, or just her being a great friend, Gregory's defenses come down and we see a more vulnerable side to him when he interacts with Janine. Gregory is pretty aware of his feelings for Janine, often expressing excitement when there's a chance to hang out with her. After deciding to forget about their kiss, it even seemed like he almost doubled back to retract his statement. Unfortunately, Janine had already walked away before he could speak up.
Janine on the other hand has had a harder time coming to grips with her feelings for Gregory. After Jacob (Chris Perfetti) accidentally reveals that Gregory likes her in season two's 14th episode, Janine sends herself into a tizzy and tries to investigate for herself when she thinks he's trying to get her a special Valentine's Day gift. It turns out, however, that he just wants help deciding what to get Amber.
In the season finale, after Janine's conversation with Maurice, she's quite distant with Gregory during the field trip. He turns to Jacob for advice. Jacob gives him the world's truest relationship advice: use your words and tell her how you feel. While Janine and Gregory are supposed to be checking to make sure all the kids are asleep on the museum floor, Gregory tells her, "I like you Janine. I have feelings for you, and —" He's interrupted by an awake child, and chaos breaks loose.
Later in the episode, Gregory and Janine regroup. Janine admits that she likes Gregory, too — "Like, a lot." Gregory responds, "I kind of knew that," and they both admit they've been crushing since basically the very first day they met. But then they recount all the things that have stood in the way of them getting together: Janine's boyfriend Tariq (Zack Fox), Gregory's relationships with Taylor (Iyana Halley) and Amber, and Janine's relationship with Maurice. Then there was the aftermath of the kiss.
"You called it a whoops," Gregory reminds Janine, who points out, "You could have said it wasn't a whoops." Gregory is ready to take the leap together, though. But Janine is not.
Janine admits that talking to Mo changed how she feels about herself. She realized maybe she does need to be selfish right now, but she doesn't want to hurt Gregory in the process. They admit that if they got together, it would be "something real." Janine adds that she also can't bear to lose Gregory as a friend. He agrees, but he's clearly still upset.
At the end of the episode, Janine tells the camera, "I'm not ready for him," and Gregory wonders if it's time for him to start planting something new. Fans will have to see where season three takes them.
What Has the "Abbott Elementary" Cast Said About Janine and Gregory's Relationship?
While it's encouraging to know that series creator Brunson is open to boarding the Janine and Gregory ship, fans might have to wait a while longer for their chemistry to truly take off. Speaking with TV Insider in 2022, Brunson said that she wants to "explore this relationship, but sometimes, all you're having is a crush."
In an interview with Variety in September 2022, Brunson further discussed Janine and Gregory's romantic development, saying, "We're not trying to reinvent the wheel; the wheel works. I'd just like to give it some spinning rims . . . For Janine and Gregory, they actually get to be work colleagues who do the exact same thing and want to do it well. We get excited writing little situations for them that have nothing to do with love. We all know the attraction is there . . . and you get to have moments that mean nothing to our characters but everything to our audience. I'm just pumped about them."
Meanwhile, Williams told BuzzFeed News in January 2023 that he hopes Janine and Gregory's relationship doesn't follow the typical path that's expected of workplace romances. "Hopefully their legacies are that we've found a unique way to tell a 'will they won't they' even in the midst of television history being that for so long," he said. "How many ways can you reinvent the wheel? Hopefully, we can find a way to enhance all of us."
While the path to their romance might not be linear, based on the great mockumentary romances of yesteryear, we're confident it will only be a matter of time before Janine and Gregory are finally honest about their feelings for one another — especially since another season of "Abbott Elementary" is on the way. We're calling it now; this is the workplace romance that'll be remembered iconically for years to come, much like "The Office"'s Pam and Jim, "Parks and Recreation"'s Leslie and Ben, or "Brooklyn Nine-Nine"'s Jake and Amy. Until then, we'll continue shipping them.
— Additional reporting by Njera Perkins