Aly & AJ Are Bringing Good Vibes and "Optimism" to 2021 With First Album in 13 Years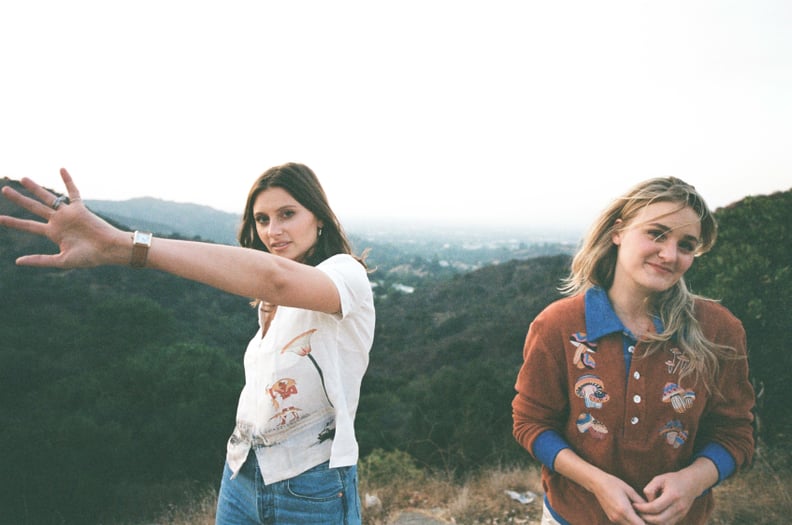 Stephen Ringer
Stephen Ringer
Are you ready to feel like you're walking on sunshine? Nearly 13 years after the release of their last studio album Insomniatic, Aly & AJ are back with new music! The sisters announced their upcoming album in a TikTok video set to the tune of "Potential Breakup Song" on Oct. 29, and we've been psyched ever since. In an interview with POPSUGAR, Aly & AJ shared details about the untitled album — which they describe as the embodiment of "California, sisterhood, and optimism" — experimenting with new sounds, and carrying good vibes into the new year.
"The feel of this record is just feel good. It's a very West Coast album," Aly said, mentioning that she and AJ spent most of their childhoods growing up in the San Fernando Valley. "I think for us, we wanted to make a record that made people feel good again, and that made people feel hopeful again in a time where feeling good and feeling hopeful seems so strange and seems so unnatural." Inspired by the events of the last year — including the ongoing effects of COVID-19 and the chaos of the Trump administration — the sisters wanted to create an album that celebrates friendship, positivity, and sisterhood, which Aly added is "unmatched with any other relationship we have in our lives."
"Our music has just taken a turn in terms of Aly and I's writing abilities, but also who we are as singers. How confident we are on stage — all that takes time."
Since their last album Insomniatic came out in 2007, the sisters have spent their time focusing on their acting careers. From 2015 to 2019, Aly starred as Peyton Charles in The CW's iZombie, and AJ has spent the last two years playing Lainey Lewis on ABC's Schooled. Between filming, Aly & AJ found the time to release their EPs Ten Years and Sanctuary, bringing us songs like "Promises," "The Distance," and "Don't Go Changing." After wrapping their respective shows, the duo was also able to sit down and compose a full album, which has been over six months in the making.
"I think it's been a natural progression. Our music has just taken a turn in terms of Aly and I's writing abilities, but also who we are as singers, how confident we are on stage — all that takes time," AJ said, adding that the songs on the new album encapsulate small, meaningful moments from their last tour. "It's kind of cool that, being on the road the last couple of years, releasing these last EPs, it gave us the confidence again in ourselves that, 'Hey, we have a lot to say as artists.' We feel very confident with the music we're writing and we're excited to just get it out into the world."
Unlike Ten Years and Sanctuary, the untitled album will stray from the band's earlier '80s and synth sounds, taking inspiration instead from artists like Ray LaMontagne, The War on Drugs, My Morning Jacket, Jackson C. Frank, The National, and more. "We're getting a lot of inspiration from music from the '90s, music from the '60s and '70s," Aly said. "It feels cool to be able to play with these other styles of instrumentation that we wouldn't normally have on stage; there's a slide guitar and a horn section . . . It's definitely widening our palette with our own musical knowledge."
Looking back on one of their most popular albums, Insomniatic, Aly & AJ agree that "Division" and "Flattery" are their favorite tracks from that era in their career. "There's just something about the melodies and some of the musical interpretation that is displayed live that I really appreciate," AJ said. "I look back at those times and I'm like, well, if I ever heard another person released that I would've said, 'Oh, I wish I had written that.' And you don't always feel that way about the music you put out. That I'm really proud of." As for who they'd like to collaborate with, the sisters are big fans of The Cardigans, Chris Martin, and John Mayer. "We grew up listening to all of his records and I really appreciate [his music]," AJ said of Mayer.
The duo have yet to reveal the title for their new album, but they did hint that it's based on a lyric from one of their new songs. The new album is also longer than their previous releases, which means, beginning in December, Aly & AJ will be dropping singles leading up to the spring 2021 release date. In the meantime, the sisters will be airing a never-before-seen performance in the Viper Room via livestream on Nov. 21.
More than anything, Aly & AJ are grateful for the loyal fanbase that has stuck with them throughout the years and for all the new fans who are just discovering them for the first time. "There's no proper formula for growth. It just ends up happening," AJ said of their musical evolution. "We're just kind of putting out music that really speaks to us and hoping that our fans will appreciate it as much as we do."