From Horror to Emma — Anya Taylor-Joy Felt Pressure to Do the Iconic Jane Austen Role Justice
The story of Jane Austen's Emma is an iconic one. Synonymous with British rom-com culture of the 1800s, it's a coming-of-age story that follows Emma Woodhouse as she navigates her early 20s. There have been many iterations of the story, from Gwyneth Paltrow's 1996 film to Alicia Silverstone's portrayal of Cher (aka Emma) in the '90s pop classic Clueless.
In the latest rendition, which hit American theaters on Feb. 21, Emma is rebooted as a classically whimsical story with a hint of camp styling. Visually, the film feels more like a play than a traditional big-budget film. That's not to say it isn't done well, but rather that the pristine Highbury town makes the film look more like a stage production. The film is visually stunning, combining rich landscapes of green rolling hills and lush blooms with expertly crafted, Edwardian-era costumes and (it must be said) incredible hats.
Leading the charge is Anya Taylor-Joy, who plays the infamous Emma Woodhouse. She's starred in horror movies, like the 2015 film The Witch, and more recently, she was on Peaky Blinders. So while her starring role in Emma is certainly a far cry from some of her other, grittier characters, she's no stranger to period pieces.
Ahead of the film's release, POPSUGAR sat down with Anya Taylor-Joy to find out exactly what it was like stepping into the well-trodden shoes of Emma, and how preparations differed for this role compared to her previous work on horror films.
POPSUGAR: The story of Emma is undoubtedly an iconic one (particularly in the UK). Did you grow up knowing the story?
Anya Taylor-Joy: Yes, I did. I read it for the first time when I was 11 years old, and I think it's a book that really rewards the reader when reading the book for the second time. Jane Austen's so intelligent and she's peppered the novel with so many little hints about what's to come that, when you first read the novel, you're so keen to get to the end of it that you don't see the surprises coming.
When you go back [and reread the book], you notice that she's intricately placed characters in certain locations, and the things they say about one another . . . I'm sorry, I'm a bit of a book nerd. For example, Miss Bates will blabber on for ages about all of this different information. When you first read it, you're a bit overwhelmed, like, "OK, OK, OK." And then you go back and you realize that she's speaking such sense, and she's actually telling you everything that's going to happen in the story. So, every time I read it I get something new out of it.
PS: What was your favorite thing about playing Emma and did you feel any pressure to do the role — and classic story — justice?
"When I walked into rehearsals for the first day I saw all of these actors I was such fans of and I realized that I was no longer doing GCSE Drama."
ATJ: Yeah, I definitely felt pressure. When I walked into rehearsals for the first day I saw all of these actors I was such fans of and I realized that I was no longer doing GCSE Drama. I had to lead all of these incredible people and that made me really nervous. Luckily, we all fell in love with each other so quickly and we're all so supportive that anytime I had a wobble on set there was always Josh (O'Connor) or Cal (Callum Turner) or Mia (Goth) there to kind of be like, "You are doing a great job and this is going to be great." So, I was very supported.
[As for my favorite thing about playing Emma], I get really annoyed at female characters that have to be likable, and that was something that I really wanted to go against for Emma. I wanted to stay true to Jane Austen, who she said she'd written a character [in Emma] that not many people other than herself would like — I wanted to lean into that. There are moments when Emma is cruel and I didn't want to take away from that cruelty — I wanted to show it. I think people love Emma at the beginning — kind of in spite of themselves — but if you follow her on her journey, you realize that she really does have a good heart, and that she comes from very good intentions.
It just doesn't always play out necessarily the way she wants it to. So it felt important playing her in her entirety and creating a three-dimensional human being that had dark bits as well as light.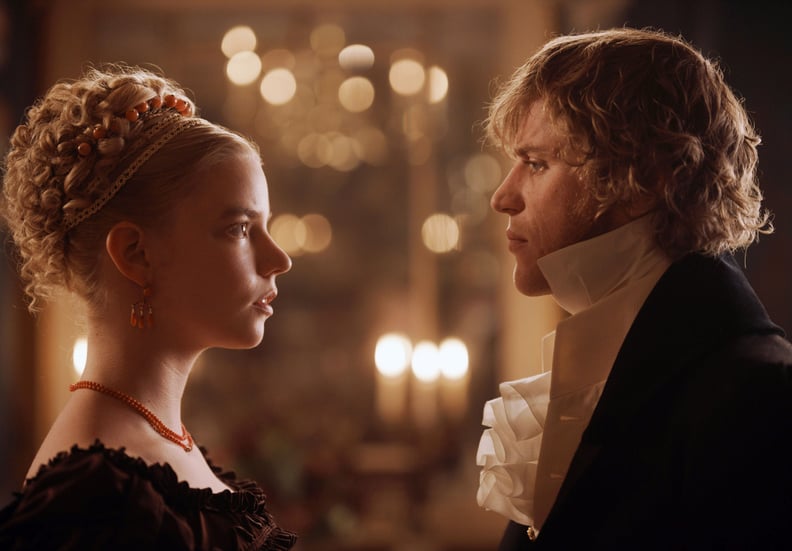 PS: Previously, you've played some pretty dark and gritty roles, like playing Thomasin in The Witch, to Casey Cooke in Split. Do you prefer the more high-stakes roles?
ATJ: No, I don't have a preference. It's about the quality of the work. You know, good work is good work, and good scripts are good scripts. It doesn't really matter, the genre that they're in. It's strange because if you had told me when I was a kid that I'd start off my career in horror movies, I wouldn't have believed you. Like, that wasn't an intentional choice. I'm excited to be able to branch out into all these different genres as long as the script is good and the character is brilliant, I'm in.
PS: Do your preparations differ in the lead-up to filming with those roles — versus Emma — if at all?
ATJ: Each character is so different. Truly. The first time I worked with other actors, I thought there was a specific way that everyone acted [regardless of the role], but each character has come to me in such a different way. With Emma, it was about figuring out her resting face but also getting into her thought process. She really believes she's the star of her own movie, and that everything is going to work out in a very specific way. It was about having the confidence and the assurance in things that actually don't turn out to be true, that kind of led me into her.
Finding empathy is my first port of call [when preparing for a role] and sometimes I sound a bit mad because even the scene when Emma is cruel to Miss Bates, that was so difficult to do. And I'd kind of walk off in a corner afterwards, I'd be going, "Oh Emma, what are you doing? This is so awful."
For myself, I need to take some time to fully process and let go of these characters because they are real for me and I care about them deeply. When you suddenly don't play them anymore, that can feel a bit like a breakup, which is rough.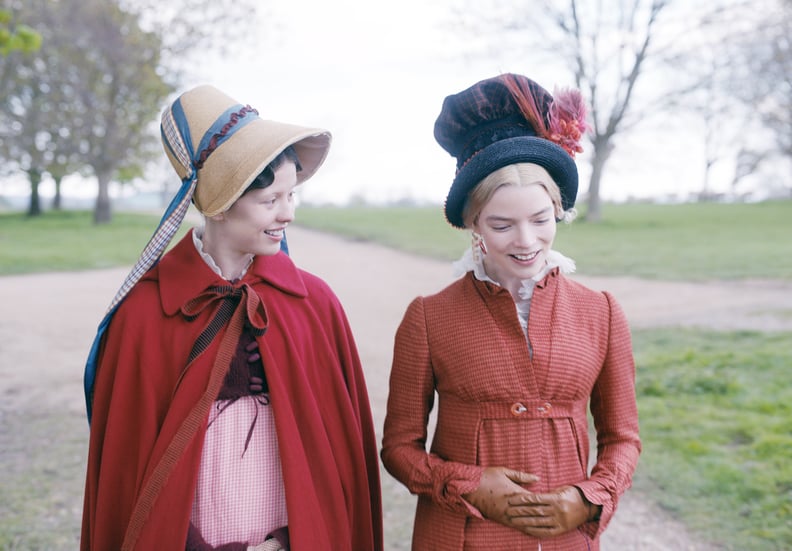 PS: You and Mia Goth have worked together before (on Marrowbone) and clearly have a great onscreen dynamic. What was it like working with her again for Emma?
ATJ: It's so funny because the production of this film was filled with so many different serendipities and the first time I ever met [director] Autumn (de Wilde), she brought out this box with pictures of the people she wanted to play each character. And she pulled out a photograph of Mia and said, "I just feel like you and this girl could be best friends."
Mia and I had worked on a movie together two years prior and had become best friends, so I actually got to make this movie with my best friend. It was so wonderful because there are moments in the script where the two of us cry or are having fun, and the line between Emma and Harriet, and Anya and Mia was so blurred. It literally is just the two of us enjoying each other. The final scene we have together [in the movie], we're both crying. That was Mia's last day on set, and those were full-on Mia and Anya tears. So, it was very special.
"The line between Emma and Harriet, and Anya and Mia was so blurred. It literally is just the two of us enjoying each other."
PS: The film is set in a pretty whimsical land, from the way that Emma's always surrounded by flowers and plants and greenhouses and huge, lush trees — plus the intricate Edwardian-era costumes — it was all very extravagant. While watching the film, it almost felt like I was actually watching a stage production. What was it like to work with so much natural beauty while wearing the gorgeous costumes?
ATJ: I loved it. I grew up in the countryside and I feel very at home in nature. Autumn comes from a photography background and it felt like we were kind of painting all of our scenes with our bodies and with our movements and with the foliage that we had around us. You almost had to start with a tableau, and it really helped me actually get in character because something that Autumn and I laughed about a lot was that Emma's the kind of person that always stands where she has good light. She wants to present herself in a certain way and that really helped me.
You can see Anya Taylor-Joy play Emma Woodhouse in Emma in theaters now.