Ariana Grande and Cynthia Erivo Share BTS "Wicked" Photo
Ariana Grande and Cynthia Erivo Tease "Wicked" Movie With Behind-the-Scenes Photo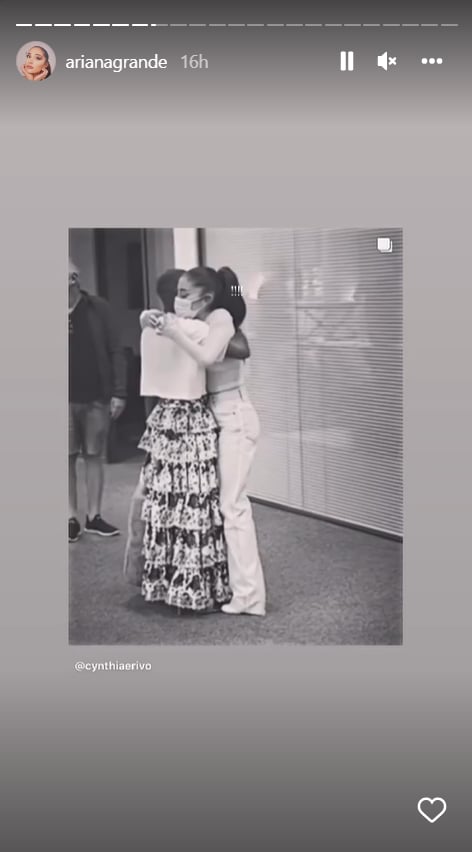 "Wicked" won't hit theaters until 2024, but Ariana Grande and Cynthia Erivo are already teasing fans with behind-the-scenes photos of Glinda and Elphaba hugging — sans costume, for now. Both of the actors cleverly buried the black and white photo of them at what appeared to be a read-through in photo dumps on Instagram.
For her part, Grande slipped a photo of her laughing with her costar in at the end of a carousel featuring nature shots and a snap of her husband, Dalton Gomez. Meanwhile, Erivo shared the same photo and a video of her embracing the "Thank U, Next" singer in a random Instagram post featuring everything from a turtle to her pink shoes.
Grande, who is set to play Good Witch Glinda in the movie adaptation of the hit Broadway play, commented on Erivo's post, "just beyond. i love youuuu!" Meanwhile, Erivo, who is playing Elphaba, left a sweet message for her costar on Grande's post, as well. "I love you Xx," the Tony Award-winner commented.
For both Grande and Erivo, bringing "Wicked" to the big screen is a dream come true. As a result, they're working together, along with director Jon M. Chu, to make the movie as best as it possibly can be. In a February interview with E! News, Erivo opened up about how she and Grande are forming a sisterhood, so they can fully bring Glinda and Elphaba's friendship to life.
"Ariana and I have been meeting and chatting and talking and building our own relationship because we know that it's a sisterhood, and we want to be ready and prepared to be there for one another," she told the outlet. "So it's that, and [director] Jon [M. Chu] is amazing, so we're just sort of waiting to start. We're ready to rehearse and get into it."
It appears that rehearsals are now underway — or at least close to starting — and Erivo and Grande's sisterhood is already going strong.
Image Source: Getty / Kevin Mazur / Prince Williams