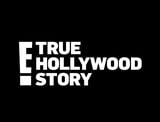 We're taking you inside the E! True House of Hollywood pop-up to celebrate the reboot of the iconic show, E! True Hollywood Story.
Mimicking the sparkle and shimmer of Tinsel Town itself, the POPSUGAR x E! True House of Hollywood pop-up captured the essence of the iconic series and the people and events who have been the subjects of its legendary profiles. There were flashing lights, neon accents, sleek surfaces, and luxury all around as guests got a sneak peek inside the lavish world of E! True Hollywood Story. Set in a private mansion on the Sunset Strip, guests were introduced to the wonders that they'll encounter in the new season of the docuseries, from a deep dive into how the hip-hop industry treats women, to the destructive allure of fame, to the paranormal activities that have taken place on movie sets.
Keep reading to take a look inside the closed doors of Hollywood, and make sure to tune into the all-new E! True Hollywood Story Sunday nights at 10 p.m. ET/9 p.m. CT.