The Ultimate Ranking of the Best Britney Spears Music Videos of All Time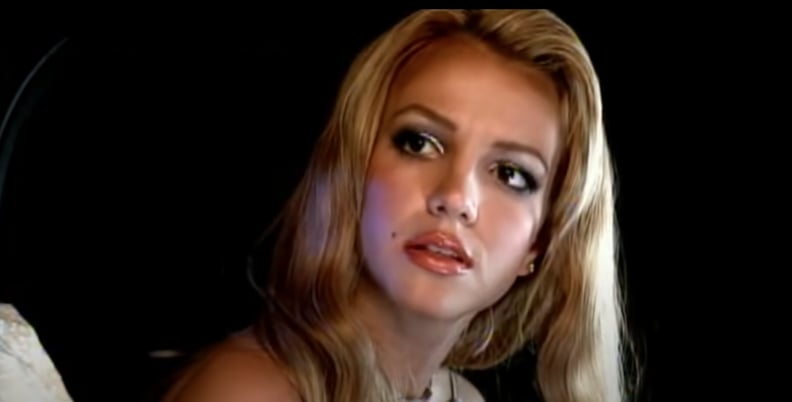 YouTube | Britney Spears
YouTube | Britney Spears
If you used to sing and dance to Britney Spears in your bathroom mirror (guilty), you understand how many fantastic music videos she's created over the years. The "Toxic" singer was a part of my — and many others' — daily life growing up. I'd wake up, turn on MTV, and watch the top music videos of the day, which, of course, featured Spears. The pop singer is a music icon, and with the heartbreaking release of the documentary Framing Britney Spears, which revealed the hardships she has faced in the spotlight, it's fascinating to deconstruct the music videos from her past (while also admiring her unreal dance moves). From iconic videos like "Lucky" to "Me Against the Music," check out the 15 best Spears music videos that'll make you want to sing, dance, and maybe even cry.
15
"Till The World Ends"
The music videos on Spears's 2011 album, Femme Fatale, didn't feature as much choreography as her videos from back in the day, but when this visual came out, I felt like I was watching Spears from the early aughts. The funky CGI moments were there, her dance moves were on point, her classic "wet look" was on display, and it was everything I loved about the pop singer's old music videos.
14
"Womanizer"
One year after her 2007 VMAs performance, Spears released the album Circus with this spot-on music video to accompany it. The song was the comeback we were all searching for, with a never-before-seen Spears in an office proving that she can't be womanized. The video has a lot of underlying nods to "Toxic," with multiple wigs and fun CGI moments, but nevertheless, fans appreciated it.
13
"I'm Not a Girl, Not Yet a Woman"
Is there anything more majestic than Spears standing at the edge of an Arizona canyon in the lowest-cut jeans to ever exist? I'll wait. Although this song was made for her movie Crossroads, it spoke about where Spears was in her life, telling a tale almost any girl growing up can relate to.
12
"Overprotected"
Similar to "Stronger," Spears opted to dance on a chair for "Overprotected." And while it's not the most exciting video that the pop singer's ever produced, it sent another strong message about her life at the time: she needed room to breathe. The scene where Spears is dancing in a room covered by walls of photos of herself speaks volumes. We see you, Brit!
11
"Everytime"
A slow song from Spears is often a sad song, and "Everytime" is heartbreaking. This music video portrays a cry for help that we ignored — from the paparazzi hounding her to her facing her own personal demons. This music video is something to look back on and take note of.
10
"Boys"
I feel like this video never got the recognition it deserved, so let me say it: it's freakin' awesome. Featuring Pharrell and cameos by Austin Powers and DJ Qualls, "Boys" is a mix of fun and sexy, with a CGI castle to top it all off. A true highlight is when Spears pretends to goof around with Powers — it's pure gold!
09
"(You Drive Me) Crazy"
Spears's album ...Baby One More Time featured contending music videos like "Sometimes" and "...Baby One More Time," so to think that another music video from the same album could slide into this list is pretty incredible, but so is Spears, so nothing is too surprising. Spears's sultry green top plus the fun cameos from Melissa Joan Hart and Adrian Grenier made this video a hot commodity, and its charm still holds true to this day.
08
"Sometimes"
The easy-breezy beach vibes make you wish you were a part of Spears's crew in this early-2000s video.
07
"Stronger"
The chair dancing in this video is something else. The concept is so simple, but it definitely goes down in history as a classic.
06
"I'm a Slave 4 U"
The pink thong pants, the "wet effect," Spears's abs — hubba hubba! This video is the definition of sexy, and really encompasses a time of Spears coming into her womanhood (which, by the way, we're all about). Also, the choreography is substantial — a whole video of her dancing is what we're here for!
05
"Me Against the Music"
Menswear never looked more appealing than when pop icons Spears and Madonna wore it. Not only did this song accompany a buzzy performance, in which the pop stars kissed on stage, but the dance-off between the two in this music video is really something else.
04
"Lucky"
While it's not your average Spears music video filled with dancing and skin-baring outfits, it does tell a story about a girl named Lucky. As it turns out, Lucky isn't lucky at all. Although she lives a life of fame and fortune, she feels lonely and empty on the inside. Looking back, it makes you think about a lot — like if Lucky's feelings were Spears's at that time.
03
"Toxic"
When you think of Spears's videos, "Toxic" is a top contender. First, Spears plays a stewardess who makes out with a man on a flight, then comes lots of wigs, a motorcycle, a diamond bodysuit, and tons of action scenes — your eyes can't look away!
02
"Oops!... I Did It Again"
Another Halloween costume staple is Spears's red leather unitard in "Oops!... I Did It Again." The song is catchy, the choreography is well known, and the fun and lighthearted storyline makes it all worthwhile.
01
"...Baby One More Time"
This video is arguably the kick-start of Spears's entire career, so yes, it gets the number one spot. With a high-school-based premise and an outfit that's a Halloween staple, "...Baby One More Time" is engraved in our heads forever, and we're not mad about it.