9 Disney Sequels You May Not Have Known Existed (and Are Actually Worth Watching)
As POPSUGAR editors, we independently select and write about stuff we love and think you'll like too. If you buy a product we have recommended, we may receive affiliate commission, which in turn supports our work.
If you're like me and have Disney+, you've probably found yourself rewatching the same five Disney classics over and over. While I certainly love Beauty and the Beast, The Little Mermaid, and Aladdin, sometimes it's nice to step outside the box. While DCOMS and live-action films are great, some of Disney's greatest gems come in the form of direct-to-video sequels.
To date, Disney has only given the green light to three animated sequels for theatrical releases; those being The Rescuers Down Under, Ralph Breaks the Internet, and Frozen II. By focusing only on the theatrical release films, you may miss out on some of the wildest and most ridiculous plots Disney has ever dreamed up. Ahead are nine of these sequels that are actually worth watching, ranked from best to good-but-not-as-good-as-the-previous-entries, with some of them even topping the original (here's looking at you, Lion King II: Simba's Pride).
Don't miss out on these movies. Sign up for Disney+ ($7.99 per month) today.
01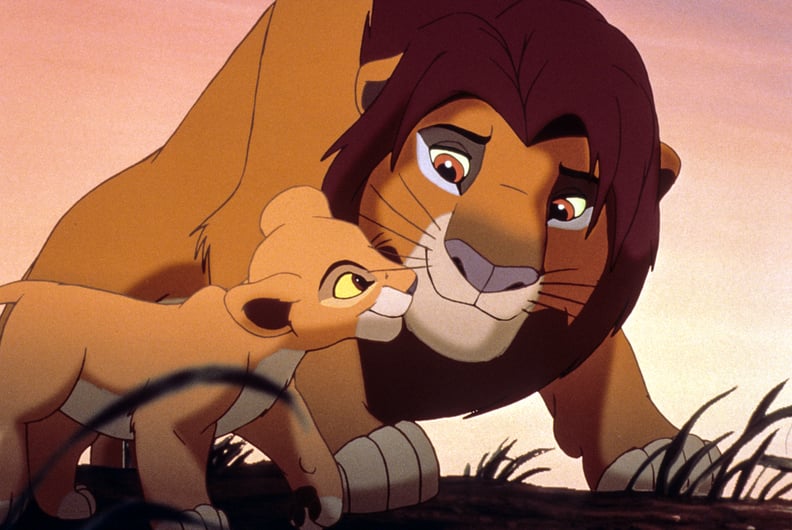 The Lion King II: Simba's Pride (1998)
While The Lion King has its roots in Hamlet, The Lion King II: Simba's Pride is based on Romeo and Juliet. When Simba's (Matthew Broderick) daughter Kiara (Neve Campbell) falls for Kovu (Jason Marsden), a member of the outlanders that looks like Scar, all hell breaks loose. It's not until they're able to make their families see the error of their ways that things begin to change.
What makes this sequel worth watching is that, unlike most of the other direct-to-video offerings Disney has put out, the animation style is more in line with the original. On top of that, most of the original cast reprises their roles, including Nathan Lane, Matthew Broderick, Ernie Sabella, Robert Guillaume, Moira Kelly, and James Earl Jones. If that alone doesn't sell you, The Lion King II: Simba's Pride has some of the best songs, including "One of Us" and "He Lives in You," the latter of which was so good, it got included in the stage adaptation.
The Lion King II: Simba's Pride is currently available to watch on Disney+.
02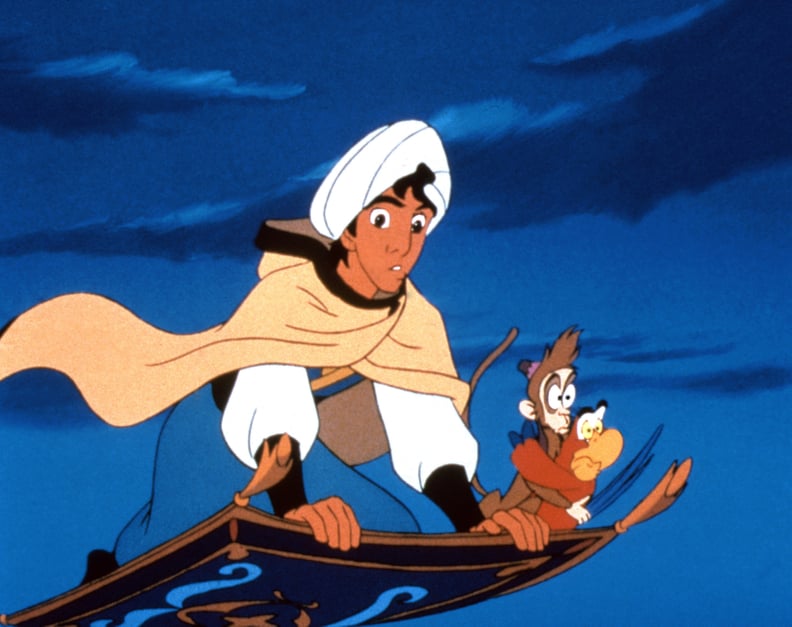 Aladdin and the King of Thieves (1996)
The second sequel to 1992's Aladdin, Aladdin and the King of Thieves follows preparations for Aladdin (Scott Weinger) and Jasmine's (Linda Larkin) wedding. During the ceremony, they are the target of a raid by Cassim (John Rhys-Davies), who turns out to be Aladdin's father, and the 40 thieves. The film follows Aladdin as he infiltrates the group in the hopes of getting his father out.
What makes this sequel better than its predecessor, The Return of Jafar, is a strong voice cast; including the return of Robin Williams as Genie and Jerry Orbach as the primary villain, Sa'Luk. While the animation is similar to that of the Aladdin TV series and serves as the finale to the series, the story is inspired by "Ali Baba and the Forty Thieves" from One Thousand and One Nights.
Aladdin and the King of Thieves is currently available to watch on Disney+.
03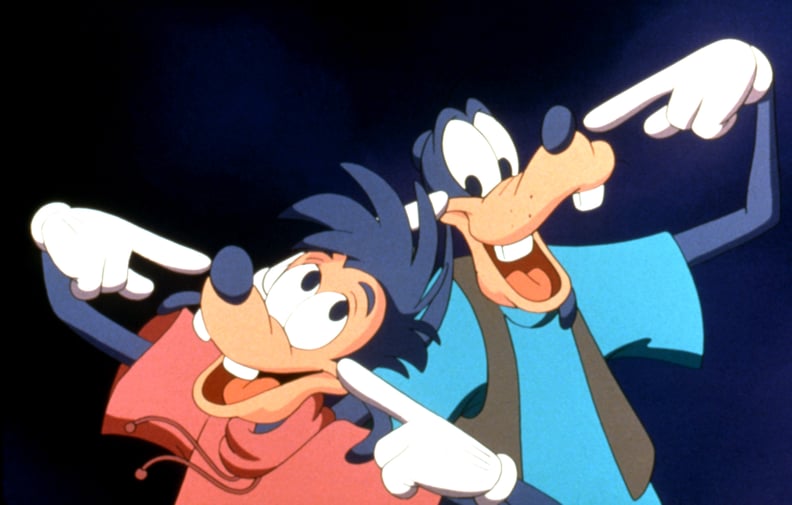 An Extremely Goofy Movie (2000)
After impressing his crush Roxanne in A Goofy Movie, Max (Jason Marsden) graduates high school and heads off to college. The only problem is, his dad, Goofy (Bill Farmer), heads off to college with him after getting fired from his job and discovering he needs a degree to pursue another career. As you can expect, having Goofy as your dad AND at school with you during your freshman year can get out of hand.
If you're wondering why "extremely" is in the title, it's because Max and his friends compete against a frat called the Gammas in the X-Games. Not only that, you've likely seen the infamous "disco scene" on TikTok. Just as fun and ridiculous as the first one, it's worth a watch.
An Extremely Goofy Movie is currently available to watch on Disney+.
04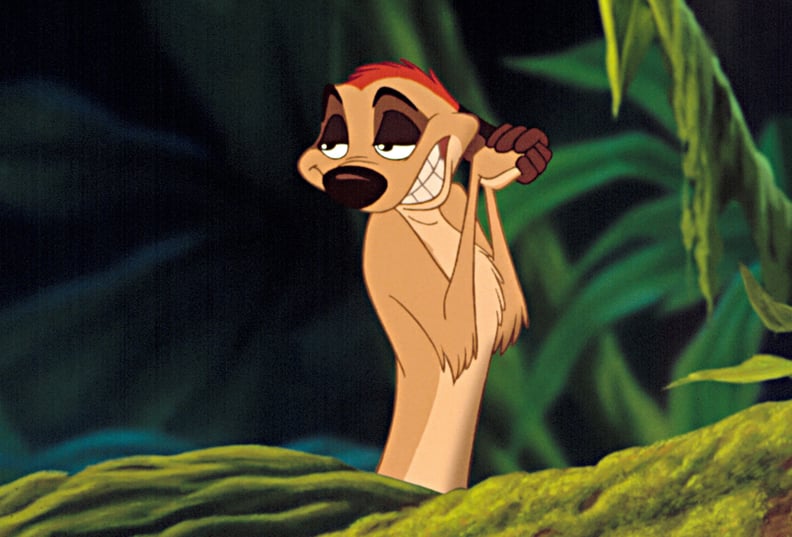 The Lion King 1½ (2004)
The third and final movie in the Lion King trilogy, The Lion King 1½ is based on Rosencrantz and Guildenstern Are Dead, which is essentially a retelling of Hamlet through the eyes of minor characters. The Lion King 1½ is a retelling of the first movie through Timon (Nathan Lane) and Pumbaa's (Ernie Sabella) eyes. It also gives the origins of Timon and his life in a meerkat colony.
It's interesting to see what Timon and Pumbaa were like before they were . . . Timon and Pumbaa. The movie also starts out with one hell of a bop called "Diggah Tunnah," aka dig a tunnel. Whoopi Goldberg, Cheech Marin, and Jim Cummings also return as hyenas Shenzi, Banzai, and Ed for the film. Plus, there are a few cameos from some well-known Disney characters toward the end, as the movie is told in a Mystery Science Theater 3000-type setting.
The Lion King 1½ is currently available to watch on Disney+.
05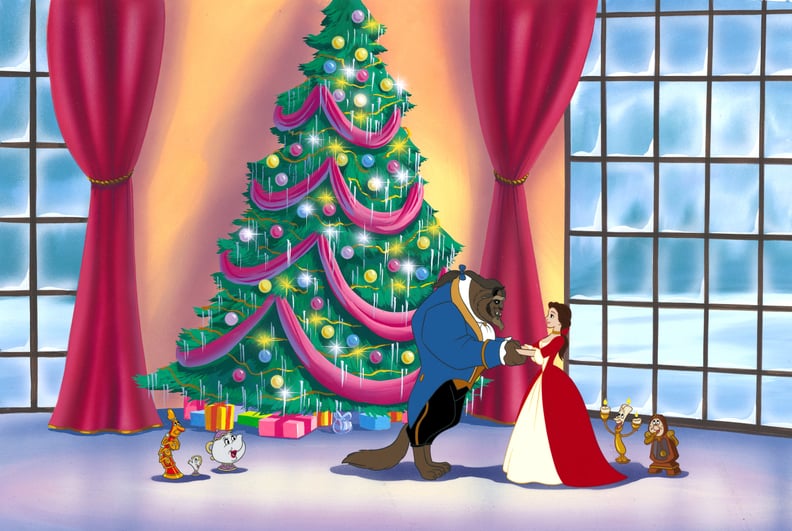 Beauty and the Beast: The Enchanted Christmas (1997)
A Christmas sequel to Beauty and the Beast was certainly an interesting route for Disney to take, but it works. The sequel, Beauty and the Beast: The Enchanted Christmas, takes place during Belle's (Paige O'Hara) imprisonment. Not only does it also give backstory to what Prince Adam (Robby Benson) was like before his curse, but it also features an entirely new villain in the form of a magical organ named Forte (Tim Curry).
Much like the previous entries on this list, most of the main cast returns to reprise their roles from the first movie, including Angela Lansbury as Mrs. Potts, Jerry Orbach as Lumière, David Ogden Stiers as Cogsworth, Paige O'Hara as Belle, and Robby Benson as the Beast/Prince Adam. There are also a few big-name additions, including Broadway star Bernadette Peters as Angelique, Paul Reubens as Forte's henchman Fife, and Curry as Forte. You can also expect beautiful musical numbers, including "As Long as There's Christmas."
Beauty and the Beast: The Enchanted Christmas is currently available to watch on Disney+.
06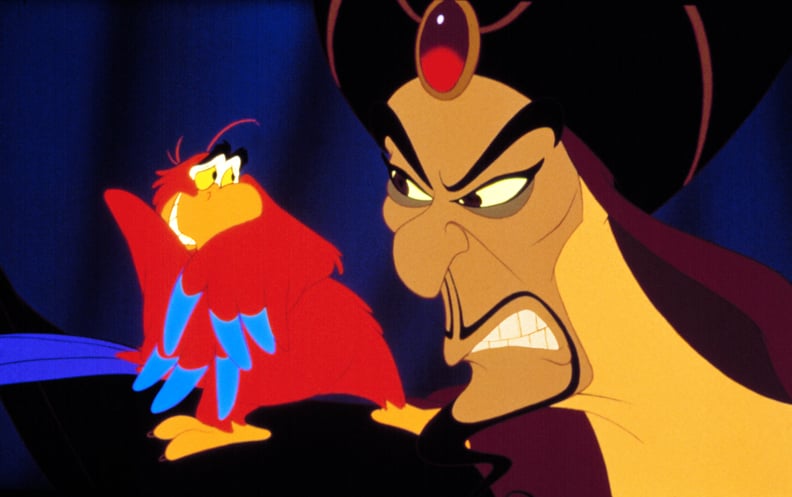 The Return of Jafar (1994)
While The Return of Jafar wasn't Disney's first sequel, it was the first direct-to-video sequel that helped legitimize the DTV market (and launch the rest of the sequels on this list). Serving as the pilot to the Aladdin TV series, The Return of Jafar takes place a year after the movie. When thief Abis Mal (Jason Alexander) releases Jafar (Jonathan Freeman) and Iago (Gilbert Gottfried) from the lamp, it's up to Aladdin (Scott Weinger) and friends to stop Jafar from taking over the world.
Although there's a glaring lack of Robin Williams (due to issues with marketing of the first movie he opted not to return), The Return of Jafar is still whimsically fun as we get to see more into the lives of Aladdin, Jasmine (Linda Larkin), and Genie (Dan Castellaneta). There are also a few iconic music moments, like Jafar's "You're Only Second Rate" and Iago's "I'm Looking Out For Me." Plus, we get to see how Iago went from villain sidekick to wise-cracking good guy.
The Return of Jafar is currently available to watch on Disney+.
07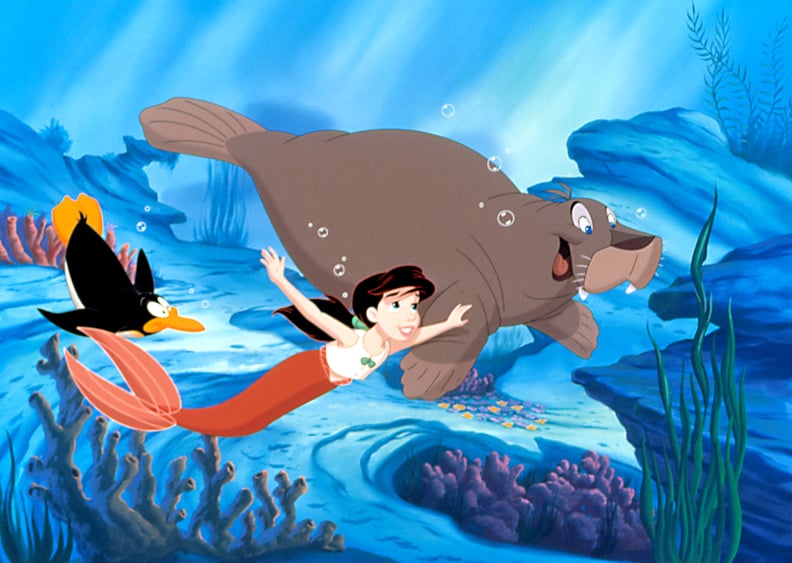 The Little Mermaid II: Return to the Sea (2000)
Turns out, Ariel is one of the few Disney princesses to canonically have children. In The Little Mermaid II: Return to the Sea, Ariel's (Jodi Benson) daughter Melody (Tara Strong) feels called to the see, unknowing of her mermaid heritage. Due to a threat by Ursula's sister, Morgana (voiced by Ursula's voice actor Pat Carroll), Ariel and Eric (Rob Paulsen) have kept it a secret from Melody. Through determination, Melody makes her way to the sea and unwittingly becomes part of Morgana's ploy to overthrow King Triton (Kenneth Mars).
The songs may not be as amazing as the original, but we do get to see the original story of The Little Mermaid flipped on its head. Of course, Sebastian (Samuel E. Wright) makes an appearance and does what he can to try and help Melody fit in. Plus, Melody meets a cute mer-boy, who is basically her own Prince Eric.
The Little Mermaid II: Return to the Sea is currently available to watch on Disney+.
08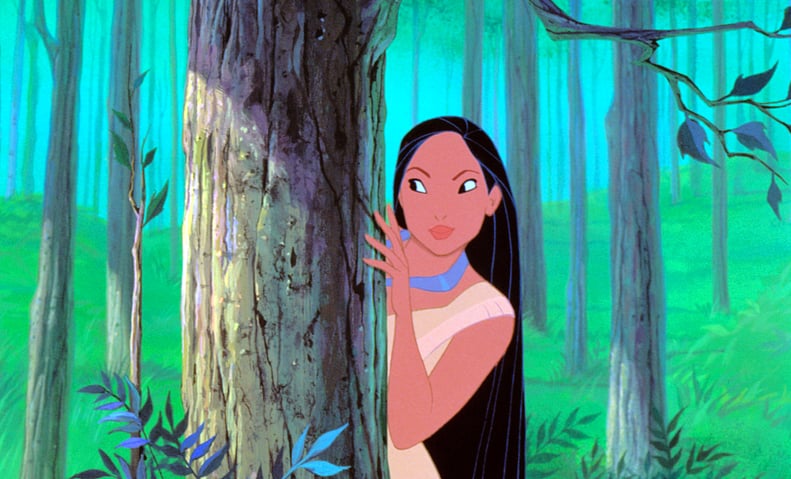 Pocahontas II: Journey to a New World (1998)
Pocahontas II: Journey to a New World follows Pocahontas's (Irene Bedard) story after John Smith (played in this film by Mel Gibson's brother Donal Gibson). In the sequel she journeys across the ocean with John Rolfe (Billy Zane) in the hopes of negotiating peace between Jamestown and her people.
As can be expected from a Disney film, it's not entirely historically accurate. That being said, there are a number of songs you won't be able to stop thinking about, like "Where Do I Go From Here," which represents Pocahontas's inner turmoil as to whether or not she should journey to the new world. Another point in the sequels favor is the fact that most of the original cast reprise their roles, including Pocahontas's singing voice Judy Kuhn, Linda Hunt, David Ogden Stiers, Russell Means, and Irene Bedard.
Pocahontas II: Journey To a New World is currently available to watch on Disney+.
09
Brother Bear 2 (2006)
Brother Bear is probably one of Disney's most underrated animated films. It's also one you wouldn't think needs a sequel, but is nice to see what happened to Kenai (played by Joaquin Phoenix in the original and Patrick Dempsey in the sequel) and Koda (Jeremy Suarez). Brother Bear 2 finds Kenai's childhood sweetheart, Nita (Mandy Moore), about to get married against the wishes of the spirits, as she is already bonded with Kenai due to an experience in their childhood. The remainder of the movie follows Kenai, Koda, and Nita as they travel to Hokani Falls to burn the amulet and allow Nita to marry.
One of the best parts of the original movie was a pair of moose brothers named Rutt and Tuke, voiced by Canadian comedic duo Rick Moranis and Dave Thomas. This time around, they're back trying to woo moosettes Anda and Kata, who are voiced by fellow Canadians Andrea Martin and Schitt's Creek favorite Catherine O'Hara. All in all, Brother Bear 2 is a sweet story about how the ones you love never truly leave you. It's also way less sad than its predecessor.