30 Iconic Holiday Scenes From Your Favorite Christmas Movies
Movies are as much a part of our holiday traditions as opening presents and listening to Mariah Carey's "All I Want For Christmas Is You" on repeat for an entire month. Each year we settle in to watch watch Elf, It's a Wonderful Life, and Love Actually, because no matter how many times we see them, they still put us in a Christmas state of mind. Pinpointing the best holiday scenes in Christmas movies is tricky — deep down, we love every moment of festive goodness that the movies have to offer — but there's no denying the power of watching Scrooge hoist Tiny Tim in the air, or the sheer joy that is Will Ferrell declaring that Santa sits on a "throne of lies."
From the moments that make us laugh, to the ones that touch our hearts, we believe these are the best holiday scenes that movies have to offer.
01
Love Actually
Love Actually is full of iconic moments, from Andrew Lincoln's slightly creepy declaration of love to his best friend's wife to Bill Nighy's aging rock star spending Christmas Eve with his manager. But the scene that gets us every single time is little Sam's race through the airport to declare his love to Joanna with help from his step-dad and Mr. Bean. There are so many layers — the father-son aspect, the innocence of first love, and the Christmas magic that makes it all possible. It's a perfect scene in a movie that has no shortage of sweet holiday moments.
02
It's a Wonderful Life
On Christmas Eve, George Bailey finds himself hopelessly in debt, and so he decides that his family would be better off without him. Over the course of the night, an angel named Clarence shows George just how wrong he is, culminating in him realizing how many lives he has touched. In the end, he holds his daughter, who tells her tearful dad, "Teacher says every time a bell rings, an angel gets his wings." It's a heartwarming scene that's stood the test of time.
03
Scrooged
Bill Murray plays the ultimate cantankerous Scrooge in Scrooged, and after a terrifying (and hilarious) night full of ghostly visitors, he sees the error of his ways. In the end, he goes on live TV to tell the world that we're all a little nicer on Christmas Eve, and it's a feeling that can endure throughout the year, if only we can keep the magic of the holidays in our hearts.
04
Arthur Christmas
Arthur Christmas is a modern classic about Santa's youngest son setting out to deliver a present to a forgotten child before he wakes up on Christmas morning. The movie is full of funny moments, but our favorite scene is all heart: it's when Arthur finally gets to put the gift under the tree as his father proudly looks on.
05
Mean Girls
No, Mean Girls isn't a Christmas movie, but it does contain an epic Christmas scene. The Plastics put on a risqué "Jingle Bell Rock" performance that almost goes horribly awry, but then Lindsay Lohan's Cady saves the day by singing a flawless a capella version of the song. It's a rare moment of solidarity in what is an otherwise cutthroat story of high school rivalry.
06
A Christmas Prince
Netflix's A Christmas Prince uses a tried and true Hallmark movie plot to woo viewers, and oh boy, does it ever work. By the time Prince Richard proposes to journalist (and commoner) Amber, we're all in. His proposal is the ultimate Christmas gift: it's romantic, but it also involves him promising to support Amber's career and move her dad's diner to Aldovia, proving he really is the whole package.
07
Miracle on 34th Street (1947)
The original Miracle on 34th Street sees Santa being put on trial. In order to prove that his client is the real Santa Claus, Santa's lawyer brings in sacks full of letters addressed to Santa from children all over the world and places them on the judge's desk. Overwhelmed by the outpouring of faith from so many kids, the judge rules in Santa's favor and makes us instantly burst into tears.
08
Elf
Choosing a single scene from Elf is next to impossible. Will Ferrell brings so much giddy innocence to the human elf Buddy that every moment deserves to be treasured. But if we have to pick just one scene, then it's hard to top Buddy's disastrous encounter with a mall Santa who he declares is sitting on a throne of lies.
09
The Polar Express
We're not even going to pretend it's dusty in here, the end of The Polar Express straight up makes us bawl every time we see it. Watching as the little boy finally finds his belief in Santa Claus and hears the bell ring before the big guy himself approaches him is the definition of movie magic.
10
Bridget Jones's Diary
Bridget Jones is the messy, single hero of the '00s that we all adore. And while her entire story doesn't take place on Christmas, she does meet Mr. Darcy at her mother's ugly Christmas sweater party in an awkward, hilarious scene that proves they're perfect for each other, even though it takes them a while to realize it.
11
The Muppet Christmas Carol
The Muppets and Charles Dickens are a winning combination all around in this take on A Christmas Carol. The movie's standout moment comes when the Ghost of Christmas Present teaches Ebenezer the reason of the season with a rousing song called "It Feels Like Christmas" that would warm even the coldest of hearts.
12
A Christmas Story
All poor Ralphie wants for Christmas is a BB gun, but his aunt has other plans. Watching his utter desperation to rid himself of his aunt's handmade pink bunny suit is too relatable not to include on this list.
13
The Nightmare Before Christmas
The Pumpkin King isn't feeling the spooky spirit in The Nightmare Before Christmas, but one visit to Christmas Town turns him into a merriment convert. Jack singing "What's This?" as he discovers the beauty of Christmas is a moment of pure holiday joy.
14
National Lampoon's Christmas Vacation
The Griswolds' good old-fashioned family Christmas is a disaster from the moment they chop down a tree that's way too big for their house. But in a movie full of outrageous and funny moments, the scene in which the family becomes hysterical when a squirrel finds its way into their tree is hands down the best.
15
The Holiday
We're a sucker for a grand romantic gesture in a holiday movie, and that's exactly what Cameron Diaz serves up in this festive house-swapping rom-com. Instead of running away from true love, Diaz's Amanda literally runs back to the swoony Graham (Jude Law) through the snow-covered countryside to accept his declaration of love in the coziest winter cabin that we've ever seen.
16
Little Women
The March sisters are short on cash, but their family is full of love. Their heartwarming dedication to one another is on full display as they surprise a sickly Beth with a piano on Christmas Eve. Seeing how happy Beth is (especially when you know her fate) only makes this Christmas miracle all the more special.
17
The Grinch
The TV special's ending is a bit more straightforward, but Cindy Lou inviting the Grinch to Christmas dinner after he sabotages Whoville's Christmas in the 2018 movie is still a charming holiday moment. The simple message that no one should be alone on Christmas Eve lands a powerful punch coming from the pint-sized Whoville resident.
18
Home Alone
Home Alone is another holiday movie that includes way too many iconic moments. While we love Kevin learning the hard way that aftershave stings and his reunion with his family, the scene that we find the most impressive is Kevin's impromptu Christmas party. Seriously, the kid is a total mastermind, and his talents demand respect.
19
Jingle All the Way
The story of one dad's quest to find the hottest Christmas toy of the year for his son on Christmas Eve is enough to give any parent a case of the nervous sweats. Holiday panic-inducing storyline aside, the cheesetastic ending in which Arnold Schwarzenegger gets to literally become Turbo Man to save his son via jetpack is legendary.
20
The Santa Clause
Tim Allen takes a while to get on board with his gig as Santa in The Santa Clause, but he ultimately embraces his role. That's great and all, but we're still partial to his confusion and quips during his first Christmas Eve delivering presents.
21
Joyeux Noel
Based on the true story of the World War I Christmas truce, Joyeux Noel recreates a special moment in history when soldiers on opposing sides of the war paused their fight. The movie includes a scene in which both sides join each other in singing Christmas carols that never fails to give us goosebumps.
22
It Happened on Fifth Ave
If you've never heard of It Happened on Fifth Avenue, it's a charming classic about a squatter who welcomes war heroes and their families into a rich man's empty home during the holidays. When the rich man returns to find his home full of strangers, his first instinct is to call the police, but by the time they do turn up, he's too overcome with the joy of the season to have his new friends arrested.
23
Gremlins
Gremlins is a dark and campy Christmas movie that has a truly unsettling story about why Phoebe Cates's Kate doesn't celebrate the holidays. But before things get grim, Billy's dad gives him the best Christmas present ever: Gizmo (hey, it's not Gizmo's fault that Billy can't follow simple instructions).
24
The Christmas Chronicles
Netflix's The Christmas Chronicles is a new Christmas favorite about a pair of siblings who catch Santa. What really makes the movie special is Kurt Russell's portrayal of Old St. Nick. His introduction shows that his Santa is like no movie Santa we've ever seen before, and we love it.
25
Jack Frost
Jack Frost, a story about a kid's dad who dies and is reincarnated as a snowman just in time for the holidays, might just be the bleakest holiday movie of them all. One thing we know for sure is that if we need a good cry, all we have to do is watch the snowman dad say goodbye to his son for good in the movie's final moments.
26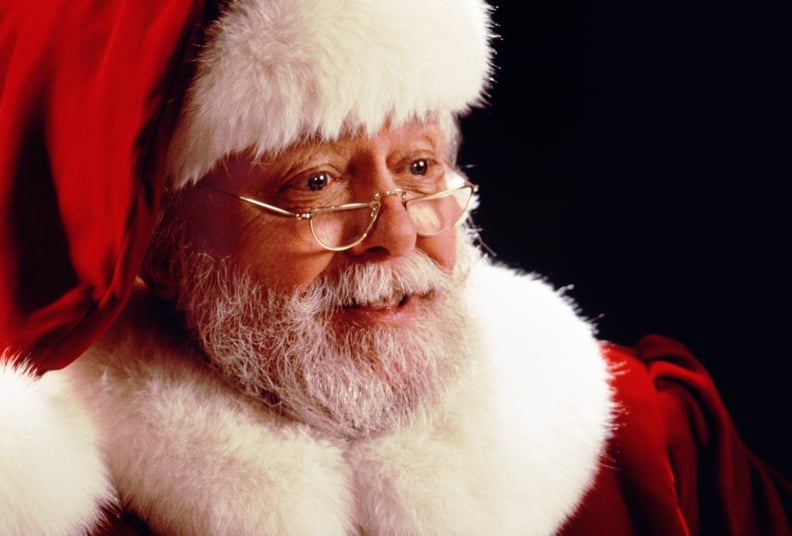 Miracle on 34th Street (1994)
Richard Attenborough is everything a Santa Claus should be in the 1994 version of Miracle on 34th Street: he's unfailingly kind and oozes a natural warmth. The scene that solidifies his status as the perfect Santa comes midway through the film when a deaf little girl is delighted to realize that she can communicate with Santa using American Sign Language.
27
White Christmas
A Christmas show in rural Vermont culminates in an old-fashioned holiday spectacular in this Bing Crosby classic. There's singing, dancing, and enough tinsel to supply an entire town in the movie's big performance of "White Christmas."
28
Harry Potter and the Sorcerer's Stone
The first Harry Potter film is full of special moments for Harry, but none of them are more beautiful and heartbreaking than his first proper Christmas. Seeing his wonder at receiving presents and eating a holiday meal with his friends makes our heart ache for all the years he missed out on being surrounded by so much love.
29
A Christmas Carol
"God bless us every one!" Tiny Tim's words are immortal, and they're best said in the 1984 take on Dickens's classic tale.
30
The Princess Switch
A commoner and a princess swap places for the holidays in this Netflix Christmas confection. When the commoner posing as the princess is asked to play a song on the piano at a holiday ball, her cover is almost blown, but a sexy royal swoops in to help her play "Carol of the Bells" and leave us swooning in the process.