13 Perfect SNL Opening Monologues That Were Almost Better Than the Show Itself
From its witty zingers on Weekend Update to its utterly ridiculous musical shorts, Saturday Night Live offers a lot of bits to love. But there's one segment that does the heaviest lifting during every show, and that's the opening monologue. The first time that a celebrity host steps out is paramount and pretty much sets the entire tone of the episode, capable of making it sink or swim.
Now onto its 45th season, the series has had literally hundreds of hosts. With a team of comedic geniuses crafting introductory lines for guests, the monologues usually go better than not. But there are definitely openers that have stood out over the decades, and they range from classic stand-up routines like Tiffany Haddish's bit on fame to full-throttle musical numbers like Steve Martin's "Not Going to Phone It In Tonight" song. So without further ado, we present to you the best Saturday Night Live opening monologues of all time!
Monologue: George Carlin on Football and Baseball (Season 1, 1975)
Comedy legend George Carlin kicked off the first SNL monologue ever in 1975. He goes in with a joke about sports, comparing the aggressive language of football and relatively gentle semantics of baseball. There's a lot of sharp and layered comedy here about colonialism and masculinity, long before such topics were discussed in the mainstream. It's also easy to follow, even if you know next to nothing about sports (like me).
Lily Tomlin Monologue (Season 8, 1983)
This goofy Lily Tomlin sketch will speak volumes to the worry warts out there (yours truly included). Before gracing us as Frankie on Grace and Frankie, the comedian hosted SNL many moons ago. She breaks down her anxieties here, which run from worrying about people who don't worry to worrying about those who don't wash their barbecue grills. She de-stresses by cornily dancing it out and goes on to throw a little shade at former presidents Richard Nixon and Ronald Reagan.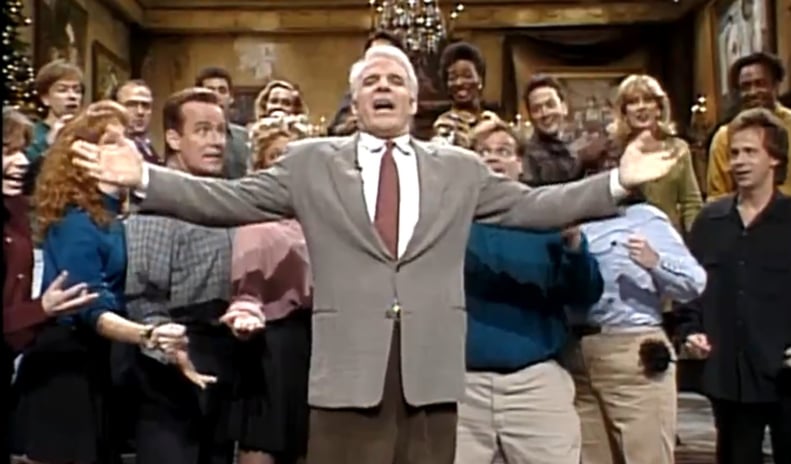 Steve Martin Monologue (Season 17, 1991)
This bit gives a whole new meaning to one more time with feeling, that's for sure. There's been a lot of great musical sketches on Saturday Night Live, but none of them can quite top Steve Martin's iconic "Not Going to Phone It In Tonight." Martin, hosting for the 12th time at that point, parades the cast and crew of Saturday Night Live around the set and croons about how he's not just going to do the bare minimum. Martin doesn't disappoint — just see his hilarious past openings with Bill Murray (here and here).
Samuel L. Jackson on His New Year's Resolution (Season 23, 1998)
What I love about this monologue is how short and sweet it is, with Samuel L. Jackson simply being Samuel L. Jackson — you know, the guy everybody loves from Avengers, Pulp Fiction, and Django Unchained. (And apparently now, the new voice of Alexa.) Anyway, he lists all of his groovy New Year's Resolutions for 1998, with goals such as "continue to kick ass" at the top of his list. Stick around until the end for a cheeky surprise goal!
Taylor Swift Monologue Song (Season 35, 2009)
Taylor Swift with her guitar is classic Taylor Swift all the way, so yes, of course she opens her hosting gig with a song titled, well, "Monologue Song (La La La)." We hear it all — from her love for Winter smells to her messy breakup with Joe (Jonas not Alwyn). It's hilarious in a jokingly passive-aggressive, proto-Reputation kind of way, and we love to see Tay be able to "shake it off."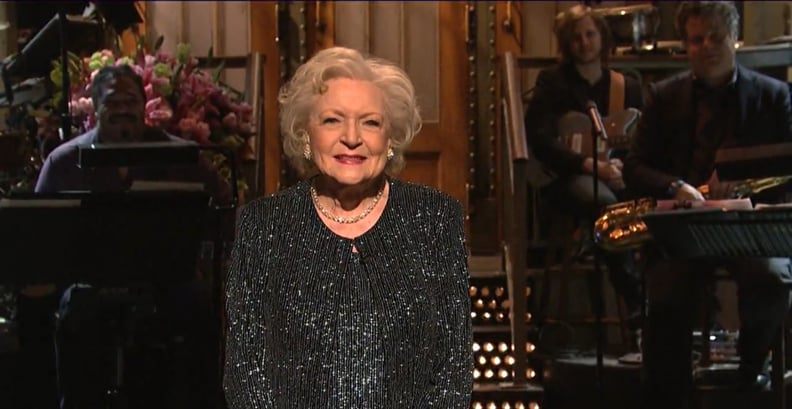 Betty White Monologue (Season 35, 2010)
It's the woman, the myth, the legend: Betty White. After a Facebook group racked up over 500,000 supporters for her to appear on SNL, White became the oldest person to host at age 88. And her monologue is absolutely delightful, packed with zingers about connecting with old friends through a Ouija board and poking on hayrides.
Tina Fey and Maya Rudolph Mother's Day Monologue (Season 36, 2011)
It doesn't quite get better than a Mother's Day monologue with Maya Rudolph and Tina Fey singing about how their pregnancies prove that they've been laid before. Fey's technically the host here, but bringing her pal definitely made the monologue all that better. Plus, they actually both sound quite lovely even while singing about being horny, wild mamas! And Kristen Wiig and Kenan Thompson as their in-utero babies? I am deceased. (Also check out Fey's cameo in Emma Thompson's recent Mother's Day tribute!)
Amy Schumer Monologue (Season 41, 2015)
Obviously an Amy Schumer monologue is going to entail a lot of ha-has. The Trainwreck actress does a basic stand-up routine here, but the jokes are hilarious and cover a lot of range, from her washing her niece's butt with Jessica Alba's soap to Bradley Cooper's existence making it a great time for women in Hollywood. You can even see the band behind her cracking up and having a good time.
Lin-Manuel Miranda Monologue (Season 42, 2016)
Of course Lin-Manuel Miranda is going to do a special twist of Hamilton's "My Shot" for Saturday Night Live (but no promises on those Broadway tickets, Lorne). He definitely didn't throw away his shot, mad-rapping 75 percent of his SNL monologue all around the show's studio.
Tom Hanks America's Dad Monologue (Season 42, 2016)
Nine-time host Tom Hanks never fails to bring his goofy charm to the light night comedy variety show. Here — long before his Mister Rogers role — he cardigans up and assumes the identity of America's dad, literally. In his little chat with America, Hanks talks about everything from the pot he can smell from its room to it being $19 trillion in debt (he can't help because he only has $230 million). We've got to hand it to the writers — the clever political comedy and dad jokes work here!
Kumail Nanjiani Stand-Up Monologue (Season 43, 2017)
As with Schumer, Kumail Nanjiani is a seasoned comic who really delivers. Here, he retells the story of The Big Sick, aka the movie based on his and his wife Emily's relationship. There's a lot of great storytelling and witty comedy in here, such as his family's reaction to him marrying a white woman. But our favorite part has to be his bit about "informed racism" — you'll have to watch it to see what I mean.
Tiffany Haddish Stand-Up Monologue (Season 43, 2017)
Here, Tiffany Haddish talks about her rise to fame and dispels rumors that she's loaded with money. And honestly, I think I'll never get tired of her love for her extra ritzy white Alexander McQueen dress. Even though Haddish is mostly standing in one place, she does it with so much love and energy that the bit feels superanimated and engaging.
John Mulaney Stand-Up Monologue (Season 44, 2019)
As a former writer on SNL, John Mulaney has given his many hilarious moments in addition to his memorable skits such as "Bodega Bathroom" and "Diner Lobster." But Mulaney's most in his element in his second monologue on the show, which is full of his signature observational comedy. His stories range from his parents asking him if his Jewish wife will convert to Roman Catholicism to the New York subway's narrators (the woman who does the subway announcements and her way too loud husband). But the best part, hands down, is his absolutely bonkers police siren impression.