9 Female TV Characters Who Are Changing the Way We See Mental Illness on Screen
If you're not aware, May is Mental Health Month, which I've been spending shouting about my clinical depression and anxiety from the rooftops . . . OK, OK, perhaps I haven't been that extreme (I'm not trying to get evicted). But what I can do is spend the next few weeks discussing the female characters I've recently found myself connecting with thanks to the mental health struggles they encounter on screen.
The relationship between women and mental health is so often exploited in film and on TV, portrayed inaccurately and amped up for drama rather than taking the time to fully examine what the character is going through. Although there are a lot of shows that have gotten it wrong — oh so very, very wrong — now is the time to celebrate the ones that have gotten it right.
From the titular character in Jessica Jones to Black-ish's Rainbow, I teamed up with my colleague Britt Stephens to highlight the female characters who are currently changing the way mental illness is portrayed on screen. See all our picks ahead!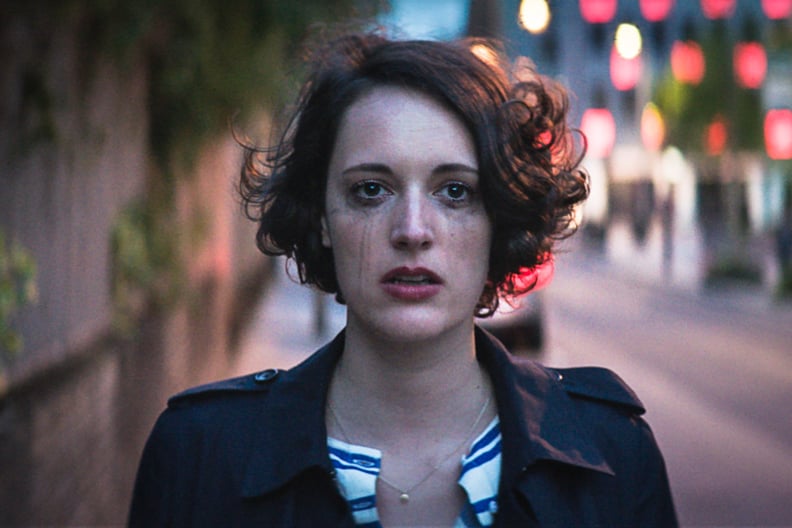 Fleabag
Actress, playwright, and writer Phoebe Waller-Bridge stars in this hilarious dark comedy about a flawed, angry woman (never referred to by name) living in London who is coming to terms with the recent death of her friend, all while handling depression, her dating life, a failing business, a snobby (but endearing) Type A sister, and a psychotic stepmother. Does that sound like a downer? Alright. It's a little bit of a downer, sometimes, but that's the beauty of Fleabag.
After losing both her mother and her best friend, Fleabag spends much of the first season trying to use her quirky bravado and sarcasm as a shield and distracts herself with sex. Under all the wry asides about sexual positions and knowing glances into the camera, the main character is struggling to deal with an immense amount of grief, depression, and guilt, which the show tackles with a deft hand.
The series is relatable in many ways throughout, but it's the last episode, after Fleabag finally falls apart and contemplates stepping out in front of traffic, that gutted me. Her tearful conversation with the Bank Manager gives her a chance to be honest with herself for once, and he convinces her that it's OK to make mistakes. (That's why they put rubbers on the ends of pencils, after all.) It's a brilliant, cathartic moment.
— Quinn Keaney, editor, Entertainment
Molly in Insecure
Huge strides have been made when it comes to the representation of black women on TV, but there's still a startling lack of conversation about our mental health — which is why it is even more poignant to see a show like Insecure tackling the subject in such a relatable and meaningful way. In the show's second season, we see the ambitious and career-driven Molly (Yvonne Orji) finally taking Issa up on her advice and going to therapy. The scenes between Molly and her therapist are some of Orji's best on the show, and it's both thrilling and comforting to see the level-headed lawyer let her guard down and admit that she has a tendency to stand in her own way.
Unlike other mental-health storylines on TV — which largely focus on the character feeling lost, dejected, or unsuccessful — Molly's anxiety is rooted in her success; she's a strong, hardworking woman who seemingly has it all together but is plagued by both impatience and an attachment to things unfolding on her own timetable. To see an upwardly mobile woman grappling with the very real struggle of "black burnout" on screen is a game changer and one I hope more shows will shed light on.
— Britt Stephens, content director, Celebrity and Entertainment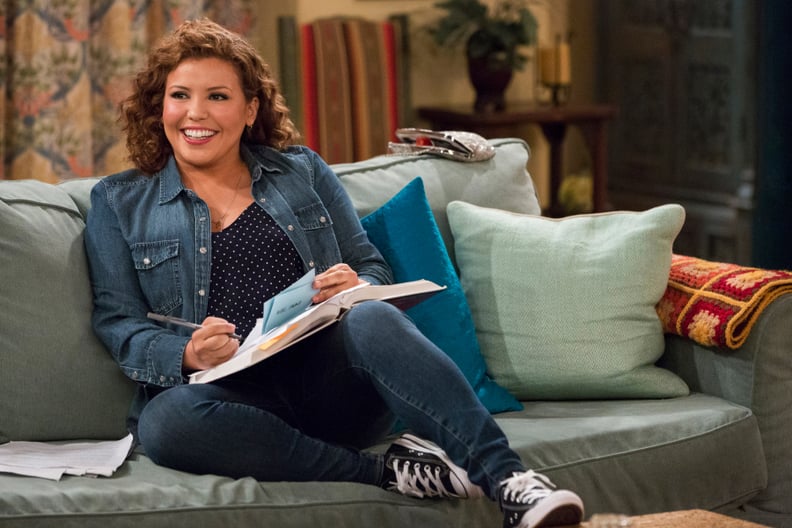 Penelope in One Day at a Time
Military vet Penelope (played brilliantly by Justina Machado) is the matriarch of the family at the heart of Netflix's One Day at a Time revival, but unlike most family sitcoms, this series never shies away from discussing the more sensitive aspects of life. Chiefly, Penelope's depression and anxiety.
Not only does the series normalize taking antidepressants and going to therapy, but it also digs into why taking medication for mental-health reasons is the only way some people are able to live successful lives. (And why that's OK!) It's a serious, important storyline, but it's executed in a way that makes it clear that taking antidepressants isn't scary — it's a normal part of life for a lot of people. The fact that this show was canceled is a travesty.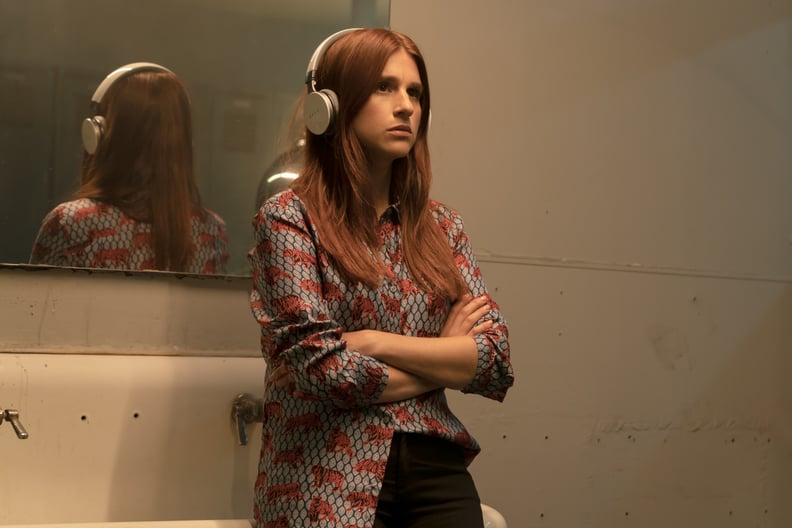 Gretchen in You're the Worst
What I love most about You're the Worst is the way it handles sensitive topics with humor, and Gretchen's (Aya Cash) battle with clinical depression is particularly well-done. As someone who was diagnosed with PTSD and clinical depression in high school, I know firsthand that laughing at the struggle can often be the only way to get through it.
During Gretchen's depressive episodes, she stays in bed for days on end, she self-medicates with booze and drugs (both prescribed and otherwise), and at one point she makes a habit of sneaking out to her car in the middle of the night just to sob. When she does reveal to her live-in boyfriend, Jimmy (Chris Geere), that she has depression, she immediately tells him not to try to "fix" her. Though she initially treats therapy as a joke, she eventually decides to make the most out of it (albeit by tormenting her well-meaning therapist, played by Samira Wiley). Some of the scenes are so funny that I almost feel bad for laughing; others are so heartbreaking that I can barely see the screen through my tears.
Another important element of Gretchen's mental-health storyline is the way she (for better or for worse) pushes away her loved ones in an effort not to burden them. Gretchen understands that her depression is a part of her, even though she doesn't always handle her condition in a healthy way. Keeping her friends and family at arm's length and generally maintaining a steely, armored demeanor aren't necessarily beneficial to her, but it's also extremely realistic and common. Gretchen is deeply flawed, yes — but that's exactly why her raw and unfiltered approach to making it through life with a severe mental illness is so inspiring.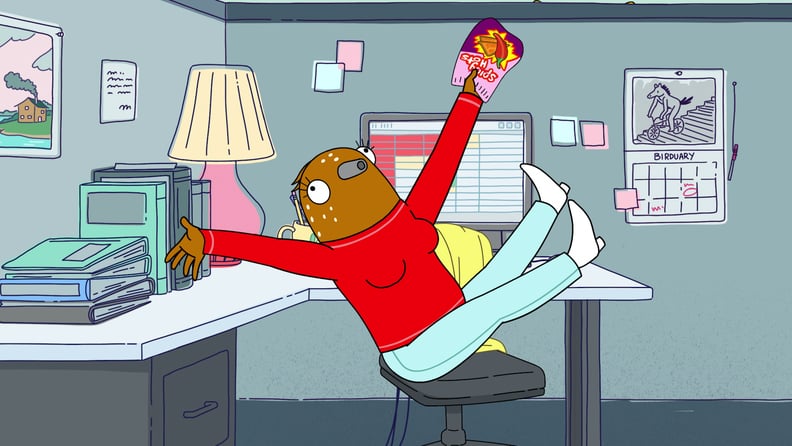 Bertie in Tuca & Bertie
I seriously can't sing Tuca & Bertie's praises enough. From Lisa Hanawalt, a producer on BoJack Horseman, the colorful Netflix series is a masterclass in examining the ups and downs of female friendship, as well as how childhood trauma can seep into our lives in unexpected ways (just with a whole lot more psychedelic nipple graffiti than you might be expecting). We see this process play out with Bertie's character, as she spends most of the first season working through her hangups about moving in with her boyfriend, Speckle.
Despite being cheerful, ambitious, and sensible, it's revealed that the root of Bertie's anxiety is due in large part to the sexual assault she experienced while attending camp as a young girl. She was a confident, champion swimmer, but the incident shattered her self-image and trust in others, leading to the guilt and shame that she's secretly carried with her ever since. Bertie might be a walking, talking, baking bird (with a sweet pair of white boots), but her story arc is one of the most realistic depictions of trauma I've ever seen on TV.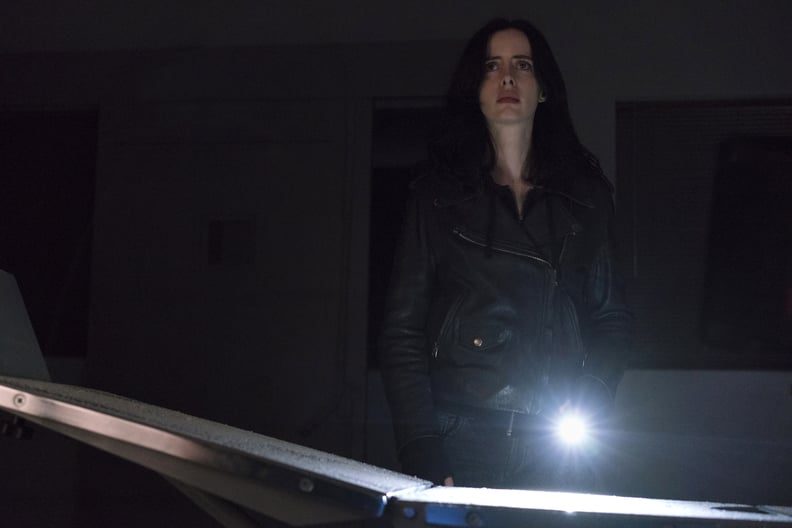 Jessica Jones
I'm just going to come right out and say it: I think Jessica Jones is the only one of Marvel's Netflix series to get the whole "gritty superhero" thing right. Jessica endures an ungodly amount of trauma, from seeing her entire family perish in a fiery car wreck (that leads to her gaining superhuman powers, if the guilt wasn't bad enough) to being repeatedly abused and raped by season one villain Kilgrave. But she still manages to keep her humanity, rather than being forced to suffer silently like so many other "strong" female characters before her.
Jessica Jones is one of the best representations of PTSD that's ever played out on screen, treating its main character with respect and empathy. She's also an honest character, who's allowed to f*ck up and be messy and use questionable coping mechanisms (*cough* whiskey *cough*) along her journey to survival. And, to top it all off, she does it while wearing a killer leather jacket.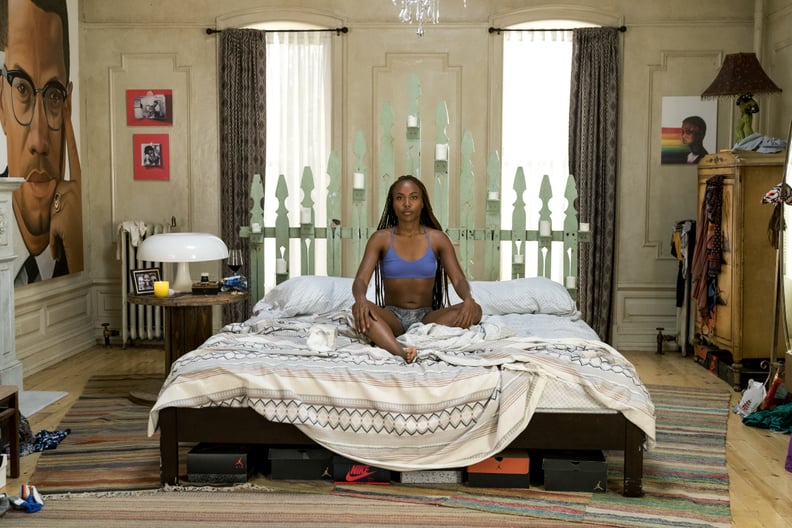 Nola Darling in She's Gotta Have It
The scenes between Nola Darling (DeWanda Wise) and her therapist in Netflix's She's Gotta Have It give me goosebumps. Along with its excellent depiction of black female sexuality, the series does a fantastic job highlighting the particular hardships that come with being a young black creative. Nola's life as a struggling artist might have its romantic, envy-inducing moments, but the immense pressure she feels to build a sustainable life while pursuing her passion (not to mention the stress of juggling a handful of lovers) is palpable through the screen.
Like many, it takes a traumatic event for Nola to even consider therapy, and even after being attacked on the street by a catcaller, she visits a psychic, tarot reader, and spiritual cleanser before finally seeking out the help of Dr. Jamison, a soft-spoken yet straight-to-the-point black woman who basically reads Nola like a book. She doesn't have enough money to pay for her sessions and even offers to give Dr. Jamison a painting instead. This, to me, is a sad but accurate acknowledgment of not just the stigma surrounding mental health in the black community but also the overall lack of affordable mental-health services offered to people of color.
Nola's tearful therapy sessions are truly emotional to watch, mainly because I feel as if I'm sitting on the couch right next to her. I can't wait to see the continuation of Nola's journey in the show's upcoming second season.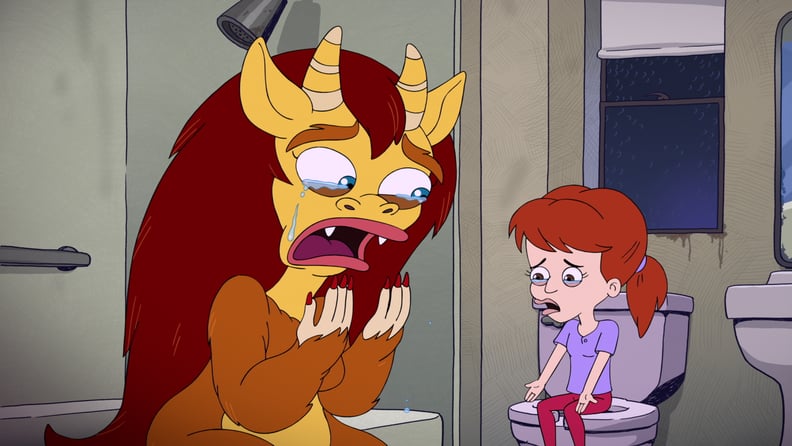 Jessi in Big Mouth
It's always maddening when people associate animated comedies with being "kid shows," because like BoJack Horseman and Tuca & Bertie, Big Mouth deftly examines serious issues in ways its live-action counterparts couldn't dream of (or have yet to attempt). Season two in particular spends a lot of time on the subjects of blossoming sexuality, self-esteem issues, and depression in young women.
In the case of the latter, Jessi comes face to face with the Depression Kitty, a fluffy purple character who serves as an anthropomorphized embodiment of depression. From being trapped in bed in the middle of the day to lashing out at loved ones, Jessi goes through a number of familiar stages of depression that were almost uncomfortably relatable for me. Luckily, in the end, she's able to recognize what she's going through with some help and voices her desire to see a therapist.
Since, according to the Anxiety and Depression Association of America, "girls are twice as likely to develop mood disorders as boys" and typically experience "persistent sad, anxious or 'empty' moods," Jessi is another bold step toward destigmatizing mental health for everyone, sure, but especially Big Mouth's young female viewers.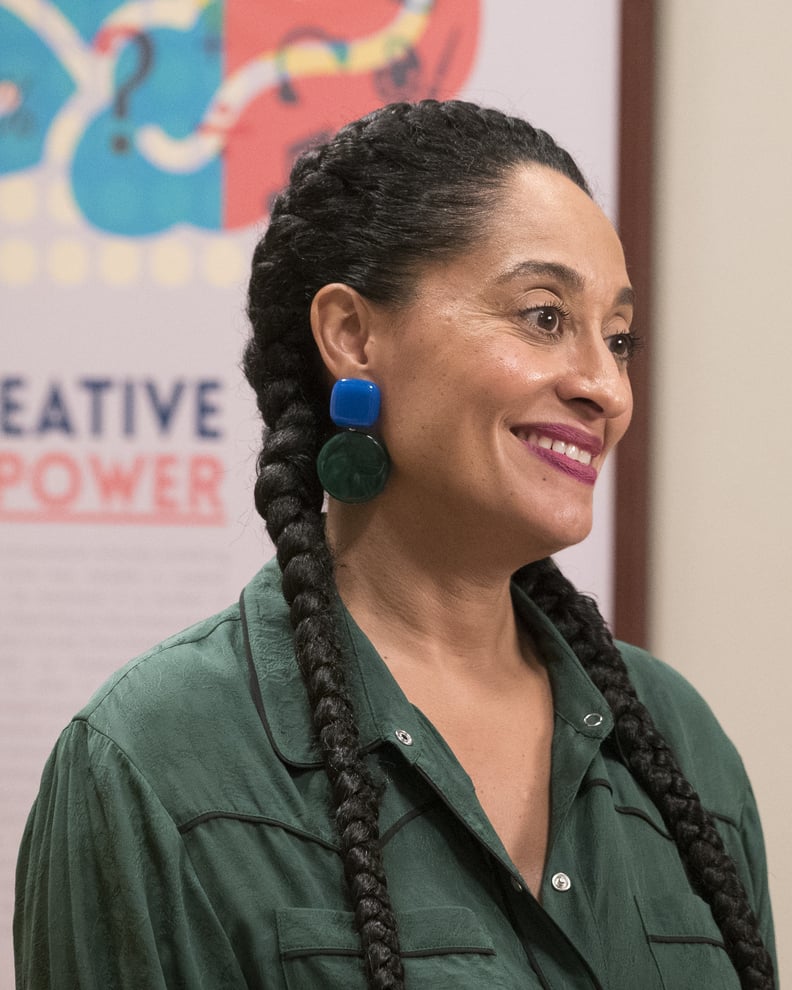 Bow in Black-ish
A subject that isn't discussed publicly nearly enough is that of postpartum depression, which affects up to 20 percent of new moms. In Black-ish's fourth season, after welcoming a new baby, we see the typically bubbly, quirky Rainbow "Bow" Johnson (Tracee Ellis Ross) fighting (and failing) to connect with her old self. Suddenly she finds herself exhausted, dealing with emotional pain, and flooded with ennui. Black mothers already have a much higher risk of dying during pregnancy and childbirth, especially in America, which makes Bow's struggle all the more resonant.
"Do you think this is easy for me?" Bow asks her mother-in-law, Ruby (Jenifer Lewis), at one point when she finally breaks down. "Motherhood is the most natural thing for a woman. And I've had four kids, and somehow, I am struggling right now." Bow goes on to detail her feelings of anxiety because she's not producing enough milk and the overall sense of embarrassment she feels. Needless to say, it's an exceptional exchange to see take center stage on a show like Black-ish, which is a mainstream family comedy that reaches a wide range of audiences.