BTS and Pharrell Williams Have a Collab Song Coming and Possibly Another on the Way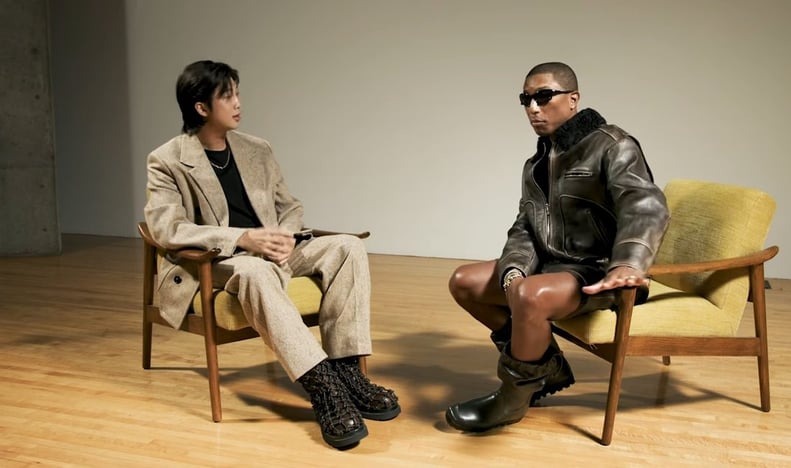 YouTube | Rolling Stone
YouTube | Rolling Stone
Another seismic collaboration from singer-rapper-producer Pharrell Williams is coming your way, this time with megastars BTS. The artist behind hit collabs — including "Get Lucky" with Daft Punk, "Blurred Lines" with Robin Thicke, and "Drop It Like It's Hot" with Snoop Dogg — sat down with fellow multi-hyphenate artist RM of BTS for Rolling Stone's Musicians on Musicians series. They interviewed each other about the ins and outs of making music, what it's like to endure the highs and lows of fame without losing one's creativity, and even teased an upcoming collab (or two) in the process.
RM, who's exploring solo projects as BTS takes a temporary pause from making music as a group so individual members can complete their mandatory enlistment in the Korean military, opened up to Williams about how he sometimes wonders if he still has a passion for music in the way he did as a teen. "I'm between my chapter one and two, like I said, the group and solo," RM shared. "Maybe I'm between music and maybe [visual] art, between that. So sometimes I really feel afraid, like, 'What if I don't like music anymore?' I love art. But it's somewhat different . . . Sometimes I really feel afraid — like, music, it's not my first thing anymore."
Williams could relate. "Yeah. That's temporary," he told a relieved RM. "Then all of a sudden you go, 'Whoa. It's the only thing I want to think about.' It'll happen."
RM is still finding inspiration in music. In fact, Williams teased that RM, alongside other yet-to-be-revealed members of BTS, will appear on his upcoming album. "My project . . . the title of the album is 'Phriends,'" he said. "It's the volume one. You guys are on there, obviously. And I'm actually talking about this way more than I'm supposed to, but it's a song from my album that [BTS] sang, and it's amazing, and I'm super grateful . . . Everyone that hears [the song] is like, 'Whoa.'"
RM is also working on a solo album, which he told Williams he's 90 percent done recording (it's rumored to be dropping sometime in November). Before their interview wrapped up, Williams also spoke another collab into existence. "I'm just going to put this out there. You said you're 90 percent done with your solo album. But if within that last 10 percent, if you need — you don't need me, but I mean . . . If you want to do something, we can actually do it . . . and you tell me what you want. Up-tempo? We go up-tempo."
"I'm honored and grateful," RM responded, seemingly confirming that the pair will link up one more time on RM's project.
Neither Williams's "Phriends" album nor RM's solo album have official release dates yet, so check out their full Rolling Stone interview below to hold you over until we get our next update on their highly anticipated releases.