Every Line From Childish Gambino's "This Is America" — Analyze at Your Leisure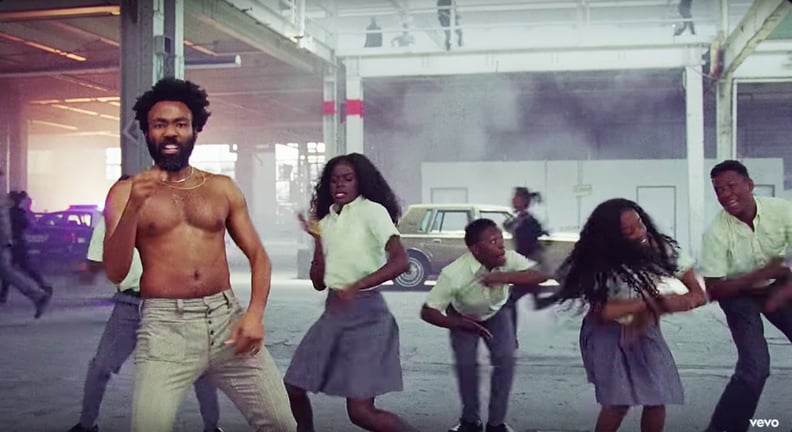 Donald Glover's rapper alter ego, Childish Gambino, has released one of the most reflexive songs of our cultural moment. Gambino debuted "This Is America" on Saturday Night Live when he hosted on May 5, releasing the music video shortly after.
Gambino and co-lyricist Ludwig Göransson have been relatively silent on the song's meaning, but that hasn't stopped many from analyzing and decoding every part of it. Some have found that the music video itself has imagery symbolizing the history of the Jim Crow South. Others have noted the mix of dancing kids and carnage playing out behind them demonstrates our own willingness to look to entertainment in times of crisis.
All together, "This Is America" is Gambino's meditation on our country. While the images are ingrained in our minds as we continue to think on the symbols and their meaning, let's take a moment to recognize some of the most powerful lyrics:
"This is America (skrrt, skrrt, woo) / Don't catch you slippin' up (ayy) / Look at how I'm livin' now / Police be trippin' now (woo) / Yeah, this is America (woo, ayy) / Guns in my area (word, my area) / I got the strap (ayy, ayy) / I gotta carry 'em" — One of the largest national debates occurring in our country is the right to bear arms. Gun ownership has become a difficult topic to discuss. Along with that is the equally sensitive topic of police brutality against the black community. Here, Gambino pays homage to both of these topics in his lyrics, noting how the police force is on edge and guns are a constant in the country.
"America, I just checked my following list and / You go tell somebody / You mothaf*ckas owe me / Grandma told me / Get your money, Black man (Black man)" — Gambino's music video for "This Is America" is the peak of hyperconsciousness; every detail has meaning. In this moment, the rapper touches on a subject that could have various possibilities. But the historical and cultural significance could point to the reparations owed to the black community for years of slavery and disenfranchisement. In only a few lines, Gambino illustrates our country's lack of reflection on injustice, learning from the past, and moving forward with the awareness and respect owed those who have suffered. It is subtle, and most certainly effective.
"You just a Black man in this world / You just a barcode, ayy" — "This Is America" is a song devoted to decoding the black experience in the United States. The simplicity of Gambino's lyrics here demonstrate a history of black bodies as commodities. Throughout the rest of the stanza, Gambino uses imagery of confinement: "You just a big dawg, yeah / I kenneled him in the backyard / No proper life to a dog / For a big dog."
We could spend hours discussing Childish Gambino's lyrics and his music video. At the 2018 Met Gala, Glover was asked about the song. When asked what his intentions were, the artist said, "I just wanted to make, you know, a good song. Something people could play on Fourth of July." Again, we could spend hours unpacking what his cryptic, self-aware answer meant. If you want to take a deep dive into Childish Gambino's thoughtful lyrics, you can find them below.
Yeah, yeah, yeah, yeah, yeah
Yeah, yeah, yeah, go, go away
Yeah, yeah, yeah, yeah, yeah
Yeah, yeah, yeah, go, go away
Yeah, yeah, yeah, yeah, yeah
Yeah, yeah, yeah, go, go away
Yeah, yeah, yeah, yeah, yeah
Yeah, yeah, yeah, go, go away
We just wanna party
Party just for you
We just want the money
Money just for you
I know you wanna party
Party just for me
Girl, you got me dancin' (yeah, girl, you got me dancin')
Dance and shake the frame
We just wanna party (yeah)
Party just for you (yeah)
We just want the money (yeah)
Money just for you (you)
I know you wanna party (yeah)
Party just for me (yeah)
Girl, you got me dancin' (yeah, girl, you got me dancin')
Dance and shake the frame (you)
This is America
Don't catch you slippin' up
Don't catch you slippin' up
Look what I'm whippin' up
This is America (woo)
Don't catch you slippin' up
Don't catch you slippin' up
Look what I'm whippin' up
This is America (skrrt, skrrt, woo)
Don't catch you slippin' up (ayy)
Look at how I'm livin' now
Police be trippin' now (woo)
Yeah, this is America (woo, ayy)
Guns in my area (word, my area)
I got the strap (ayy, ayy)
I gotta carry 'em
Yeah, yeah, I'ma go into this (ugh)
Yeah, yeah, this is guerilla (woo)
Yeah, yeah, I'ma go get the bag
Yeah, yeah, or I'ma get the pad
Yeah, yeah, I'm so cold like yeah (yeah)
I'm so dope like yeah (woo)
We gon' blow like yeah (straight up, uh)
Ooh-ooh-ooh-ooh-ooh, tell somebody
You go tell somebody
Grandma told me
Get your money, Black man (get your money)
Get your money, Black man (get your money)
Get your money, Black man (get your, Black man)
Get your money, Black man (get your, Black man)
Black man
This is America (woo, ayy)
Don't catch you slippin' up (woo, woo, don't catch you slippin', now)
Don't catch you slippin' up (ayy, woah)
Look what I'm whippin' up (Slime!)
This is America (yeah, yeah)
Don't catch you slippin' up (woah, ayy)
Don't catch you slippin' up (ayy, woo)
Look what I'm whippin' up (ayy)
Look how I'm geekin' out (hey)
I'm so fitted (I'm so fitted, woo)
I'm on Gucci (I'm on Gucci)
I'm so pretty (yeah, yeah)
I'm gon' get it (ayy, I'm gon' get it)
Watch me move (blaow)
This a celly (ha)
That's a tool (yeah)
On my Kodak (woo, Black)
Ooh, know that (yeah, know that, hold on)
Get it (get it, get it)
Ooh, work it (21)
Hunnid bands, hunnid bands, hunnid bands (hunnid bands)
Contraband, contraband, contraband (contraband)
I got the plug on Oaxaca (woah)
They gonna find you that blocka (blaow)
Ooh-ooh-ooh-ooh-ooh, tell somebody
America, I just checked my following list and
You go tell somebody
You mothaf*ckas owe me
Grandma told me
Get your money, Black man (Black man)
Get your money, Black man (Black man)
Get your money, Black man (Black man)
Get your money, Black man Black man)
Black man (one, two, three, get down)
Ooh-ooh-ooh-ooh-ooh, tell somebody
You go tell somebody
Grandma told me, "Get your money, " Black man
Get your money, Black man (Black man)
Get your money, Black man (Black man)
Get your money, Black man (Black man)
Black man
You just a Black man in this world
You just a barcode, ayy
You just a Black man in this world
Drivin' expensive foreigns, ayy
You just a big dawg, yeah
I kenneled him in the backyard
No proper life to a dog
For a big dog