A Well-Deserved Appreciation Post For Chloe Fineman and Her Spot-On Celebrity Impressions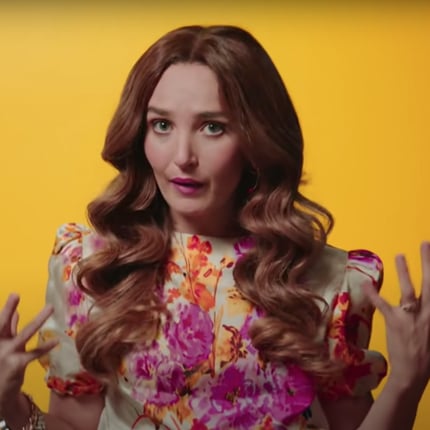 Drew Barrymore. Timothée Chalamet. Meryl Streep. Gigi Hadid. Name any celebrity, and there's a chance Chloe Fineman has a spot-on impression of them hiding up her sleeve. The 32-year-old comedian has mastered the art of mimicking famous stars and TV show characters, using not only her voice but also her facial expressions, mannerisms, diction, makeup, and outfits to truly morph into other people like a chameleon. Oh, and she's also got a collection of more than 100 wigs to help get into character.
Fineman has been bringing her skills to Saturday Night Live as a cast member since 2019, but she's been blessing the world with her talent long before that. To celebrate Fineman's applause-worthy knack for impersonations, we dug way back on her Instagram (@chloeiscrazy, if you're not already following her!) to gather some of her most hysterical, uncanny celeb impressions in one convenient place for your viewing pleasure. Watch 'em all ahead for your daily dose of LOLs. Pro tip: close your eyes, and you just might think you're listening to the actual people she's mimicking.
Chloe Fineman's Impression of Reese Witherspoon
Chloe Fineman's Impression of Busy Philipps
Chloe Fineman's Impression of Phoebe Waller-Bridge
Chloe Fineman's Impression of Carole Baskin
Chloe Fineman's Impression of Timothée Chalamet, JoJo Siwa, and Carole Baskin on SNL
Chloe Fineman's Impression of Margaret Thatcher on The Crown
Chloe Fineman's Impression of Marianne Sheridan on Normal People
Chloe Fineman's Impression of Florence Pugh
Chloe Fineman's Impression of Giannina Gibelli on Love Is Blind
Chloe Fineman's Impression of Elizabeth Holmes
Chloe Fineman's Impression of Drew Barrymore on SNL
Chloe Fineman's Impression of Nicole Kidman's Character on The Undoing
Chloe Fineman's Impression of Winona Ryder on Stranger Things
Chloe Fineman's Impression of Tiffany Trump
Chloe Fineman's Impression of JoJo Siwa
Chloe Fineman's Impression of Timothée Chalamet, Meryl Streep, and More on The Tonight Show
Chloe Fineman's Impression of Maisie Williams
Chloe Fineman's Impression of Chrishell Stause
Chloe Fineman's Impression of Sarah Michelle Gellar
Chloe Fineman's Impression of Bella Hadid
Chloe Fineman's Impression of Gigi Hadid
Chloe Fineman's Impression of Phoebe Waller-Bridge and Britney Spears on SNL
Chloe Fineman's Impression of Elle Woods in Legally Blonde
Chloe Fineman's Impression of Elle Fanning on The Great
Chloe Fineman's Impression of Catherine Zeta-Jones
Chloe Fineman's Impression of Drew Barrymore
Chloe Fineman's Impression of Nicole Kidman FaceTiming Keith Urban
Chloe Fineman's Impression of Judi Dench
Chloe Fineman's Impression of Cynthia Nixon
Chloe Fineman's Impression of Frances McDormand