What to Know About the Controversy Surrounding Dave Chappelle's Latest Netflix Special
Netflix released Dave Chappelle's latest comedy special, The Closer, on Oct. 5, and the controversy surrounding it has been growing by the day. In case you missed it, the 72-minute comedy special has received a slew of complaints from viewers for its "dangerously transphobic content" that targets transgender people and makes them the butt of several tasteless jokes. The Closer, which acts as the final special to complete Chappelle's "body of work" with Netflix, shows the 48-year-old comic taking the stage to "set the record straight" one last time as he gets "a few things off his chest." One of the main things he addresses in his special is his stance around the transgender community, which left a lot of people taken aback with how ruthless his commentary is.
"Sometimes the funniest thing to say is mean," Chappelle notes in a trailer montage for The Closer. "Remember, I'm not saying it to be mean: I'm saying it because it's funny." Only thing is, for those who watched his latest special, Chappelle's offensive jokes aren't actually very funny — especially for transgender people who are rightfully upset. For those who are just now getting caught up on Chappelle's controversy, it's worth noting that this isn't his first time making anti-transgender jokes. He faced similar criticism for his previous Netflix specials, Equanimity and Sticks & Stones, a few years ago for his anti-trans rhetoric, but the backlash this time around has been much more publicized.
Ahead, we break down the aftermath of events that followed The Closer's release, including Chappelle's response to the reactions from his special and developments that have occurred at Netflix as well.
01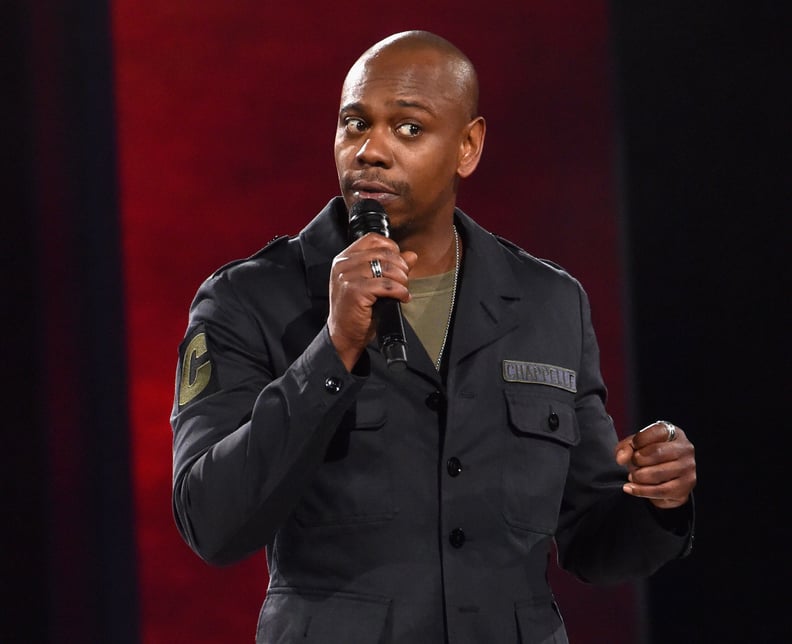 Aug. 26, 2019: Dave Chappelle Makes Anti-Trans Jokes in Sticks & Stones Special
As part of his cycle of Netflix comedy specials, Chappelle and the streaming giant released Sticks & Stones — regarded as one of his most controversial specials — back in 2019. In the standup show, Chappelle takes on a plethora of topics, including his verbal attack on the transgender community where he refers to them as "the alphabet people." "I feel bad for the T's (transgender people) but they're so confusing," he says in the special. "And it's not all my fault. I feel like they need to take some responsibility for my jokes. Cause I didn't come up with this idea on my own, this idea that a person can be born in the wrong body. But they have to admit that's a f*cking hilarious predicament."
In an attempt to justify his remarks, he also names a transgender friend of his, late activist and comedian Daphne Dorman, whom he also references in his latest standup special. Following the release of Sticks & Stones, Dorman defended Chappelle's comments on Twitter writing in her bio, "Yep, I'm the Daphne that Dave Chappelle is talking about in Sticks and Stones." She later defended him in a tweet that read "@DaveChappelle doesn't consider himself better than me in any way. He isn't punching up or punching down. He's punching lines. That's his job and he's a master of his craft."
02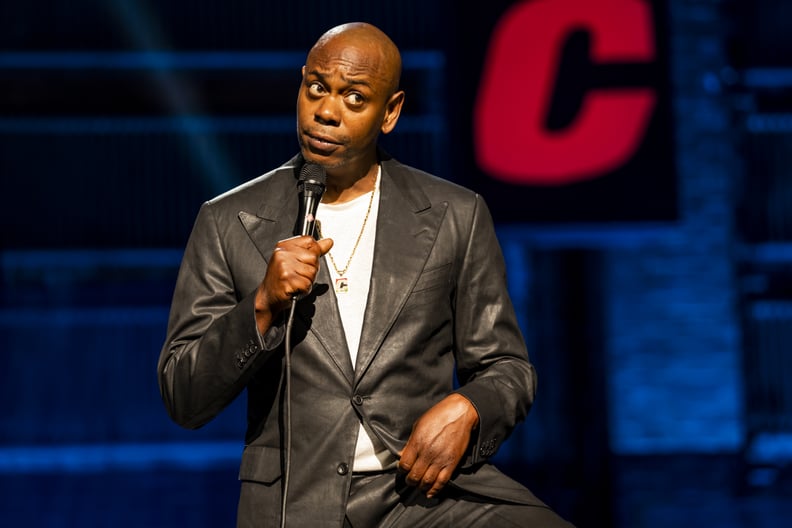 Oct. 5, 2021: Dave Chappelle Releases The Closer to Address His Previous Trans Remarks
For his final Netflix special, Chappelle released The Closer as a means to double down on his hot button comedy while infusing remarks of racism, transphobia, and homophobia. "This is my last special because I have an objective tonight," he says at the beginning of the show. "All the questions you might have had about these jokes I've said in the last few years, I hope to answer tonight." Immediately after this statement, Chappelle states that he'd like to start by "addressing the LGBTQ community, correct." But what followed couldn't be any more incorrect in how he treated the transgender community.
He entangles his agenda with a plea to "negotiate the release of DaBaby," who also faced major backlash for his homophobic rant at this year's Rolling Loud Festival," arguing that "in our country, you can shoot and kill a n*****. But you better not hurt a gay person's feelings." He goes on to argue his declaration that "gender is a fact," disputing how some people in the transgender community choose to identify. "Every human being in this room, every human being on Earth, had to pass through the legs of a woman to be on Earth. That is a fact." He also referred to himself as "Team TERF" (trans-exclusionary radical feminist), siding with author JK Rowling who has been accused of transphobia. Towards the end of the special, he concludes saying that he's "done talking about it," referring to LGBTQ+ topics, and in turn says, "All I ask of your community, with all humility: Will you please stop punching down on my people?"
03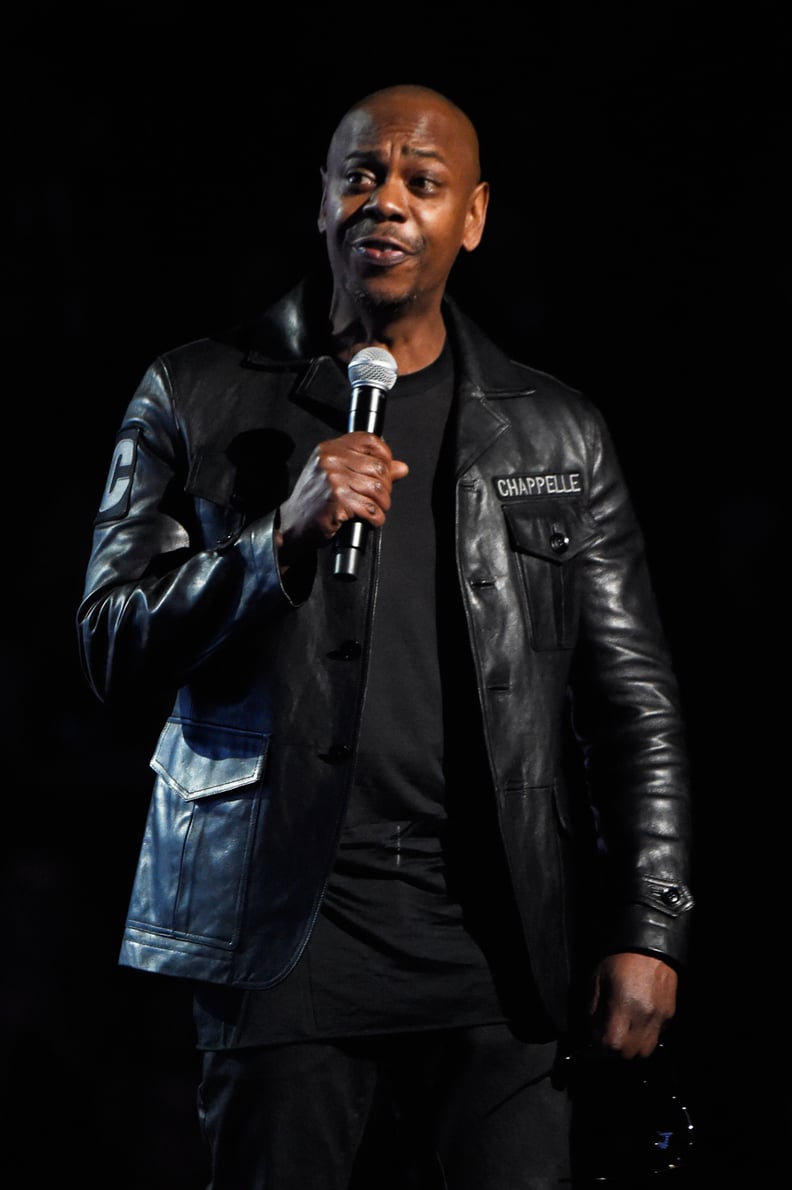 Oct. 7, 2021: Dave Chappelle Responds to Being "Canceled" After Negative Reactions to His Special
After hearing of the public's reactions to his latest special, Chappelle took the stage for a show at LA's Hollywood Bowl, not to repeat any of his controversial jokes, but to address the idea of cancel culture and how it doesn't apply in real life. "If this is what being canceled is like, I love it," he said, which was met with a standing ovation. "F*ck Twitter. F*ck NBC News, ABC News, all these stupid ass networks. I'm not talking to them. I'm talking to you. This is real life." In addition to these remarks, he also reportedly promoted "messages of kindness and love" to the audience, which included celebrities like Brad Pitt, Tiffany Haddish, Donnell Rawlings, Sterling K. Brown, and more.
04
Oct. 7, 2021: Dear White People's Jaclyn Moore Boycotts Netflix Over Dave Chappelle's Special
After watching Chappelle's The Closer, Dear White People showrunner Jaclyn Moore — a trans woman — declared a boycott against the streamer, stating that she would no longer work for the company as long as it keeps "promoting and profiting from dangerous transphobic content," she wrote in an Instagram post. She initially called out the streaming service on Twitter, writing, "I love so many of the people I've worked with at Netflix. Brilliant people and executives who have been collaborative and fought for important art….But I've been thrown against walls because, 'I'm not a 'real' woman.' I've had beer bottles thrown at me. So, @netflix, I'm done."
She also spoke with Variety about her decision to speak out and shared that she "never loved Dave's trans material before but this time it felt different." She also referred to the comedian as "one of her comic heroes," but his numerous jokes targeting trans people is where she drew the line. "I think a lot of his trans material that maybe I personally had given a pass before feels a lot worse in context of this material. Any benefit of the doubt that was given feels like it is gone. But what I really want is I want companies to hire trans people to work there who can say, 'Hey, we sure about this?'"
05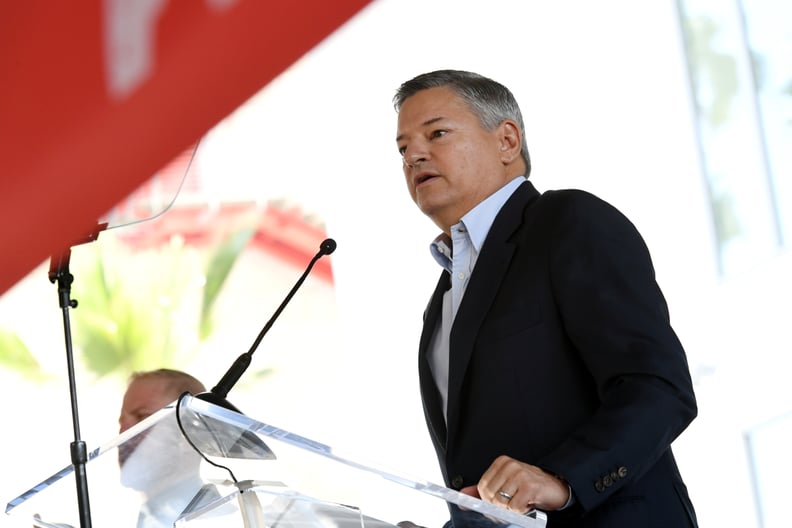 Oct. 11, 2021: Netflix Co-CEO Ted Sarandos Defends Dave Chappelle's Standup Special
Following the storm of backlash as a result of Chappelle's special, Netflix co-CEO Ted Sarandos defended the show in a staff memo that was sent out to employees after the streamer's quarterly business review. "I wanted to follow-up on the The Closer — Dave Chappelle's latest special — as several of you have reached out following QBR asking what to say to your teams," he wrote. "It never feels good when people are hurting, especially our colleagues, so I wanted to give you some additional context. You should also be aware that some talent may join third parties in asking us to remove the show in the coming days, which we are not going to do. Chappelle is one of the most popular stand-up comedians today, and we have a long standing deal with him. His last special Sticks & Stones, also controversial, is our most watched, stickiest and most award winning stand-up special to date."
"As with our other talent, we work hard to support their creative freedom — even though this means there will always be content on Netflix some people believe is harmful," he added, also citing other examples like Sundance film Cuties and teen suicide drama 13 Reasons Why as more controversial Netflix content. Sarandos's statement was also met with backlash and LGBTQ+ organization GLAAD issued a statement as a response, as reported by Variety, stating, "Netflix has a policy that content 'designed to incite hate or violence' is not allowed on the platform, but we all know that anti-LGBTQ content does exactly that. While Netflix is home to groundbreaking LGBTQ stories, now is the time for Netflix execs to listen to LGBTQ employees, industry leaders, and audiences and commit to living up to their own standards."
06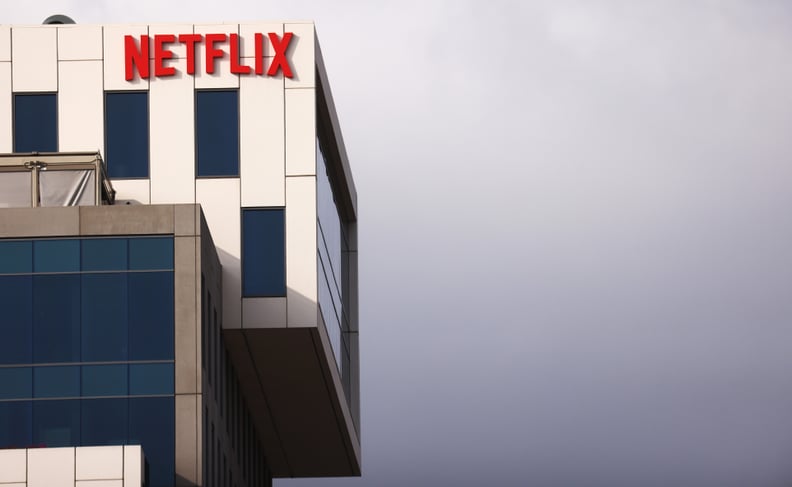 Oct. 11, 2021: Netflix Suspends 3 Employees For Crashing Leadership Meeting
After reports shared that Sarandos defended Chappelle after its backlash, it was then reported that three Netflix employees were suspended for crashing a leadership meeting with some of the company's top executives. According to Variety, Netflix says that the three employees, including Terra Field — who is queer and trans — were not suspended for their sotance on the streamer supporting Chappelle's special, but instead for attending the meeting "uninvited." "It is absolutely untrue to say that we have suspended any employees for tweeting about this show," a source told the publication. "Our employees are encouraged to disagree openly and we support their right to do so."
Field reportedly wrote a "lengthy Twitter thread" in response to Chappelle's The Closer, in which she tweeted, "Yesterday we launched another Chappelle special where he attacks the trans community, and the very validity of transness – all while trying to pit us against other marginalized groups. You're going to hear a lot of talk about 'offense.' We are not offended." She added, "Promoting TERF ideology (which is what we did by giving it a platform yesterday) directly harms trans people, it is not some neutral act. This is not an argument with two sides. It is an argument with trans people who want to be alive and people who don't want us to be."
Following Field's tweets and suspension, she tweeted an update on Oct. 12 sharing that "Netflix has reinstated me after finding that there was no ill-intent in my attending the QBR meeting." She also added a screenshot of the statement Netflix sent her as proof that the company reinstated her "fully as an employee at Netflix." Just a day later, reports shared that trans employees at Netflix are planning to stage a virtual walkout on Oct. 20 to protest against Sarandos's support for Chappelle's special. "Trans Lives Matter. Trans Rights Matter. And as an organization, Netflix has continually failed to show deep care in our mission to Entertain the World by repeatedly releasing content that harms the Trans community and continually failing to create content that represents and uplifts Trans content," wrote a leader of the company's trans ERG in an internal memo. "We can and must do better!"
07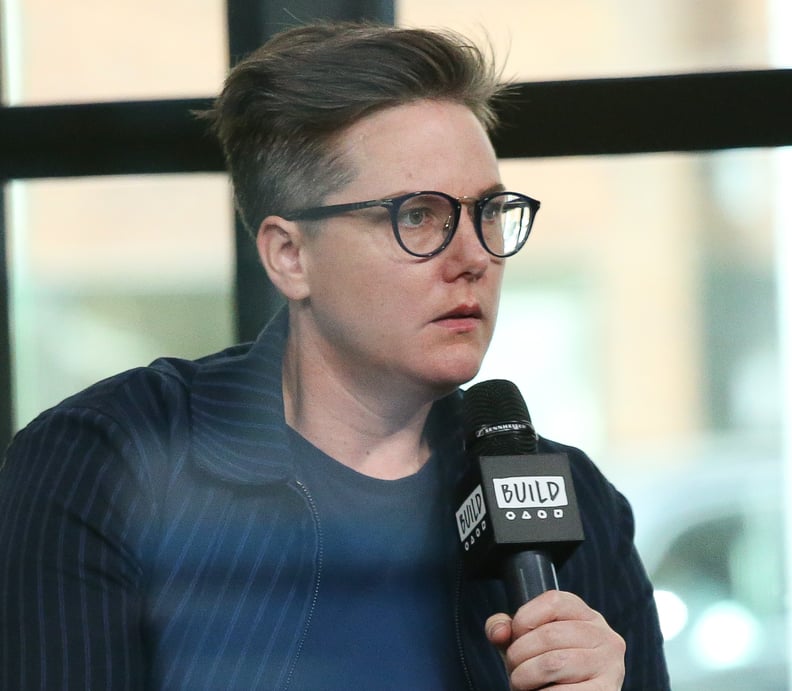 Oct. 15, 2021: Comedian Hannah Gadsby Blasts Ted Sarandos on Instagram
As Sarandos continues to receive blowback from his comments defending Chappelle's special — including a second company-wide memo he sent out to Netflix employees on Oct. 11 — comedian Hannah Gadsby is one of the latest people to dig into him for his stance. In his second note, Sarandos stated that Netflix is reportedly "working hard to ensure marginalized communities aren't defined by a single story" and is "increasing diversity on the content team itself." To support his argument, he referenced titles like Sex Education, Orange Is the New Black, Control Z, and Gadsby's standup special that also accompany Chappelle's on the streaming service. Well, Gadsby wasn't too happy with his statement and took to her Instagram page to blast him.
"Hey Ted Sarandos! Just a quick note to let you know that I would prefer if you didn't drag my name into your mess," she wrote in a post. "Now I have to deal with even more of the hate and anger that Dave Chappelle's fans like to unleash on me every time Dave gets 20 million dollars to process his emotionally stunted partial world view." She also added that the co-CEO "didn't pay me nearly enough to deal with the real world consequences of the hate speech dog whistling you refuse to acknowledge, Ted. F*ck you and your amoral algorithm cult."
Of the $20 million that Gadsby references, it could be a nod to the article Bloomberg published reporting on the millions of dollars Netflix has spent on Chappelle's numerous specials over the years. Those numbers were reportedly leaked by a Netflix employee, and the streamer responded by firing said employee. "We have let go of an employee for sharing confidential, commercially sensitive information outside the company," a spokesperson from Netflix said. "We understand this employee may have been motivated by disappointment and hurt with Netflix, but maintaining a culture of trust and transparency is core to our company."
08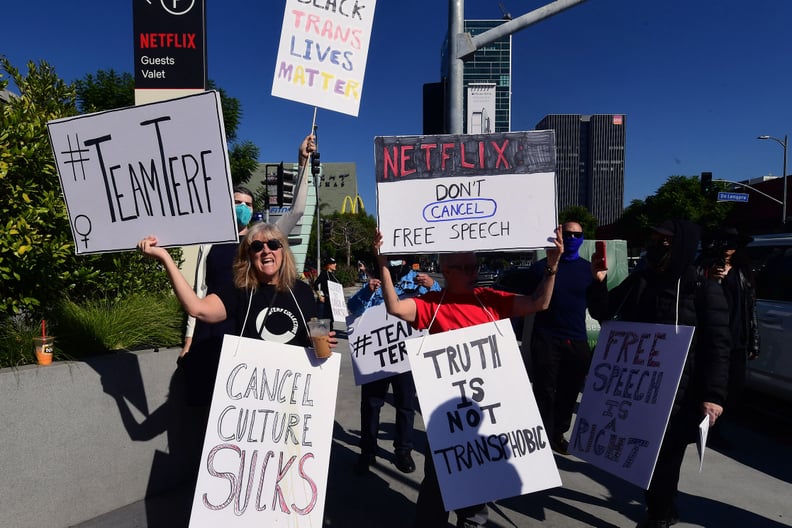 Oct. 20, 2021: Netflix Employees Stage Walkout to Show Trans Solidarity
Netflix employees followed through with their plan to stage a virtual walkout in protest of Chappelle's controversial special and Netflix's support of it. Hundreds of protestors gathered outside of Netflix's Los Angeles office on Wednesday morning, supporting transgender Netflix employees and demanding the company show more tangible support for the transgender community. During the public rally, B. Pagels-Minor — the former Netflix employee who was fired for allegedly leaking confidential data from the company — read a list of several asks from Netflix's employee group to co-CEO Sarandos that included creating "a fund for nonbinary and trans talent," revising "internal processes for reviewing potentially harmful content," adding "disclaimers on shows with transphobic content," and acknowledging the "harm Netflix has caused to the trans community."
"We are employees, but we are members, too," Pagels-Minor said, reading the letter out loud. "We believe that this Company can and must do better in our quest to entertain the world, and that the way forward must include more diverse voices in order to avoid causing more harm." Rally organizer Ashlee Marie Preston also explained that the purpose of the protest was to stand in solidarity with Netflix employees. "It's violent to make members of the transgender community who work for your company participate in the oppression of their own community, and we're here to disrupt that and stand in solidarity with the employees," she told The Hollywood Reporter.
Several celebrities have also voiced their public support for the #NetflixWalkout, including Elliot Page, Jonathan Van Ness, Wanda Sykes, Angelica Ross, Jameela Jamil, Kate Bornstein, Colton Haynes, and many more.
09
Oct. 25, 2021: Dave Chappelle Says He's "More Than Willing" to Speak to the Transgender Community
Nearly three weeks after all the controversy around Dave Chappelle's The Closer special began, the comedian finally released a video response on Instagram addressing all the backlash he's received. In the video, Chappelle appears to be near the end of one of his stand-up shows when he begins to speak directly about the events that have transpired at Netflix. "It's been said in the press that I was invited to speak to the transgender employees of Netflix and I refused," he said. "That is not true — if they had invited me, I would have accepted it, although I am confused about what we would be speaking about. I said what I said, and boy, I heard what you said. My God, how could I not? You said you want a safe working environment at Netflix. It seems like I'm the only one that can't go to the office anymore."
In addition to this statement, Chappelle also shared that "not a film company, not a movie studio, not a film festival" will touch his upcoming documentary recapping his summer 2020 comedy tour. To which some people on social media began speculating this as the reason he's finally chosen to speak up. Toward the end of the video, Chappelle then said he's ready to sit down and speak with members of the transgender community, but not before rattling off a few demands. "To the transgender community, I am more than willing to give you an audience, but you will not summon me," he continued. "I am not bending to anybody's demands. And if you want to meet with me, I'd be more than willing to, but I have some conditions. First of all, you cannot come if you have not watched my special from beginning to end. You must come to a place of my choosing at a time of my choosing, and thirdly, you must admit that Hannah Gadsby is not funny."
He then closed out his video saying that the people who wished to see his documentary that "nobody will touch" can do so at theaters in 10 American cities. He wrapped by saying that only after watching the film can people answer his question, "Am I canceled or not?"
10
Oct. 29, 2021: Netflix Employees File Charges Against the Company
A Netflix software engineer and former employee filed labor charges with the National Labor Relations Board, claiming that Netflix retaliated against them for "speaking up" about how the company dealt with the backlash of Chappelle's special. According to The Verge, the charge was filed by B. Pagels-Minor, who was fired for reportedly leaking company information, and Terra Field, who was temporarily suspended for attending an executive meeting.
"This charge is not just about B. and Terra, and it's not about Dave. It's about trying to change the culture and having an impact for others," attorney Laurie Burgess told the outlet in a statement. "The charge is all about collective action. It's about supporting your coworkers and speaking up for things you care about."