Demi Lovato Leaves the Past Behind in Her Empowering New Music Video, "I Love Me"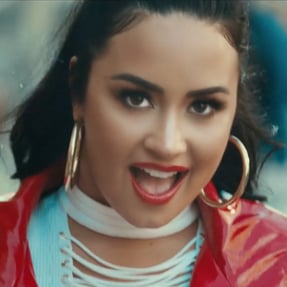 When Demi Lovato promised fans that she had "f*cking fire" coming soon, she wasn't lying! The 27-year-old singer has been dropping teasers about her highly anticipated single "I Love Me" since March 3, and the full music video finally debuted Thursday night. The video features Lovato kicking ass, preaching self-love, and just being the badass artist we know her to be.
In the first scene, two different Lovatos fist fight each other as a third watches. Later on, the singer strolls the streets in a firetruck-red coat while passing by symbols related to her past — namely a trio of men in suits (we're looking at you, Jonas Brothers!), an ambulance (likely alluding to her overdose experience), and a just-married couple (possibly referencing ex Wilmer Valderrama's recent engagement).
The single comes a little over a month after Lovato released the soul-bearing track "Anyone" before her Grammys performance on Jan. 26. It's a lively follow-up that reveals how far the singer has come after the harrowing journey she took before her drug overdose in 2018. Lovato has never been shy about sharing the intimate details of her life with her fans through her music, and with "I Love Me," the theme of self-empowerment and confidence sends a clear message: "I'm a 10 outta 10 even when I forget it." Check out the fierce music video above.
"I Love Me" Announcement Post
Demi Lovato's "I Love Me" Teaser One
Demi Lovato's "I Love Me" Teaser Two
Demi Lovato's "I Love Me" Music Video