Yes, the Celeb Scandals in Deuxmoi's New Book Are Based on Real Life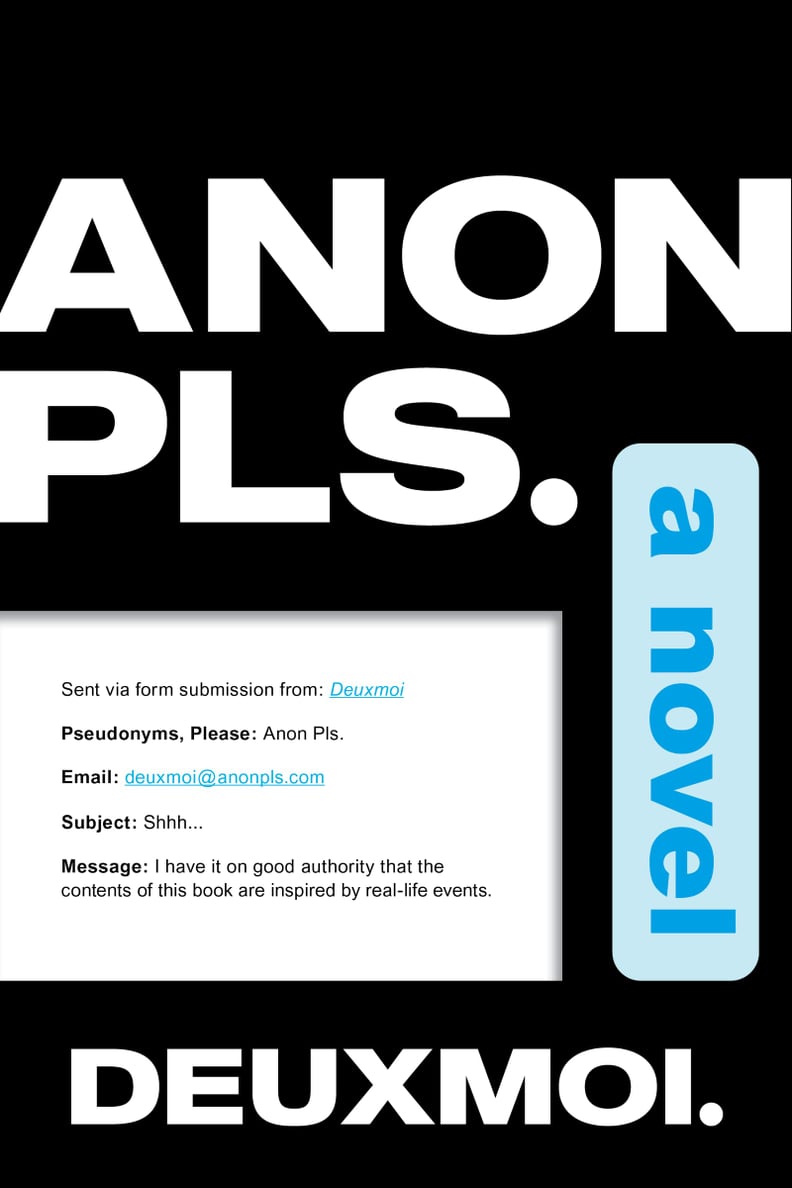 As POPSUGAR editors, we independently select and write about stuff we love and think you'll like too. If you buy a product we have recommended, we may receive affiliate commission, which in turn supports our work.
If you're even remotely invested in following the nitty gritty behind-the-scenes details of your favorite celebrities' lives, you probably follow Deuxmoi on Instagram. The fashion Instagram-turned-celebrity gossip platform has over 1.6 million followers, with more pressing follow by the day to stay up to date on the account's endless anonymous insider scoops on all things celebrity. The anonymous individual behind the account, who also goes by Deuxmoi, is officially adding "published author" to her résumé.
Deuxmoi's book, "Anon Pls.," hit shelves on Nov. 8, and it tells a dramatized version of the Deuxmoi account's inception from the perspective of Cricket Lopez, the fictional assistant to a high-profile celeb stylist. But the story isn't entirely fiction. Many of the events that happen to Cricket in the book actually happened to the real-life Deuxmoi, and many of the Hollywood happenings reflect real-life celeb scandals.
"I wanted to make it as juicy as possible for everyone," Deuxmoi tells POPSUGAR about her book. The events in the book were so real, in fact, that meetings would turn into negotiation sessions about what Deuxmoi could or couldn't include in the book. "[The] legal team went over everything with a fine tooth comb. And I did have to change some parts . . . I'd be negotiating on the call with the lawyer. 'Can I say it this way?' Or, 'Can't we just leave that in?'"
Despite all the changes, "Anon Pls." is still a spectacularly spicy read, and Deuxmoi says you might be surprised how much of the book happened in real life. For example, Deuxmoi's Instagram account bio today reads, "Some statements made on this account have not been independently confirmed. This account does not claim information published is based in fact." The reason why and how that disclaimer was crafted plays out in the book when Cricket has a serious discussion with her friends about how to avoid getting sued.
"The scene in the book . . . and how [Cricket] was panicking about the legalities is very close to how it actually went down in real life," Deuxmoi shares. "There was a lot of panic in the beginning. I didn't have a lawyer, and I sought the advice of somebody who was a friend who was a lawyer, and they actually wrote the disclaimer."
Even some of the celebrity encounters that happen in the book happened in real life, right down to crossing paths with A-listers. "Celebrities have messaged me for sure," Deuxmoi says. But things hit the fan for Cricket in a storyline that starkly mirrors Armie Hammer's fall from grace after multiple women accused him of manipulation, rape, and psychological and physical abuse. While Deuxmoi was not the first or only account to post about Hammer's scandal, the popularity of her account hoisted her to the forefront of it.
"The book is fiction, but it's inspired by true events . . . [and] that particular moment in news, I was heavily involved in, I feel like . . . unknowingly," she says. The situation forced her to confront the pitfalls of running such an impactful celeb gossip account when the tips that flood in turn dark and involve legal implications. "I get a lot of heavy submissions. I don't post them . . . I'm not an investigative journalist. You can't post something accusing somebody of something without proof."
For this reason, Deuxmoi says figuring out what she should and shouldn't post was a learning process. "I use my intuition [and] I used feedback from followers who were like, 'Maybe you shouldn't be posting about this,' in a nice way . . . I definitely have taken constructive criticism that has been presented in a positive way."
Deuxmoi keeps it real, admitting that, much like Cricket in "Anon Pls.," there have been moments when she considered throwing in the towel. "Oh, every single day in the beginning," she says, adding, "I would literally call [my friends] every day and be like, 'Why am I doing this? I'm shutting it down tomorrow.' Because it's a lot. I'm one person, and fielding all of the submissions, fielding everyone's emotions . . . and concerns towards what's posted . . . is a lot for one person to handle."
"Nobody asks about the love interest. I've talked to a lot of people about this book. I guess they just assume it's fake."
But Deuxmoi couldn't give up on her account. "I want people to understand how grateful I am for this platform . . . I'm so grateful to them. So I didn't want Cricket to be a complainer. I did have a lot of freakouts, but I would also have moments — and my friends would help me with this — where they're like, 'Just keep going, see where it goes.' And then I would remind myself, 'Wow, this is such a once-in-a-lifetime opportunity. . .'"
Deuxmoi's situation is also one in a million — so much so that it seems right out of a movie. The romance plotline between Cricket and Ollie, the cute British-born editor that slides into Deuxmoi's DMs, in particular, seems too good to be true. It had to be made up for dramatic effect, right?
"I had someone ask me yesterday in the Q&A if the love interest was fictionalized, and it's not," Deuxmoi says. "People are like, 'Why'd you want to write this book?' And I'm like, 'Because so much crazy sh*t really went on that people don't know about.' And nobody asks about the love interest. I've talked to a lot of people about this book. I guess they just assume it's fake."
While you'll be able to find out what happens between Cricket and her love interest in "Anon Pls." by reading the book, IRL Deuxmoi's romance with the real-world counterpart to Ollie is much more up in the air. "Let me tell you, I still don't know where that's going," she says, adding, "I think it's so crazy how we met. We're not boyfriend girlfriend in the slightest, [but we're] doing the long-distance thing."
"Anon Pls." ($25) is on sale now wherever books are sold.