The Revenant: Here's Exactly What Happens to Leonardo DiCaprio in That Bear Scene
Near the end of 2015, the entertainment world was gripped by a scandal when Drudge Report claimed that Leonardo DiCaprio's character is raped by a bear in The Revenant — twice! The story was so salacious that multiple outlets commented on the claim, and a spokesperson from Fox even settled the debate, saying, "As anyone who has seen the movie can attest, the bear in the film is a female who attacks Hugh Glass because she feels he might be threatening her cubs. There is clearly no rape scene with a bear." Journalists worldwide were forced to write headlines like "Does Leonardo DiCaprio Get Raped by a Bear in The Revenant?" Now that I've seen a screening for myself, I can contribute to this madness and assure you that, no, DiCaprio is definitely not raped by a bear in this movie.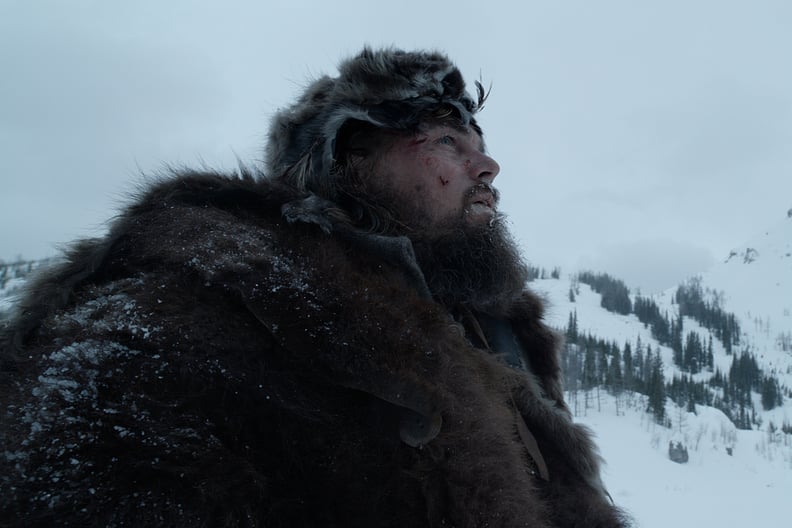 Now that that's out of the way, here's what does happen in this hotly debated mauling scene: DiCaprio's character, Hugh Glass, is hunting in the forest when he sees two cubs. The mama bear spies him scoping out her babies and she charges him. The mauling scene is intense and long. At one point, she flips him over so he's laying stomach down on the ground while she tears his back up with her gigantic claws. DiCaprio's face is red with anguish, but he's definitely not getting raped. First of all, the bear is a female. Secondly, bears don't rape humans — it's just not a thing. The scene is brutal and hard to watch, but the idea that he might be getting raped by a female bear is insane.
There's a partial clip of the attack in this international trailer, but you'll have to see the full scene on your own in theaters. As a side note, one of the only women in the film is savagely raped by a human man. Maybe we can stop talking about this dumb rumor and discuss what that says about society and film instead.