Eli Golden on 13: The Musical With Josh Peck
"13: The Musical"'s Eli Golden Shares Josh Peck's Advice on Transitioning From a Child Actor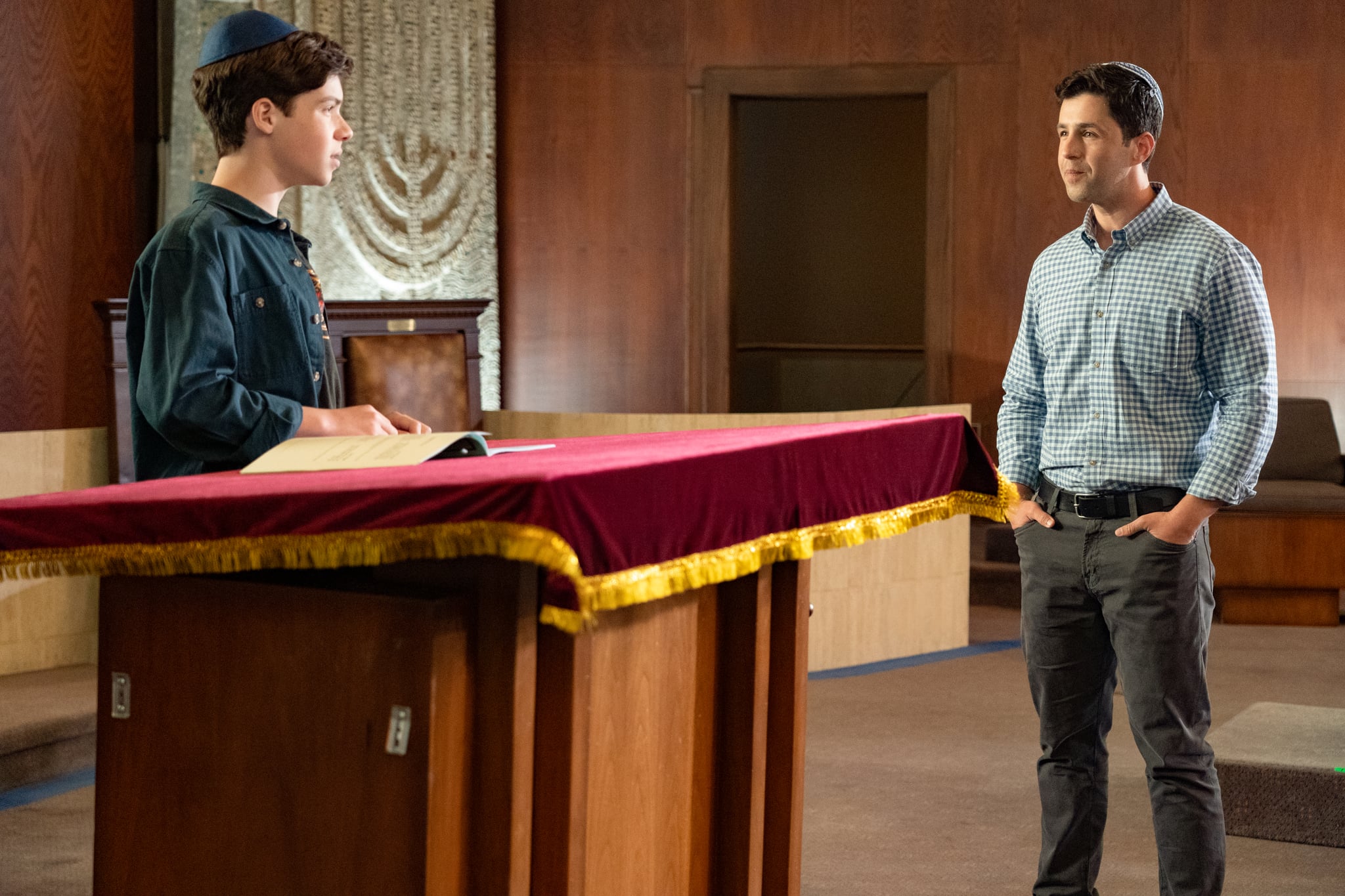 In Netflix's "13: The Musical," based on the Broadway show of the same name, Eli Golden stars as Evan Goldman, a middle schooler who's obsessed with having the perfect bar mitzvah — even as his life seemingly falls apart amid his parents' divorce. Evan relies not just on his friends, but also his rabbi (played by Josh Peck), his parents (Debra Messing and Peter Hermann), and his grandma (Rhea Perlman) for advice and wisdom. And in real life, Golden also got lots of guidance from his more-experienced costars. Perlman and Peck specifically had great counsel for the 15-year-old about transitioning from a child star into an adult actor in the ever-challenging industry.
He tells POPSUGAR they recommended: "Don't get off the ground too much. Keep yourself level and keep yourself down. But at the same time, always push through and work harder than everybody else around you. If someone's working harder than you, you've got to work harder than them."
"No matter the nights, no matter the times, just work hard," he says was his castmates' advice. Golden tells POPSUGAR he feels like he learned "something new" every time he did a scene with one of the adult actors. Messing and Hermann, he explains, are masters of timing.
Golden and the new cast were also in contact with some of the original "13" cast members, including Graham Phillips, who debuted the role of Evan on Broadway. "I was able to talk to Liz Gillies," he says. Gillies and Ariana Grande both starred in the "13" stage production before being cast together in "Victorious."
Golden is a huge musical theater fan. When he first tried out for "13," he sang "Waving Through a Window" from "Dear Evan Hansen." He says he went through a lot of different audition rounds with a variety of different producers — plus the show's composer, Jason Robert Brown — before ending up in an eight-hour trial held over Zoom, during which the production team tried out different combos of actors. He also had to sing songs from the musical over and over. "I was really, really tired by the end of the day," he recounts. But before he could even go grab something to eat, they called his mom and asked him to log back on. They put everyone in a big Zoom room. "[Director Tamra Davis] says, 'Well, look around, everybody, get to know each other, because you guys are the cast of '13,'" he remembers. "Everyone cheered. [Brown] rang a gong."
For the movie, the team added three new songs, which Golden says was "a lot of responsibility," but he was also prepared. "I'm always acting out songs for different Broadway musicals, and being able to do that and be the first one to do that is a lot of fun," he says. He would love to do more musicals, especially a movie version of "Be More Chill."
One part of the experience Golden really cherished was playing out Evan's bar mitzvah scene. "Being a Jew myself, I really value my religion," he says. "It's really lovely for me to be able to show the world this little snippet, a really important part of a young Jewish person's life. I think introducing culture and learning about culture is really important right now."
Though "13" is full of drama and hijinks, the ultimate message is about the universal experience of growing up. "It's about finding your way, it's about really finding who you love, finding who you like, the people who are real, the people who are not real," Golden says. "You make mistakes and you forgive."
"13: The Musical" is streaming now on Netflix.