Why Evanna Lynch and Keo Motsepe Make Such a Magical Team on Dancing With the Stars
Evanna Lynch is known by Harry Potter fans as Luna Lovegood, but she's so much more than that. On Dancing With the Stars this season, the Irish actress has been showing a whole new side of herself through dance, and fans are completely spellbound. While there have been plenty of magical performances throughout this season, what people have really come to love is her incredible partnership with Keo Motsepe.
The 28-year-old dancer first joined the show's cast during season 19, but he has really shined during season 27. This season marks the first time Motsepe has made it to the semifinals, which is in no doubt due to how well he works with Lynch. It's clear the two make a great team, and fans are already rooting for them to make it to the final three (myself included). Ahead of the semifinals, I had a chance to talk with the pair about everything from their favorite dances to who they would love to compete against for the Mirror Ball Trophy. See what they had to say ahead!
POPSUGAR: Evanna, when you first signed on to Dancing With the Stars, did you seek any advice from past competitors or did Keo give you any advice when you first started?
Evanna Lynch: Oh man, I didn't have any time to reach out to anyone else because I signed on a few days before it started. So, I didn't really get advice [from past competitors], but Keo's first words of advice to me was to just be myself. He said don't try and do the moves the same way other people do it or the same way that he was doing it, like I would have to find my own way to move, and that's something that he's still reminding me. The one thing I also remembered — because I did theater a good lot the past year — and the main piece of advice I was given was to get loads of sleep, and that has proved to be important for this one as well.
PS: I've really loved watching all of your performances together this season. It seems like you two work really great together. What has been your favorite dance so far?
Keo Motsepe: My favorite would be the samba. I think because samba is usually the hard dance with celebrities and with Evanna, every time she's in the studio, she wants to know everything, like tons of technique and how to do things. She's invested in everything and giving her all. I got to the point during the week, I was like, "That's a lot of information. I don't think she can handle that." And then she came on stage and did that, I was like, "Wow! That's my best samba on the show."
EL: I enjoyed the tango. With the intention that I had that week and the choreography Keo had, it just all fit together so well. I think at that point, I was just feeling a bit of frustration like I wanted to prove people wrong, I wanted us to get ahead of the competition, or just ahead of ourselves with what we had previously done. I just went in there with rage/frustration, and the dance really gave me a space to express that. And [I enjoyed] the whole thing with being my cat self. I don't usually get to express that either and I fully enjoyed it.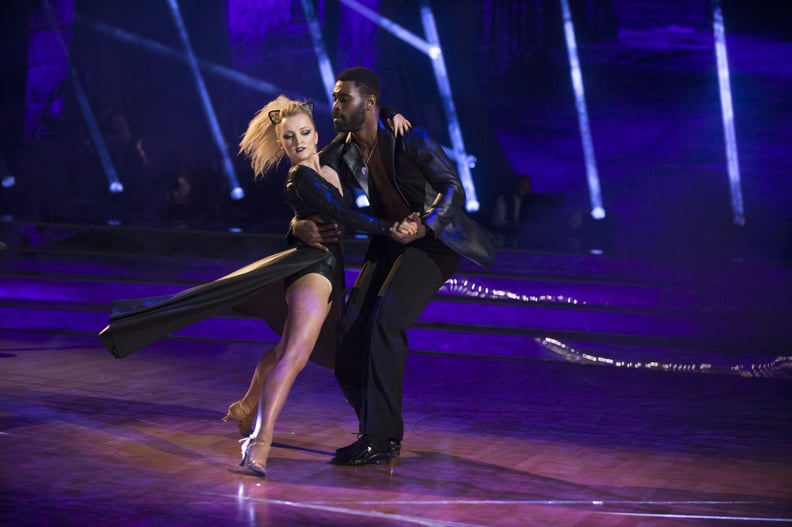 PS: What has been the most rewarding part of this season for each of you?
KM: So many things. For me personally, it's just Evanna's growth. As a teacher and a coach and as Evanna's friend now, you invest everything that you have into someone, and you're investing everything that I know and that I teach: the choreography, every moment, and our chemistry. I think our partnership and the growth of Evanna, that's the most rewarding.
EL: For me, it's [having Keo] as a partner because he is so talented and so hard-working and committed and also so creative. The fact that every week he's amazed in me, and he thinks that I can do more. I'll be like, "Ugh, I want to be pushed." That's what I said in the first week, I was like, "I just really want to be pushed. I want it to hurt. I want it to feel like I'm growing," and Keo never backed away from that. Having somebody that's that talented and that hard-working to believe in me has really made me believe in myself, and it gave me permission to go to places that I haven't gone before and express things I haven't expressed before.
PS: For you, Keo, is there a specific moment you are especially proud of Evanna for?
KM: Yes, it's the week after the jazz number, we had a heart-to-heart. We were talking about the jazz number and how she wanted to get high scores, and I remember asking the question, "OK, so what are you going to do about it? What are you going to change?" And she goes, "No! I am done pleasing other people, making the judges like me, or this and this. I'm going to do this thing for myself!" I know it's a small thing, but for me that was a breakthrough that Evanna realized she has to do this show for herself. This is her journey. She needs to leave this competition like, "I enjoyed that. That was super fun."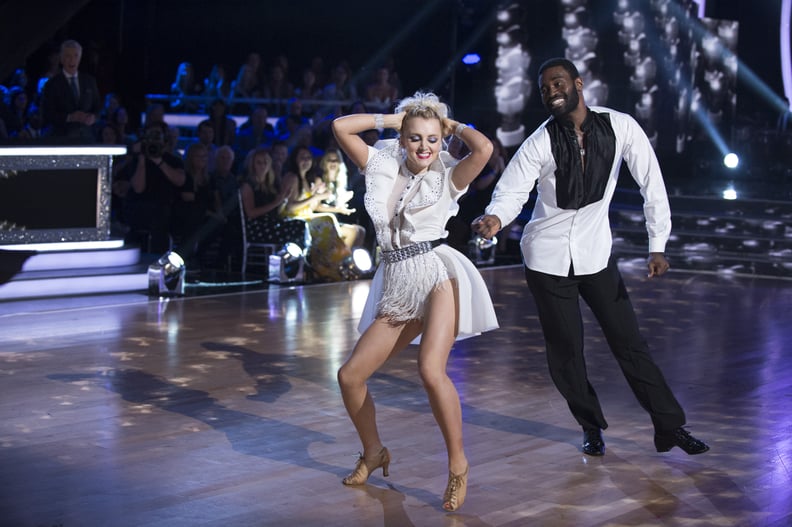 PS: It's been really great watching the two of your work together on the show and grow in your dancing. Why do you think you make such a great team?
KM: She's so open and we just get along. The first time we opened the door, we just clicked and our chemistry just grew. That's what this show does. I was looking at every season, like when me and my partner go home in week two or whatever, and I look at people that grow and I'm like, "Wow, they've become so close. Why is that?" And now, I'm in this position, and this is my first semifinal on the show, and I'm like, "Wow, yeah." You spend so much time with your partner in the studio.
PS: As we are getting closer to the end of the competition, who would you love to see in the final three, in addition to yourselves?
KM: Everyone just brings something different to this season. With these six, everyone is so different and you never know what the audience likes. It's up the audience, and we just got to come out hard every Monday and just give everything that we have.
EL: I definitely want to be in the finale with Milo [Manheim] and Witney [Carson]. I love their partnership, and I admire their choreography. They just have so much fun together. And then I think Juan Pablo [Di Pace] is such an amazing dancer that they [Juan and Cheryl Burke] definitely deserve to be there. Those would be two that if they're not in the finale, I'd be like "What?" But I admire everyone. I admire everyone's partnership.