Freddie Prinze Jr. on His Return to Rom-Coms in "Christmas With You": "Everything Felt Right"
Freddie Prinze Jr. was a staple of late '90s and early 2000s cinema, starring in iconic rom-coms like "She's All That" and "Boys and Girls," the horror franchise "I Know What You Did Last Summer," and family films like the "Scooby Doo" series. Now, more than 20 years after his last rom-com role in 2001's "Summer Catch," Prinze Jr. is making his highly anticipated return to the genre in his new Netflix holiday movie "Christmas With You."
Prinze Jr. spoke to POPSUGAR about what made him realize he was ready to return to romance on screen. "I'm 46 now, so I have much more life experience and a much better perspective than I did when I was 26," he says. "When I was 26, I wanted to do everything, and I didn't care what other people wanted."
Two decades of life experience and, more importantly, raising his two children with his fellow-actor wife Sarah Michelle Gellar made Prinze Jr. more receptive to lighthearted roles. "Once I accomplished my goals and took a step back, everything felt right," he says. "So coming back this time, it was more like, 'Yeah, man, I'm down to do what people love to see me in.' And I don't need to try and be the psychiatrist uncovering the clues to the serial killer. I mean, right on if that comes, but I was much more receptive to it."
Prinze Jr.'s character in "Christmas With You" is a widowed music teacher named Miguel. When Angelina (Aimee Garcia), an international pop star going through a midcareer crisis, shows up on his doorstep to meet his daughter after seeing her sing one of her hits on social media, he gets the once-in-a-lifetime opportunity to write a Christmas song with her. It's a chance to make his musical aspirations a reality, but he could also find love along the way.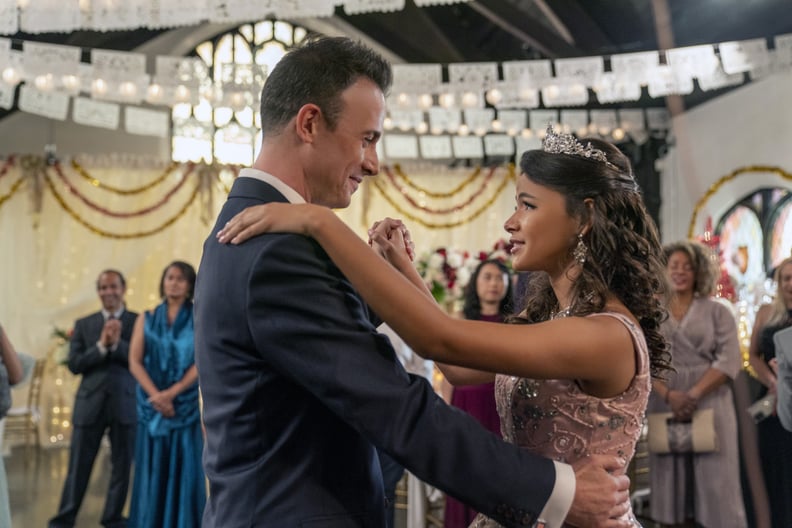 Prinze Jr. (whose daughter and son are 13 and 10, respectively) related to his character on many levels. "I've never gotten to play a father with this kind of weight to a teenage daughter," he says, adding, "It was a really great chance to try and apply the life experience that I've gotten over the last 13 years into a singular role. I didn't have babies in the '90s . . . the stories were much simpler." Prinze's childhood also informed his portrayal. "This added element of him being a widower . . . my mom was a single mother, she had to play both parts, and it's hard. You put a lot of undue pressure on yourself. So I tried to steal a whole bunch of that . . . So that was the unique part that made me attracted to the project."
In the end, the experience of filming "Christmas With You" was an immensely fulfilling time for Prinze. "I really feel it's the best work I've ever put on camera, and I don't have any issues saying that," he shares. "I like some of the stuff I did — some of the stuff I did, I don't like. But this? I'm just insanely proud of [it], and I think when people watch it, they'll just be blown away."
"Christmas With You" will be available to stream on Netflix starting Nov. 18.