Gallant by VE Schwab Book Review
V.E. Schwab's New Book Is a Creepy, Gothic Dream With Illustrations to Match
As POPSUGAR editors, we independently select and write about stuff we love and think you'll like too. If you buy a product we have recommended, we may receive affiliate commission, which in turn supports our work.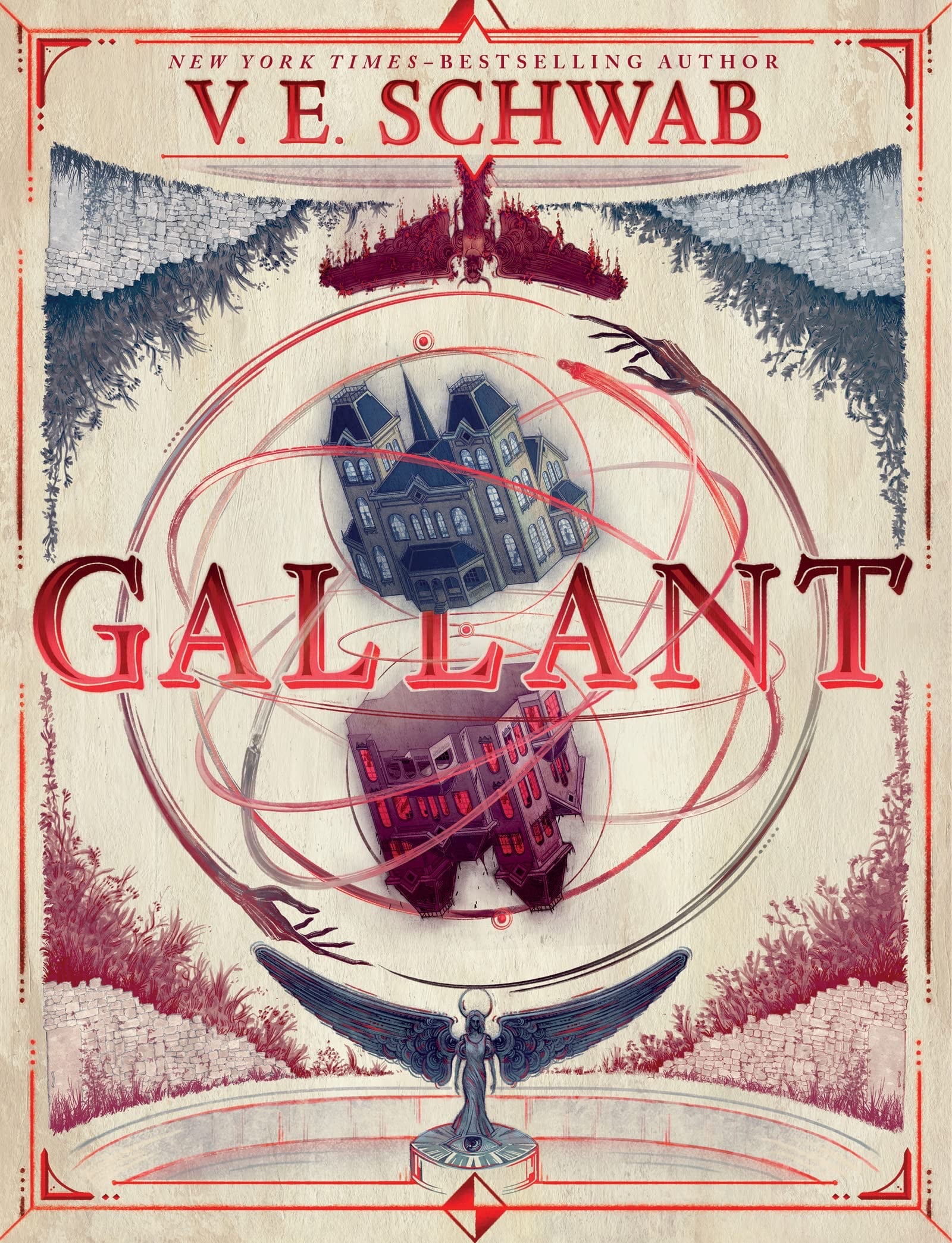 A fantasy book can have all the dazzling magic, intricate plotting, and gorgeous prose in the world, but it won't amount to much if there's not a solid main character in there driving things forward. Lucky for us, V.E. Schwab's "Gallant" (available now) has one of the best young-adult protagonists I've read in some time, and she's the one leading us through a deliciously creepy world filled with mysterious journals, haunted houses, and gothic magic.
When we meet Olivia Prior, she's the black sheep at Merilance School for Independent Girls. An orphan who can't speak, Olivia has learned to lash out at her bullies while nurturing her own blossoming identity: practicing drawing, learning sign language (which no one else can understand), and combing through an old journal, the only thing her mother left her before she disappeared. Full of strange inkblot illustrations, the journal tracks her mother's love affair with Olivia's father, his mysterious death, and her own descent into madness, closing with one final, desperate entry addressed to Olivia: "The shadows are not real. The dreams can never hurt you. And you will be safe as long as you stay away from Gallant."
You could read it over and over again and still feel that shiver of delight as the magic pulls you under one more time.
But when Olivia receives a letter from an uncle she's never heard of, demanding she come to Gallant (which turns out to be the Prior family estate), she has no choice but to go. At first, it's an unbelievable turn of events. Gallant is aging but colorful, and the small staff there is kind to Olivia; one man even knows sign language. Olivia stays in her mother's old room and wears her mother's old clothes. Even the house's ghouls — the decayed spirits of the dead that Olivia has seen her whole life — are recognizable as her ancestors, part of a family Olivia has always longed to know.
But Gallant also holds secrets. Olivia's only living family member, her cousin Matthew, is openly hostile and wants her to leave. The uncle who wrote Olivia's letter has been dead for a year. Olivia is forbidden to leave the house at night and is strangely drawn to the crumbling wall at the edge of the garden, which holds back a menace that no one will tell her about.
It's an excellent setup to a modern-day gothic novel: a haunted house full of secrets, a supernatural undercurrent, a morose and gloomy atmosphere, and a rebellious heroine desperate to find a place she belongs. Olivia is strong but vulnerable, brave but scared, and a character you can't help but root for and relate to. She fights, sometimes literally, for every inch of space and respect she gets. "She has always made a point of making noise, everywhere she goes," Schwab explains, "in part to remind people that just because she cannot speak, does not mean that she is silent."
Meanwhile, the mystery at the center of the novel moves quickly and reaches a satisfyingly dark conclusion, though some questions still lingered in a way that felt realistic. (It's a standalone, so we're left to fill in the answers on our own.) The story of Olivia's parents' story, once revealed in full, adds a tragic, forbidden-love aspect that makes some classic tropes feel freshly heartbreaking. Overall, Schwab's writing and eerie imagery pair nicely with the myth-like magic, rooted in earth and body and blood, just complex enough to give the book a gratifying weight.
I would recommend "Gallant" to just about anyone. Complete with otherworldly illustrations, this is a novel that feels almost archetypal in the way of classic children's or young-adult books; you could read it over and over again and still feel that shiver of delight as the magic pulls you under one more time.
Standout Quote
". . . when she finally retreats back to her own room, her own bed, the unfinished sketch lying faceup on the crumpled covers, she runs her fingers over the graphite and thinks of dreams. The kind that reach through the folds of sleep and into your bed. The kind that can caress your cheek or drag you down into the dark."
Where You Should Read It
This book was released on the cusp of spring, but I can't help but think it would be the perfect fall read. I would read it curled up with a mug of something warm while the wind blows outside.
Read This If You Like . . .
Anyone who enjoys dark-tinged fantasy will enjoy this one, especially readers of Holly Black and Neil Gaiman. This book also reminded me of "The Ten Thousand Doors of January" by Alix E. Harrow — both had strong, determined heroines, blood-rooted magic, and a song-like writing style.
POPSUGAR Reading Challenge Prompts
This novel can check off more than one 2022 POPSUGAR Reading Challenge prompt; just pick the one that fits best for you.
A book published in 2022
A book about the afterlife
A book with a reflected image on the cover
How Long It Takes to Read
This book is over 330 pages, but with lots of illustrations, it goes pretty quickly. I finished it in a weekend of dedicated reading.
The Sweet Spot Summary
Ghouls, haunted houses, mirrored realities, and a girl brave and tenacious enough to take on all of it — and possibly succeed. I can't think of a shelf on which "Gallant" ($15) would not belong.