Why the Greatest Rappers of All Time Debate Matters
The "Greatest Rappers of All Time" Debate May Be Controversial — but It'll Always Matter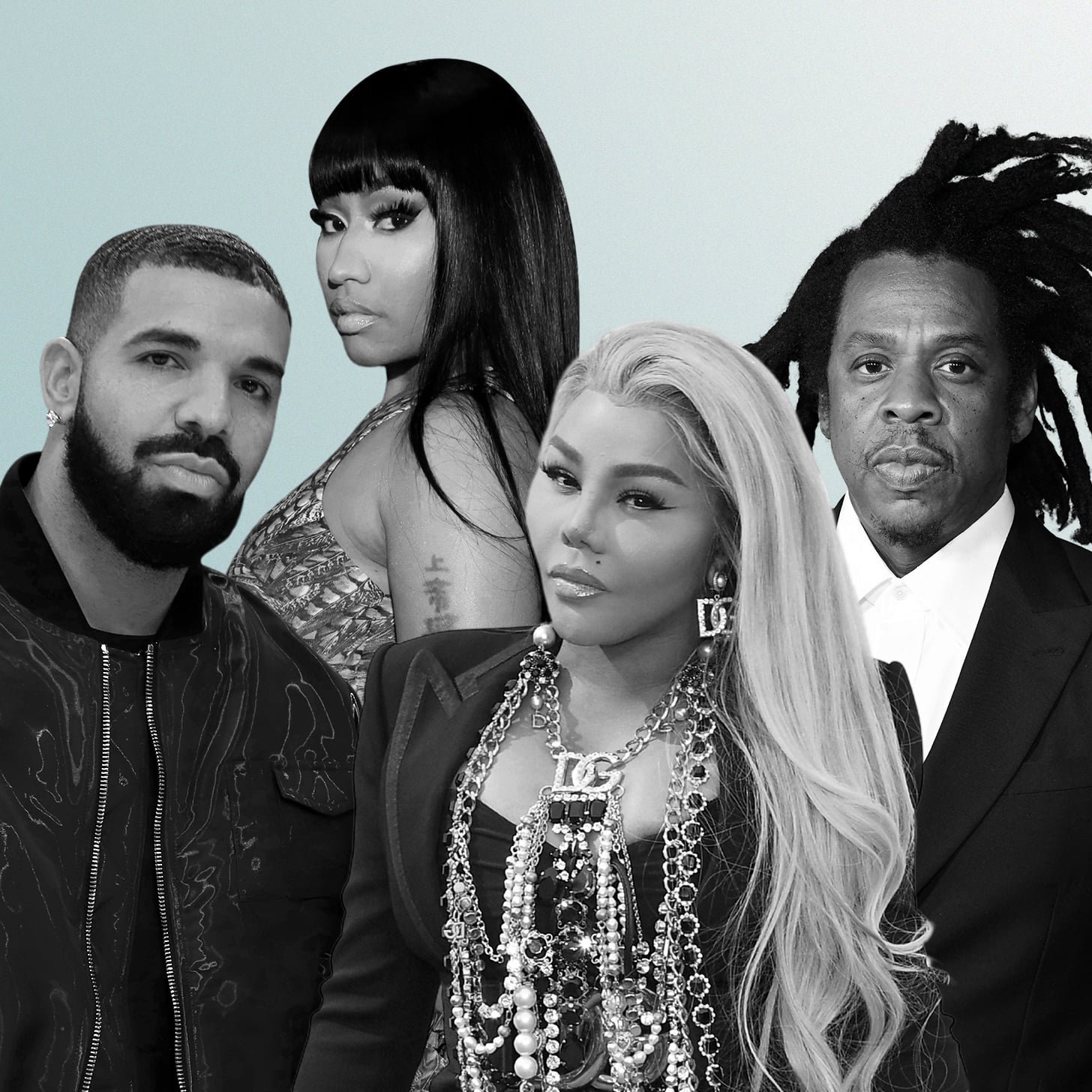 Nothing sets a hip-hop fan off quicker than a debate about the greatest rappers of all time. The contentious topic has been a source of discussion for decades now, in barbershops and on street corners as well as Twitter timelines and group chats. Most recently, Billboard and Vibe's "50 Greatest Rappers of All Time" list has been at the center of the latest discourse. The outlets' ranking — which rolled out 10 rappers weekly starting on Jan. 11 and ending on Feb. 8 — sparked arguments across social media, with rap fans taking issue with everything from their favorite artist's numbered spot (or complete exclusion) to the criteria used to create the list. Even rappers themselves held the publications' picks to the fire.
"I don't f*ck with Billboard or the editor," a disgruntled Ice Cube, who ranked No. 18 on the list, told TMZ. "Billboard ain't Hip Hop so their opinion don't matter. So who gives a f*ck? . . . it's an irrelevant list." Others, like Fat Joe and Ja Rule, shared similar sentiments about the list. The latter, who was snubbed from the rankings, tweeted, "There ain't 50 rappers dead, alive or waiting to be born better than me… #ICONN #Vibes @billboard congrats to everyone on the list well deserved but check my resume… #ICONN #Vibes." POPSUGAR reached out for comment from editors at Billboard but did not receive an immediate response.
According to Billboard, the chosen 50 rappers came from the borders of North America and were picked based on, in no particular order, "body of work/achievements (charted singles/albums, gold/platinum certifications), cultural impact/influence (how the artist's work fostered the genre's evolution), longevity (years at the mic), lyrics (storytelling skills), and flow (vocal prowess)."
As thorough as the grading scale seemed to be, some critics were still left displeased with the "chaotic" final batch. As music and pop culture journalist Shelby Stewart tells POPSUGAR, "One of the most glaring things, to me at least, is that it feels more like a skewed timeline of rappers and their accomplishments than it does a comprehensive list of greatest of all time. Because what is the evaluation measure of what makes someone greatest of all time?" Good question.
Defining "greatness" is a challenging task, especially when it comes to rappers. "There's really no universal criteria for it, which is why these conversations are ongoing, because there's no closure," Vibe hip-hop reporter and "Stay Busy" podcast host Armon Sadler explains.
"There's no definitive way to determine [the greatest rapper of all time]."
Factors like a rapper's time in the game, how many records they've sold, and the number of hits under their belt get tricky when you name folks like the late Tupac and Notorious B.I.G., both of whom are still deemed rap legends (and included on the top 50 list) despite their short years of success before their tragic deaths in the '90s. Then you have current superstars like Drake, Kendrick Lamar, and Future, all of whom have made a tremendous impact individually and are still living through their legacy era, yet find themselves on the same pedestal as undisputed icons like JAY-Z and Nas. In other words, it's easy to say they're all "great" when there's no set definition.
What's more, it's nearly impossible to grade all the "great" rappers on a fair scale when the benchmarks don't apply to every single person's career or talent; something, or someone, is always bound to slip through the cracks. "There's no definitive way to determine [the greatest rapper of all time]," Sadler adds, "and that's why these conversations can get very exhausting."
To that point, as tiring as the impassioned discourse can be, multihyphenate podcast host Mouse Jones notes "that's the beautiful thing" about hip-hop, too. "If you would've asked me this five years ago, I would've definitely been like, 'Oh, you got to have the lyrics and storytelling,'" Jones says of the requirements for the greatest rapper of all time title and these "super villain" lists.
"But I think hip hop, especially at the turn of 50 [years], what we're seeing is there is no one grading scale," continues Jones, who cohosts podcasts like "The What?! Hip Hop, Questions, Legends, and Lists" and "Guys Next Door." "'Who is the best rapper for whatever you hold near and dear for rap?' For some of those kids, it'll be [Lil] Durk. For the older guys and the people that were there the year hip-hop [was born] and from then on, it's HOV (JAY-Z) and B.I.G. and KRS [One] and [Big Daddy] Kane, because they're able to story tell and use similes and metaphors."
Impact and reputation vs. lyricism and music quality aren't the only aspects that make the greatest rappers of all time conversation feel obtuse — especially when you add in the regional bias of East and West Coast rap over the South and Midwest.
We have to point out that what may be the most egregious oversight of all is that the hip-hop debate and respective lists come off flat-out sexist toward women rappers. These artists are often either dismissed, under-appreciated, or ranked low (it's worth noting that Billboard and Vibe's list includes only six women total, and only one in the top 10).
"Not only are these lists sexist toward women, [so is] the entire genre of hip-hop," says Ebbony Pinillos, founder of Two Bees TV and digital producer at "Hell of a Week with Charlamagne Tha God." "Men are allowed to be mediocre, lack diversity and growth, but still find success. Meanwhile, their female counterparts are criticized for not rapping as well as Nicki Minaj."
While this cruel shade may not be intentional, unfortunately, "rap has always been looked at as a male genre," Sadler notes. Thus, "women have had a harder time getting on and getting that recognition." And that actually speaks to a larger problem within hip-hop: the culture's refusal to acknowledge its mistreatment of women, specifically Black women.
"No one wants to have that conversation, let alone the people in hip-hop," Jones says frankly. "They don't want to admit it. They don't want to talk about why it's so easy in our culture for our women to be the most disrespected, underserved, and under-protected . . . Of course, no one wants to do that because then you have to change everything."
Hip-hop has plenty of flaws to address but that doesn't negate its massive global impact across music and pop culture, which we continue to celebrate as its 50th anniversary nears. As fans, it's our job to hold the genre to a certain standard of quality and be inclusive of discussing all artists worthy of the greatest rappers of all time title. So it's OK to celebrate our trailblazing Mount Rushmore faces of hip-hop who are still as sharp as they were in their prime. But we should also be open to rewarding those underrated rappers — no matter their age, gender, or background — who are just as skilled, but don't get nearly the amount of praise they deserve.
"These lists will always be relevant because there will always be some type of competition."
Part of upholding hip-hop itself is keeping up the always-relevant debate of rap fanatics' top five, 10, or 50. No matter how frustrating or vexing these conversations are — and whether they're dictated by publications, music critics, or popular bloggers — they'll continue on for years to come. Why?
"Because people love watching car crashes, that's why," Jones remarks. "There's a group of people that love being upset and love being pissed off, then there's a group of people that love pissing people off. So as long as those two sides exist, they'll always need each other."
Consequently, for lists like Billboard and Vibe's, Stewarts says they're "always going to get a certain group of people outraged simply because of who they feel is ranked too low on the list or ranked too high."
For every public outcry over a controversial list, there will always be a passionate fan ready to defend their GOAT to the death. Which, at the end of the day, is really the point of these discussions — to spark a dialogue about the state of hip-hop. Whether it yields a positive or negative result, any chatter about hip-hop's top leaders keeps the genre alive and well. As Pinillos puts it: "Hip-hop is almost like a sport, so these lists will always be relevant because there will always be some type of competition."
Music debates of any kind will only ever be subjective, regardless of whether folks like journalists are expected to give their impartial and informed opinion. In cases like these, we're ultimately just enthusiastic fans who want to see who we think of as the best get recognized. Hopefully for hip-hop, we'll still be having this age-old debate for 50 more years.